Should AAU Basketball Even Exist?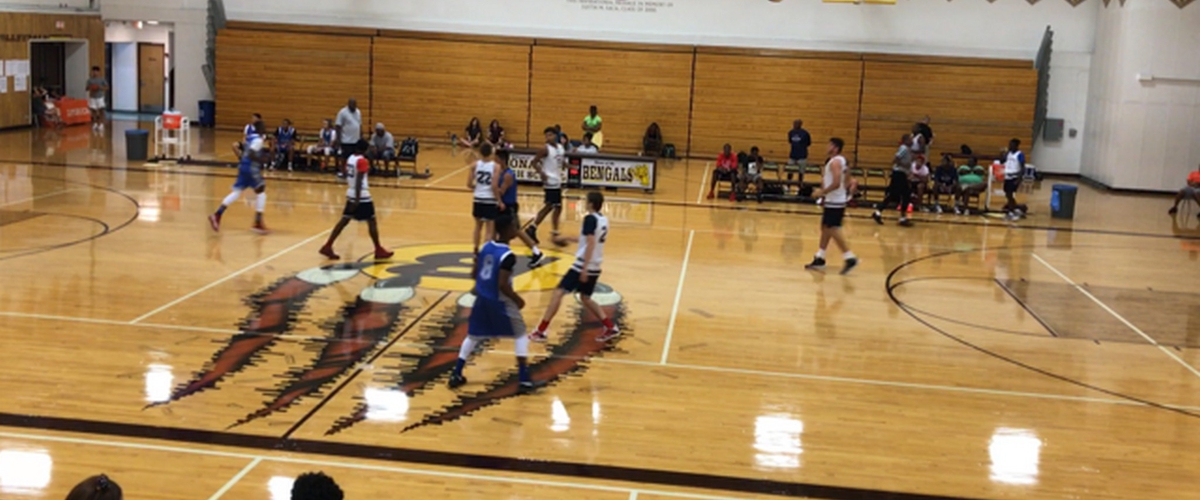 For the first time in several decades, I plunged into the world of AAU basketball. I've always felt like I was in the first generation of players who went through the "AAU" system, but I think "AAU" now is just a generic term at this point, as I saw no AAU logos or presence of any kind during this experience. I think to fully-appreciate what I saw, I should start by giving a synopsis of my own experience as a player.

Ric Cobb was my AAU coach and Will Allen was his assistant (Tim Larkin & Dave Cooks also assisted the team in a variety of ways). I don't think I could've had better, more-qualified mentors than the people Ric surrounded me with. Ric played at Marquette and professionally in Europe and also had prior experience as an assistant coach for Rick Majerus, but was selling insurance when he started this team (this was before he was the head coach at UW-Milwaukee). Will Allen had played in college at Miami and briefly in the ABA and Europe (this was before he became world-famous for his urban farming).

These two knew the landscape of college basketball, they understood the game and they knew the challenges life presented to young men and did a great job of navigating our team through those challenges. They looked to improve our individual skill sets and provide us with valuable experience against top talent, without undermining the efforts of our high school coaches. We were a well-coached team that practiced regularly. Our team played in the city league in Chicago, as well as in regional and national tournaments. Although there were a lot of players from Marquette High School, including Will's son, Jayson, Ric had no such connection with any of the players he hand-picked for the roster.

I believe Ric loved the game and wanted to give back to our generation with no ulterior motives or hidden agendas. I think just about every player on our team ended up with a Division 1 scholarship, although many folks claim that team was stacked with a rare and since-unseen collection of talent anywhere in Wisconsin. Our roster had more height than many NBA teams- 7'0 (me), 6'11 (Kevin Rankin), 6'11 (Jeff Peterson), 6'11 (Deon Mims) at the five-spot alone and other players on the roster included Calvin Rayford (Kansas), Damon Key (Marquette), Larry Hisle Jr (Dayton/UW-Madison), Kevin Larkin (ODU), Ty Evans (Richmond), etc...

While our team did pretty well in tournaments, part of our experience included going to the Five-Star camp at Pitt II (I think it was at Radford). Speakers, coaches and counselors that week included Hubie Brown, Jerry Wainwright, Joe Dooley, Christian Laettner and Billy Donovan. Bill Raftery was even there, running the greatest Raf scheme ever- broadcasting camp. The vast majority of that week focused on fundamentals, individual skill work and station work. Coaches from every major and minor school in the country were either there working at the camp or watching.

I think the coach of my team that week was the coach of Warsaw (IN) High School and teams were selected by the camp coaches in a draft that took place after they watched players play in randomized roster games on the first day. I still remember one of the camp coaches asking me why I didn't run back on defense on one possession.

That memory brings me to the modern-day AAU scene, where I'm still waiting to hear a coach ask a five-star recruit why he didn't get back on defense on one possession. That doesn't happen anymore, because many AAU coaches today can't afford to rock the boat with their best players, for fear of losing them to another team.

I plunged back into AAU basketball, because my nephew, Samuel, moved in with our family for his senior year of high school and is focusing a lot more time on basketball and wanted to play in the summer. In anticipation of his arrival, I spoke to many of my friends who are now college basketball coaches themselves, to try and get a better understanding of the AAU landscape. While many current and former pro basketball players (Caron Butler, Dickie Simpkins, Ray Allen, etc...) have AAU programs, they don't coach those programs, although most probably provide varying degrees of support in other ways. I don't know how many programs today are fortunate enough to have the type of coaching I received from Ric & Will, but I think there are some very solid, very well-run programs, based on what my friends in the coaching industry indicated.

I don't know if such programs are necessarily the exception, but they don't exactly seem to be the norm. My AAU team had a few parents that traveled with us and that still seems to be the case today, but my vantage point has certainly changed my perspective on parents. Maybe I ignored them when I was a player, but sitting in the stands is a whole different animal. Some parents are flat-out obscene and obnoxious with steady streams of profanity from the opening tip to the final horn. There is a contentious uneasiness at many of these games, as parents of opposing teams are often sitting right next to each other.

The coaching on many of these teams seems more like one of the parents moved out of the stands and found a seat on the bench. What I can hear from many coaches during the games doesn't sound so much like coaching, but cheering (or booing) from the sidelines. Both parents and officials seem to focus a lot of their ire on officiating, which is not great. However, I don't know that I blame the officials.

I think many of these refs probably work at least at the high school level, but AAU is a different story. There are dozens or even hundreds of teams in these tournaments. Schedules need to be kept and games can't run long. If the clock isn't running, it can become a problem and if an official's games always run long and screw up the schedule, they may not be asked to come back. As of this week, if an official makes the mistake of calling a technical foul on the wrong parent/coach (Lavar Ball), they may also not be asked to return.

The result isn't just a playing environment where travels really need to be obvious to warrant a whistle. Physical aggressiveness is not kept in check like a typical high school game, which often escalates over the course of the game. It's hard to fault a player who was blatantly fouled but received no call, to not want to return the favor at the other end. That leads to late-game technicals, physical confrontations and sometime ejections, as officials finally see the result of their swallowed whistles and try to restore some semblance of order.
The organization of the tournaments is an interesting endeavor unto themselves. Some I've spoken to have basically characterized them as extortion. When I attended one tournament, the admission fee for fans (parents) was $10. It was a multi-day tournament and when I asked if that was for the entire tournament, I was told it was just for the one day. The next tournament I attended charged $15 per day, but did offer a $50 wristband good for the duration of the tournament.

With such high prices, one would expect the option to pay by credit card, but that would create a paper trail more easily tracked by folks like the IRS. When it's a cash business, the math gets pretty simple and it's easy to see how tens of thousands of dollars of can easily be reported as just a few thousand. Fan admission is the cheap end of things.

Teams themselves are required to pay entry fees of several hundred dollars (often $400-$500 or more) and while credit cards are accepted forms of payment, an additional processing fee often persuades many to pay by cash or with checks, which again makes the money trail harder to follow. Still, that's not the most-expensive ticket to these dances.

College coaches are the ones who shell out the big bucks to attend these games. Tournament organizers often require coaches to purchase "packets" which contain rosters, which help them identify prospects. Coaches who already know who they're coming to see and don't need packets are often required to purchase them anyway and not doing so could jeopardize their standing with a tournament organizer. The math there adds up in similar, if not more substantial fashion and a simple weekend basketball tournament can suddenly turn into a six-figure cash generator.

In defense of the tournaments, there are significant expenses involve in running these endeavors, starting with insurance. There are also staffing requirements, including security, medical, tickets and officiating, facility rental, paper & printing expenses, with concessions probably paying for themselves. However, these tournaments often take place at high school gyms, where the rent is far more reasonable. Still, these tournaments somehow seem to run on razor-thin margins that never allow for even a single towel or mop to be available to wipe up sweaty courts.

"Follow the money" is often uttered around college sports and that's probably very true for AAU basketball. While there may be plenty of hard-to-follow money flowing into AAU tournaments, there is a financial presence that is clear and present- shoe companies.

Shoe companies are far more involved now than they were during my high school days and they were front & center even in the 1980s. It seems very strange to see a multi-billion dollar shoe brand name mentioned in the same sentence as a word like "grassroots." In fact, I'm not even sure what "grassroots" means anymore, when it is used alongside words like elite, travel and circuit. Those words along with the involvement of such corporate behemoths would infer this endeavor is anything but grassroots.

Somehow, college basketball has allowed this aspect of the game to be controlled by shoe companies and others who often have no connection or background in basketball. There is a lot of finger-pointing and lots of folks who don't want to speak on the record for fear of reprisal from the Suge Knight of basketball tournament organizers or an AAU coach who acts as gatekeeper to all who want access to recruiting his players or angering sugar daddy shoe companies, but this all falls in the laps of colleges and the coaches who work there, because that's really who runs the NCAA- the member institutions.

The shady operators, unscrupulous street hustlers and middlemen influencers who permeate this aspect of the game could all be shelved with one fell swoop by the NCAA, if they chose do to so. College coaches could band together and say this current model is fatally and permanently dysfunctional and the kids involved are being hurt by it.
Rest assured, examples like Lavar Ball are just the beginning. Others will see the attention he is garnering and try to replicate it for themselves (and maybe their kids too). Most won't have kids with near the talent level of Ball's kids, but everyone who comes in contact with them, from other kids, parents, tournament organizers and coaches, will be not be better off after having to deal with them.

Is There a Solution?

What would happen if the NCAA banned coaches from observing high school player in organized games outside of their regular high school seasons? Local summer leagues, many of which don't take place during observation periods anyway, would continue. Thousands of parents who currently spend thousands of dollars chasing a college basketball pipe dream for their kids would be able to put that money toward tuition, rather than the hope of a scholarship that will never materialize.
But does not being able to play in these games hurt the development of these young players? In some cases, it might actually help them avoid bad coaching, poor role models and influence-peddling. It might encourage them to be active in other sports, which many feel is healthier for young bodies, than the repetitive actions in a single sport that often lead to injury.

As an option to fill in some of the late-summer void, the NCAA could allow coaches to work at camps they sanction (and perhaps even operate). What could be better for these young athletes, than to receive instruction (and up-close evaluation) from coaches who teach the game for a living? Camps could be set up all over the country, so kids can stay close to home, flights and rooms could be booked with a known schedule (versus a single elimination format, where you may or may not need to stay extra nights) and world-class instruction can come to them. The coaches themselves can dictate what they want to see from these kids or what they want them to learn through the drills and instruction they provide.

I think my nephew was fortunate to join the team he was on, especially on such short notice. Even though he didn't play much, the time he did play gave him valuable experience and a good understanding of where his game is at relative to many of his peers.
As I watched these groups of college coaches observing these players for the past few weeks, I often asked myself if the college coaches had their druthers, would they rather sit in a chair and watch these kids run & gun for an hour or would they rather be on the court with them during that time, instructing and evaluating? I think everyone would be better-served with the latter option.