Predicting the biggest NBA draft busts
Just as we are approaching the beginning of the 2016 NBA Finals, 27 teams (and soon to be 28) are looking a lot harder at this draft class as they attempt to better themselves for next year. Some teams have almost too many picks (the Celtics, 76ers, Suns and Nuggets) whereas a few have zero picks (the Heat, Cavaliers, Knicks, Thunder, Trailblazers and Wizards), but they all still should be paying attention. Because you never know when a trade might happen.
So, as the regular season comes to a close, I am here to tell you who I think will be the biggest draft busts this year.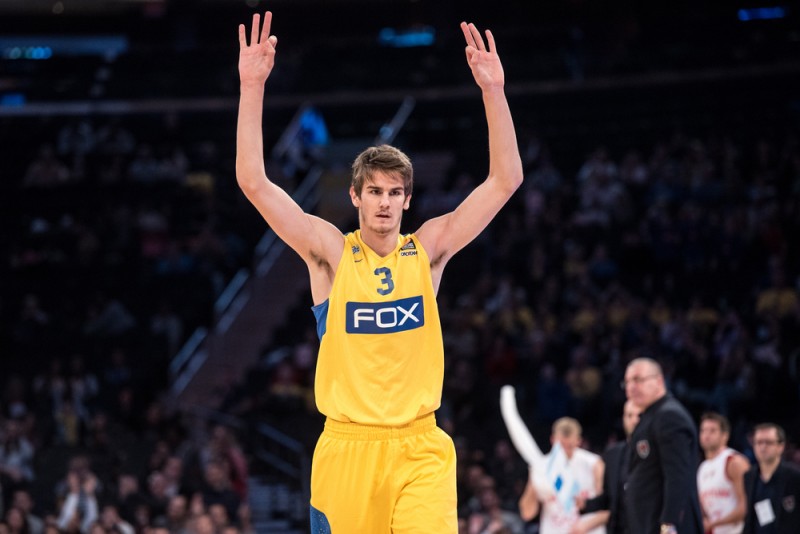 Dragan Bender
1) Dragan Bender: PF, 7-1, 216, Israel. Projected to go #3 overall (cbssports.com)
But, isn't he the same player as Kristaps Porzingis??? No, he's not. But he is young, has upside, his highlight reel shows his dominance https://www.youtube.com/watch?v=IffAjKkyPBE and he plays the with a similar style and similar background to Porzingis. But he's not going to be as good, and definitely not worthy of going to the Celtics or Suns this early (maybe in the later first round, since both have 3 picks). Why? Last year you all thought Porzingis was a fraud, thought Phil Jackson was crazy for taking him, and Knick fans booed him when they selected him fourth overall. And, although the 2.1 points per game and 10 minutes per game tell a lot of the story, I would like to add to it that it is just my speculation that since Porzingis was such a success, it might not be the same for Dragan. And trust me, I want this guy around for a long time because I love his name, but I just don't see it. There is a much bigger history of foreign, high draft pick busts than successes (Darko Milicic for example).
2) Denzel Valentine: SG, 6-5, 220, Michigan State. Projected to go #10 overall (cbssports.com)
I bet you knew this was coming from the cover photo. Yeah, sorry Michigan State fans, but Tom Izzo does not have a good track record for NBA players in the last 15 years outside of Draymond Green, especially in the first round (I know, Gary Harris, but the jury is still out with him). I know, he was an All-American, Naismith and Wooden finalist, and he was pretty much the second best player and best overall player in college basketball last year. That does not mean he is a professional, he kind of came out of nowhere this season. It's rare to see a four year player, especially one who does not play that much his first two seasons have success at the NBA level. Again, Draymond Green is an exception. But people out there believe that Valentine is an NBA star, but name an NBA STAR who played 4 college seasons and did not have much of an impact the first 2 seasons in the last 15 years (besides Draymond). Nobody, right? I say he's at best an Andre Roberson or Jared Dudley. You don't draft Jared Dudley in the lottery, and if you do, you're a team like the Raptors who can afford to do so.
3) Damian Jones: C, 7-0, 245, Vanderbilt. Projected to go #28 overall (cbssports.com)
If I have to jump down from 10 to 28, it means I really like the guys where they are at right now (at least on cbssports.com). I even think that Bender and Valentine can have solid NBA careers, I'm just saying that they are overrated. But on to Damian Jones. One, I don't trust Vanderbilt players, look at John Jenkins and Jeffrey Taylor. Outside of my bias on the University and not the player, Damian Jones has a lack of motor and has an issue with having a will to work hard in games. He's a disappearing act, which means that without the right motivation this guy will be out of the league in less than 2 years. He's talented, ball-skilled, and athletic, but isn't that just the minimal NBA requirements? To succeed, you need a work ethic greater than the other talented, ball-skilled and athletic big men chasing you.
4) Cheick Diallo: C, 6-9, 220, Kansas. Projected to go #31 overall (cbssports.com)
This guy reminds me of Cliff Alexander. I don't know what it is lately with Kansas and recruiting issues of top high school power forwards, and then watching them fall off a cliff, but that is what these two gentleman have shown me so far. Yeah, Alexander is on the Trailblazers, but he is last on their depth chart of big men (7th if Harkless plays the 4). He was supposed to be a top 5 pick, and Diallo was supposed to be a lottery pick. I can see him going undrafted, and then he would go from bust to potential steal. He had a bench role, albeit on a winning team, to players such as Brannen Greene and Jamari Traylor, who will not make the NBA. With all of his "talent", he should've cracked the rotation and scored more than 5ppg, right? He's on a downward path, so it means that I don't need to do a lot of persuading for him.
5) Thon Maker: PF, 7-1, 218, Australia. Projected to go #35 overall (cbssports.com)
To me, Thon Maker is another one of those super athletic, workout video phenoms that never really find footing in the NBA. He was once supposed to be a top recruit, and now he's looking at the second round as a likely landing spot for him. I hope he has a lot of success, but I honestly have to thank the NBA scouts for dropping him from the lottery and preventing him from being an all-time bust like Kwame Brown. Here's his highlight video, http://www.draftexpress.com/profile/Thon-Maker-70462/
Honorable mentions: Caris LeVert, SG, Michigan (48); Marcus Paige, PG, North Carolina (59)
---