Seattle Mariners 2017 Outfield Outlook
Today's post is going to look at the Seattle Mariners and their outfield moving into the 2017 season. There was a lot of speculation as to what this group would look like come spring and things are beginning to take shape. Over the weekend Mariners GM, Jerry Dipoto, made a series of moves. First, sending OF Seth Smith to the Orioles in exchange for starting pitcher Yovani Gallardo and then sending pitcher Nathan Karns to the Royals for outfielder Jarrod Dyson. 
After the dust settles the Mariners will be left with an interesting group of outfielders for their upcoming season. The names might not be familiar to some but the group consists of Leonys Martin, Jarrod Dyson, Mitch Haniger, Guillermo Heredia and Ben Gamel. What I want to do in this post is give you some advanced stats and projections and show you what type of group this is as far as the strengths and weaknesses and how they are projected to perform next season. Lets take it player by player and give an in depth look into each one starting with:
Leonys Martin
Leonys Martin was acquired last offseason in a trade with the Texas Rangers. Acquiring Martin showed that Jerry Dipoto was set on improving the overall athleticism of the outfield. Below is an excerpt from a conversation that Dipoto had with MLB.com from 2015 just a few days before he made the Martin trade :

Acquiring Martin and making him the everyday center fielder was the first step in the process. Martin was coming off a really poor season at the plate but his defensive numbers were good. Lets take a look:  

Martin 2015 Stats

Martin 2015 Advanced Fielding Stats
The Mariners could see that Martin struggled at the plate in 2015 but they knew he was a good defensive center fielder and the advanced stats mirrored that assessment. His UZR/150 (Ultimate Zone Rating per 150 games) of 15.4 placed him 4th in the MLB among center fielders. His ARM (Outfield Arm Runs) number of 10.7 was the best among center fielders in the MLB. 
What the Mariners got in 2016 was exactly what they had bargained for. Martin had a UZR/150 of 8.6 (4th among CF) and an ARM number of 16.5 (1st among CF). There was also a marked increase in his offensive output and an added speed element on the base paths. Check out Martins 2016 numbers:

Martin 2016 Stats
Although it wasn't stellar production at the plate Martin is an elite defensive player playing a position whose primary objective is to play good defense. These numbers do more than enough to justify him as your everyday center fielder when you take his top notch defense into account. The Mariners will continue to rely on Martin in 2017 to hold down the every day CF duties, hoping that his hitting doesn't regress back to his 2015 totals.
Jarrod Dyson
The Mariners trade to acquire Dyson from the Royals last week put the exclamation point on Seattle's transformation from a heavy hitting, poor fielding defense to one that is defensively capable and speed oriented in the outfield. In 2015 the Mariners outfield featured Nelson Cruz, Seth Smith, Austin Jackson and Mark Trumbo at times. Other than Jackson it was a group of players you would never want roaming the vast outfield grass of Safeco Field but I digress. Back to Dyson, let's take a look at some of his offensive and defensive number from last year: 

Dyson 2016 Stats
Once again we aren't expecting big offensive numbers from Dyson but his numbers are much better than a lot of people think. He hit .278 and although it was in only 337 at bats that average number should translate similarly if he is given more of an every day role with the Mariners. He also had a .340 OBP which is above average and given his top notch base stealing capabilities gives you something to work with. He also doesn't strike out much with a 11.6 K%. 
Looking at Dyson's defensive numbers you can see this is an area where he really excels, boasting a UZR/150 of 24.8 which placed him 3rd among all MLB outfielders. He also had an ARM number of 7.5 which was good for 4th among all MLB outfielders. Dyson has all the tools neccesary to contribute in the field and if his 2016 offensive numbers can translate into 2017 I think this is a really good pickup for the Mariners. Pairing Leonys Martin and Dyson in the outfield gives the Mariners an elite defensive pairing any team should envy. 
The Others: Mitch Haniger, Guillermo Heredia and Ben Gamel.
You would think that since the pairing of Martin and Dyson fulfills all the requirements for speed and fielding prowess that the rest of the unit would feature some offensive heavy options. You would be wrong. The trio of Haniger, Heredia and Gamel provides more of the same.....good defense and speed paired with limited offense. Lets take a look at their numbers: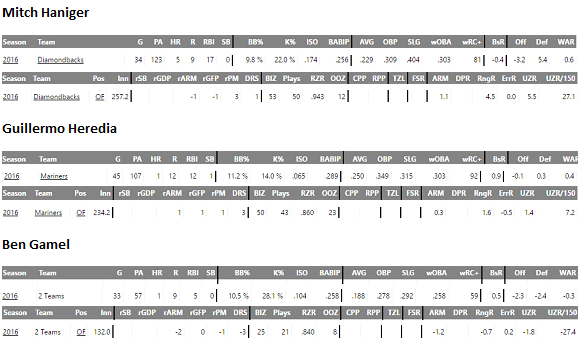 When looking at the numbers for these 3 players just be aware that they all have very small sample sizes due to the fact that none of them were regulars or played a full season at the big league level. What you see from these players is very modest offensive numbers and even the defensive numbers are hard to read because many of them are cumulative numbers and due to the limited playing time its hard to project what they would be based on full time roles. 

Mitch Haniger is an intriguing prospect. The secondary piece in the Taijuan Walker/Jean Segura trade, Haniger is a player with a lot of tools to work with. His potential speed/power combo is something that none of the Mariner outfielders posses. Haniger only had 123 plate appearances last year for the Diamondbacks and had limited success but he absolutely dominated in AAA.  He slashed .341/.428/.670 while belting 20 home runs and driving in 64 runs. He did all of this in only 74 games at the AAA level. His MLB fielding numbers, although in limited time, are quite impressive. His high UZR/150 number of 27.1 suggests he knows his way around the outfield. There have been a lot of articles about Mitch Haniger this off-season and everyone seems to agree that he will be an intriguing player to follow in 2017. Here is one of the articles I read regarding Haniger from FanGraphs:  

[Was the Jean Segura Trade Really the Mitch Haniger Trade? | FanGraphs Baseball]

Guillermo Heredia is another player that has some real upside. He was brought up in late July this past season and although his hitting ability is limited he showed a propensity for getting on base. His OBP number of .349 was nearly .100 points higher than his batting average (.250). He can draw walks and his K% of 14.0 is respectable as well. He was also brought into a lot of games as a defensive replacement in an attempt to conserve leads late in games and did well in those situations. Look for Heredia to be in the mix again this year as a 4th outfielder where he will have more opportunities to show that his hitting has improved. If it does he can find himself in more of an every day role in the outfield.

Ben Gamel is a player that Jerry Dipoto traded for and you could tell by some of his public comments that he liked Gamel and wanted to get him in the outfield mix . Many people don't see what the fascination is with Gamel but Dipoto has stated a few times that they are going to seek to get him at bats and see what he does with them. So far, Gamel hasn't done much to impress albeit in very limited time. He has done everything he can do to prove himself in the minors but he will need to prove he can be that player at the major league level. Looking at the limited offensive and defensive stats we are provided nothing impressive jumps out at you but just like Heredia, Gamel was used as a late inning defensive replacement last season and also excelled in that role. Although the defensive stats show negatively the sample is too small. Gamel has good defensive tools and is considered a good defender. He will need to prove that he has some offensive prowess for him to stay in the mix this season for the Mariners.  

Conclusion 

The Mariners have accomplished the goal that Jerry Dipoto set out for when he got the job late in the 2015 season. The Ms have arguably the most athletic outfield in all of baseball, highlighted by the presence of Leonys Martin and Jarrod Dyson. The Mariners 3 other outfielders including Mitch Haniger, Guillermo Heredia and Ben Gamel will all battle for playing time in Seattle and it will be an interesting position battle to watch come spring training. They are all athletic and considered good fielding outfielders so whoever does the best at the plate will give themselves a good chance to stick in the everyday lineup or be a a part of a platoon situation. Although this group of outfielders lack offense there is plenty of offensive production/power in the Mariners infield/DH with Robinson Cano, Kyle Seager, Nelson Cruz, Danny Valenica, Dan Vogelbach and Mike Zunino. This allows the Mariners to stock up on speed and run prevention in the outfield.  






---