Ten Things I Think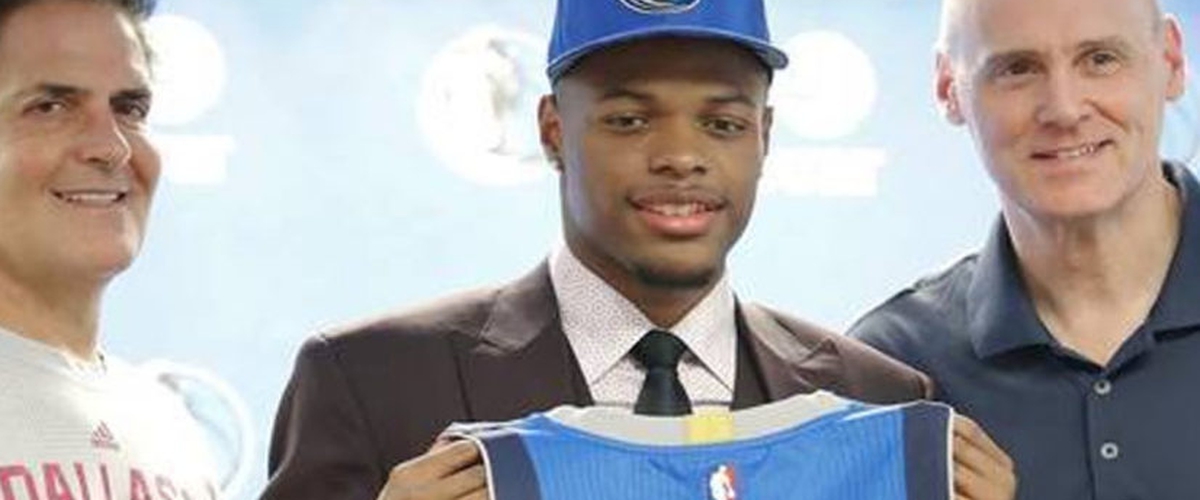 1. I think many NBA teams will regret passing on Dennis Smith Jr. The former North Carolina State point guard fell to 9th overall, which to me was shocking. He had some off the court question marks as well as a lingering knee injury, but so far in summer league he looks like the real deal. I have said before that De'Aaron Fox will be the best player from this draft once we look back in a decade, but I wouldn't be surprised to see Dennis Smith Jr. right there with him.
2. I think tennis players are severely underrated as athletes. After watching Rafael Nadal and Gilles Muller engage in an epic 5-hour match (no I didn't watch all of it), I have come to really appreciate the sport. The endurance it takes to compete at such a high level for nearly a quarter of a day is truly incredible. The lateral quickness and agility of tennis players is also quite noteworthy. I am not saying that I didn't respect tennis players, I am just saying I don't think that they get enough credence for the caliber of athletes that they are.
3. I think the Timberwolves will be the most improved team in the NBA this year. I know I am not going out on much of a limb in saying that, but I could see the T-wolves finishing among the top four teams in the Western Conference. Jimmy Butler is criminally underrated as a two-way player; after LeBron and Kawhi, he might be next in line when it comes to a player who can get his team a bucket in crunch-time while also shutting down the opposition's top threat. I also really like the addition of Jamal Crawford for Tom Thibodeau's team. Instant offense is tough to come by, and even at 37 years of age, that is precisely what Crawford provides. With Karl-Anthony Towns a year older, expect Minnesota firmly in the playoffs and a legitimate threat out west.
4. I think the Wizards should be concerned. Last week, they offered their star point guard, John Wall, a 4 year/$168 million extension. He hasn't yet accepted it. I don't care if you are an NBA superstar, you don't just turn down that type of money unless you are seriously contemplating jumping ship. Now, Wall is under contract for another two seasons, but if he doesn't sign on the dotted line soon, I would be gravely concerned if I were the Wizards. Especially considering that they just signed a mediocre 3-man, in Otto Porter, to a contract north of $100 million.
5. I think that with home runs across baseball increasing, the value of power hitters is (or at least should be) decreasing. It's all about supply and demand: since the supply of home runs is so high, those that specialize in hitting the long ball become devalued. While this may not in fact be the case yet, I see this happening moving forward. Let me try to better illustrate what I am saying. Giancarlo Stanton, one of the premier power hitters in baseball, is currently on a 13 year/$325 million contract. The Marlins paid him that because he was, and still is, an elite power hitter, as he has launched more than 230 home runs and is just 27 years-old. But given the drastic increase in home runs league-wide, I think that if the Marlins could renege on Stanton's contract, they would. It is no longer out of the ordinary for an average MLB player to hit 25 home runs. Because of this, those who hit 45 should become less valuable.
6. I think I don't hate the return that the Pacers got for Paul George. I know that I am in the minority here, but hear me out. Paul George had one year left on his contract and made it well known that he wanted out of Indiana. What leverage did the Pacers have? I would argue not much. No team is going to mortgage their future for a one year rental, regardless of who that player is. What the Pacers got in return for their star is nothing to sneeze at. Victor Oladipo has ties in Indiana, as he starred for the Hoosiers, and is under contract for the next four seasons. He also has tremendous upside and in my eyes, has the potential to make an All-Star team down the road. Domantas Sabonis was essentially a throw-in, but he fits nicely next to Myles Turner. There is not perfect trade when you are getting rid of your franchise player, but with everything considered, the Pacers got a pretty good haul.
7. I think Carmelo will not move the needle. Rumors have been swirling that Melo is Houston bound. After an off-season that included trading for Chris Paul and signing P.J. Tucker, Daryl Morey is all-in and ready to throw the kitchen-sink at the Warriors. While I don't love the fit of Paul and Harden, I think they'll make it work. But thinking that adding Carmelo Anthony will push the Rockets over the top is fools gold. Melo is 33 years-old, slow, disturbingly un-athletic, trigger-happy....shall I continue? Bottom line is this: Melo has had a Hall-of-Fame career. No question. But to think he helps the Rockets dethrone the Warriors? Please!
8. I think that the structure of contracts across different sports are bewildering. David Carr, the top young quarterback in the NFL, just signed a 5 year/$125 million contract with $40 million guaranteed. Jrue Holiday, a run of the mill NBA point guard, just signed a 5 year/ $126 million contract with $126 million guaranteed. Obviously there is an extreme injury risk in football, but the disparity in the value of contracts across sports is eye-opening.
9. I think Derrick Rose was destined for greatness. He was Russell Westbrook before Russell Westbrook. Then, injuries happened. Two meniscus surgeries and another ACL surgery zapped the explosive point guard of, well, his explosion. Back in 2010-2011 when he secured the NBA's MVP award, Rose was unstoppable getting to the rim. He literally could not be stopped when he made up his mind that he was attacking the rack. Now, he is struggling to find a team. There are some athletes who leave fans wondering what could have been. Bill Walton. Grant Hill, Brandon Roy, and now Derrick Rose will be remembered as transcedent NBA talents who just couldn't overcome an array of injuries.
10. I think Aaron Judge isn't human. No explanation needed.
---