Ten Things I Think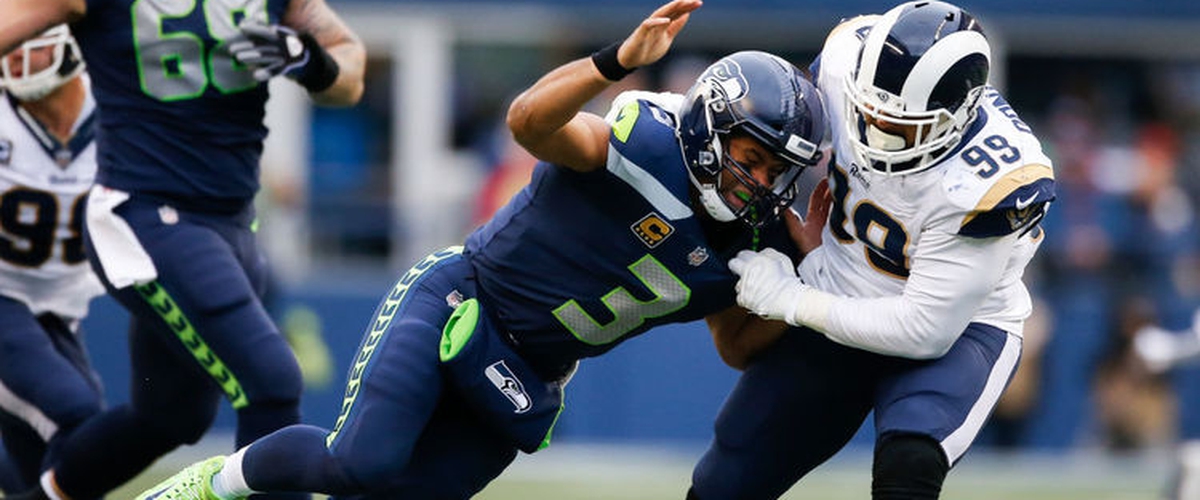 1. I think if I were Aaron Donald I would be fuming. The best non-quarterback in football has been on the prowl for a lucrative contract. However, the Rams have remained firm in their stance of not relenting to such commands, despite Donald's Defensive Player of the Year Award last season and a long track record illustrating that his performance last season was no fluke. Instead of paying Donald, the Rams signed Ndamukong Suh and then extended Brandin Cooks. The latter should infuriate Donald. Here he is a franchise cornerstone who has given it his all for four years and the front office won't pay him. Cooks, on the other hand, hasn't played a single snap in Sean McVay's offense and just inked a 5-year extension worth $80 million.
2. I think the Grizzlies will be the surprise team in the NBA this season. Memphis will have a healthy Mike Conley and Marc Gasol at its disposal in addition to rookie sensation Jaren Jackson Jr. Each year there is a team that creeps up on people – last year it was the Jazz – and this year I expect that team to be the Memphis Grizzlies.
3. I think Kevin Knox will be a superstar. The Knicks rookie is just 18 years old and looked like a seasoned vet in the NBA Summer League. His offensive repertoire was simply unmatched. Knox was able to create off the bounce, consistently blow his defenders, and find open teammates. There hasn't been much positivity surrounding the Knicks future in quite some time, but that should change with Knox in the fold.
4. I think Commissioner Rob Manfred's comments on Mike Trout and his marketability, while poignant, were not off base. When asked why baseball's best player, Trout, had nowhere near the marketability of athletes in other sports Manfred responded that it requires "time and effort" and that Trout "must engage in that area." He threw Trout under the bus a bit, but his premise isn't erroneous. Trout doesn't put himself out there like the Odell Beckham Jr.'s or the James Harden's of the sporting world do. Now part of that reason may be that baseball players are inherently less marketable than athletes in other sports, but it is unfair to blame baseball for that while the player himself is reserved and would prefer to be out of the limelight.
5. I think Jimmy Garoppolo will prove himself to be a top-five quarterback this season. Tom Brady's understudy tore it up last season in the final month with the 49ers and I anticipate similar results this fall. Garoppolo, like Brady, isn't fast, but he is nimble in the pocket. He can make all of the throws and above all else, his teammates seem to love him. I don't think it's crazy to think San Francisco makes the postseason this year, and a lot, if not all of that has to do with Jimmy G(Q).
6. I think Wendell Carter Jr. was the most impressive rookie in the NBA's Summer League. I said prior to the draft that the Duke product reminded me of Al Horford in that he doesn't do anything at an elite level, but he does everything effectively. Competency across the board is a skill in itself that I do not think garners enough credence. Wendell Carter Jr. might not make the play that winds up on SportsCenter, but he has the goods to be the Bulls fulcrum for years to come.
7. I think Major League Baseball should implement more interactive elements into their games. In the All-Star Game, Fox mic'ed up several of the players and had Joe Buck converse with them WHILE the game was going on. It was a really neat feature that made the game infinitely more interesting. If baseball could find a way to incorporate these types of things into real games, I think the sport's popularity would skyrocket.
8. I think the Suns have the best array of young talent in the NBA. Now putting it together is another thing, but Phoenix's box of goods cannot be understated. Devin Booker is certainly the headliner, but Josh Jackson, Dragan Bender, Marquese Chriss and Sean McDonough's trio of draft picks this year: DeAndre Ayton, Mikal Bridges, and Èlie Okobo give the Suns a formidable young roster that, if they can reach their collective potential over the next 5-7 years, could be very scary for the rest of the NBA.
9. I think Trae Young will struggle dearly as a rookie, but will be a future All-Star. His game in theory projects well to the NBA. He can shoot it from anywhere inside of half court and has an elite ability to pass his teammates open. I just feel that it will take Young a season or two to grasp his footing in the league. The former Sooner will post solid numbers because Atlanta just doesn't have many alternative options, but Young's efficiency will be sorely lacking.
10. I think the American League in baseball is very comparable to the Western Conference in basketball. The American League has the three best teams in baseball: the Red Sox, the Astros, and the Yankees. The Western Conference has probably four of the best five teams in the NBA now with LeBron's arrival in Hollywood. Things like this are cyclical, but it is interesting to note the parallels between the two sports.