My Final 2019 NFL Predictions (Part Two)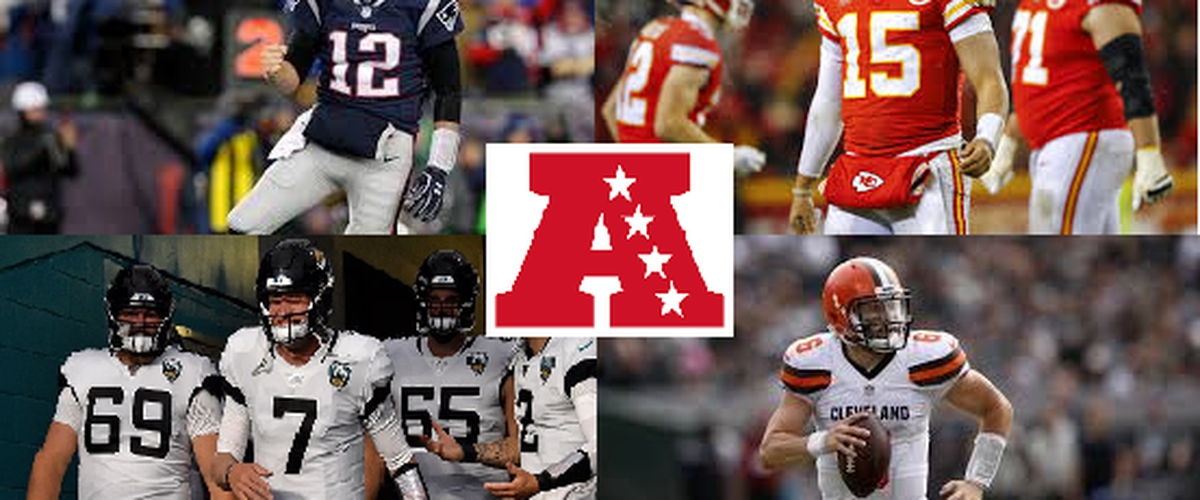 Just right before the NFL 100 Kickoff between the Green Bay Packers and Chicago Bears, we went over the NFC. Well, today we go over the American Football Conference (AFC).
First, I would like to begin with the AFC East. The defending Super Bowl champion New England Patriots still own this division. Patriots did lose some key players like Rob Gronkowski to retirement and Trey Flowers in free agency. However they just brought in WR Antonio Brown to join reigning Super Bowl MVP Julian Edelman, Demaryus Thomas and Josh Gordon. The Bills have worked to improve their offensive line and skill positions around second-year quarterback Josh Allen. Ryan Fitzpatrick is the starting quarterback for the Dolphins but it is just a matter of time when they will start Josh Rosen. Jets are much improved, now that they have Le'Veon Bell but they are not good enough to challenge the Patriots for the division crown.
1. Patriots 12-4 first–round bye
2. Jets 9-7
3. Bills 7-9
4. Dolphins 3-13
On to the AFC North, I think this is the year the Browns will at least turn things around and clinch a playoff spot. I have the Browns winning the division and Steelers as a Wild Card. I really like what the Browns did in the offseason, building talent around their quarterback of the future in Baker Mayfield by acquiring Odell Beckham Jr. and signing Kareem Hunt (still suspended). Juju Smith-Schuster is now the new star for the Steelers but he has big shoes to fill, replacing Antonio Brown isn't going to be easy. Lamar Jackson is ready to be a full-season starter and he won't be running a lot which is good. Bengals are finally entering a season with a different coach, Zac Taylor takes over after the Bengals 16-year run under Marvin Lewis. This will be a make or break season for Bengals quarterback Andy Dalton.
1. Browns 10-6
2. Steelers 10-6 Wild Card
3. Ravens 8-8
4. Bengals 4-12
On to the AFC South, the Texans won the division last year but this year they have a tough road schedule. Add on to that, they will be without their lead running back Lamar Miller who tore his ACL against the Dallas Cowboys during the preseason. The Jaguars are looking to bounce back after a horrific finish last year. This year they will be alot better especially at pass offense, Nick Foles will be under center. Foles will be throwing to Marqise Lee and Dede Westbrook. Colts head coach Frank Reich led the team to 10 wins in his first season last year. Reich was my pick to win the 2019 Coach of the Year award but don't think he will win it without Andrew Luck. In the wake of Andrew Luck's retirement, Jacoby Brissett has big shoes to fill.
1. Jaguars 10-6
2. Texans 9-7
3. Titans 8-8
4. Colts 6-10
Finally, we conclude with the AFC West. I had the Chargers winning the division and as the favorite to win the AFC but they need Melvin Gordon back with the team. Chiefs quarterback Patrick Malhomes had a remarkable year last season as he threw for over 5,000 yards and 50 touchdown passes then later he took home the NFL MVP. Malhomes has new toys now with veteran back LeSean McCoy and rookies Mecole Hardman who's a a speedster and Darwin Thompson. Antonio Brown is no longer with the Raiders which is going to haunt them. The Raiders needed Antonio Brown to evaluate Derek Carr, now they are going to need Carr to pull some kind of magic.
1. Chiefs 13-3 first–round bye
2. Chargers 11-5 Wild Card
3. Broncos 7-9
4. Raiders 5-11
AFC Offensive Player of the Year: Baker Mayfield, Browns
AFC Defensive Player of the Year: Melvin Ingram, Chargers
AFC OROTY: Marquise Brown, Ravens
AFC DROTY: Devin Bush, Steelers
AFC Coach Of The Year: Anthony Linn, Chargers
Playoff Predictions
AFC Wild Card Round:
(6) Steelers over (3) Browns
(4) Jaguars over (5) Chargers
AFC Divisional Round:
(2) Patriots over (4) Jaguars
(1) Chiefs over (6) Steelers
AFC Championship Game: (1) Chiefs over (2) Patriots
AFC Champions: Kansas City Chiefs
---