Lakers Fall to Kings in Summer League Opener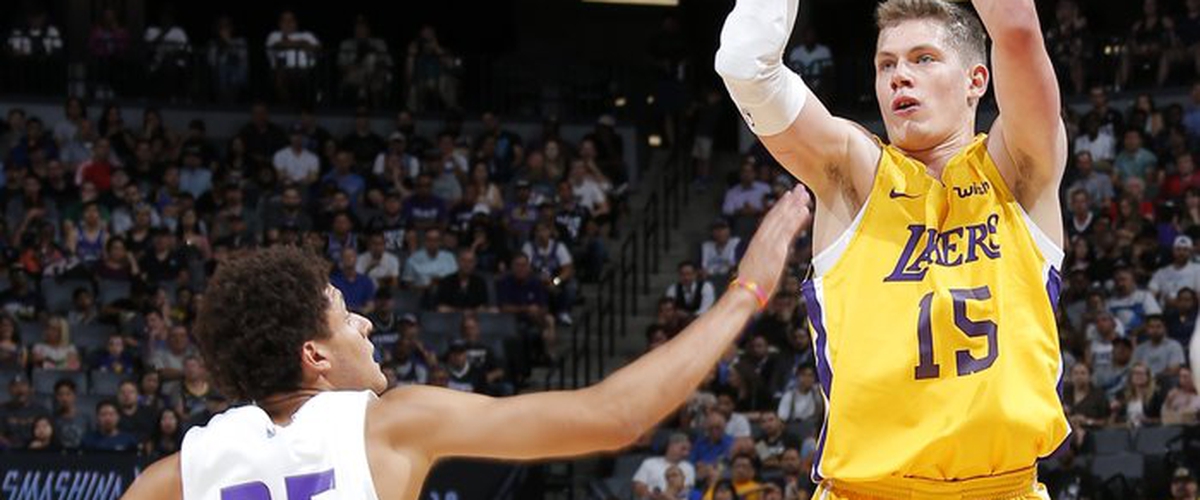 After having a start to free agency that Los Angeles fans have been dreaming about since before Kobe's departure, it is finally time for a segment of the NBA off-season that Laker fans have grown fond of over the last half decade: NBA summer league. This season, however, is their first without a lottery headline, such as Lonzo Ball, Brandon Ingram, or D'Angelo Russell. Kyle Kuzma was kept off the roster as well, so this years roster was one that many Laker fans are unfamiliar with coming in to the tourney.
The Lakers were lead into Sacramento behind the 30th pick in last years draft Josh Hart, as well as the 25th pick in this years draft Moe Wagner. They started off stagnant on defense, however making up for it with their offensive intensity. Second round pick Svi Mykhailiuk was an early standout in this game, who scored the Lakers first four points, and displayed an ability to create his own shot, as well as athletic ability that was unseen before. In the second quarter, the Lakers were lead by Hart and Moe, who each had 12 points going into the half. Turnovers were a problem for the young LA team in this quarter, giving up the ball five times in the second quarter alone. LA led by as many as 12 points in the first half, however a fiery finish by the Kings cut that lead down to six against a seemingly tired Lakers lineup.
The second half showed a real shift in intensity in this game. It started out heavily in favor of Sacramento, who opened the quarter on a 7-2 run, as the Lakers could not find their shot. After scoring 30 points in the second quarter, LA was only able to come up with 13 in the third as the Kings were able to tie it up going into the fourth. Behind Mason and the defense of Bagley, they were able to open up their largest lead of the night (7) half way through the final quarter. With Hart, Moe and Svi finding the three ball late in the game, they were able to keep LA in it, down the stretch, but Bagley and Mason's late offense kept it out of reach for the Lakers, falling to Sacramento 93-98.
Despite the loss, there were bright spots for Los Angeles in this game. Josh Hart showed his year of experience, dropping 23 points on 48% shooting, while Svi also stood out in this game, who had 15 points on 60% from the field, while displaying a newfound sense of athleticism with rim finishing ability and being able to put pressure down the whole floor. Moe Wagner was able to put up 23 points as well with seven rebounds, but struggled from the field in his debut, shooting 33%. However, despite his percentage he still displayed confidence in his shooting ability, which is a promising look going into game two of summer league. The Lakers as a whole struggled from behind the arc, shooting only 34% from three in the contest, so hopefully ball security and shooting will improve as they take on the Miami Heat tomorrow night.