Week 3: Start 'Em/Sit 'Em
We're excited to be back for another week of Start 'Em/Sit 'Em after a successful slate of Week 2 picks. Whether you're 2-0 or 0-2 there's still plenty of time for your season to head in the opposite direction, so stay focused and be smart. There are some great matchups to take advantage of in Week 3 so lets dive right in:
QUARTERBACK - START 'EM:
Kirk Cousins, Minnesota Vikings (Home vs Buffalo Bills)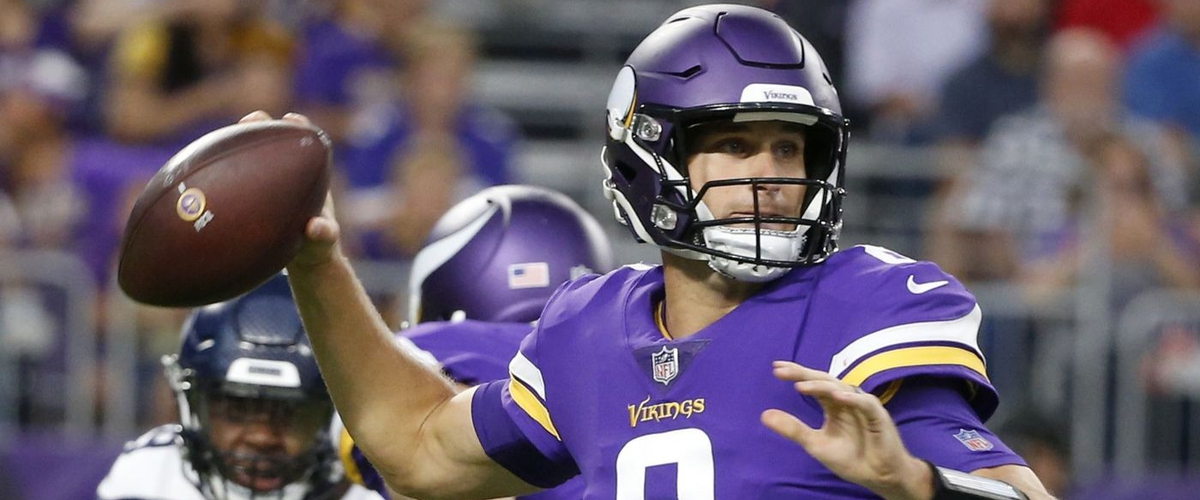 Cousins has started the season much better than anyone could have imagined, throwing for six touchdowns in the Viking's first two games. Cousins is set for another huge week against a Bills defense that has surrendered an average of 25 fantasy points per game to opposing Quarterbacks. Cousins is a must-start this week for us.
Matt Ryan, Atlanta Falcons (Home vs New Orleans Saints)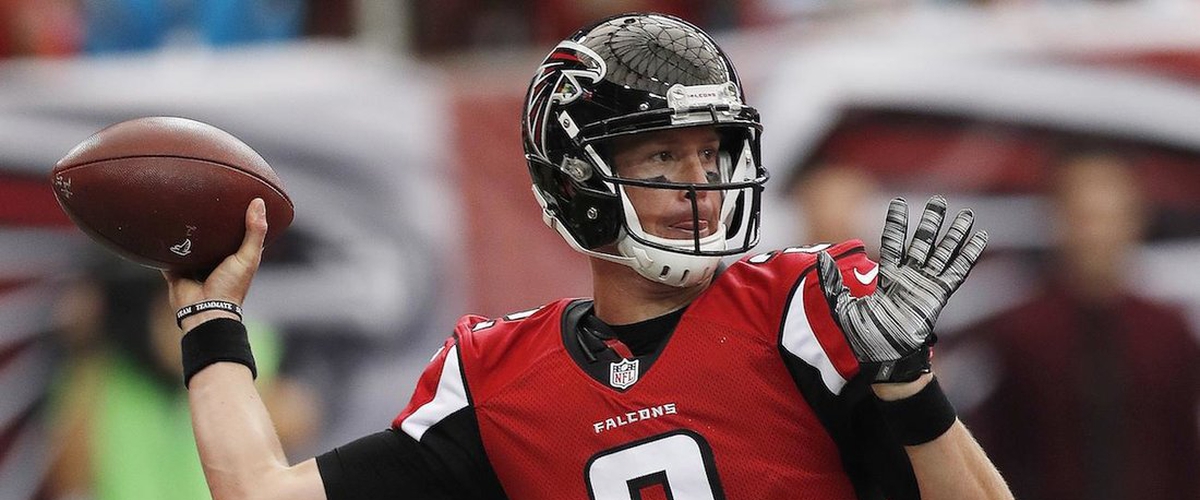 Matt Ryan has had about as polarizing first two weeks as any player in the league thus far. He finished as the overall QB24 in Week 1 before an overall QB5 finish in Week 2. Ironically it's been It's been very similar for the Saints defense, getting torched by the Buccaneers in Week 1 before have a solid performance in Week 2. Tampa Bay showerd that this defense is very beatable, and the Saints are 29th in overall pass-defense and 30th in fantasy points allowed to QB's through two weeks.
Ryan Fitzpatrick, Tampa Bay Buccaneers (Home vs Pittsburgh Steelers)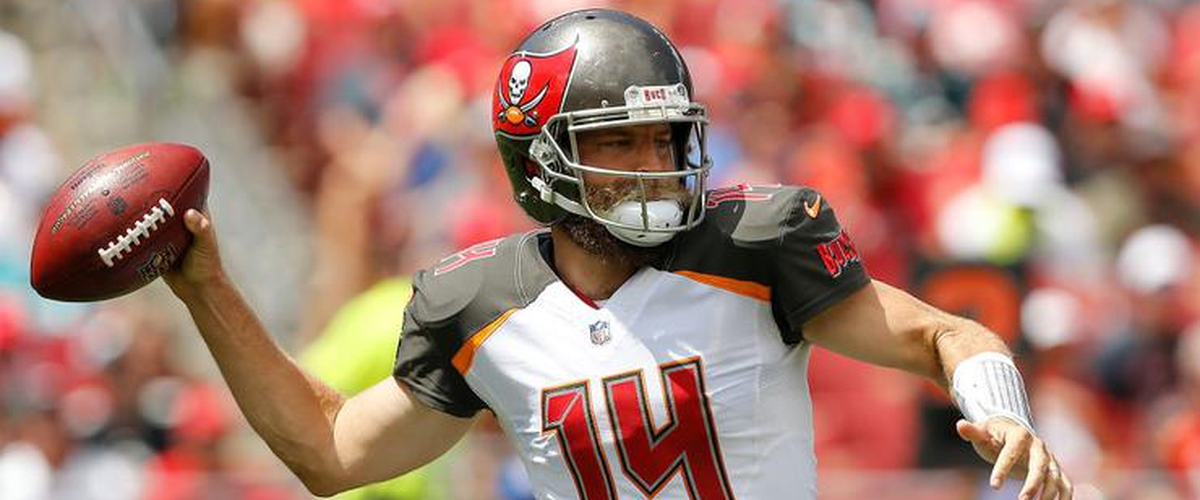 Fitzpatrick has been an absolute monster through two weeks, scoring nine total touchdowns while leading all players in fantasy points. Even though all my Steeler fan's out there think the Tampa train is going to derail this week, the matchup against this Steelers defense is hard to ignore. The Chiefs are the only team to allow more fantasy points to opposing quarterbacks this season, the Tampa train keeps rolling!
*Week 3 QB Sleepers*
Jimmy Garoppolo, San Fransisco 49ers (Away at Kansas City Chiefs): Jimmy G hasn't had the start to the season that fantasy owners (myself included) had hoped, but don't faith in the 49er's quarterback. This week's matchup versus the horrendous Chiefs pass defense is exactly what Garoppolo needs to get back on track. The Chiefs have allowed a staggering seven touchdowns and 34 fantasy points per game to opposing quarterbacks through two weeks.
Mitchell Trubisky, Chicago Bears (Away at Arizona Cardinals): Trubisky didn't shine, but also didn't look terrible in the Monday night matchup vs the Seahawks. If you're looking for a quarterback on the waivers for this week Trubisky might be a nice addition going up against a soft Cardinals pass defense. Arizona fields the 27th worst pass defense in the league so look for Trubisky and his weapons to score points.
QUARTERBACK - SIT 'EM:
Carson Wentz, Philadelphia Eagles (Home vs Indianapolis Colts)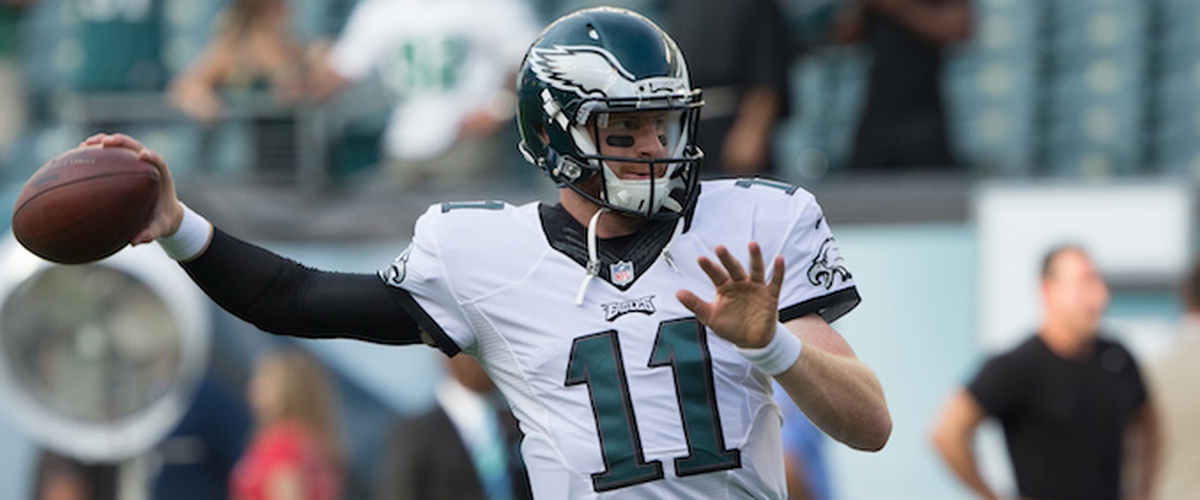 Carson Wentz owners, especially those that drafted him high, might be anxious to finally utilize one of their top picks in a favorable matchup against a weak Colts defense, but we're not feeling so confident. We want to make sure Wentz is the same player after suffering a bad knee injury, Carson Palmer was never quite the same quarterback when he returned to football. With that being said there's still a chance that Wentz is going to go out an light up the Colts, we just don't like the risk this week with so many other favorable matchups for quarterbacks.
Andy Dalton, Cincinnati Bengals (Away at Carolina Panthers)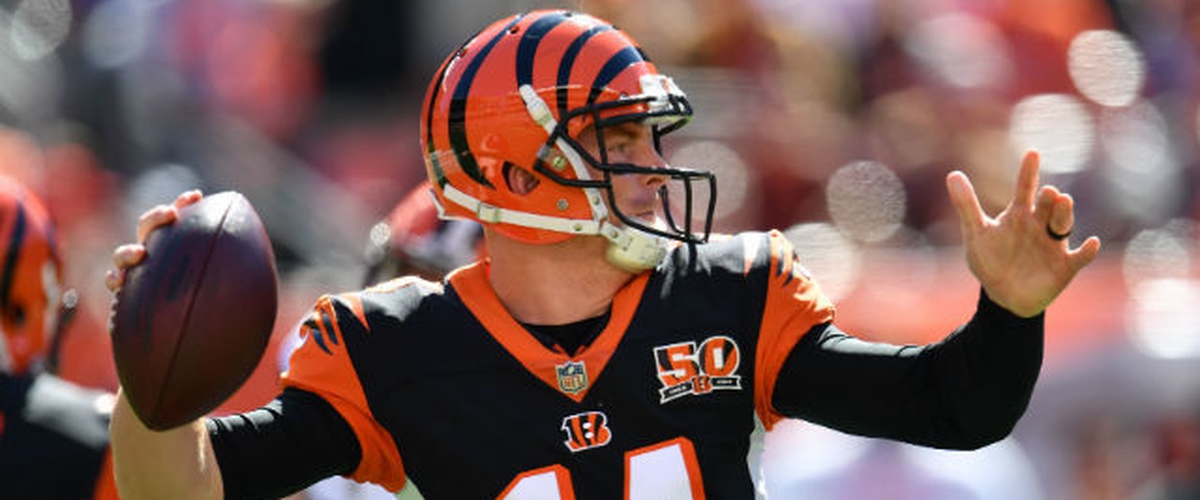 Andy Dalton has had a nice start to his 2018 season, of course having the outstanding A.J. Green always helps, but don't expect Dalton to produce much this week against a good Panthers pass defense. Carolina has the 7th ranked pass defense though two weeks and figures to give Dalton a tough time in his visit to Carolina.
Case Keenum, Denver Broncos (Away at Baltimore Ravens)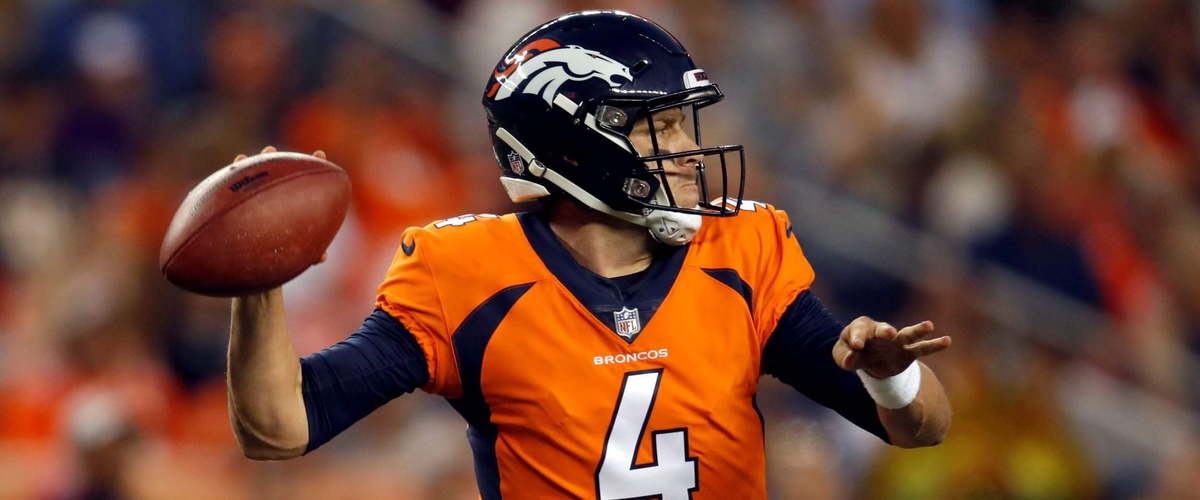 Keenum was a major disappointment last week, scoring just 14.5 fantasy points despite a favorable matchup at home against the Raiders. Now the Broncos head Baltimore who boast the 3rd ranked pass defense so far and have allowed only one quarterback to finish better than 15th in fantasy points over their last nine home games. Don't play Keenum!
RUNNING BACK - START 'EM:
Jordan Howard, Chicago Bears (Away at Arizona Cardinals)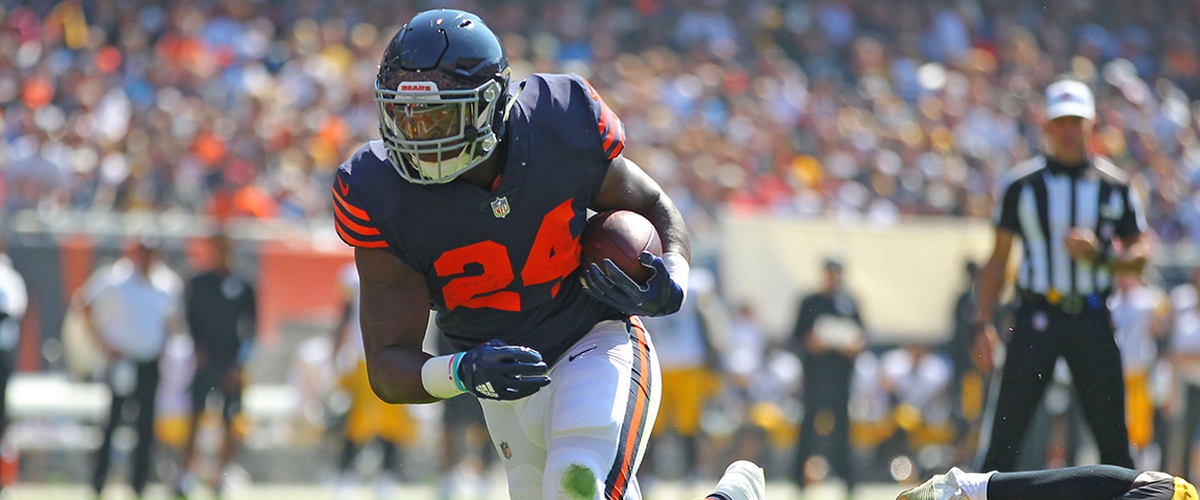 We had Jordan Howard as a sure-fire starter last week and he didn't quite perform as well as we expected on Monday night, but he has very sweet matchup this week versus a Cardinals defense that has allowed five total touchdowns and the most fantasy points, 43.5 points per game, to opposing running backs in 2018. We have Howard has a must-start again this week.
Tevin Coleman, Atlanta Falcons (Home vs New Orleans Saints)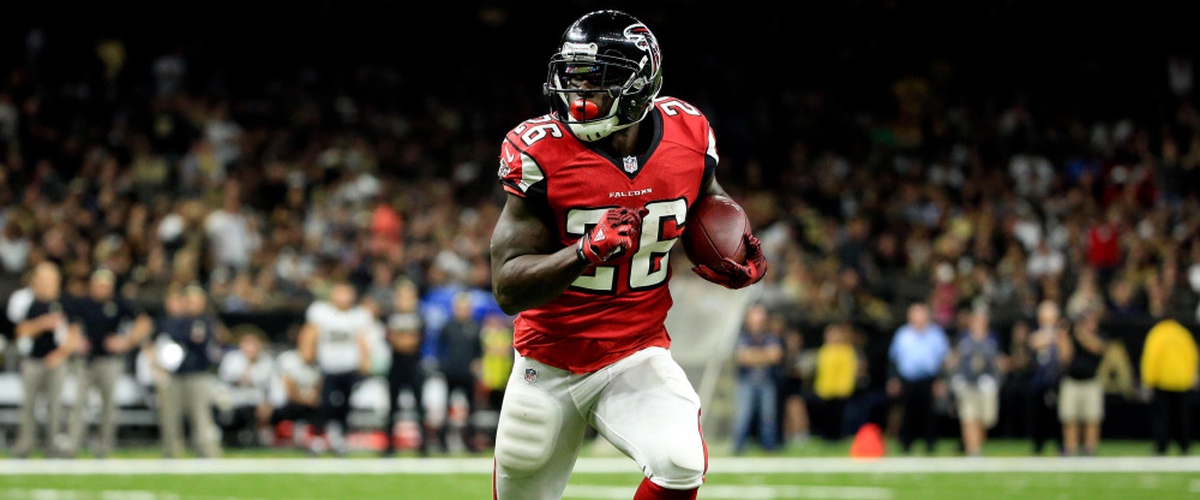 No Devonta Freeman for the Falcons makes Tevin Coleman a must start again this week. Coleman was on the field for 65 percent of the total offensive snaps last week and we're expecting the game between the Falcons and Saints to be a shootout. Coleman is a 100% start this week!
Sony Michel, New England Patriots (Away at Detroit Lions)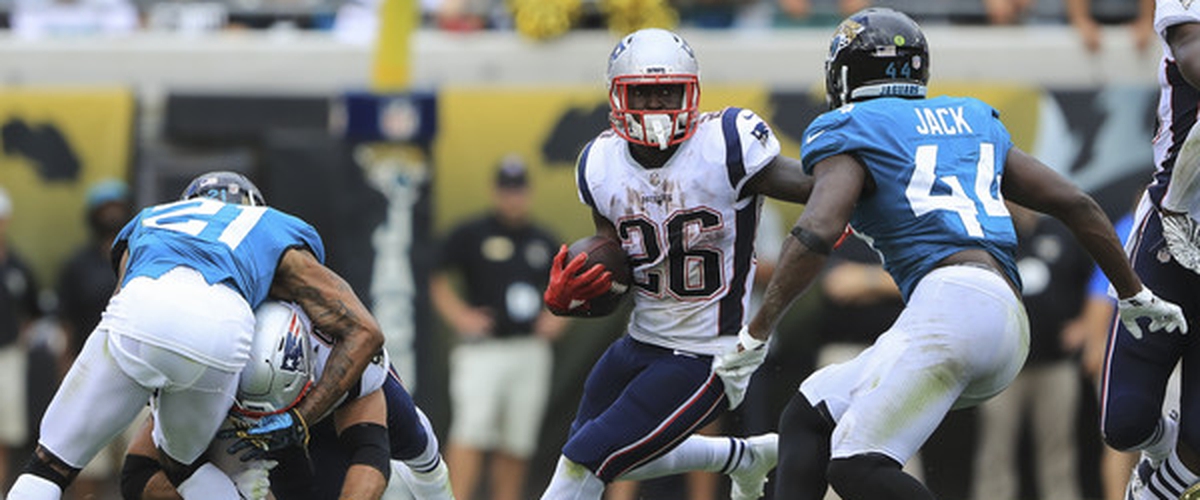 Sony Michel made his debut for the Patriots last week against the Jaguars, and his numbers weren't anything outstanding logging 10 carries for 34 yards. What we're excited about is how Michel was running, he ran extremely hard north and south breaking through arm tackles and dominating the early-down work for the Patriots. This week Michel has a much more favorable matchup against a Lions defense that's ranked last in run defense through two weeks. The concern with Michel is always the revolving door in New England's backfield, you never know who's going to get a lion-share of the work. Ultimately, Michel is boom-or-bust option, the Patriots will be able to run the ball against Detroit it just depends who gets the rock.
*Week 3 RB Sleepers*
Lamar Miller, Houston Texans (Home vs New York Giants): Miller hasn't been bad this season, his numbers are mostly lacking due to the fact that he hasn't scored a touchdown in 2018. Despite that Miller actually has the fourth most rushing yards in the league through two games with 166. Miller has one of the safest workloads of most backs and is facing a Giants run defense ranked 29th thus far. We'd start Miller.
Matt Breida, San Fransisco 49ers (Away at Kansas City Chiefs): Breida has split touches with Alfred Morris about evenly through two games but it's been Breida who has taken advantage of his carries leading the league so far with 184 yards rushing. On the road against a high-scoring Chiefs offense the 49ers will find themselves trailing at some point, making this more of a Breida game as he's the bigger playmaking threat.
RUNNING BACK - SIT 'EM:
LeSean McCoy, Buffalo Bills (Away at Minnesota Vikings)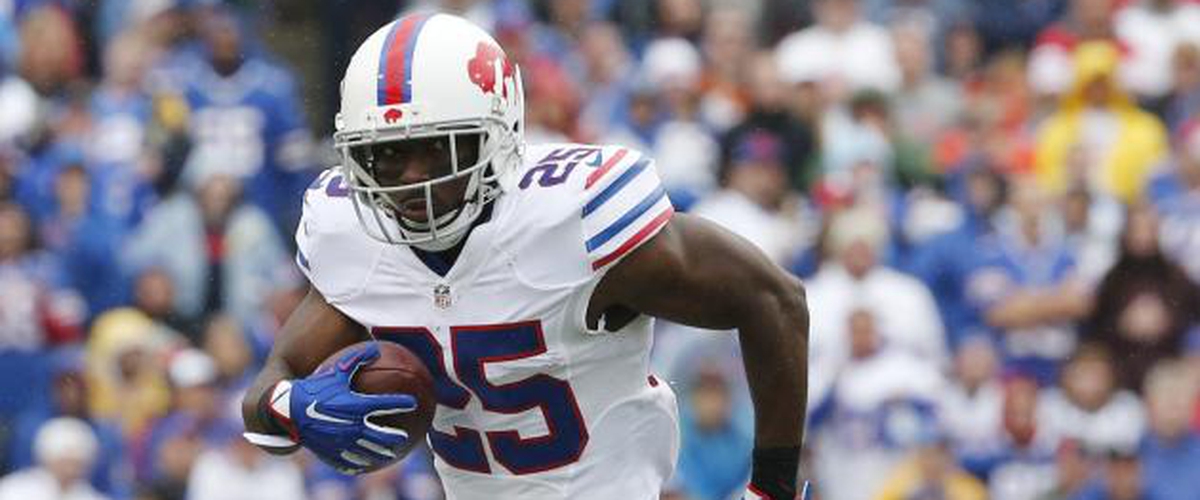 We had LeSean McCoy as a sit last week and he was held to 39 yards on 9 carries and 29 yards receiving on 4 catches while suffering cracked rib cartilage in last week's loss to the Chargers. Reports suggest McCoy could still be active in Week 3, but either way you should leave him on your bench. an ailing McCoy is a massive risk on the road against a tremendous Vikings defense.
Denver Broncos' Running Backs (Away at Baltimore Ravens)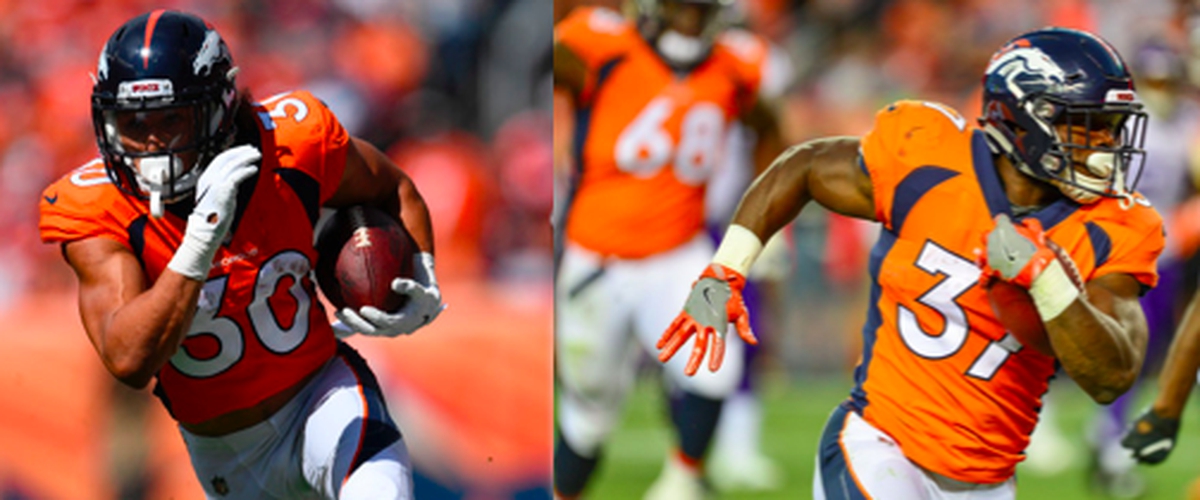 We don't like Phillip Lindsay or Royce Freeman this week on the road against a Ravens defense that's allowed the second fewest total yards and surrendered the second-least fantasy points to opposing running backs in 2018. We think both backs are are risky plays with a high chance to bust in Week 3.
Derrick Henry, Tennessee Titans (Away at Jacksonville Jaguars)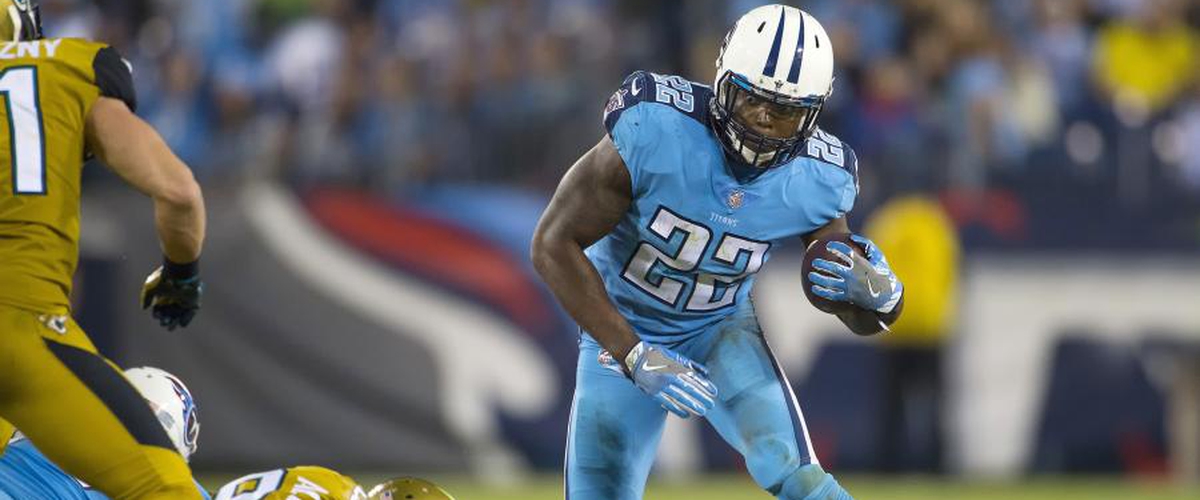 Henry is a massive gamble this week as Dion Lewis has almost doubled his snaps through the first two games. Figuring out the lead rusher in this backfield is near impossible, along with that a matchup versus the tough Jaguars defense looms, sit Henry if you have other options.
WIDE RECEIVERS - START 'EM:
DeSean Jackson, Tampa Bay Buccaneers (Home vs Pittsburgh Steelers)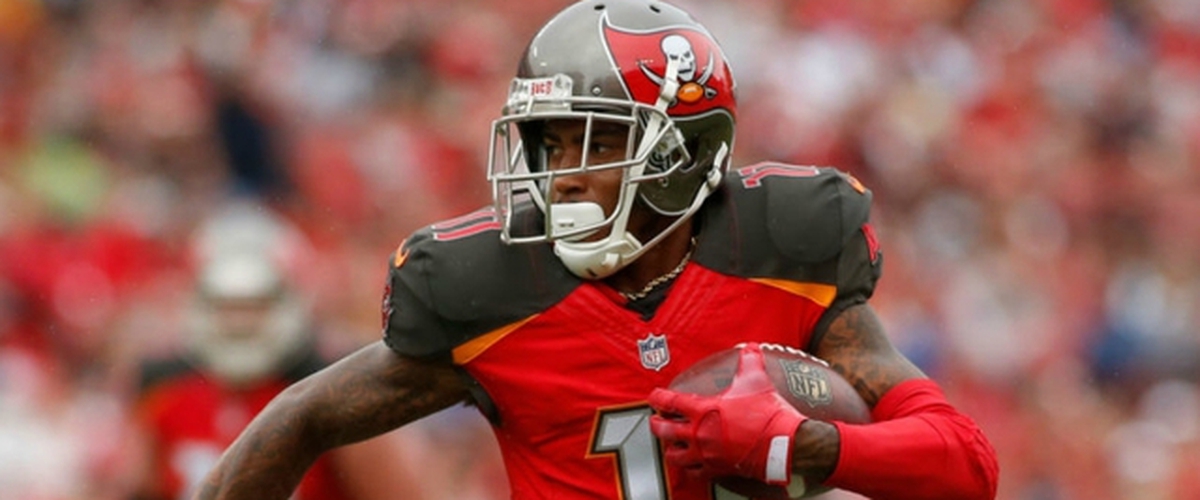 We are rolling with the Tampa train and DeSean Jackson as well this week in what should be another high scoring game for the most surprising team of 2018 so far. Jackson has been a fantasy star, ranking third in PPR points and should once again be in fantasy lineups against the Steelers who have given up four touchdown catches and an average of 42.6 PPR points to opposing wide receivers through two weeks.
Minnesota Vikings' Receivers, (Home vs Buffalo Bills)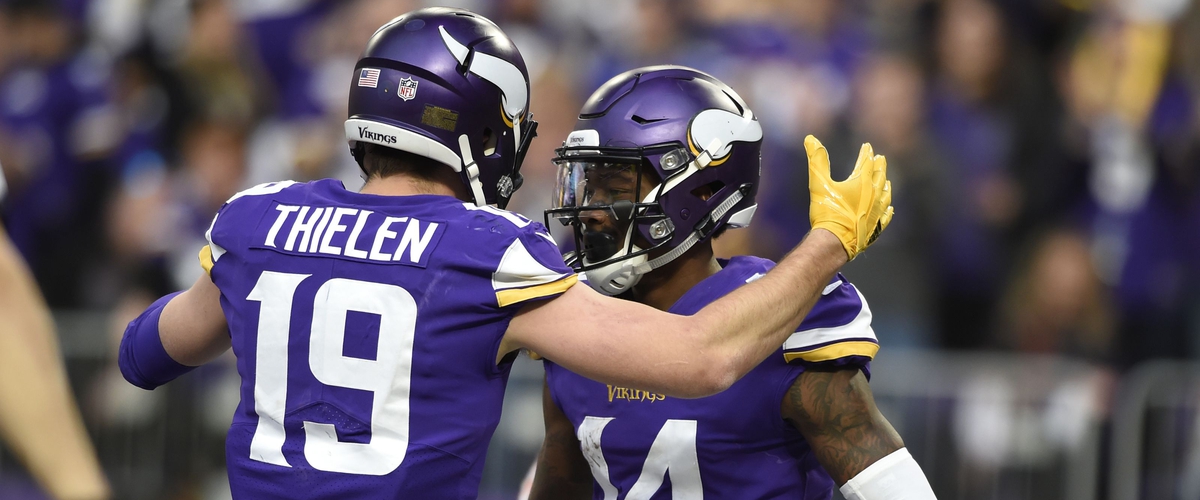 We are expecting both Adam Thielen and Stefon Diggs to have huge weeks against a pitiful Bills pass defense. Buffalo has let up more passing touchdowns than anyone beside Pittsburgh through two weeks and the Vikings will take advantage early and often. Even though this is the wide receiver section Kyle Rudolph is worth a start as well, Vikings will roll at home in Week 3.
Julio Jones, Atlanta Falcons (Home vs New Orleans Saints)
Julio Jones is set to have a monster game against one of the leagues worst pass defenses through two weeks. Tampa Bay obliterated New Orleans in Week 1 through the air and we expect the Falcons to do the exact same thing which means Julio Jones will feast in a shootout. Julio Jones is an absolute must start at home this week.
*Week 3 WR Sleepers*
Allen Robinson, Chicago Bears (Away at Arizona Cardinals): We think Bears' playmakers at set for a huge week against a struggling Cardinals team. Arizona comes into this game with the 27th ranked pass defense and Allen Robinson is clearly quarterback Mitchell Trubisky's favorite target. We're expecting at least one score from Robinson this week.
Taylor Lockett, Seattle Seahawks (Home vs Dallas Cowboys): Lockett is truly a boom-or-bust option this week as the speedy receiver will be Russell Wilson's best weapon with Doug Baldwin ruled out. The Cowboys boast one of the top defenses, but Lockett might be able to be them over the top for a score.
WIDE RECEIVERS - SIT 'EM:
Corey Davis, Tennessee Titans (Away at Jacksonville Jaguars)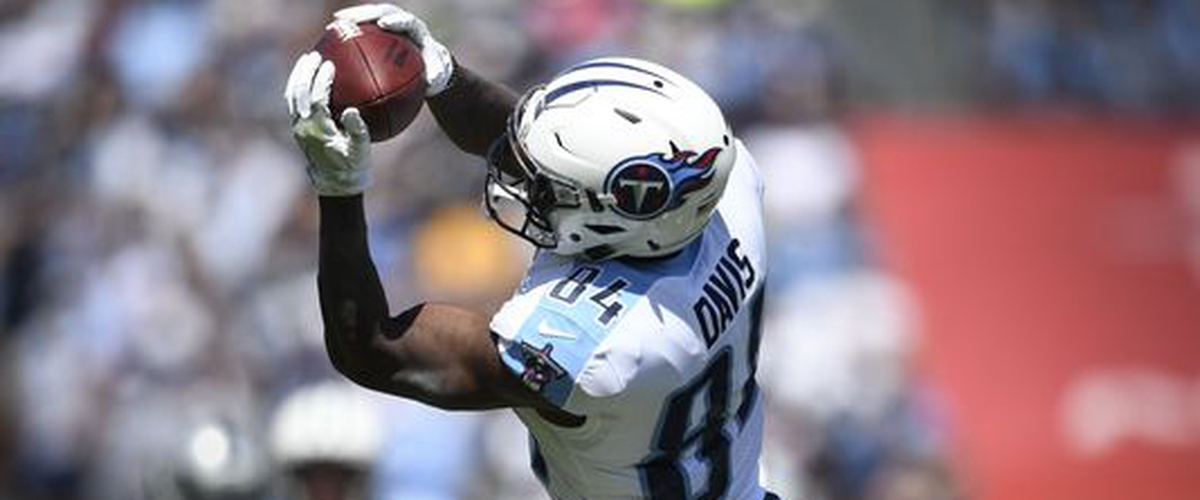 The quarterback situation in Tennessee is a mess right now with Marcus Mariota battling an elbow injury and back-up Blaine Gabbert, well being himself, has led to some offensive struggles. As the Titans clear top receiver expect Davis to see plenty of All-Pro Jalen Ramsey. In two games against the Jaguars last season, Davis put up one catch for four yards, Davis should be on your bench this week for sure.
Randall Cobb, Green Bay Packers (Away at Washington Redskins)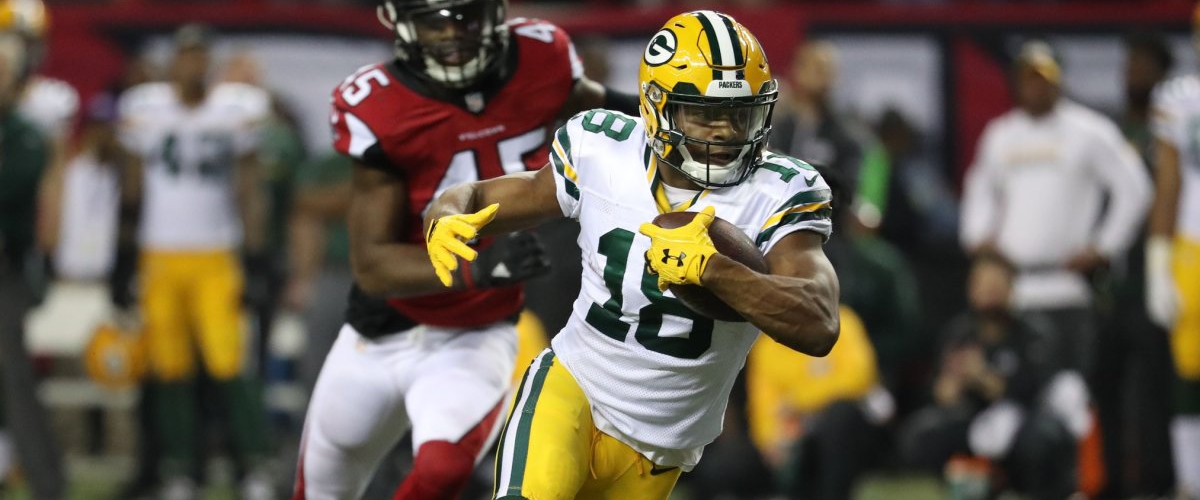 Cobb had a career outing in Week 1 but came crashing back to Earth last week against the Vikings. He's in for another tough match this week on the road against a Redskins defense that's the best in the league through two weeks. The plethora of Green Bay passing options coupled with Washington allowing the third-fewest fantasy points to receivers we have Randall Cobb as a hard sit this week in Washington.
JuJu Smith-Schuster, Pittsburgh Steelers (Away at Tampa Bay Buccaneers)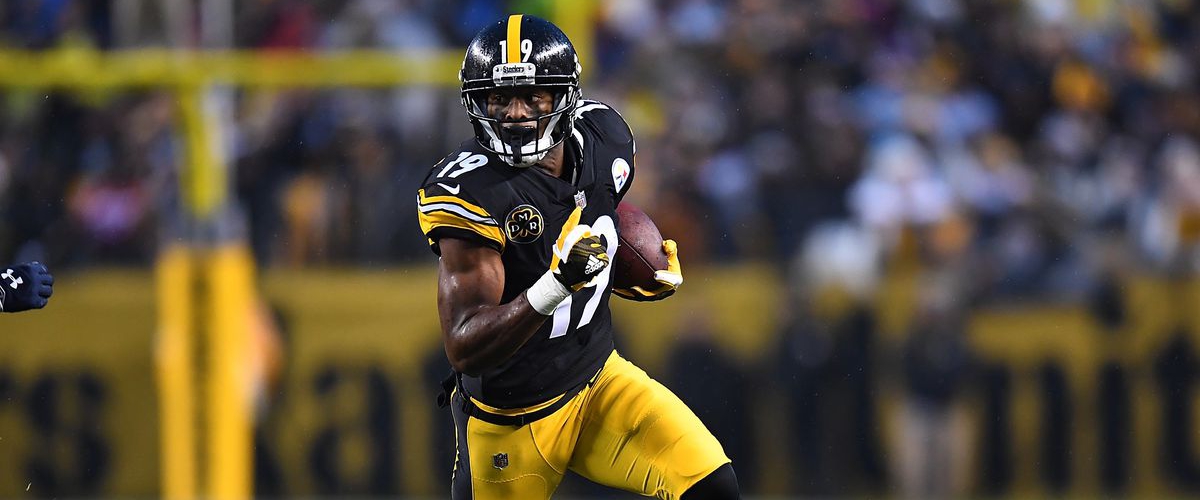 Smith-Schuster has been on fire through the first two weeks of the season, but after Antonio Brown's outburst on Sunday and subsequent no-show to practice on Monday we're weary of how many targets he may get on Monday night. Of course, there's a chance that JuJu's targets are unaffected in which case he has a favorable matchup in a potentially high scoring game. Something just doesn't feel right about starting JuJu this week so we're leaving him on the bench.
TIGHT ENDS - START 'EM:
Jared Cook, Oakland Raiders (Away at Miami Dolphins)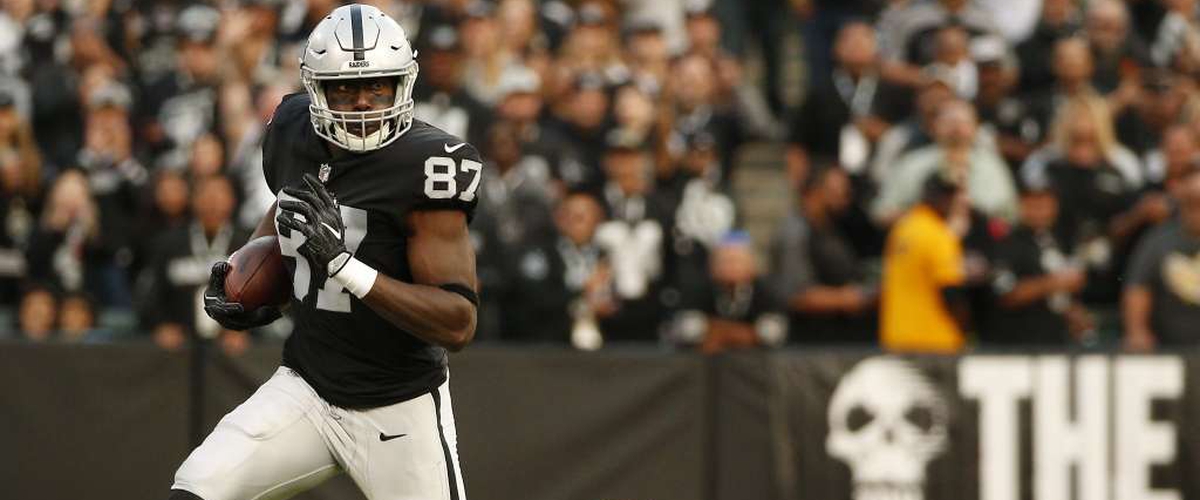 We like Jared Cook in his matchup on the road this week against the Dolphins 24th ranked pass defense. Jared Cook has 229 receiving yards through just two games which is almost 1/3 of his best career mark of 759 yards.
O.J. Howard, Tampa Bay Buccaneers (Home vs Pittsburgh Steelers)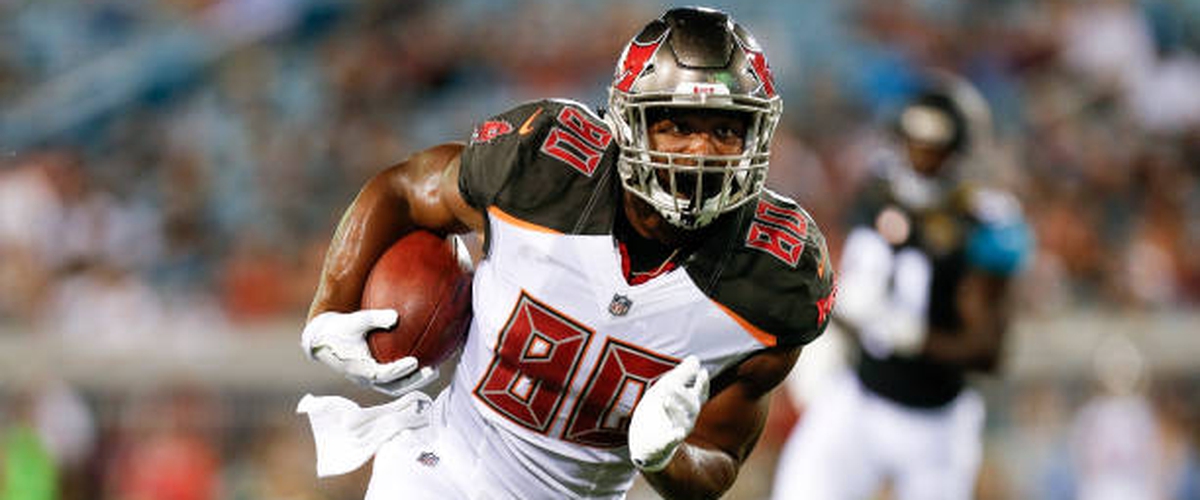 We weren't kidding when we said we were riding the Tampa train at home versus the anemic Steelers defense. Pittsburgh was torched last week by Travis Kelce for over 100 yards and two scores and David Njoku should have had a more productive game against them in Week 1 had he not dropped a few easy catches. We think O.J. Howard grabs another touchdown on Monday night.
*Week 2 TE Sleeper*
Austin Hooper, Atlanta Falcons (Home vs New Orleans Saints): Believe it or not Hooper is second on the Falcons with nine targets behind Julio Jones' 28. Hooper did everything he could last week catching all five of his targets for 59 yards and a touchdown. Hooper will see a few targets each week and is a real touchdown-or-bust kind of option. This week the Saints come to town for a potential high-scoring game.
TIGHT ENDS - SIT 'EM:
Tyler Eifert, Cincinnati Bengals (Away at Carolina Panthers)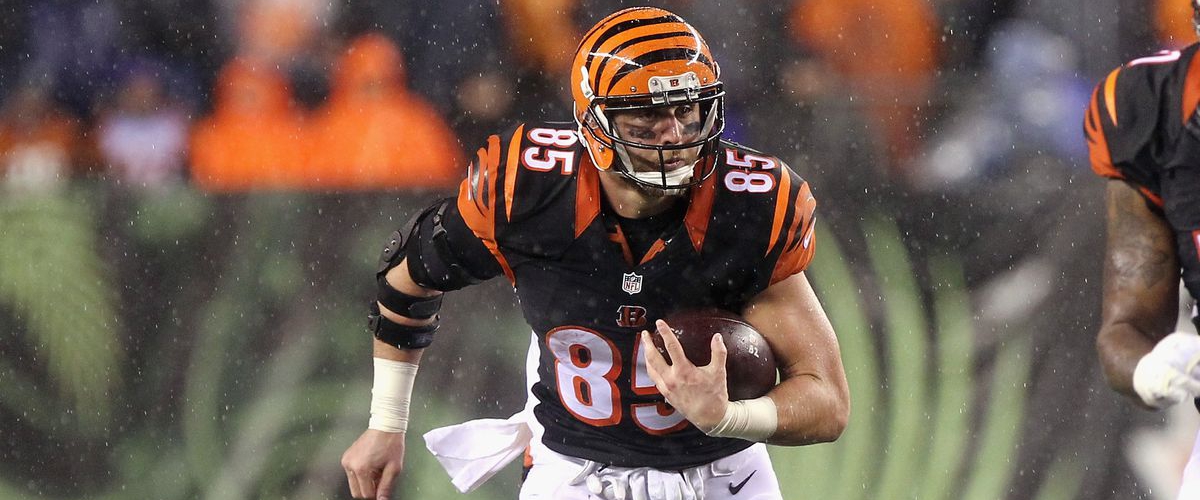 Tyler Eifert has played on just 54.5% of the offensive snaps through two games, when picking tight ends you want the guys who are on the field and running the most routes which isn't Eifert who splits time with two other guys. On top of that the Bengals have a tough road matchup vs a Panthers defense that's been the 7th best against the pass this season allowing just 400 yards passing and two touchdowns.
Eric Ebron, Indianapolis Colts (Away at Philadelphia Eagles)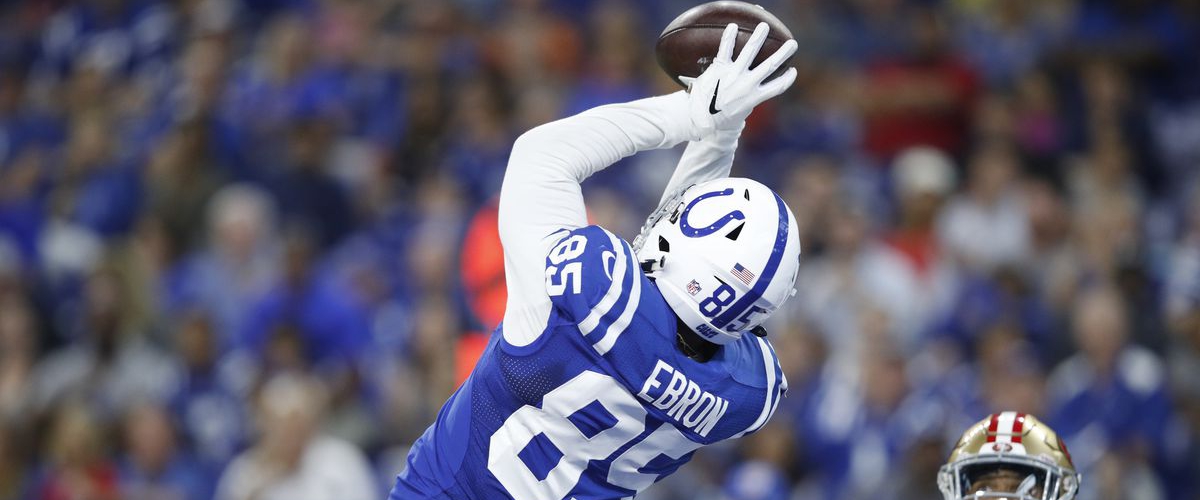 Ebron has been hot, but we don't believe his sucess will continue in Week 3. Ebron has played just 38 percent of the offensive snaps while Jack Doyle has played 95 percent of snaps. To make things worse, the Eagles defense has allowed an average of less than six PPR points to opposing tight ends at home since last season.
D/ST - START 'EM:
Chicago Bears (Away at Arizona Cardinals): Arizona has the worst offense in the league through two weeks with only 350 total yards of offense and 0 passing touch downs. Expect Khalil Mack and Co to wreak havoc on a pathetic Cardinals offense.
Minnesota Vikings (Home vs Buffalo Bills): The Buffalo Bills have been a dumpster fire so far in 2018 and things won't be getting any easier on the road versus a mean Vikings defense. Buffalo will be starting a rookie quarterback and a banged up LeSean McCoy in a tough environment to play, expect big things from the Vikings defense.
D/ST - SIT 'EM:
Pittsburgh Steelers (Away at Tampa Bay Buccaneers): The Steelers defense has been like swiss cheese over the first two weeks so a matchup in Tampa Bay vs the red-hot Bucs isn't an ideal matchup. Over their first two games, Tampa Bay's opponents have averaged a measly one fantasy point. Don't plat the Steelers defense this week....or ever.
Los Angeles Chargers (Away at Los Angeles Rams): This isn't a favorable matchup for the Chargers as opposing defenses have averaged fewer than 4.5 fantasy points against the Rams since the start of 2017. We'd sit the Chargers defense this week if you can.
KICKER - START 'EM:
Robbie Gould, San Fransisco 49ers (Away at Kansas City Chiefs): Gould has been one of the best fantasy football kickers so far this year scoring a combined 22 fantasy points in his first two games. This week's matchup against the Chiefs will be a high-scoring affair so Gould should surely be in your fantasy lineup.
Dan Bailey, Minnesota Vikings (Home vs Buffalo Bills): We can't believe it took one of the most accurate kickers in league history this long to find a job, but he's finally back! Dan Bailey has been my fantasy kicker for years, head to the waiver wire immediately if you need a kicker, especially since he's joining one of the league's top offenses.
KICKER - SIT 'EM:
Brandon McManus, Denver Broncos (Away at Baltimore Ravens): McManus has been the top kicker through two weeks scoring 23 fantasy points, but we don't like the Broncos to score much on the road against a tough Ravens defense. Baltimore has only allowed an average of less than 6.5 fantasy points per game to kickers at home field since 2017.
Sebastian Janikowski, Seattle Seahawks (Home vs Dallas Cowboys): We've had Janikowski as a sit in both Week's 1 & 2 and SeaBass hasn't done too much in those first two games with the team. We suggest sitting him again as the Cowboys have allowed less than 5 points per game to kickers on the road since 2017.
Thanks again for taking the time to read our weekly Start 'Em/Sit 'Em!
We hope it'll help you win your fantasy games this week! As always feel free to tweet us any fantasy football questions you have @LastPlaceFF
---