Week 5: Start 'Em/Sit 'Em Review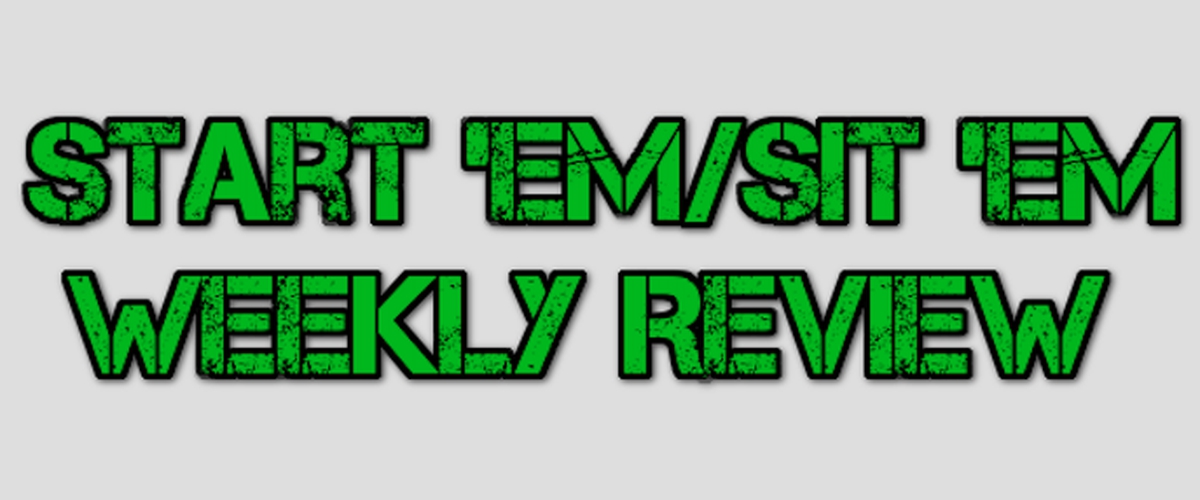 We're back with another edition of our weekly review, this is a column that we take some time to go over our Start 'Em/Sit 'Em picks from the weekend and see how the guys we picked actually performed. With that being said it's time to find out how we did:
*Best Twitter Advice of the Week*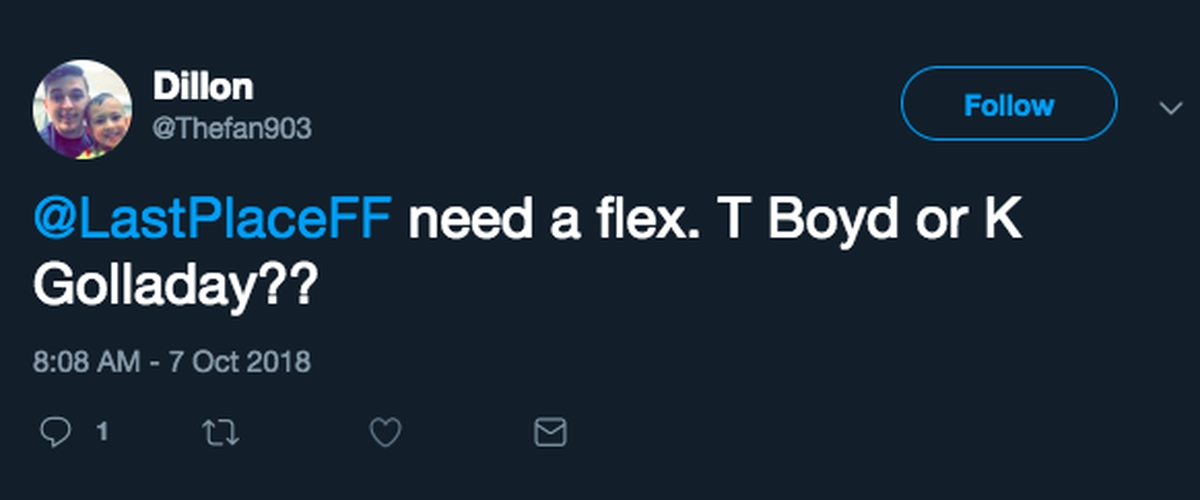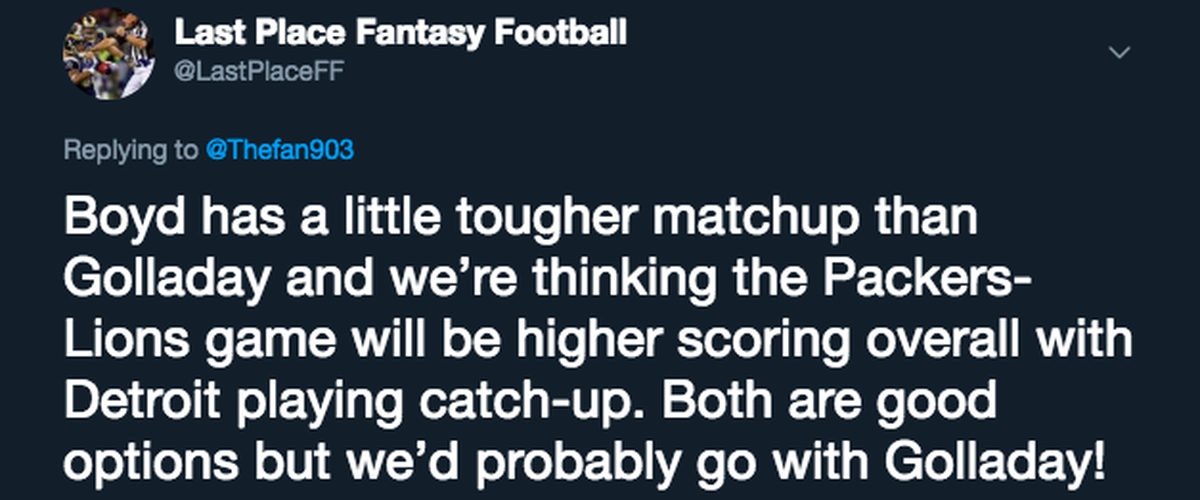 *QUARTERBACK*
-START-
Cam Newton (16.4 points): 21/35, 237 passing yards, 2 TD, 2 INT
Ben Roethlisberger (21.6 points): 19/29, 250 passing yards, 3TD, 1 INT
Philip Rivers: (21.4 points): 22/27, 339 passing yards, 2 TD
Week 5 didn't have any outstanding quarterback performances, being the only week this season without a 40 point scorer at the position. In fact, Aaron Rodgers was the top quarterback in Week 5 scoring 28.7 points, but that score would have only been good for an eighth place finish in Week 4. Even though Cam Newton was a little disappointing all our suggested quarterbacks finished in the Top-15 with Roethlisberger and Rivers finishing fifth and sixth respectively.
-SLEEPERS-
Alex Smith (13.7 points): 23/39, 275 passing yards, 1 INT, 1 Ru TD
Blake Bortles (20.6 points): 33/61, 430 passing yards, 1 TD, 4 INT, 1 Ru TD
Just like we predicted there were plenty of opportunities for Blake Bortles to put up numbers against the Chiefs, he threw the ball 61 times! But Blake Bortles is also Blake Bortles and made the Chief's defense look competent by throwing 4 interceptions. Somehow he was able to finish as the 11th best quarterback in Week 5 though!
-SIT-
Dak Prescott (11.7 points): 18/29, 208 passing yards, 1 TD, 2 INT
Eli Manning (19.2 points): 22/36 326 passing yards, 2 TD, 2 INT
Russell Wilson (19.9 points): 13/21, 198 passing yards, 3 TD

We did much better on our quarterback sit section this week, none of the guys we pick hit that magic 20 point mark that we like to see our starting quarterbacks score. Wilson and Manning were close to the 20 mark, but neither had spectacular weeks while Prescott had another low-scoring game.
Week 5 QB Score: 75% (Week 4 QB score: 50%)
*RUNNING BACK*
-START-
Aaron Jones (7.9 points): 7 carries, 40 rushing yards,
T.J. Yeldon (26.2 points): 10 carries, 53 rushing yards, 8 Rec, 69 yards, 1 TD
Christian McCaffrey (20.3 points): 17 carries, 58 rushing yards, 5 Rec, 35 yards, 1 TD
We were a solid two for three on our running back this picks, Aaron Jones didn't get near the amount of usage that we (and everyone else in Green Bay) expected. We still like Jones going forward if he's still available in your league. Yeldon had another great fantasy performance in place of Leonard Fournette while McCaffrey was is usual versatile self racking up almost 100 total yards of offense and a touchdown.
-SLEEPER-
Dion Lewis (5.8 points): 12 carries, 34 rushing yards, 3 Rec, 14 yards
Matt Breida (13.1 points): 8 carries, 56 rushing yards, 1 Rec, 5 yards, 1 TD
It's safe to say our running back sleepers were stinkers this week, Lewis was held in check while Breida was having a solid game before being forced out of the game with an ankle injury. The 49ers have so many injuries now, can they just fast forward to next season?
-SIT-
Dalvin Cook (0 points): Cook did not play
LeSean McCoy (12.8 points): 24 carries, 85 rushing yards, 2 Rec, 23 yards
Chris Carson (13.7 points): 19 carries, 116 rushing yards
The sit section was pretty spot on for Week 5, starting with Dalvin Cook. We told everyone to beware of his health until he can prove he's 100% health and he didn't even play in Week 5. LeSean McCoy had a bounce back week showing some pep in his step and Chris Carson had a 100-yard rushing game after missing Week 4 with a hip injury. Both back were decent fantasy plays, but neither cracked the Top-20 in production this week.

Week 5 RB Score: 75% (Week 4 RB score: 72%)
*WIDE RECEIVER*
-START-
Mike Williams (7.8 points): 3 Rec, 45 receiving yards
Tyler Boyd (8.4 points): 4 Rec, 44 receiving yards
Kenny Golladay (19.8 points): 4 Rec, 98 receiving yards, 1 TD
Golladay saved us from a total disaster in this section, Mike Williams has been a total let down this season, thanks god we didn't decide to trade for him earlier in the season. Tyler Boyd has had an excellent start to the season and I think we over looked how solid the Dolphins pass defense actually is. They've been better than most give them credit for.
-SLEEPER-
Mohamed Sanu (17.3 points): 4 Rec, 73 receiving yards, 1 TD
Dede Westbrook (8.5 points): 3 Rec, 55 receiving yards
Sanu is having the best scoring stretch of fantasy career scoring at least 15 points in three straight games. Westrbook was a total boom-or-bust option and Blake Bortles was not able to help Westbrook take advantage of the Chiefs defense.
-SIT-
Doug Baldwin (1.1 points): 1 Rec, 1 receiving yard
Demaryius Thomas (21.5 points): 5 Rec, 105 receiving yards, 1 TD
Geronimo Allison (0 points): Allison did not play
Sammy Watkins (13.8 points): 6 Rec, 78 receiving yards
You would have been rewarded if you took our advise to approach Baldwin and Allison with caution as neither were able to seriously play. Sammy Watkins did find his way to the field and actually had a solid day that could have been outstanding had he been able to find the end-zone. Our big miss this week was obviously Thomas, he hasn't had a very good year while the Jets have had a sneakily good defense this year. That one definitely took us by surprise.
Week 5 WR Score: 55% (Week 4 WR score: 63%)
*TIGHT END*
-START-
Jordan Reed (3.1 points): 1 Rec, 21 receiving yards
Vance McDonald (1.6 points): 1 catch, 6 receiving yards
This was by far our worst section as neither tight end we picked was targeted over three times. Very bad picks on our part, we'll be better next week!
-SIT-
Ben Watson (7 points): 4 catches, 30 receiving yards
David Njoku (12.9 points): 6 Rec, 69 receiving yards
We didn't do as bad in this section, but we still can't feel any bit good about our sit's outscoring our start's. This is part of the reason we do this review though, now we know to research a little harder into our tight end picks next week.
Week 5 TE Score: 0% (Week 4 TE score: 25%)
*FINAL WEEK 5 CONCLUSIONS*
Well, we ended up scoring marginally higher than we did last week, but hey that's still improvement! Our picks at tight end and wide receiver definitely need some attention, but we're consistently nailing our quarterback and running backs picks. We hope you all enjoy reading our columns as much as we enjoy writing them and please check out our Twitter page! @LastPlaceFF
Total Week 5 Score: 59% (Total Week 4 Score: 58%)
---