Week 6: Start 'Em/Sit 'Em Review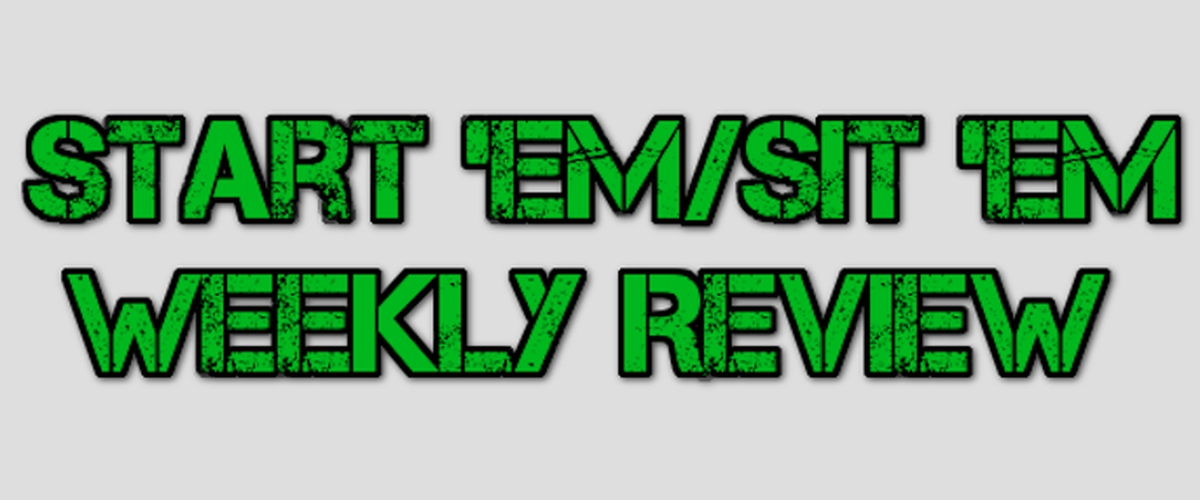 It's time for another weekly review! Week 6 in the NFL brought us a couple surprises, but we're feeling confident about how our picks faired this weekend. Let's jump right in and find out:
*QUARTERBACK*
-START-
Matt Ryan (27.5 points): 31/41, 354 passing yards, 3 TD, 0 INT
Andy Dalton (17.2 points): 26/42, 229 passing yards, 2 TD, 0 INT
Andrew Luck: (22.7 points): 23/43, 301 passing yards, 4 TD, 3 INT
We were almost perfect to start the review, but of course Andy Dalton had to let us down and not reach 20 points. Dalton had a solid game for the Bengals, but it didn't translate into a great fantasy score. Matt Ryan took care of business as we expected while Andrew Luck aired it out all day just like we expected. All of our start picks had over 40 pass attempts which is what you want, we'll take 2/3 this week!
-SLEEPERS-
Jamies Wintson (30.9 points): 30/41, 395 passing yards, 4 TD, 2 INT
Russell Wilson (20.9 points): 17/23, 222 passing yards, 3 TD, 1 INT
Boom! These have been our best picks of the year so far, we had a feeling that Jamies would have a bounce back game against an injury-riddled Falcons secondary and he ended up as this week's top fantasy quarterback! Russell Wilson also hit our magic 20 point mark making this section our first perfect section of the year!
-SIT-
Ryan Tannehill (0 points): Tannehill did not play
Marcus Mariota (7.2 points): 10/15, 117 passing yards, 0 TD, 0 INT
Dak Prescott (29.5 points): 17/27, 183 passing yards, 2 TD, 82 yards, 1 TD
We had absolutely no inkling that Tannehill wasn't going to play for the Dolphins this week, but we had him as a sit based on the matchup so I guess it still counts! Mariota, predictably, spent a majority of the game on his back which led to a miserable fantasy output. We were a major swing and miss on Dak this weekend as Prescott went off and finished as the number two overall fantasy quarterback in Week 6.
Week 6 QB Score: 75% (Week 5 QB score: 75%)
*RUNNING BACK*
-START-
Marshawn Lynch (8.9 points): 13 carries, 45 yards, 3 catches, 14 yards
T.J. Yeldon (10 points): 8 carries, 41 yards, 3 catches, 29 yards
Tevin Coleman (11.1 points): 10 carries, 35 yards, 1 catch, 6 yards, 1 TD
Safe to say our running back starts were all misses this week, only Coleman was able to find the end-zone. It's hard to produce a good fantasy score if you don't get a touchdown and that's exactly what happened with Yeldon and Lynch. Booo
-SLEEPER-
Sony Michel (22.6 points): 24 carries, 106 rushing yards, 2 TD
Chris Carson (5.9 points): 14 carries, 59 rushing yards
We nailed two sleepers this week and couldn't be more excited! Our Sony Michel prediction couldn't have been more spot on as he found the end-zone not only once, but twice. On the other hand Chris Carson is becoming that player for us that does well when we leave him on the bench, but once you start him, he puts up a stinker. It's safe to say we're avoiding Carson the rest of the way barring something miraculous.
-SIT-
Alex Collins (17.4 points): 19 carries, 54 rushing yards, 2 TD
Kenyan Drake (9.8 points): 13 carries, 57 yards, 4 catches, 21 yards
Adrian Peterson (9.7 points): 17 carries, 97 yards
We didn't do too bad in our sit section for running backs beside Collins who was able to find the end-zone twice against the Titans. Other than that both Drake and Peterson failed to score a touchdown or gain over 100 yards which left them both producing under 10 points.

Week 6 RB Score: 25% (Week 5 RB score: 75%)
*WIDE RECEIVER*
-START-
Julian Edelman (16.1 points): 4 catches, 54 receiving yards, 1 TD
Tyler Boyd (25.2 points): 7 catches, 62 receiving yards, 2 TD
Mohamed Sanu (12.6 points): 2 catches, 46 receiving, 1 TD
Another perfect section for our Week 6 starters as every receiver scored a touchdown with Tyler Boyd even grabbing two. Sanu was only targeted twice but caught both and Edelman is definitely benefitting from the attention Josh Gordon is drawing from opposing defenses.
-SLEEPER-
Chester Rodgers (15.5 points): 4 catches, 55 receiving yards, 1 TD
Josh Gordon (9.2 points): 5 catches, 42 receiving yards
Both of our sleeper picks left a little to be desired, even though Rodgers found the end-zone he was only able to haul in four of his ten targets. The same can be said about Josh Gordon who caught only five of nine targets. The good news for Gordon going forward is that after playing less then 15 snaps the first two games with New England, he saw 63 of possible 78 snaps against the Chiefs this week.
-SIT-
Keelan Cole (6.1 points): 4 catches, 41 receiving yards
Allen Robinson (17.4 points): 5 catches, 64 receiving yards, 1 TD
Kenny Stills (6.5 points): 1 catch, 35 receiving yards
A solid two for three on our sit picks this week, Allen Robinson scored a touchdown or we might have made it another perfect section! Oh well, we were still spot on with Kenny Stills and Keelan Cole doing next to nothing this week. Definite improvement here!
Week 6 WR Score: 75% (Week 5 WR score: 55%)
*TIGHT END*
-START-
Austin Hooper (22.1 points): 9 catches, 71 receiving yards, 1 TD
Eric Ebron (17 points): 4 catches, 71 receiving yards, 1 TD
We promised to have better picks in this section and we delivered you the 1st and 4th highest scoring fantasy tight end's in Week 6. Hooper caught nine of his ten targets and found the end-zone while Eric Ebron was able to grab himself a score as well.
-SLEEPER-
C.J. Uzomah (11.4 points): 6 catches, 54 receiving yards
-SIT-
David Njoku (18.5 points): 7 catches, 55 receiving yards, 1 TD
Antonio Gates (1.5 points): 1 catch, 5 receiving yards
Lesson learned here, don't sit Njoku with Baker Mayfield as quarterback of the Browns. Njoku was targeted a position-high 12 times against the Chargers and we don't expect that to change going forward. Gates did about exactly as we expected as he only saw two targets.
Week 6 TE Score: 80% (Week 5 TE score: 0%)
*FINAL WEEK 6 CONCLUSIONS*
Alright well we have more improvement in our total score this week which is what we like to see! We're still on the march toward our goal of 75% correct predictions, in time! We did much better on the tight end section as we promised, turning a 0% Week 5 effort into a very solid 80% in Week 6. However, we did struggle in our running back section this week which is usually one our our best areas so we'll be better in Week 7. Be sure to follow us on Twitter and tweet us any questions you may have in the meantime! @LastPlaceFF
Total Week 6 Score: 62% (Total Week 5 Score: 59%)
---