2018 NBA Draft Profiles: Marvin Bagley III
Today we are going to take a look at Duke's newest freshman phenom, PF Marvin Bagley III. Find below my thoughts, insights, and comps for him. Let's take a look.
Marvin Bagley, PF, Duke - Freshman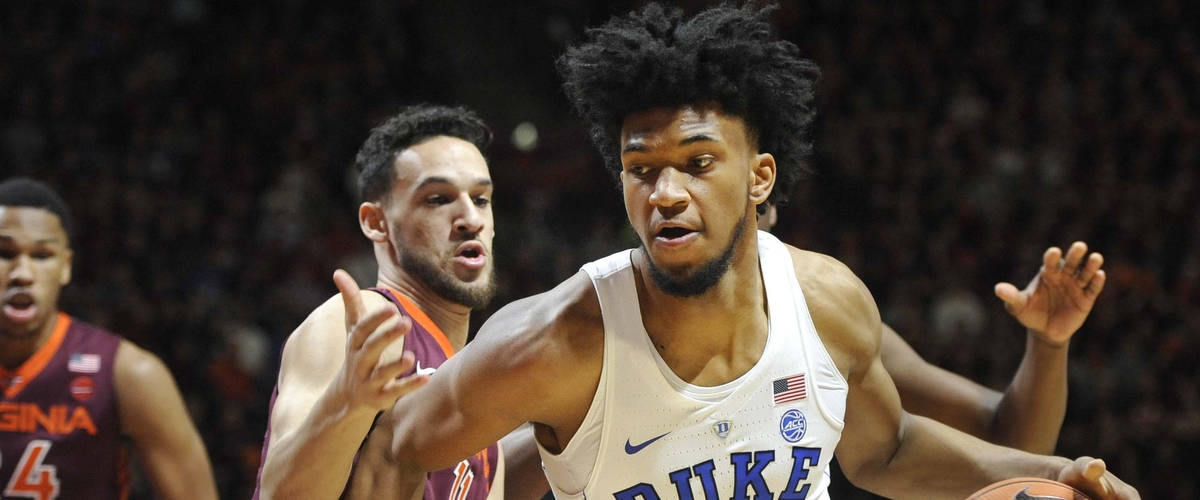 Background
Marvin Bagley III is an 18 year old freshman sensation for the Blue Devils this year, and is part of the reason that Duke is looking to capture Coach K's third national championship this decade. Bagley was actually the top high school recruit of the 2019 class, and would have made for a lethal pairing with current Duke commits Zion Williamson, Cam Reddish, and RJ Barrett, but he opted instead to leave for the 2018 class. Skipping out on the home town Sun Devils, Bagley left Tempe, Arizona for the ivory towers of Cameron, North Carolina. It is a decision he likely will not regret, as Bagley has turned in a fantastic season and is well on his way to becoming a top selection in this years NBA draft. Despite some injuries this year, Bagley has led the Blue Devils with 18 double doubles this season, not bad for a freshman. Let's get in to the tape a little bit.
Positives
Marvin Bagley III is as talented a player as there is in this year's draft. At the most surface level, Bagley looks like an NBA four. He's got nice long arms that help him corral rebounds and secure passes, as well as jump out of the gym leaping ability. It all comes together inside a "prototypical" 6'11 234lbs frame. I wouldn't go so far as to say that Bagley has freak athleticism, but he is a really good athlete. His short area explosiveness is probably second to none at his position, and that will be really valuable for him at the next level.
Offensively, Bagley has proven himself to be a very good player. When he operates in the post, Bagley gets himself in a nice wide bass and backs his way down to a point where he can comfortably sky over defenders with his leaping ability. He's really good at getting off the floor quickly before defenders can react to contest. He's not as polished as Jahlil Okafor was in using pump fakes and spins to shake defenders, but he makes up for it with way better athleticism and length. Also, Bagley likes to flush it, and flush it emphatically. Grayson Allen has looked like a magician this year at times by waiting for Bagley to recede in a play, then lobbing up a pass to a reappearing Bagley for him to slam it home. It makes for some great highlights. On top of that, Bagley has a little bit of a jumper as well, connecting from three at a reasonable clip on the year. I wouldn't call him a good shooter by any stretch, and he's struggled more of late with his jumper, but you can tell the guy can get you a bucket off the catch and shoot from time to time. Bagley also feasts on the loose change buckets. The guy is an animal at grabbing missed shots close and either going up strong to the cup with the putback or simply snatching it midair and flushing it home. I know I've referred to his leaping ability a lot, but he really has pretty remarkable hops.
Marvin is not as strong on defense as he is on offense, but that's not to say it has been all bad. Since Duke has switched to the zone, Bagley has really improved defensively. Bagley's advanced stats support this, and he has kept his defensive rating per 100 possessions under 96 this year in conference play. Bagley is a menace on the defensive glass, boxing out hard and effectively to grab boards. Occasionally, he'll flash the complete package and get a stop on defense, secure the rebound, and then use his speed to bust it up the floor. Bagley is also quite good at making the correct outlet pass and hustling up the floor. In man to man, Bagley is a willing defender most times, and I can think of several times when guys think they've gotten around him only to find themselves being set up for a rejection at the rim by Bagley. It pays to have arms as long as his and leaping ability as good as his. On screen and rolls, I see Bagley cheat some times and attempt to make a play happen by doubling on the guard, but it usually isn't a calamity and he hustles to get back into the play. Overall, Bagley has been a decent defender for Duke.
So much of Bagley's game right now is predicated on his great leaping ability and length, which explains some of the inflation in his draft stock right now. He has pretty unusual talent and hops for the four spot, and evaluators have been salivating over what Bagley could become. In some respects, he reminds me of Atlanta's John Collins. In just one season at Duke, this 18 year old kid has emerged as the top scoring and rebounding combination in the ACC, a tremendous accomplishment. When you watch Bagley play, it's easy to see how with some more experience and development, he could become an elite talent at the next level.
Negatives
That is not to say that Bagley will be an elite player when he enters the NBA however. Bagley has his fair share of flaws. In many instances, he strikes me as a guy that looks like Tarzan but plays like Jane. He's got terrific physical gifts and uses them often, but often times you watch Bagley get bodied up by more experienced guys. Bagley is faster, longer, and stronger than most guys at his position, and yet somehow, he often gets moved off his spot on offense and backed down on defense. This can partially explain why his isolation scoring is so-so and his defensive metrics subpar.
On offense, Bagley is also a bit of a black hole. Duke will feed it in to Bagley, and it is pretty much a lock that he is going to take a shot. He's got passing ability, sure, and he shows decent vision from time to time, but probably 95% of the time Bagley gets the ball on the block, he's taking a shot. That usually results in points, but also leads to some horrible shots. Even when he's doubled, Bagley seems convinced he can contort his way out of it, refusing to find the open man. He gets bailed out occasionally by being failed, but it doesn't make up for his tunnel vision. In addition, he's really not a highly polished post player. Bagley stuffs the stat sheet with a lot of putbacks and a lot of dunks. It's not that those aren't net positive plays for his team, but those opportunities will decline at the next level. And while Bagley can hit some shots, he's hardly a good shooter. His face up game is not good and he doesn't really create with the ball in his hands. I hate to say it, but there are times when Bagley has a Kenneth Faried quality to his game. He out-leaps guys for a lot of his points instead of beating them with smart play or crafty moves.
On defense, Bagley has moments that are just awful. At times his situational awareness is flat out bad, and other times when his effort is even worse. Bagley has been better in Duke's zone defense, if only because he was really bad in man. Experienced big men have their way with him on the low block often, and he really isn't much of a shot blocker. He'll stand right next to a guy with the ball and has a good opportunity to block it or even contest, and he simply does nothing. Dan Dakich got roasted for his comments about Bagley's play the other night against Virginia Tech, but he was right. Bagley plays much of the time for himself. He'll collect the defensive boards and box out, but seems content much of the time to watch things happen in front of him. He's got the instincts to play good defense, which is why it must be infuriating at times for Coach K, but he just doesn't. Defense is a lot of times about effort, and effort players make up for lack of defensive prowess or athleticism with effort. Bagley does not. And it's shown down the stetch. Duke has been a fundamentally better basketball team defensively when Bagley was hurt.
Bagley is just 18 years old, and is often playing against guys who have played in college for years. But he is far too often outmatched on defense, forced to hack big men who match his size and power. On offense, he's usually a transcendent talent, but to my surprise, Duke hasn't really been much worse offensively with him off the floor. That's helped by the fact that Duke is a deep, deep team, but it's surprising that the ACC's leading scoring and rebounding threat was hardly missed when he was struggling with a knee problem.
Conclusion
Marvin Bagley III is a phenom who has the skills to be an All Star at the next level. He has some great offensive tools and has shown them in bunches this season. It hasn't been perfect, and he knows probably better than anyone that he is going to have to work hard on his craft to become a more complete player. But I see a guy who could really be a difference maker at the next level. I've seen a comp to Kevin Garnett, and I think Bagley certainly could be that good.
---