No need to panic; Thunder drop game 2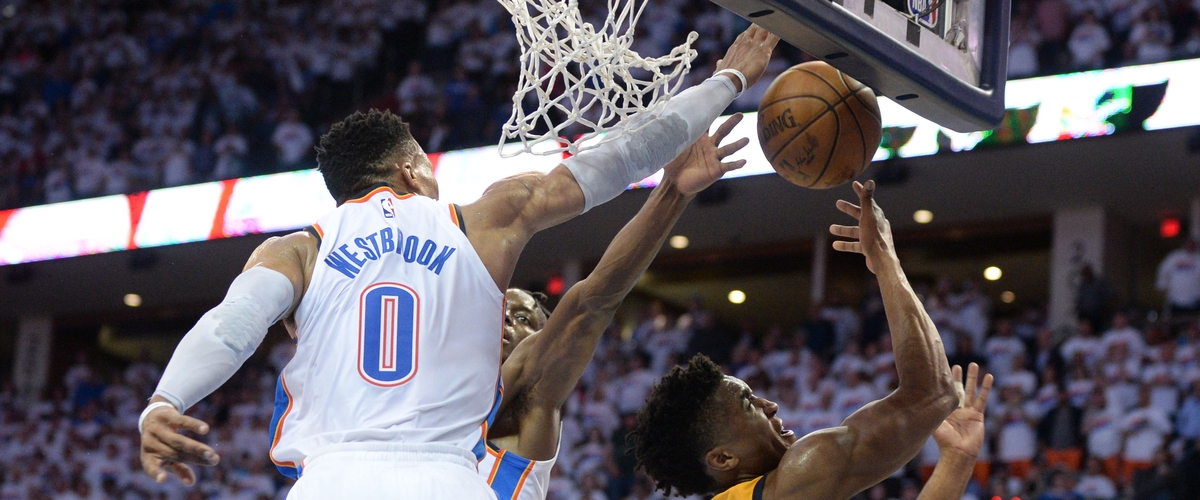 The Oklahoma City Thunder dropped game 2 in Oklahoma City to the Utah Jazz 102-95.
Jazz star Donovan Mitchell went off for 13-points in the 4th quarter while the OK3 went 0-for-11 in the 4th. The Thunder got dominated on the boards 56-46. Utah got 33 freebees compared to OKC's 18 attempts from the charity stripes. Lastly, the biggest anomaly was that Jazz point guard Ricky Rubio poured in 22-points with 5 threes. That will never happen again.
The league's reigning MVP, Russell Westbrook, was dominated by Rubio and the Jazz. Westbrook scored just 19-points on 19-attempts. Westbrook was very passive Wednesday night, and even refused to drive when Jazz big man Rudy Gobert roamed the paint. That has to change, or else the Thunder are in trouble. Just like the Thunder will continue to allow Ricky Rubio to shoot 3's and jump shots, playing the odds that he will miss, the Jazz will gladly let Russell Westbrook settle for bad mid-range shots; Most of which are contested turn-around-fade-aways.
Paul George, who broke a pair of Thunder records in game 1, posted just 18-points banging home only 4 threes.
Russell Westbrook being outplayed by Ricky Rubio, Paul George only making threes at a 33% clip, Derrick Favors will not nail a pair of 3's and post 20-points and bring down 16-rebounds again. However, Joe Ingels will also not be held to just 3-points again and his slow start to the series worries me--Everyone knows eventually he will burn the Thunder from deep, because of course.
With the series is tied 1-1 as it shifts to Utah because of these anomalies, there is no need to panic. The Thunder have done quite well in their history playing on the road against the Jazz, and also have a long list of series they have started 1-1. The last time they went up 2-0, was 2013. I predicted Thunder in 5, on the Loud City Podcast, and they had to lose a game for that to come true.
For more Thunder news, notes, opinions, game updates, and more follow @Rylan_Stiles and @LoudCityPod on twitter.
---