AFL Kisses Goodbye to its LA Franchise
Wow, what a hectic week it has been for the AFL. The L.A. KISS won't be involved in football anymore, according to AFL Player's Union Executive Director Ivan Soto. KISS was named after the Rock and Roll Hall of Fame band led by co-owners Gene Simmons and Paul Stanley. They became the third AFL team to fold and the fifth to leave the league over the past week. Attendance issues seemed to be the main cause of the folding, as it always continued to drop since the KISS's inaugural first season three years ago. The team had an average attendance of 10,945, which dropped to 7,913 in 2015. Last season's attendance was at an average of 7,056, which was next to last in the league. Granted, they team was not good. They had a 14-39 record over three seasons. But as a casual observer, I thought the team would stay afloat based on the fact that it's based off a legendary Rock and Roll band, the jerseys/field were awesome, and that it was a franchise based in LA.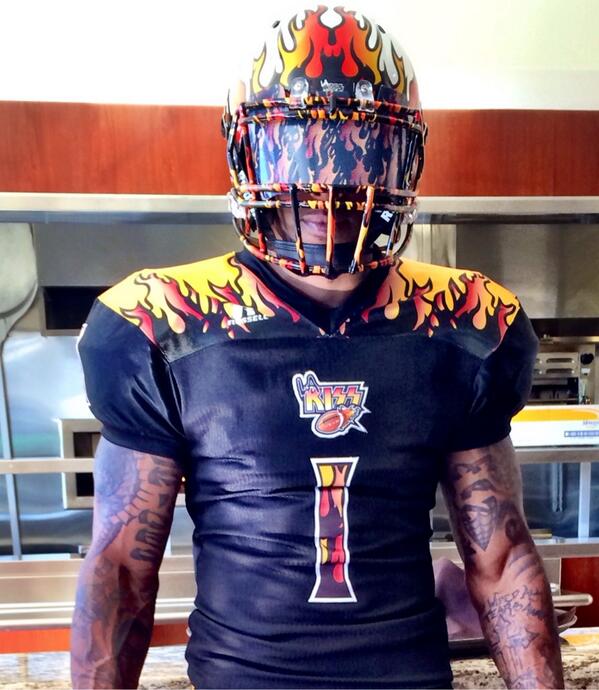 LA KISS had the coolest jerseys
Here is the crazy part. KISS players and season ticket-holders remain completely in the dark. No official announcement about the team's status has been made by the team or the league. I would understand that this information has not been released to the public(for now), but your own players not knowing if their team is alive? That's not cool. The season ticket holders still do not know what is going to happen. One would expect for them to get refunds since it is kinda hard to go to a game for a team that does not exist anymore, but who knows. The team's players, along with those from the other two folding franchises, were put in a player pool for a dispersal draft that was held last Friday for the league's remaining teams. All undrafted players became free agents. Caesar Rayford, one of eight KISS players that were lucky enough to be selected in the draft, did not even know he was on another team until by chance he looked on the leagues' site and found out that he was drafted by the Tampa Bay Storm.
So let me get this straight. I'm on the LA Kiss, and the team folds. No one tells me. I get my name put into a draft pool to potentially be selected by another AFL team. No one tells me. I get drafted to a team that is on the opposite side of the country. No one tells me. Commissioner Scott Butera, c'mon man! Is the AFL in that deep water that they have no line of communication anywhere? I hope that someone somewhere at least thought to themselves "There're at least 30 guys that don't have a job right now, I should tell them this important information." No? Okay, well someone had to think "Alright so three teams folded, we should notify all the players that they are going into a draft pool to be selected from the last four remaining teams in the league." Still no?! Fine. But someone, somewhere, be it in the AFL office or even someone from one of the four teams that drafted a player had to think "Ok we drafted some players, we should tell them that they should start looking for houses close to our city, that's some vital information right there." No one did that?! That just seems like a logical thing to do. At this rate, it's gonna take something special for the AFL to get back to the promised land. And it's gonna start with communication.
---