One Championship: Dynasty of Heroes
In the main event of One Championship Dynasty of Heroes, Atomweight champion Angela Lee defends her title against two time Muay Thai World Champion from Brazil, Istela Nunes. The co-main event includes a fascinating Welterweight contest between the Champion Ben Askren and the challenger, Agilan Thani.
Chatri Sidyadtong's One Championship promotion in Asia has taken the continent by storm. The promotional events are breaking all broadcasting records with healthy revenue. The promotion has been dubbed the "UFC" of Asia.
With an undefeated record of 7 wins and no losses, and a title defense to her name, Angela Lee is determined to conquer the Brazilian starlet and add another star to her already decorated Resume. Nunes, however, is inspired to overcome all odds and become Champion herself.
"She's definitely a big threat to me. She's a good opponent. But I know that I'm training even harder and I'm the champion for a reason, so I'm looking to put on a great show for everyone on May 26 and defend my title for the second title." said Lee
Lee's opponent, Istela Nunes, hit out at her claiming that Lee is not as good as she thinks she is and is determined to surprise everyone on 26th of May and take the gold home.
"I do think she is overrated, and I think she's underestimating me. I don't underestimate her. She's a good opponent, but her already talking about the UFC champion… that's too much for her." said Nunes.
One Championship's Welterweight Champion Ben "Funky" Askren has put his career on the line stating that if his opponent Agilan Thani wins by submission, he will retire.
"If he takes me down and submits me, I will retire."
Thani, on the other hand, is excited about "the biggest fight of his career" and considers it as a chance to cement his place as one of the best Martial Artists in the World.
The veteran Askren is favorite to win this bout but the talented Thani has all the tools to surprise the Champion.
The event also includes a Super Grappling match between veteran Japanese Martial Artist Shinya Aoki and one of the best Jiu-Jitsu practitioners in the World, America's Garry Tonon.
The card also includes rising Asian MMA stars like Amir Khan Ansari and Rika "Tinydoll" Ishige.
The event is scheduled for Saturday, 26th May on Pay per view and will take place at Singapore's Indoor Stadium.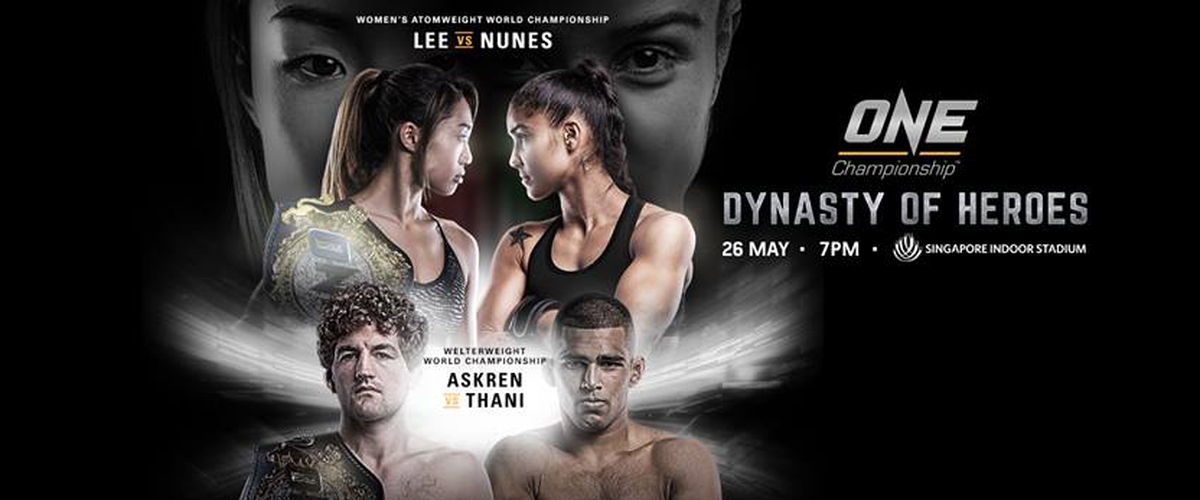 ---