Football Is Back! Week One Predictions As 2018 Season Set To Start On Thursday
It's the most wonderful time of the year and no we are not talking about Christmas. The NFL regular season is upon us once again as the Atlanta Falcons face the Philadelphia Eagles in a 2017 NFC Divisional Round rematch for Thursday Night Football. Teams gutted out four weeks of the preseason in hopes they would not suffer any major injuries to their key players and players on the bubble anxiously awaited their fate when it came to 53-man roster cuts on Saturday. Now the stage is set, the teams are ready to take the field for the 2018 season, and MTV's Hot Takes will give predictions for each week of the regular season. Time to begin!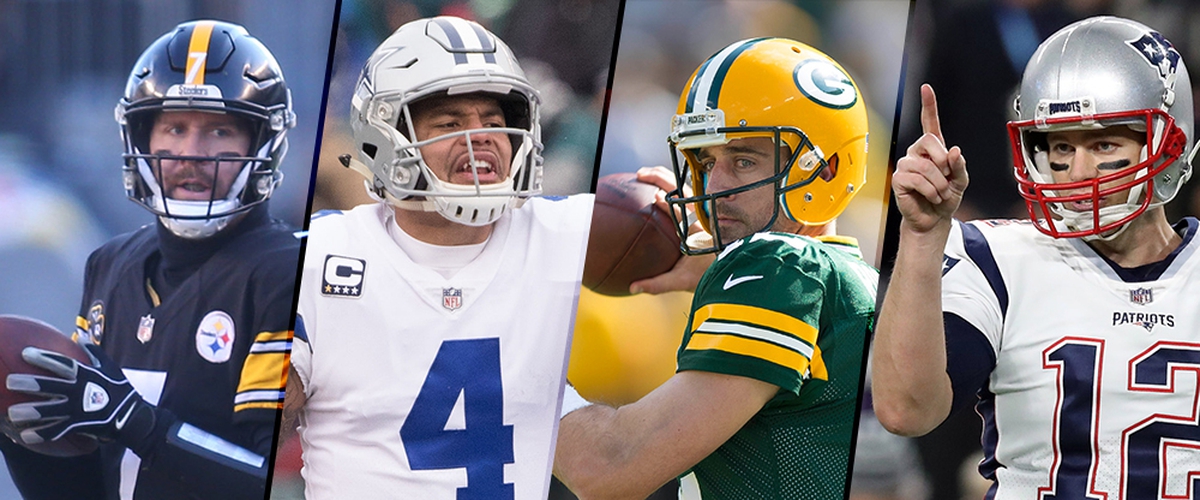 Season Record: 0-0-0
Last Week: 0-0-0
Week One Predictions:
Thursday Night Football
Atlanta Falcons (0-0) at Philadelphia Eagles (0-0) 8:20 PM EST
In a rematch of the 2017 NFC Divisional Round of the playoffs, the Philadelphia Eagles look to begin their Super Bowl defense against a familiar opponent in the Atlanta Falcons. The two teams slugged it out last postseason in which the Eagles came away with a 15-10 victory thanks to a goal-line stand in the final minute. The Falcons will have quarterback Matt Ryan as well as top receiver Julio Jones ready to go on the road against a tough Eagles defense. Meanwhile, quarterback Carson Wentz is yet to be cleared for contact and head coach Doug Pederson is yet to name a starter, although many assume it will be Nick Foles. Additionally, wide receiver Alshon Jeffrey is missing this game due to a shoulder injury he suffered prior to last season. However, if it is one thing the Eagles showed last season, it was their ability to perform when the odds were stacked against them. Something they will likely show at home on Thursday against a tough Falcons team.
Eagles 24, Falcons 20
Sunday Football
San Francisco 49ers (0-0) at Minnesota Vikings (0-0) 1:00 PM EST
After the emergence of Jimmy Garoppolo towards the end of last season with San Francisco, the young quarterback started the final five games of the season and helped lead the 49ers to a five-game win streak. This year he will have to prove it was not a fluke and it starts with a tough order against a Minnesota Vikings defense that helped lead the team to the NFC Championship Game last season. With the free agent signing Kirk Cousins manning the QB position and the return of Dalvin Cook at running back, the 49ers defense is likely going to struggle to do its part in keeping the Garoppolo-led offense in the game. Expect the Minnesota defense to stifle Jimmy-G a bit and Kirk Cousin's Vikings to come away with a victory.
Vikings 28, 49ers 14
Houston Texans (0-0) at New England Patriots (0-0) 1:00 PM EST
These two teams put on a show last year in Foxboro and while it is easy to expect the same, it is not out of the question that this is just a typical Patriots victory where the game is close at halftime and then Tom Brady torches the opposing defense. Deshaun Watson is back for the Texans after an ACL tear during practice part way through the season ended a rookie year, that showed lots of promise. This will be his first regular season game with Houston since that injury and I expect him to be a little rusty which will open the door for the Brady-led Patriots to take over the game quickly. It should be a pretty offense-heavy game, but experience wins out in this one and New England starts the season off with a win.
Patriots 35, Texans 28
Jacksonville Jaguars (0-0) at New York Giants (0-0) 1:00 PM EST
If it were not for a fourth-quarter collapse against the Patriots, the Jaguars would have been sitting in the Super Bowl last season against the Eagles. But there is no time to dwell on that and the Jags will look to simply step their game up this season. Their defense was elite last season and handled some of the top offenses in the NFL like the Pittsburgh Steelers (twice) last season. With a game manager quarterback like Blake Bortles, all he has to do is not make mistakes that will cost his team and the defense will do the rest. Facing Eli Manning who will have his top receiver in Odell Beckham Jr. back and a talented running back from Penn State in Saquon Barkley to man the backfield, the Jags defense could face some issues against the big play. But ultimately they will take care of business against the Giants to start the year.
Jaguars 28, Giants 10
Cincinnati Bengals (0-0) at Indianapolis Colts (0-0) 1:00 PM EST
In all honesty, I am not sure what to expect from this matchup. The Colts get their quarterback Andrew Luck back this season after he missed all of last year with a shoulder injury. Meanwhile, the (surprisingly) Marvin Lewis coached Bengals still have Andy Dalton behind center and boast nearly the same offensive weapons as last season. If Indianapolis cannot improve things on the defensive side, it will be another long season for them. I think the Bengals gut this one out in part to Andrew Luck adjusting to regular season action again which will cause him to make some costly mistakes. Even if Cincinnati ends up being mediocre again this year, they will likely play the role of Jekyll and Hyde all season long.
Bengals 17, Colts 10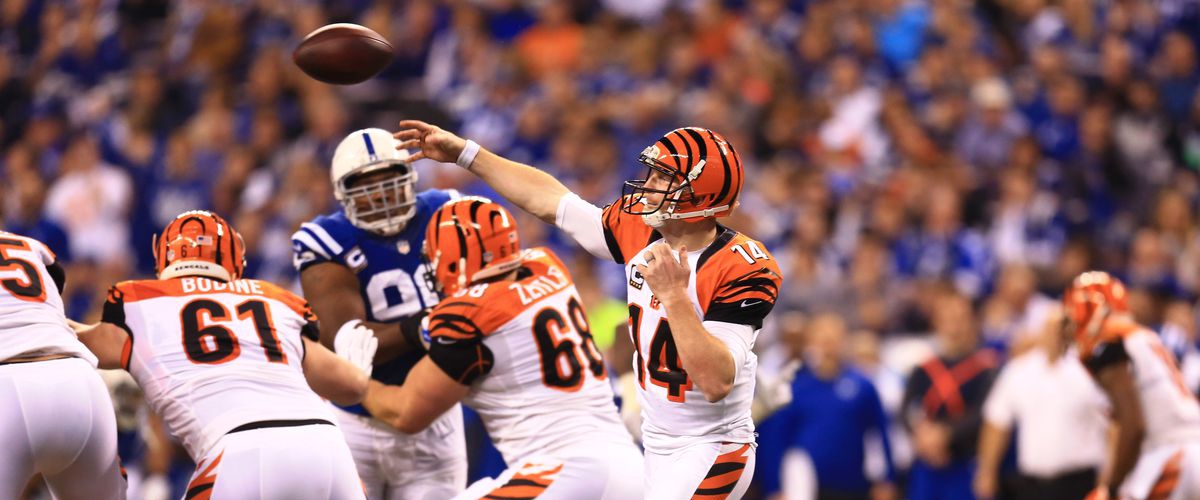 Buffalo Bills (0-0) at Baltimore Ravens (0-0) 1:00 PM EST
The Baltimore Ravens offense looks scary this season as Joe Flacco has some veteran weapons to throw to in Michael Crabtree and fourth-year player John Brown. Couple this with an offensive backfield of Alex Collins and Javorius Allen, the Ravens could be one of the sleeper teams this season in the AFC. Meanwhile, the Buffalo Bills will trot out Nathan Peterman against a tough Baltimore defense that is sure to pick him apart. The Ravens should take this one pretty easily as Peterman's performance last season was subpar, while he has improved from last season it is hard to see him having a strong performance against Baltimore.
Ravens 24, Bills 7
Tennessee Titans (0-0) at Miami Dolphins (0-0) 1:00 PM EST
These two teams seem to meet every season whether it is because the AFC East plays the AFC North, or they finish in the same spot in the standings at the end of the season. Last year's matchup was not the greatest as both teams had injuries to their starting quarterbacks which pitted Matt Cassel against Jay Cutler down in Miami. The outcome was a 16-10 Dolphins victory, but it was not pretty by any means. For this year's matchup, Marcus Mariota and Ryan Tannehill are both healthy. Neither team has been able to win consecutive matchups in the six games since the Dolphins did it back in 2005 and 2006. This would put the Titans in line to win this game, but I believe the return of Tannehill will spark the Dolphins' offense at home and lead them to a close victory.
Dolphins 24, Titans 21
Tampa Bay Buccaneers (0-0) at New Orleans Saints (0-0) 1:00 PM EST
Jameis Winston is suspended for three games which means Ryan Fitzpatrick will step into his place for at least the next three weeks and potentially longer depending on how well he does. However, he is up against Drew Brees and a New Orleans Saints defense that dominated down the stretch last year. Growth is inevitable for the Saints on the defensive side and when you have Drew Brees manning the offense you know your team is going to be in the game. Fitzpatrick, on the other hand, has been wildly inconsistent throughout his entire career and each game he starts is like a box of chocolates since you never know what you are going to get. Nonetheless, I like the Saints in this divisional matchup by at least two scores.
Saints 27, Buccaneers 17
Pittsburgh Steelers (0-0) at Cleveland Browns (0-0) 1:00 PM EST
Cleveland you have suffered long enough and unfortunately, you will likely have to wait at least one more week to break this losing streak. Going 4-44 in the last three seasons and currently, on a 17-game losing streak, the Browns can only go up from here this season, right? With Tyrod Taylor at quarterback and receivers like Josh Gordon and Jarvis Landry to throw to, the Browns offense should be much better. They should hopefully win a few games this year, but Ben Roethlisberger and the Steelers are too much for the Browns to handle at the start of the season, even if it is in Cleveland.
Steelers 24, Browns 14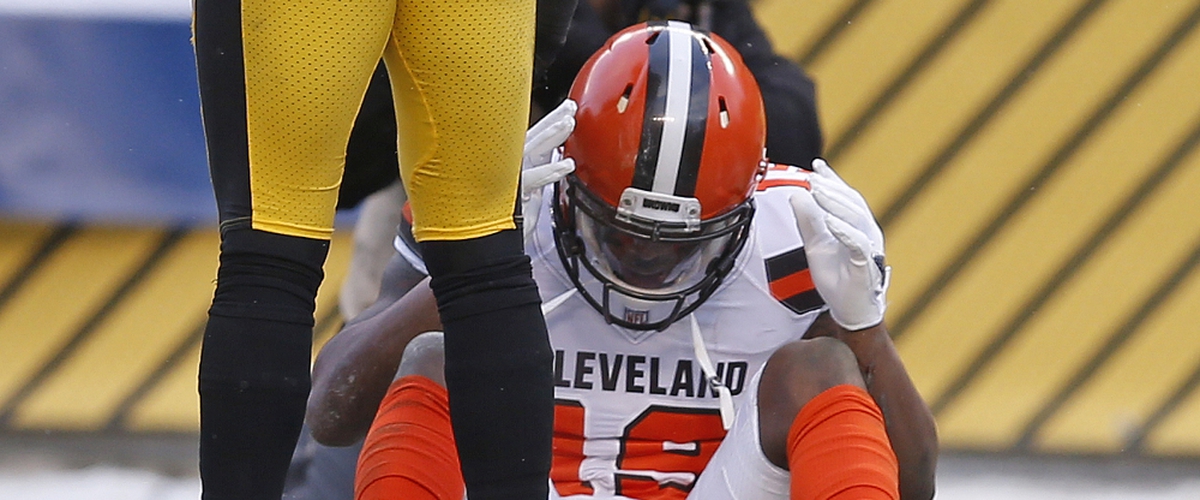 Kansas City Chiefs (0-0) at Los Angeles Chargers (0-0) 4:05 PM EST
In the first of four late afternoon games, the Chiefs take on the San Diego, I mean Los Angeles Chargers at the StubHub Center to open the season. Kansas City traded away Alex Smith to the Redskins this past offseason and will turn to Patrick Mahomes in hopes of him being their franchise quarterback. While the StubHub Center will feel like more of a home game for the Chiefs despite them being on the road, this is a divisional matchup that I see Philip Rivers and the Chargers taking. Mahomes has talent and is likely going to be a good quarterback in NFL but it will take time for him to develop seeing he only has one career start. Even if it feels like a home game for the Chiefs, I think the Chargers take this one at the last minute.
Chargers 28, Chiefs 24
Washington Redskins (0-0) at Arizona Cardinals (0-0) 4:25 PM EST
Alex Smith came over from the Chiefs in a trade as the Redskins decided to let Kirk Cousins walk into free agency. Smith is known for spreading out the ball to all his weapons and that is something I think will help benefit him against the Cardinals since he can pick on certain matchups throughout the game. Arizona had a mediocre season last year largely in part to injuries at the quarterback position and with Carson Palmer's retirement they went out and got Sam Bradford. Bradford has struggled with injuries for all of his career including last season when he missed the entire year with knee issues. David Johnson will be back for the run game after injuries derailed him last season, and they still have veteran receiver Larry Fitzgerald to compliment the young receiving core. But I still expect Alex Smith to get the job done like he usually does in the regular season.
Redskins 27, Cardinals 24
Dallas Cowboys (0-0) at Carolina Panthers (0-0) 4:25 PM EST
After Dak Prescott lit up the NFL world in his rookie year with Ezekiel Elliott at running back, the Cowboys took a step back and missed the playoffs. Every aspect of the team seemed to regress last season and it was not helped by Elliott's six-game suspension debacle which lasted nearly all season thanks to the appeal process. Losing Dez Bryant and Jason Witten will certainly hurt the Cowboy offense, but Cole Beasley and the other young receivers need to be ready to step it up. Elliott will be up against a Panthers rushing defense that was one of the top units in the league last season. Speaking of rushing, the Dallas defense will have to be ready as well for Cam Newton to scramble out of the pocket and Christian McCaffrey to break away with his speed. Newton is an elusive quarterback, he has the weapons to throw to but if he cannot, he is not afraid to tuck it and run. The Panthers defense will likely stifle the Dallas run game and that will be a difference maker.
Panthers 28, Cowboys 17
Seattle Seahawks (0-0) at Denver Broncos (0-0) 4:25 PM EST
The Seahawks had an interesting offseason as they saw the Legion of Boom break apart which leaves question marks on the defensive side of the ball this season. Seattle struggled to produce a run game last season and quarterback Russell Wilson accounted for 37 of the 38 Seahawk touchdowns last year. The team produced just four rushing touchdowns last season and three of those were from Wilson. The Seahawks have to establish a run game this year since they cannot afford to have Wilson try carrying the offense on his back every game. They face a Broncos team that was one of the best against the run last season but have a huge question mark at QB. Case Keenum is their starter and while he had a fantastic season with the Vikings last year, he has not been that hot for most of his career. Denver's defense can only keep them in the game so long and I believe a lot of Keenum's success was due to having Pat Shurmur as his offensive coordinator last year. The Broncos offensive woes from last season continue and the Seahawks take this one on the road.
Seahawks 30, Broncos 10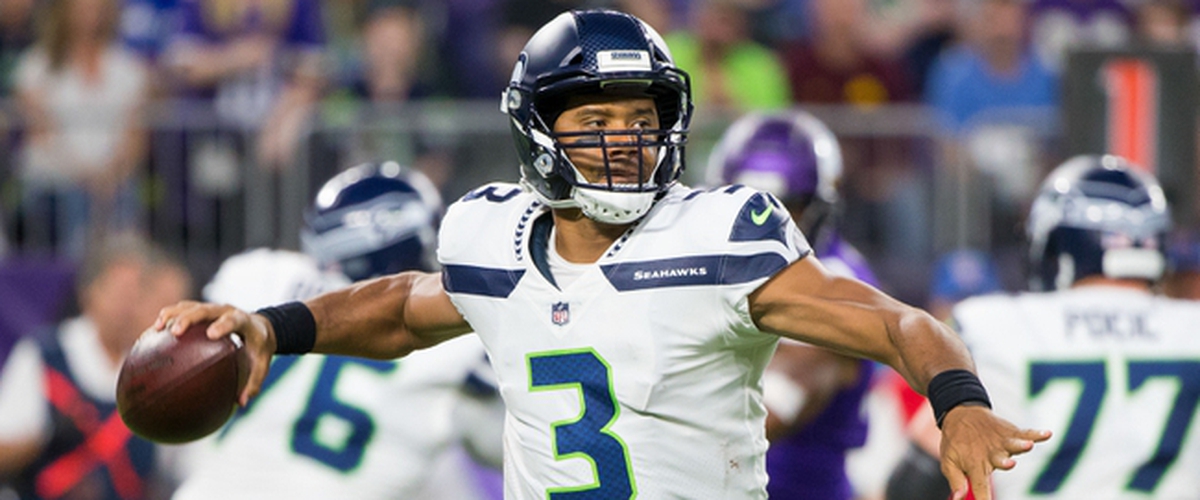 Chicago Bears (0-0) at Green Bay Packers (0-0) 8:20 PM EST
Sunday Night Football kicks off with a divisional matchup between Chicago and Green Bay. The Bears added pass-rusher Khalil Mack to the team via trade with Oakland a few days ago and the defense has a chance to dominate this year. However, they are facing a healthy Aaron Rodgers who knows how to sling the ball to his receivers. A balanced attack of passing and rushing from the Packers' offense should be enough to tire out the Bears defense and take this matchup at Lambeau Field in prime time. I just cannot see the Bears' offense led by Mitch Trubisky being able to keep up with Rodgers, I expect him to make strides from last season in his second year especially with the young weapons he has to throw to but its still going to take time. This is not going to be a night of many positives for Trubisky and the Bears offense, but expect the defense to look superb.
Packers 24, Bears 7
Monday Night Football
New York Jets (0-0) at Detroit Lions (0-0) 7:10 PM EST
Rookie quarterback Sam Darnold is expected to make his NFL debut under the lights of Monday Night Football. Darnold had an impressive preseason that earned him the starting quarterback job ahead of Josh McCown. On the other side is the veteran Matthew Stafford who has been one of the top quarterbacks in the league that has unfortunately been on a mediocre Lions team most of his career. The Jets are starting to put the pieces together with their young defense, but Stafford is a seasoned veteran with seasoned receivers that will make that defense pay. Darnold may have been impressive in the preseason, but the regular season is a whole new ballgame and head coach Matt Patricia is a defense-oriented coach that will likely give the rookie some problems. Experience in the league goes a long way and that is what will tilt the outcome of this game.
Lions 24, Jets 10
Los Angeles Rams (0-0) at Oakland Raiders (0-0) 10:20 PM EST
The Rams were a surprise team last year as Jared Goff and Todd Gurley helped lead Los Angeles under first-year head coach Sean McVay to an 11-5 record as well as a playoff appearance. Oakland took a step back last year after making the playoffs the previous year and hope that with the change at head coach to Jon Gruden they can make it back to the postseason with Derek Carr taking the snaps. Both teams have something to prove in this one, but I like what the Rams did on defense this offseason and believe the firepower they have on the offensive side on the ball is far superior to the Raiders. Expect Los Angeles to take care of their California rivals with relative ease in this one.
Rams 35, Raiders 21
Questions or comments? Email [email protected] and follow @mtvhottakes on Instagram and Facebook to know when new stories are posted.
---