With Wild Week One in the Books, Teams Set to Square Off in Week 2
In one of the most memorable opening weeks in recent years, the National Football League saw the first Week 1 tie since 1971 when the Cleveland Browns and Pittsburgh Steelers ended in a 21-21 tie, the longest game since the AFL-NFL merger in 1970 at seven hours and eight minutes in the Miami Dolphins-Tennessee Titans matchup, and a comeback for the ages on Sunday Night Football by Aaron Rodgers and the Green Bay Packers over the Chicago Bears. When it was all set and done, MTV's Hot Takes predicted 11 of the 16 games correctly, missing on Saints-Buccaneers, Seahawks-Broncos, Lions-Jets, and Chiefs-Chargers. The fifth incorrect game ended in a tie which adds it to the tie category on our running record for this season. Nonetheless, here is MTV's Hot Takes' record after Week 1 of the NFL season:
Season Record: 11-4-1
Last Week: 11-4-1
Not a bad way to start the year, but now it is on to Week 2 and all the predictions your heart can desire...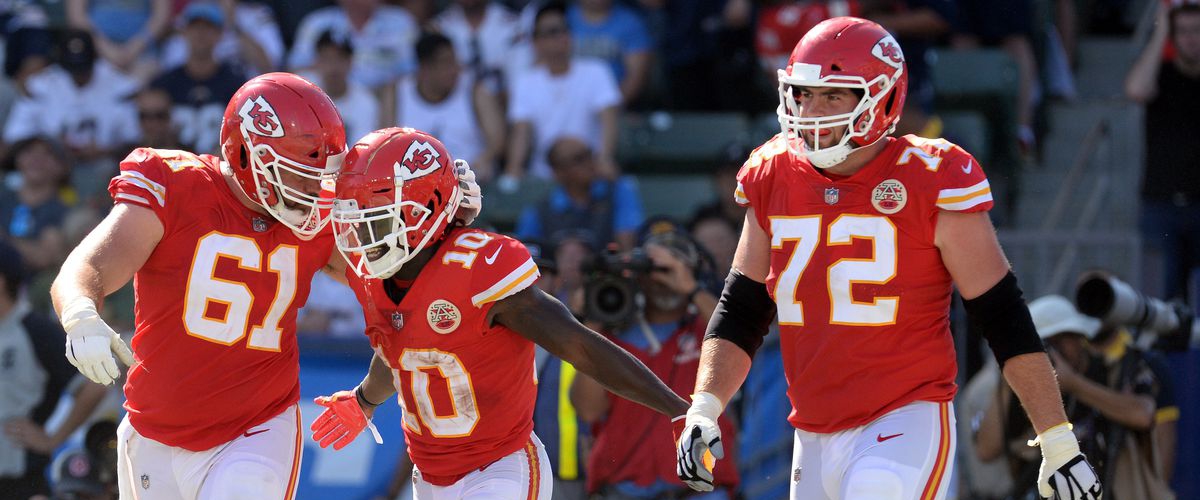 Week Two Predictions:
Thursday Night Football
Baltimore Ravens (1-0) @ Cincinnati Bengals (1-0) 8:20 PM EST
Both teams come into this one having taken their Week 1 games by double-digits, the Ravens convincingly beat the Bills by 44 points, only playing Joe Flacco for a little over two quarters before giving Lamar Jackson some reps at quarterback while the Bengals used a strong fourth quarter performance to pull away from the Colts. I struggle to put much stock into Baltimore's Week 1 performance considering their opponent, but I expect the Ravens to come with a much more balanced attack in this one. We all remember what happened between the two teams in Week 17 last year, and I am sure Baltimore has not forgotten either. The Ravens avenge the loss that ended their playoff hopes and come out on top in what should be a close divisional game.
Ravens 20, Bengals 17
Sunday Football
Carolina Panthers (1-0) @ Atlanta Falcons (0-1) 1:00 PM EST
Another good division matchup on tap in Week 2 between two playoff teams from last season. Atlanta's offense struggled for much of the game last week against the Eagles and Matt Ryan targeted Julio Jones 19 times, the second-most in Jones career. While Jones is a popular target for Ryan, that is far too many targets to give a player especially when they face off against a Panthers team that held Dallas to just 138 passing yards in Week 1. I am giving a slight edge to Atlanta in this one because the game is at home and I expect Jones to continue getting a high volume of targets that will yield a 100+ receiving yards and at least one touchdown. Division games are always tough to predict which way they will go, but this should be a thriller.
Falcons 28, Panthers 24
Indianapolis Colts (0-1) @ Washington Redskins (1-0) 1:00 PM EST
Andrew Luck's return to the Colts went pretty well considering how much time he missed, but Indinapolis shot themselves in their foot quite a few times. Now he has his first road test of the year as the team heads to DC to face Alex Smith and the Redskins. Smith had a pretty solid game against the Cardinals last week and in his home debut with the Skins, it is hard to imagine he does not come out slinging the ball. Similar to last week, Indy hangs in the game early but turnovers and the inability to stop the aerial attack of the Washington offense doom them as the game progresses to the later stages.
Redskins 28, Colts 17
Houston Texans (0-1) @ Tennessee Titans (0-1) 1:00 PM EST
Another division matchup, this time between two teams coming off close losses to their opponents. Houston was sloppy against the Patriots and it ended up costing them, but it was DeShaun Watson's first game back from the ACL tear last year so some rust was expected. Meanwhile, the Titans sustained injuries to tight end Delanie Walker, quarterback Marcus Mariota, and offensive lineman Taylor Lewan. Walker will miss the year with a dislocated and fractured ankle, but Mariota's status is unknown with an elbow injury, and Lewan's as well since he will be in concussion protocol. With or without those two key pieces, I think DeShaun Watson has a much better start on the road and the Texans hand the Titans their second straight loss.
Texans 35, Titans 14
Philadelphia Eagles (1-0) @ Tampa Bay Buccaneers (1-0) 1:00 PM EST
Raise your hand if you saw Ryan Fitzpatrick's outstanding performance against the Saints coming! Nobody? Me either. Fitzpatrick had a stellar Week 1 with four touchdown passes as the Bucs took down the Saints, 48-40. How does he follow up his impressive road performance in the 2018 home opener for Tampa Bay? If he wants to produce another strong performance it will have to come against a Philadelphia defense that dominated in the red zone against the Falcons to the tune of three separate stops when Atlanta got inside the 20. Nick Foles had a lackluster performance as the starter and is expected to make the Week 2 start as well with Carson Wentz still on the mend. However, Philly's defense is a big difference maker in games and Foles has to just be good enough for the Eagles to take home a victory.
Eagles 24, Buccaneers 14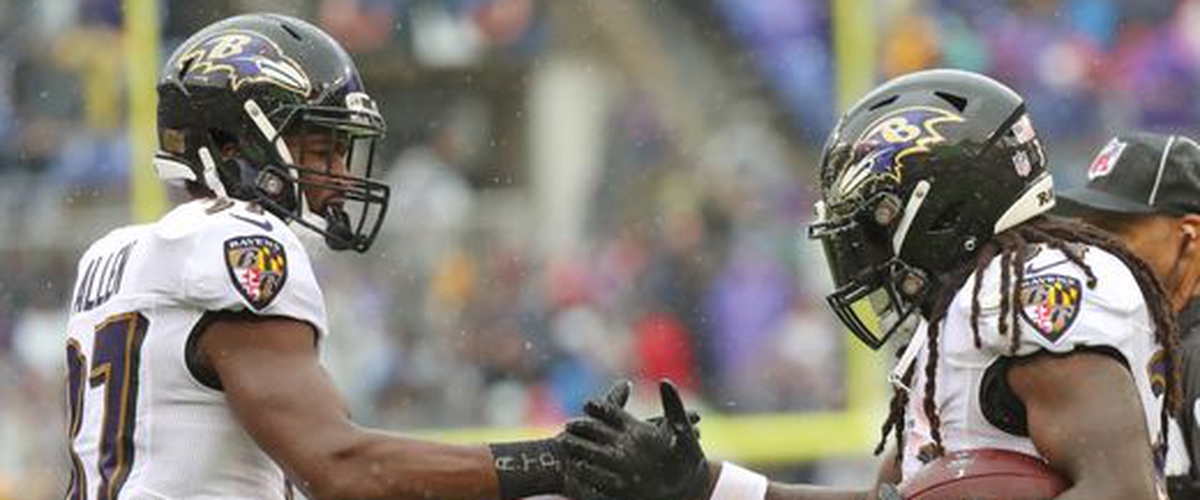 Kansas City Chiefs (1-0) @ Pittsburgh Steelers (0-0-1) 1:00 PM EST
Pittsburgh came away disappointed last week after tying the Browns in a game they probably should have had. Turnovers were a huge problem for the offense as they committed a total of six turnovers, five of which by quarterback Ben Roethlisberger which proved to be costly for the Steelers. The Chiefs got a stellar performance by their new starting quarterback Patrick Mahomes, but the Steelers are going to come into this one with a chip on their shoulder. Expect an offensive explosion from Pittsburgh and a frustrated defense to take it to the Chiefs' young quarterback. There should be a lot of scoring in this one, but the Steelers will take care of business.
Steelers 35, Chiefs 24
Miami Dolphins (1-0) @ New York Jets (1-0) 1 PM EST
These two AFC rivals usually end up splitting the season series every year, but each matchup is always close. The Dolphins have not been great on the road against the Jets in recent years, losing two of their last three meetings at MetLife Stadium. But with a healthy Ryan Tannehill back to face a rookie quarterback in Sam Darnold, I have a hard time picking against Miami in this one. Yes, Darnold had a strong showing in his NFL debut, but New York also took advantage of Detroit's mistakes to the tune of 13 points off of turnovers and the young QB is bound to experience some growing pains in his rookie season. The Dolphins have speed in their passing game as well as a veteran back in Frank Gore who is splitting reps with an explosive Kenyan Drake in the backfield. The fact this is a home game for the Jets gives them a slight advantage, but Miami should pull this one out.
Dolphins 24, Jets 16
Los Angeles Chargers (0-1) @ Buffalo Bills (0-1) 1 PM EST
Regardless of who starts this game for the Bills, I do not see them winning this game by any means. If Nathan Peterman starts, the Chargers defense is bound to tear him apart like they did last year in his five-interception performance when Los Angeles blew out Buffalo by a final of 54-24. If Josh Allen starts, he has a long road to travel down seeing he is a young rookie who needs time to develop. Either way, a veteran quarterback in Phillip Rivers is on that other sideline itching to lead the Chargers to a victory after a tough loss in Week 1. Even though this game is on the road, I cannot see the Bills turning things around immediately following last week's blowout to pull off a victory, especially with a question mark at the quarterback position.
Chargers 27, Bills 10
Minnesota Vikings (1-0) @ Green Bay Packers (1-0) 1 PM EST
Aaron Rodgers looked like he was going to miss some time after suffering a knee injury versus the Bears, yet he came back out for the second half and led the Packers to a 24-23 win on Sunday Night Football. Now he will be tasked with beating the tough Minnesota Vikings' defense at Lambeau Field if he is able to play and even though Rodgers insists he will play this week, the team is taking his knee injury on a day-to-day basis. Assuming Rodgers plays, the Packers should win this game in what should be a fairly low-scoring divisional matchup. Do not get me wrong the Minnesota defense is tough to face, but I cannot imagine Kirk Cousins being able to lead them to victory on the road. The Vikings' defense keeps them in the game, but Rodgers and the Packers prevail.
Packers 17, Vikings 10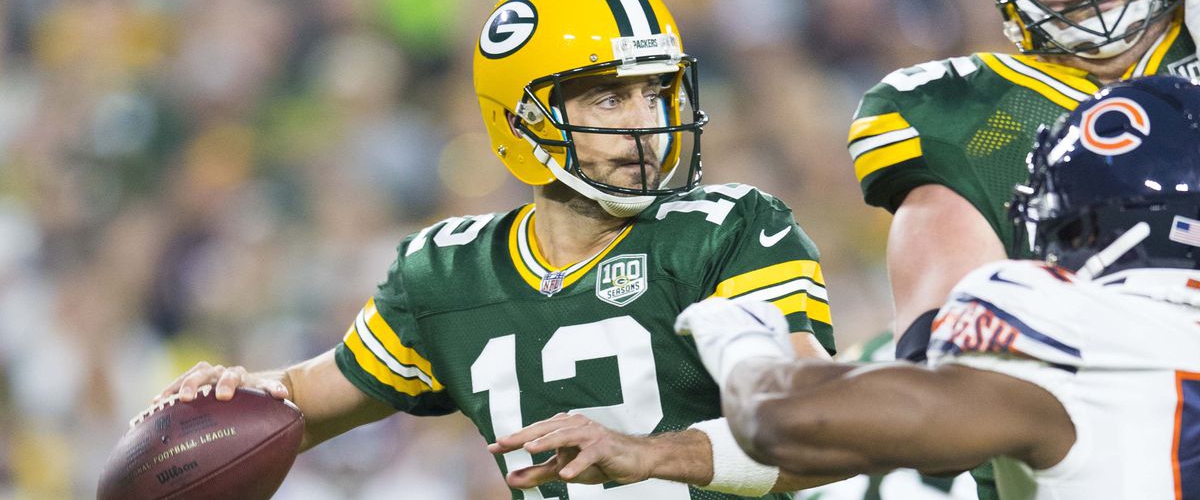 Cleveland Browns (0-0-1) @ New Orleans Saints (0-1) 1 PM EST
The Browns' defense gave the Steelers all sorts of problems in Week 1, forcing six turnovers and taking the game to a tie which earned them their best start to the season since 2004. Drew Brees and the Saints lost an offensive shootout to the Buccaneers in a divisional game, but New Orleans is at home once again which should give them an advantage over Cleveland in this one. The Saints should be able to find some stabilization on their defense and get after Tyrod Taylor who struggled in his Browns' debut. New Orleans has so many weapons on offense for Brees to get the ball to that stopping them all will be incredibly difficult for Cleveland to do. The Saints bounce back from a tough loss last week and stick it to the Browns at home.
Saints 30, Browns 17
Detroit Lions (0-1) @ San Francisco 49ers (0-1) 4:05 PM EST
An abysmal performance in prime time by Matthew Stafford resulted in a blowout loss to the Jets on Monday night. Stafford turned the ball over four times and the Lions had no answer for New York after a touchdown drive to start the second half. Jimmy Garoppolo was handed his first loss as a starter after his 5-0 start last season against the Vikings which was in part due to turnover problems the young quarterback had. With both offenses coming off poor performances, they will both be looking to rebound and lead their team to victory. However, I tend to favor San Francisco in this game as Detroit's offense seems lost at the moment. If the Lions cannot manufacture a run game seeing they put up just 39 rushing yards versus the Jets, it will be hard to win with a one-dimensional offense of Stafford heaving the ball up to his receivers. 49ers take control early behind Jimmy G and hold on for the win in this one.
49ers 27, Lions 21
Arizona Cardinals (0-1) @ Los Angeles Rams (1-0) 4:05 PM EST
The Los Angeles Rams had a strong showing on both sides of the ball on Monday Night Football against the Raiders in all facets of the game. Now they head home to face Sam Bradford and the Arizona Cardinals in a divisional matchup of two teams that seem to be headed in different directions. Bradford struggled to get anything going for the Cardinals' offense in his Arizona debut and even if they threw in Josh Rosen, there is no telling the results they would get from the rookie. Furthermore, the defense allowed Adrian Peterson and the rest of the Redskins' rushing attack get a league-high 182 rushing yards last week. That is a recipe for disaster when the defense is facing a running back like Todd Gurley who should have a field day on the Cardinal defense.
Rams 40, Cardinals 10
New England Patriots (1-0) @ Jacksonsville Jaguars (1-0) 4:25 PM EST
A rematch of the 2017 AFC Championship Game that will take place down in Jacksonville this time around. This early season matchup could very well be a crucial game if both teams are battling it out for home-field advantage in the playoffs. Not to mention, it could be a preview of a potential rematch in this year's AFC Championship Game. The Jaguars' defense frustrated Tom Brady on the road for three-quarters last year in Foxboro before he led a comeback charge with the Patriots, and they looked strong against the Giants last week despite the occasional big play given up. This should be a low-scoring affair, but Brady and the Patriots should take advantage of the one or two mistakes Blake Bortles makes for Jacksonville to hang on for the win.
Patriots 21, Jaguars 17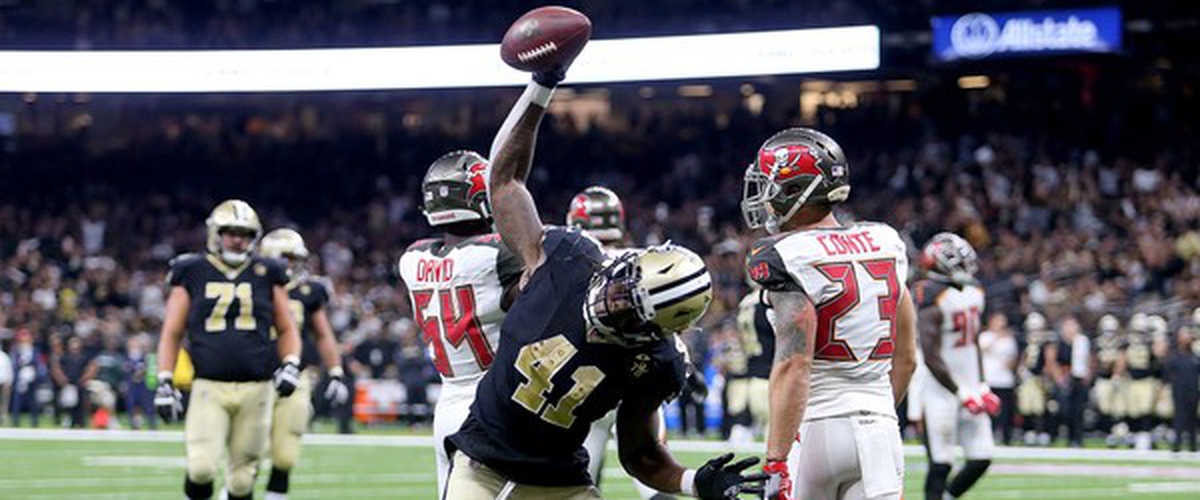 Oakland Raiders (0-1) @ Denver Broncos (1-0) 4:25 PM EST
The last game in the afternoon slate pits two division rivals against one another from the AFC West. Derek Carr and Oakland march into Denver coming off a blowout loss to the Rams on Monday Night Football and the Case Keenum-led Broncos look to keep up their momentum after a thrilling victory in the final minutes against the Seahawks. Turnovers were an issue for Keenum in Week 1, but the Denver defense is a force to be reckoned with and should give Derek Carr trouble. The big key will be for them to stop tight end Jared Cook who hauled in nine catches for 180 yards and get after Carr. Von Miller started off the season with a bang, forcing two fumbles, recording three sacks, and seven combined tackles. As long as Keenum can limit his turnovers and Denver's defense dominates, the Broncos should take this home game.
Broncos 24, Raiders 10
New York Giants (0-1) @ Dallas Cowboys (0-1) 8:20 PM EST
If Week 1 was any indication of what the Dallas Cowboys are going to look like on offense, they could be in for a long season. Dak Prescott was unable to get much going under center against the Panthers and outside of the touchdown run in the fourth quarter by Ezekiel Eliott, his impact on the run game was pretty limited. The matchup against the Giants should yield more opportunities to get the offense moving for Dallas, but execution will be key. As for the Giants, running back Saquon Barkley found the end zone in his NFL debut and made his impact on the New York offense. Expect Barkley to play a prominent role this week in the offensive game plan yet again and for Odell Beckham Jr. to get going against the Dallas defense as New York wins a close one on the road.
Giants 28, Cowboys 24
Monday Night Football
Seattle Seahawks (0-1) @ Chicago Bears (0-1) 8:25 PM EST
After blowing a 20-point lead last weekend on Sunday Night Football to the Packers, the Bears will look to rebound in their home opener against the Seahawks. Both teams lost close games in the closing minutes of Week 1 but the difference in this one should be Russell Wilson. Wilson committed two turnovers last week against Denver to the tune of two interceptions which ended up being the difference in the game. He will need to carry the team this week as the Seattle offense still lacks a run game after putting up just 64 rushing yards last week. They face a Bears' defense that allowed only 69 rushing yards against the Packers in Week 1. Additionally, if defensive end Khalil Mack can make his presence felt like he did in the first half against Green Bay with a pick-six and a strip sack then the Seahawks could be in for a long day. However, their lack of offensive production behind Mitch Trubisky is still worrisome and sways this game in Seattle's direction.
Seahawks 24, Bears 13
Questions or comments? Email www.mtv1999@juno.com and follow @mtvhottakes on Instagram and Facebook to know when new stories are posted.