Chase Elliot Youngest Driver To Win Daytona 500 Pole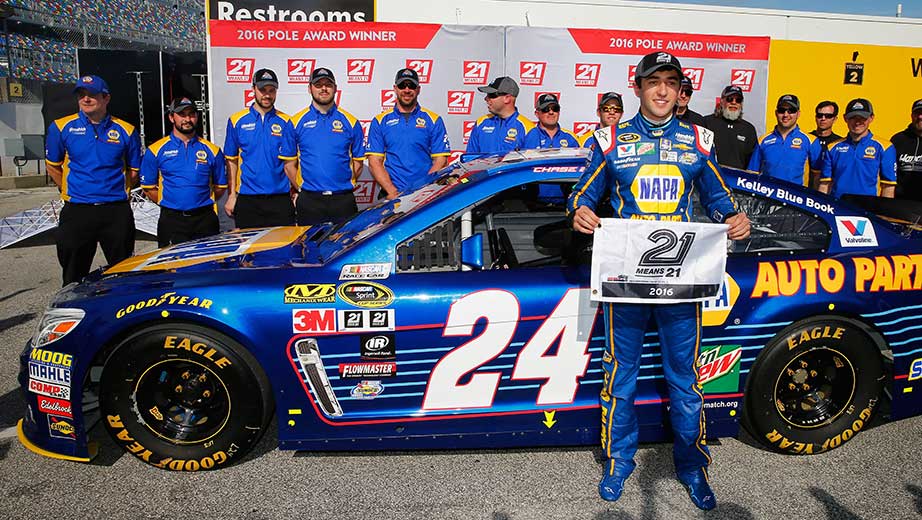 NASCAR.COM February 14th
Wheeling the iconic No. 24 Chevrolet at 196.314 mph around Daytona International Speedway, rookie Chase Elliott soared to the top of the charts in the final round of Sunday's knockout qualifying session, earning his first career pole in his Daytona premiere. Elliott, 20, is the youngest Daytona 500 pole winner in the sport's history. Elliott will also start first in the first of the Can-Am Duels (Thursday, Feb. 18 at 7 p.m. ET, FS1).
Matt Kenseth, who qualified second in today's two-round session with a 196.036 mph lap, will sit on the front row with Elliott in Sunday's Daytona 500 (Sunday, Feb. 21 at 1 p.m. ET, FOX).
Hendrick Motorsports' Dale Earnhardt Jr., who topped the opening round of qualifying in his No. 88 machine, was third on the speed charts (195.682 mph), while Joe Gibbs Racing's Kyle Busch (195.207 mph) and Roush Fenway Racing's Ricky Stenhouse Jr. (195.118 mph) rounded out the top five.
Only Elliott and Kenseth locked up their exact Daytona 500 starting positions, though. The even-numbered qualifiers from today will compete in Duel 2, while the odd-numbered qualifers will race in Duel 1. Results in those races will determine the 500 lineup.
From the eight Open, non-Charter, teams vying for the four open spots in the Daytona 500 field, Wood Brothers Racing's Ryan Blaney and BK Racing's Matt DiBenedetto secured spots for the Daytona 500 field, ranking seventh and 26th, respectively, on the qualifying leaderboard. They'll qualify for their Daytona 500 spots in Thursday's Duels. The other six teams will compete for the remaining two spots during the Duels as well.
---