MICHAEL WALTRIP RACING CLOSES SHOP, SEVERAL DRIVERS LEFT WITHOUT A RIDE IN 2016 (repost)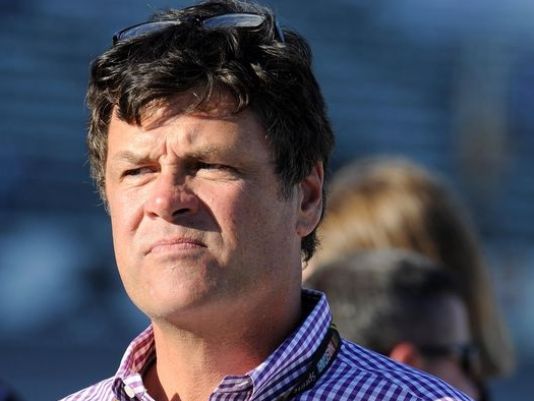 Clint Bowyer, David Ragan, and Brian Vickers, along with their teams, got the official word Wednesday that Michael Waltrip Racing is suspending all operations at the end of the 2015 racing season. Of course, that should have been obvious when MWR co-owner Rob Kauffman announced that he was buying ownership interest in Chip Gnassi Racing with Felix Sabates. And on that day, MWR's shop in Cornelius, North Carolina was up for sale, and the team had cancelled its annual fall sponsor summit where team officials meet with the companies that fill their coffers. Another huge indication that next year was in doubt.
Rob Kauffman joined MWR in 2007 when the team was in the verge of going out of business, and Kauffman, an investment banker, kept the organization afloat with an infusion of cash and managerial expertise. MWR scored its first victory in 2009 at the biggest race of the year, the Coca Cola 600 in Charlotte, NC. David Reutimann stayed on the track and took over the lead during a caution for rain – the race was called after just 227 laps.
Martin Truex Jr, who signed with the team in 2009, currently sits 4th in the Sprint Cup standings. Clint Bowyer was signed to the team in 2012, and proved to be a huge asset to the organization
The Domino Effect
With no ride for 2016, MWR driver Clint Bowyer, who is currently on the chase bubble in 16th, is left out in the cold, but he controls the 5 hour energy sponsorship and there is a good chance that he will head over to Chip Ganassi Racing with his sponsor dollars in tow. He may also head over to Furniture Row racing (Kurt Busch's team) for a long-awaited second car addition.
MWR Employees now have an uncertain future, even though there has not been word about the men and women who depend on those jobs, and there is no need of the level of staffing they have now. Dropping from 2 cars to 0 cars means dropping from people working in the shop to shopping for a new job.
Toyota is looking for another front line team to invest its money in, and they are now even more focused on teams like Furniture Row Racing with MWR ending its presence
Breaking up is hard to do…
Adam Alexander, Fox Sports 1 analyst and Truck series play-by-play announcer, asked Waltrip how he felt about the decision that was handed down Wednesday. "It's a sad day for MWR obviously", said Michael of the disbanding of the team he started in 2006. "I love the culture we've built there. Our sponsors – they're not sponsors, they're partners. And our employees are our teammates. We just have the perfect workplace. My hope is that somebody wants to have a really nice shop full of really cool people that work together well."
Grateful for the opportunity
---