Mr. 800 - Jeff Gordon Ready For Historic Career Start at The Glen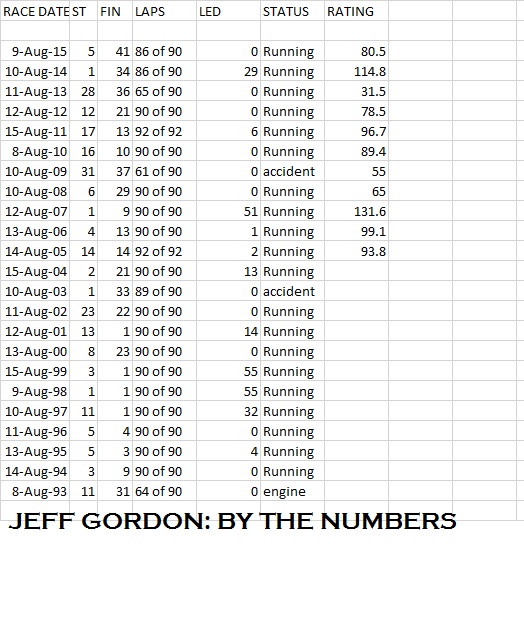 Jeff Gordon is filling in again for Dale Earnhardt Jr. this weekend at Watkins Glen International and in the process, will reach a career milestone.
When Gordon takes the green flag in Sunday's Cheez-It 355 at the historic New York State road course, it will mark the 800th Sprint Cup start for the four-time series champion. He's made all 799 of his starts driving for car owner Rick Hendrick. No. 800 will continue that streak as he takes the wheel of the team's No. 88 Chevrolet.
Gordon also will drive Aug. 20 at Bristol but beyond that, no plans have been made.
"I'm looking at this as a temporary thing," Gordon said. "I'm more excited right now about helping everybody find out where we can be better and how we can be more competitive, more so than driving the racecar. But being in the car helps me do a better job with that."
Gordon is the all-time road-course winner in the Sprint Cup Series with nine victories at Watkins Glen and Sonoma. His four wins at The Glen are one shy of the track record held by Tony Stewart.
"A big focus will be to make sure we don't have any brake failures," he explained. "I have concerns with the aero package having less downforce and less drag. On a new surface like Watkins Glen, you're going to drive into the corners much deeper and use a lot more brake. We've already seen brake temps be an issue at some of the tracks this year."
Here are the hot topics, trending news and key story lines to get you ready for the weekend's race at Watkins Glen International, courtesy of NASCAR.com
WEATHER
Mostly sunny and in the 80s this weekend, according to the National Weather Service. A far cry -- and more pleasant outlook -- from the fog and rain at Pocono last weekend.
KEY TIMES
Sprint Cup Series: Sprint Cup qualifying is on Saturday this weekend, at 12:15 p.m. ET (CNBC). The race starts at 2:30 p.m. ET Sunday. Remember, TV coverage for Sunday's race is on USA.
XFINITY Series: Qualifying is on Friday at 4:45 p.m. ET on NBCSN, a change from the usual Saturday qualifying. The race is at 2 p.m. ET on Saturday, televised on CNBC.
CATCH DRIVERS LIVE
We stream every driver press conference in the media center at NASCAR.com/presspass. Some of the notables this weekend:
Dale Earnhardt Jr. at noon ET on Friday; Chase Elliott at 11:15 a.m. ET on Friday; Carl Edwards at 2:05 p.m. ET on Friday.
LAST TIME
Kevin Harvick gambled on fuel, and couldn't quite make it to the end. His No. 4 Chevrolet's fuel tank going dry in Turn 6 on the final lap allowed Joey Logano to catch up and make the race-winning pass in the final two corners of the road course -- although Harvick did everything he could to throw a block. It was Logano's first win at Watkins Glen.
YOU SHOULD KNOW ...
• Keep an eye on AJ Allmendinger. The road-course ace needs a win to make the Chase for the NASCAR Sprint Cup, and this is his best chance. He won here in 2014 for his only Sprint Cup victory.
• Sunday will be historic. Jeff Gordon, subbing for Dale Earnhardt Jr., will make his 800th career Sprint Cup Series start, and Matt Kenseth will make his 600th career Sprint Cup start. Additionally, Michael McDowell will make his 200th career Sprint Cup start.
• Dale Earnhardt Jr. will be at Watkins Glen for at least Friday, when he'll meet the media. He's recovering from concussion-like symptoms and will miss his fourth consecutive race.
THE FAVORITE
Carl Edwards. His career average finish here is second only to Kyle Larson (who's made just two starts at The Glen), and he's driving a Toyota -- that alone is enough to ensure you will run toward the front these days.
Others to consider: AJ Allmendinger, Tony Stewart, Kyle Busch, Joey Logano.
THE SLEEPER
Kurt Busch. He's not really known as a road-course expert, but Busch has quietly improved here over the years. Staying out of trouble is key for the No. 41 team. If he keeps his Chevrolet on the track, watch out.
Others to consider: Jamie McMurray, Ryan Newman.
STAFF PICKS
Kyle Larson: 1
Carl Edwards: 1
Martin Truex Jr.: 1
Tony Stewart: 1
Joey Logano: 1
AJ Allmendinger: 1
Kyle Busch: 1
---