Jeff Thomas a Perfect Fit, if he Gets It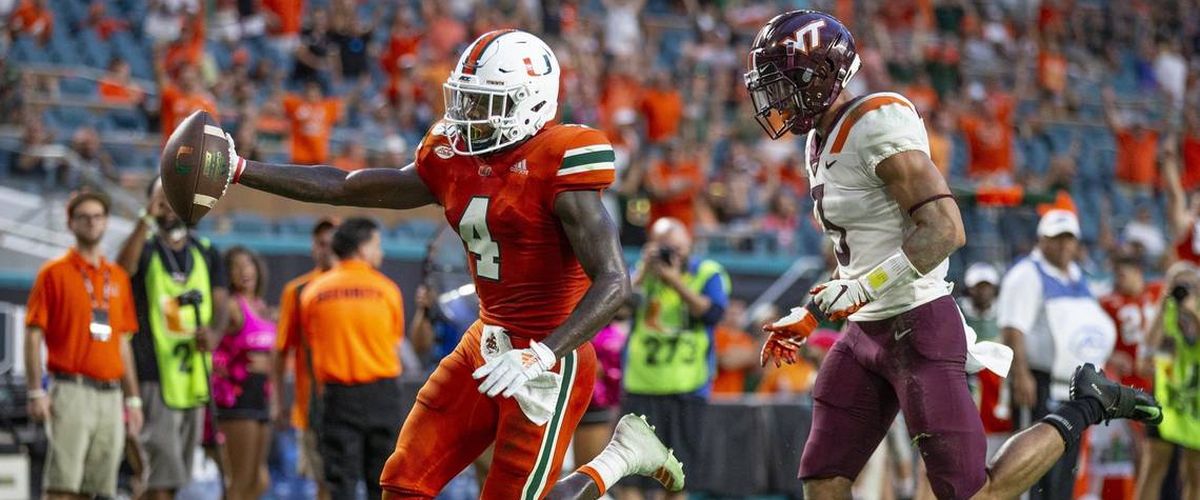 Speed.
The Patriots offense is in dire need of it. In particular, they lack it where they need it most, the receiver position. If New England believes either Marqise Lee or Damiere Byrd is the solution, then the Patriots have a lot of faith in bounce-back seasons for the pair.
Speed. Jeff Thomas has it. In highlights, the former Miami Hurricane easily made a mockery of social distancing from defensive backs before the term became part of America's lexicon.
Thomas has talent as a receiver and a kickoff returner. But most importantly he has the kind of speed to take the top off a defense. The only question is does Thomas want to be that guy bad enough. Thomas can have all the ability in the world. But if he can't be a team player, then he's not a Patriot Way player.
It was baffling watching New England pass on receiver after receiver during the NFL Draft, when the position was one of their top needs. They did come away with two tight ends in Devin Asiasi and Dalton Keene, but adding a receiver that can threaten the safety deep would help open up the middle of the field for the rookies.
And if the offensive approach for 2020 is to make the game easy for potential first time starter Jarrett Stidham, then New England should had selected a deep threat for the second year passer. Stidham has the arm strength to go long. And he showed nice touch on deep back shoulder throws during the 2019 preseason.
After three days of not selecting a receiver, the Patriots shopped the rookie free agent pool and came away with four prospects Auburn's Will Hastings, Kansas State's Isaiah Zuber, Syracuse's Sean Riley and Thomas.
While Hastings has his relationship with Stidham, and Zuber has a $100,000 over three years commitment from the Patriots, if it comes down to pure talent, Thomas would blow away the competition, as long as he stays on the field.
And that's the problem with Thomas. He was suspended multiple times for team-rules violations while at Miami, according to Patriots Wire. Thomas fought with his position coach and missed practices. It was enough for former Miami head coach Mark Reicht to dismiss Thomas from the team.
Thomas was going to leave Miami but new Hurricanes head coach Manny Diaz gave Thomas a second chance. It seemed like Thomas didn't change much, if at all, as he was suspended multiple times again.
With these character red flags attached to Thomas, a day three talent didn't have his name called during the draft. And with the bad reputation, Thomas got a measly $2,500 in guaranteed money in his three-year deal with New England.
Thomas' immaturity cost him a lot of money to start his career. More importantly, it cost him almost zero leeway if he slips up again. Bill Belichick has always been a no-nonsense head coach and he won't hesitate to discard a rookie receiver if he comes in acting like a diva.
Due to the pandemic, the NFL didn't have minicamp, so Thomas had plenty of time reflect on his time with the Hurricanes and learn from his mistakes. Whenever training camp starts (IF there is one), Thomas has to come in and be the good teammate he barely was at Miami if he ever was.
Belichick won't tolerate bad behavior. If Thomas takes one step off the straight and narrow, Belichick will cut him and send Thomas packing.
And fast.
Questions? Comments? Send to [email protected]. Follow @NE_Arena on Twitter.
---