The Patriots Are a Bad Team. How it Finally Happened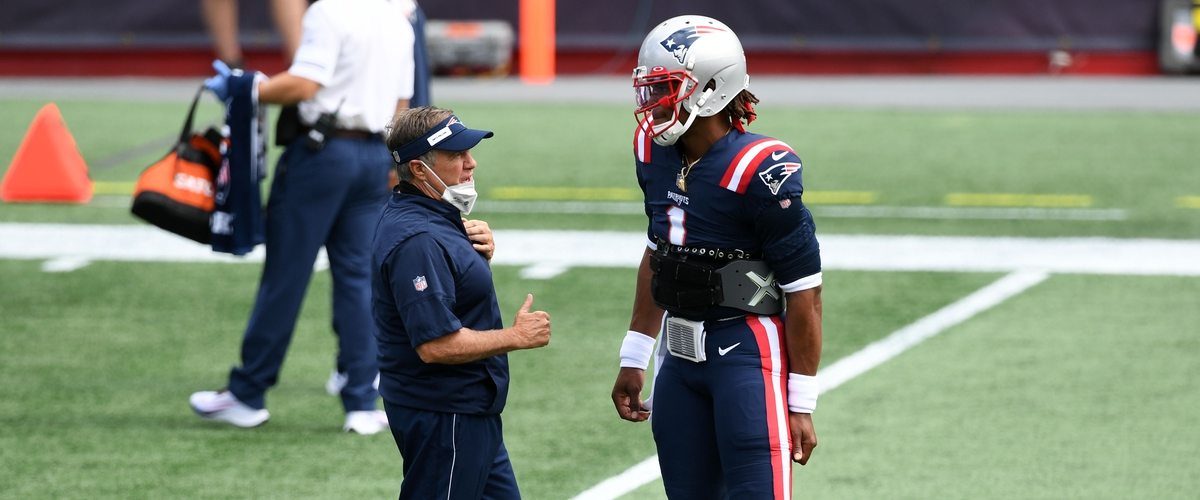 A common trait of bad teams is they find ways to lose games. That's what the Patriots have become, a bad team. For the third time this season, New England was on a potential game-winning drive but squandered the opportunity. That's what bad teams do.
We knew this day would come. For about the last 15 seasons, New England defied the odds by being a playoff team, and usually a championship contending team. That included an eight year streak from 2011 to 2018 of playing in either in the AFC Championship or the Super Bowl.
Becoming a dynasty in the NFL in the age of free agency is hard enough. The Patriots built two with head coach Bill Belichick and quarterback Tom Brady leading the way, becoming the winningest head coach-quarterback duo in league history.
But this Patriots Dynasty came to an end when Brady decided to take his talents to Tampa Bay. It was just the most potent blow that finally eroded the terra firma beneath the Patriots Kingdom. But it wasn't the only factor in New England's decline.
For years New England selectively kept their free agents while letting others walk. It worked, as long as they kept on replacing lost talent with equal talent.
As the likes of Tedy Bruschi, Mike Vrabel, and Rodney Harrison retired, left as free agents or were traded, they were replaced with Rob Ninkovich, Jerod Mayo, and Devin McCourty.
Over time, though, New England's success in the draft, free agency and trades produced more misses than hits. And as the talent declined, it became more and more difficult to remain competitive.
Compare last year to now, for instance. Linebackers Kyle Van Noy, Jamie Collins and Elandon Roberts were big contributors in 2019. They left as free agents. Who's replacing them? DE Derek Rivers, a third round pick, is a situational pass rusher, at best. LB Chase Winowich's snaps have been declining to the point he barely sees the field. And LB Josh Uche is just a rookie, so it's too early to say.
New England had been outstanding finding undervalued veterans that produced in the Patriots system. That was Vrabel, Ninkovich, Van Noy, Harrison, Randy Moss, and Wes Welker. Slowly, that dried up. Right now Lawrence Guy is performing at a high level, but that's it.
That dearth of talent is felt the most at the receiver position. Deion Branch and David Givens were replaced by Moss and Welker, which became Julian Edelman and whoever they hoped could play.
Chris Hogan was good enough for a few seasons. The Patriots basically rented Brandin Cooks for one season. Brandon LaFell was a solid complimentary target. Danny Amendola was a great co-star on and off the field with Edelman.
The misses far outnumbered the hits, though. Demaryius Thomas, Phillip Dorsett, Kenny Britt, Michael Floyd, Keshawn Martin, Torry Holt, and Reggie Wayne come to mind. Some of these players couldn't even make the roster out of training camp.
It looks even worse when New England's draft record is factored in. Aaron Dobson (second round, 2013), Taylor Price (3rd, 2010), Josh Boyce (4th, 2013), Devin Lucien (7th, 2016) are just a handful of players that didn't work out for the Patriots.
Busts weren't only on the offensive side of the ball. DTs Dominique Easley (1st, 2014), Ron Brace (2nd, 2009), CBs Cyrus Jones (2nd 2016), Duke Dawson (2nd, 2018) and Ras-I Dowling (2nd, 2011), LB Jermaine Cunningham (2nd, 2010), S Jordan Richards (2nd, 2015) failed to come close to fulfilling expectations.
Over time these failures caught up with the Patriots, particularly the early round selections. Players selected in the first three rounds should had become starters with the team for several years or solid role players that stick with the team for a decade.
Instead the Patriots move on and have to find players to assume those roles. New England has to work with what's left sometimes, but that's what had to be done.
Now take all the mistakes and add the eight players that opted out of the 2020 season. LB Dont'a Hightower, S Patrick Chung, and OT Marcus Cannon were starters last year. New England successfully found suitable replacements for Chung and Cannon, but Hightower opting out after Roberts left as a free agent took a significant toll on the defense. Ja'Whaun Bentley hasn't adequately filled those shoes.
DT Beau Allen was expected to play a major role as a run defender, but won't play this season. He was recently joined on injured reserve by LB Brandon Copeland.
And none of the quarterbacks have come close to the efficiency of Brady.
This is just a quick overview of how the Patriots went from 2018 Super Bowl Champions to near the bottom of the league. The draft, free agency, trades and pandemic opt outs could be explored in much greater detail if each is focused on separately.
Added all together, it equals a 2-5 record halfway through the season. And the Patriots don't look like a team that will dramatically improve their win percentage by the end of the year.
Questions? Comments? Send to [email protected] Follow @NE_Arena on Twitter.
---