NBA Playoff Predictions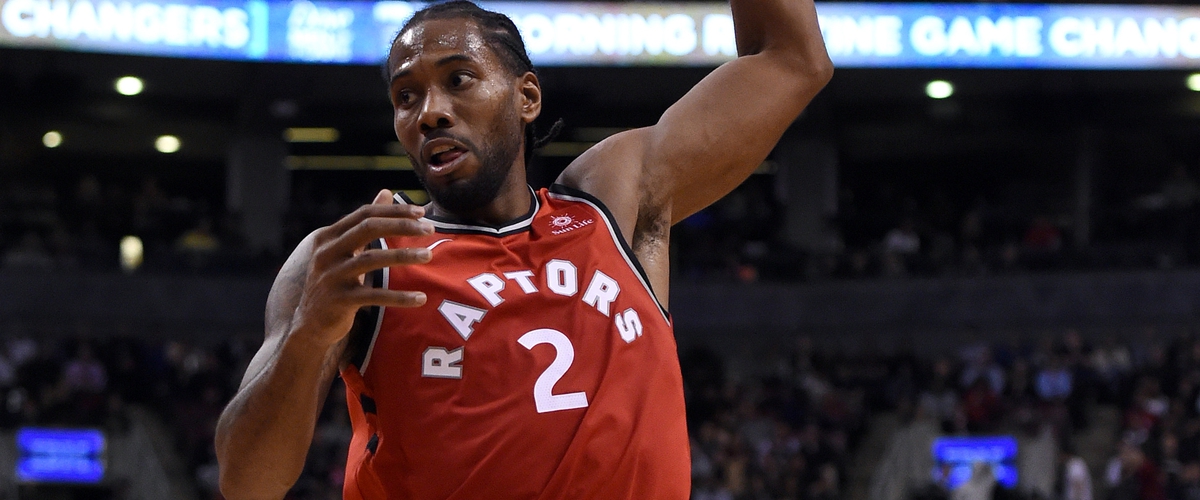 Eastern Conference
1. Toronto Raptors: The Raptors finally lost their first game to the last undefeated team in the NBA, the Milwaukee Bucks. However, they were without their new superstar Kawhi Leonard. The Raptors have been a tantalizing team in the regular season for quite some time now but their playoff kryptonite(Lebron) has moved out west. With the best player in the entire conference now playing North of the border, along with a bench that can compete with anybody, this seems like the year that the Raptors, now led by Leonard alongside Lowry, will take over the East.
2. Boston Celtics: Boston entered the season as the favorites to end up getting a shot at Golden State in the finals. But the Raptors scorching hot start has put somewhat of a halt to some of these expectations. A slower than anticipated start from Kyrie Irving and the slump of Jaylen Brown has exposed this Celtics offense thus far. Even with Jayson Tatum showing even more improvement, this offense is performing with bottom 10 efficiency. Assuming Kyrie and Gordon Hayward emerge and play like their former selves at some point, this is still a team with the star power to win the East.
3. Milwaukee Bucks: The Greek Freak has got his team at the top of the NBA standings through 7 games. Although a small sample size, this team is leading a very balanced attack with an extremely formidable starting lineup. Kris Middleton and Eric Bledsoe have become very useful 2nd and 3rd options to Giannis. Additionally, moving Malcolm Brogdon into the starting lineup and signing a veteran floor spacing Center like Brook Lopez has increased this teams ceiling on both ends of the floor.
4. Indiana Pacers: I may receive some criticism for moving this team in front of "The Process" but the Pacers start two guards that can actually shoot...The addition of Tyreke Evans might've been one of the most underrated of the offseason. Pairing him with Domantas Sabonis makes for an effective, exciting bench duo. This team has an abundance of talented players but none more important than reigning MIP Victor Oladipo. Oladipo is the type of player that can win games on both ends of the floor and can score from all 3 levels. This is a team that took Lebron to 7 games and improved.
5. Philadelphia 76ers: Joel Embiid is now the best Center in the NBA. He's averaging 26 and 12 and continues to be a monster on the defensive end. Ben Simmons continues to be an exceptional distributing point guard and JJ Redick still shoots 3's. But outside of those 3, this team isn't very deep. Dario Saric and Markelle Fultz are going to have to take on bigger loads if this team is to replicate and build on last seasons success. The return of Wilson Chandler will help but I could see this team as a midseason trade candidate looking for a cheap scorer.
6. Detroit Pistons: The twin towers have been dominating the opposition so far this season. Blake Griffin has finally turned into that do it all point forward that Doc Rivers always needed him to be back in LA. He no longer relies solely on athleticism to be effective and it showed when he put a 50 spot up in a thriller against Philly. However, the Griffin and Drummond pairing can only do so much in a league dominated by perimeter shooting, Reggie Jackson and Reggie Bullock are just not going to cut it. They need to add an efficient shooter or two.
7. Miami Heat: I'm going to start off by saying that this team isn't that good. When two of your three leading scorers through 6 games are Josh Richardson and Rodney Mcgruder, you have a bit of a problem. Miami will probably end up in the playoffs, simply because the rest of the teams below this level are bad...really bad. This team thrives on the defensive end and will be even more pesky when former MMA fighter, now basketball player James Johnson returns to the court. They attempted to bully and out muscle the Sixers in the first round of last years playoff but clearly didn't have enough offensive talent to compete with them. They did nothing to address that issue in the offseason. Next.
8. Charlotte Hornets: If for no other reason, watch the Hornets play for 5-10 Kemba Walker offensive flurries. I mean really, the dude is fun to watch and nobody can stay in front of him. Other than that though, this team is full of has beens and players that aren't ready to compete for a playoff team. Miles Bridges and Malik Monk may one day be strong rotation players, but right now, they're still finding their footing. The best players this team has after Kemba are Nicolas Batum and Cody Zeller. Kemba averages more than 20 points more than the teams second leading scorer. Kemba may be able to sneak this team into the playoffs, but they will undoubtedly go home after 4 short, uncompetitive games.
Western Conference
1. Golden State Warriors: What do I really have to say about this team. Their 3rd best scorer just put up 52 points in like 2 and a half quarters. The Warriors will cruise into the one seed taking turns breaking various records throughout the regular season until there are no more to break. Oh yeah, and then they'll add Demarcus Cousins just in time for him to get some game reps in order to be ready to go for their potential three-peat. "Hopefully some team puts 4 ridiculous games together out of 7 and beats this team in the playoffs" -Every NBA fan not living in or near Oakland.
2. Houston Rockets: An extremely slow start leads me to believe the one seed is the Warriors to win or lose. But this doesn't mean that Houston isn't the NBA's biggest chance to unseat Golden State. This team was possibly one little hamstring away from the NBA finals and returns a very similar cast of characters this season. I have no doubt that once the trio of Paul, Harden, and Capela are playing every night together, they will go on a major run and move up in the standings. Melo and a hopefully healthy Brandon Knight remain wildcards for now. But this is team with tons of firepower on the offensive and defensive ends of the floor. As long as Chris Paul remains healthy and doesn't let anyone else spit in his face, this team will be fighting the Warriors for a chance to play in the finals yet again.
3. Utah Jazz: Boy is this team fun. If you weren't jumping on your bed like a 7 year old, screaming "ISO JOE" as (my new favorite player)grandpa Joe ingles torched the Warriors in the first half last week, then your doing life wrong. Joe Ingles, Donovan Mitchell, Rudy Gobert and co are knocking on the door of the NBA's elite teams. This team will shut you down, shoot the lights out, and make you wonder why you're getting beat by a European desk clerk(sorry, last Joe Ingles comment) all at the same time. This is one of those few teams that truly has an identity and they've got a group of very smart and disciplined players that know their roles and really want to win.
4. Denver Nuggets: Denver is a fast-paced team lead by a very slow superstar. Nikola Jokic leads a very young and athletic team that gave Golden State their only loss of the season. The young backcourt duo of Gary Harris and Jamal Murray along with veterans like Paul Milsap and Mason Plumlee make this a very balanced team that nobody wants to have to guard come playoff time. They will be even more formidable once Will Barton returns from his injury.
5. New Orleans Pelicans: If Anthony Davis hadn't gotten hurt, the Pelicans would probably still be undefeated. Davis and Jrue Holiday may be the best defensive duo in the league and Nikola Mirotic has turned into the lights out scorer that had scouts raving before his Chicago days. If Anthony Davis and the new addition of Julius Randle can both remain healthy, this will be yet another team out west that won't be fun to deal with in the playoffs.
6. Los Angeles Lakers: Although off to a slow start, it's hard to imagine Lebron going from 8 straight finals appearances to not even being in the playoffs. But if it weren't for that, I'd be tempted to have this team on the outside looking in. The Lakers DO NOT have an identity. Players seem to take turns trying to get theirs on the offensive end and often look like they aren't a cohesive unit on defense. Javale McGee has played very well so far but he's the only experienced center on the roster. If he gets injured, LA runs into a very serious problem. Luke Walton needs to figure out the teams optimal lineups and he needs to do it fast if he wants to keep his job. Lebron is losing patience.
7. Oklahoma City Thunder: In today's league, it is absolutely blasphemous to me that the Oklahoma City Thunder put together a roster and forgot to add people that can shoot. And no, Westbrook, you don't fall into the "people that can shoot" category. OKC has just one win so far this season and guess how many three's Westbrook took in that win. 0. While the sky is the limit for this team on the defensive end, OKC needs to make a move for a proven shooter by the trade deadline. Dennis Schroder cannot shoot and we all know the return of Andre Roberson won't help in that category either. That being said, Russell Westbrook is too good of a player in other aspects of the game for this team to not make the playoffs. Paul George's two way impact and Steven Adams bruteness(if that's even a word) will also keep this team competitive. But unless this team fixes their 3 point shooting, Paul George will have to continue to take step-back and pull-up three's just so that OKC can put up enough points to stay in games.
8. San Antonio Spurs: Losing Dejounte Murray for the season was a big blow, mostly defensively. However, Bryn Forbes has actually filled in quite nicely for him thus far. Regardless, this is a playoff team. Demar Derozan and Lamarcus Aldridge are two of the best one on one scorers the league has, and the Spurs have enough three point shooting to allow those two to continue to operate where they're most comfortable; out of the midrange. Mills, Belinelli, Forbes and Gasol provide more than enough shooting to keep this team in the playoff picture.
Aside: Portland is a very good team but I couldn't put them over any of the teams I put in the playoffs. A top 5-6 seeding the East though.
---