What Should The Braves Do With Julio Teheran?
Baseball in Atlanta has been up-and-down in 2017. The Braves moved into SunTrust Park amidst controversy of how it was built (and even if it was needed). Then they showed signs of being competitive by going out and getting experienced veterans such as Bartolo Colon, Jaime Garcia, RA Dickey, Brandon Phillips and a mid-season deal for Matt Adams. While Adams and Phillips have panned out well, the pitchers brought in haven't fared better (Garcia has been the best with a 4.03 ERA and a 1.31 WHIP while Dickey is streaky and Colon has been an epic disaster). The hitting overall has been far better than imagined, though some point to SunTrust Park being Coors Field 2.0.
But the biggest problem the Braves have encountered in 2017 hasn't been the loss of Freddie Freeman, whose numbers has been comparable to the likes of baseball studs like Mike Trout, Bryce Harper, and others. We have Matt Adams to thank for that as he picked up where Freeman left off. The biggest problem has been Atlanta's "ace," Julio Teheran.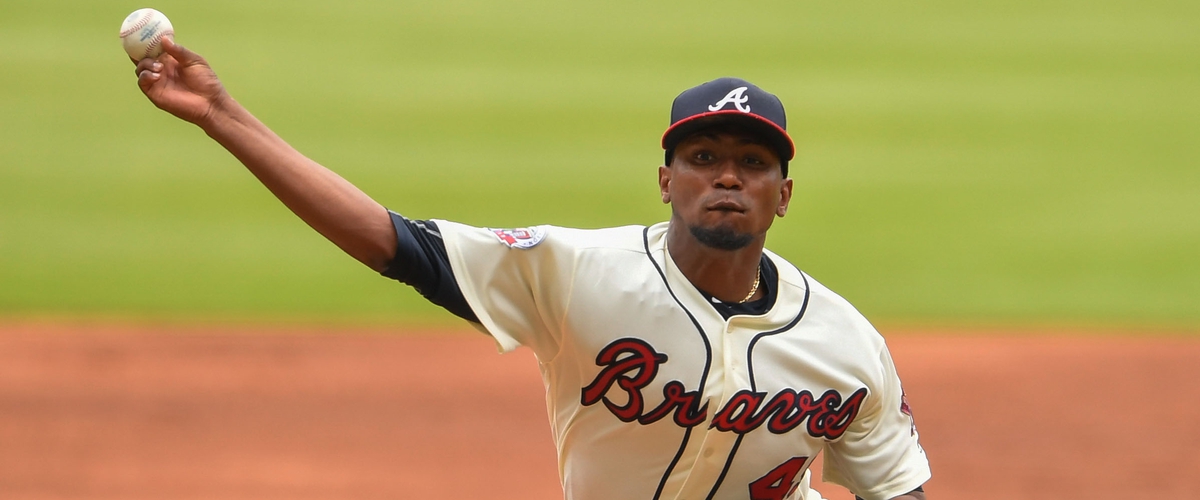 Anybody who knows me I HATE the use of the word "ace" when it is given to a pitcher that doesn't deserve it. I like to think of aces being Cy Young candidates on a yearly basis (starters, not closers) so in my eyes, there are a few true aces in baseball such as Max Scherzer, Chris Sale, Clayton Kershaw, Madison Bumgarner, Corey Kluber (though it took me a while to say that one for an ace), and a few others. So I laugh somewhat when I hear the "ace" moniker thrown at guys like Jose Quintana, Gerrit Cole (to an extent, though he has potential), etc.
BUT......I do get it. Teams have that one guy who is penned to either continue the run of good fortune, going against a top pitcher like the ones I mentioned, or the guy to stop the bleeding of a losing streak that needs to end. And that is why they are considered an "ace." Until this year, Atlanta's ace has been Julio Teheran.
The thing with Teheran in Atlanta, is that he pitches in Atlanta. And with a fan base that saw 3 Hall-of-Fame starters every year from 1993-2002 (and at least one of them from 1991-2007) in Maddux, Glavine, and Smoltz, Teheran has pitched in the shadow of those guys. Even with 10 years passing, Braves fans remembered how dominant those guys were. Teheran was brought in with the future on his back. The Braves had a new era with the likes of Freddie Freeman, Jason Heyward, Andrelton Simmons, and Justin Upton leading the way. He was the guy.
And truth be told, if you looked at the numbers from 2013-2016, they have been at worst, solid. Teheran in that time went 46-39 with a 3.33 ERA, and a WHIP of 1.15 while having a respectable 7.9 K/9 Ratio. The numbers were very respectable and he had his moments such as outdueling Justin Verlander on the final day of the 2016 season (and last game ever at Turner Field). But one knock has been Teheran is not a bulldog caliber pitcher where he could go 7 or 8 innings per game such as the likes of David Price, Justin Verlander, and Madison Bumgarner. And that is where I think an issue remains (though he had 4 CG's and 2 shutouts in 2014) and why he isn't loved at all in Atlanta.
Since 2017 began at the new park, Teheran has been a train wreck in his new home. Teheran is 6-6 with a 5.30 ERA and a 1.44 WHIP this season, but a nightmarish 1-6 with a 7.58 ERA and a insanely high 1.64 WHIP. The road numbers have been solid as he is 5-1 with a 2.89 ERA and a 1.23 WHIP (ironically, the K/9 ratio stays the same at 6.2, lower than normal).
Obviously, you look at the ballpark factors as Atlanta went from a pitcher's park where home runs go to die most times to a hitter's park where you can get some cheap-o 4-baggers. And Teheran's ground ball to fly ball ratio is pretty even throughout his career, but those fly balls that were outs at Turner are now are now hitting the walls or going over the walls at SunTrust. So really, if you want to blame SunTrust Park for Julio's issues, go right ahead. There is some argument there.
With that said, Teheran has to ADAPT to the new park. He has to understand pitching to get more grounders is vital at the new park and trust his infielders to get the job done. He has never had the blow-it-by-you power to strike guys out, ever. It unfortunately may not be easy, but he has to at least try.
So, what to do with Julio Teheran?
1. Trade him? Braves fans are hoping right now to trade Julio and wished he was a part of the Braves fire sale from the end of the 2014 year through 2016. At this point, Atlanta wouldn't get any value for him (though John Coppollela is becoming a magician with these trades he's made since he has taken over as GM) like they would have last year. A change of scenery would be nice, but again, does it benefit the Braves in the near future?
2. Move him to the bullpen? No. His road numbers are good and judging by the schedule, he will be pitching in Oakland and Washington before the break so he has that going for him. And the Braves surprisingly, contrary to my own moronic claim of them being done, aren't out of it as the Nationals may have hit the cruise control button too early (8-11 in their last 19) and while it is still 9 games back, it is not over yet and 9.5 behind the Rockies for the Wild Card, which may be more attainable as Colorado has been crashing for the past week and they have ZERO pitching right now.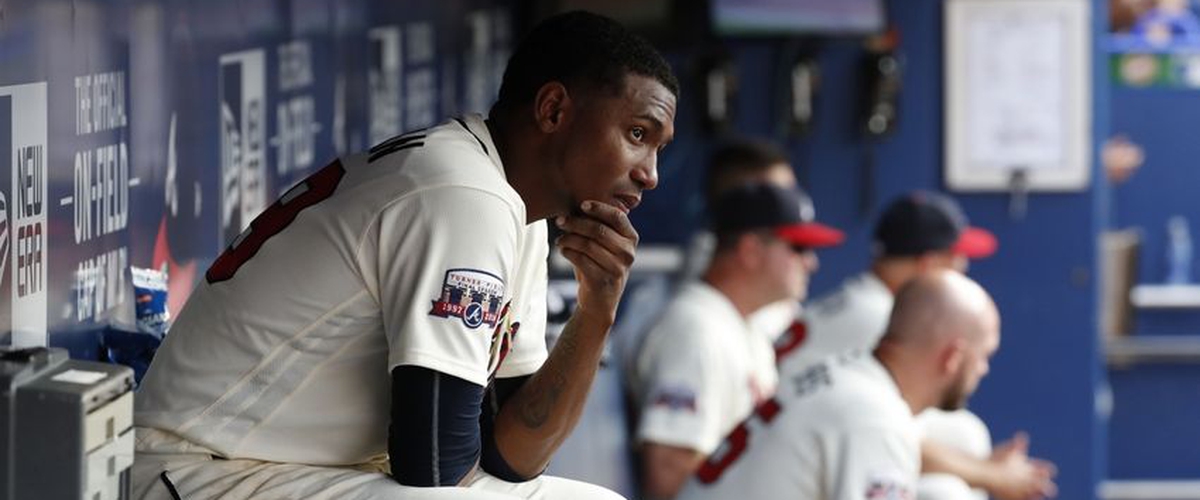 3. Skip a start? Not on the road where he has been decent. Perhaps if he goes back home after the Break and if he gets lit by the Cubs or Diamondbacks (probably Arizona since he is slated for the final game before the break-perhaps), then skip a home start so he can clear his mind.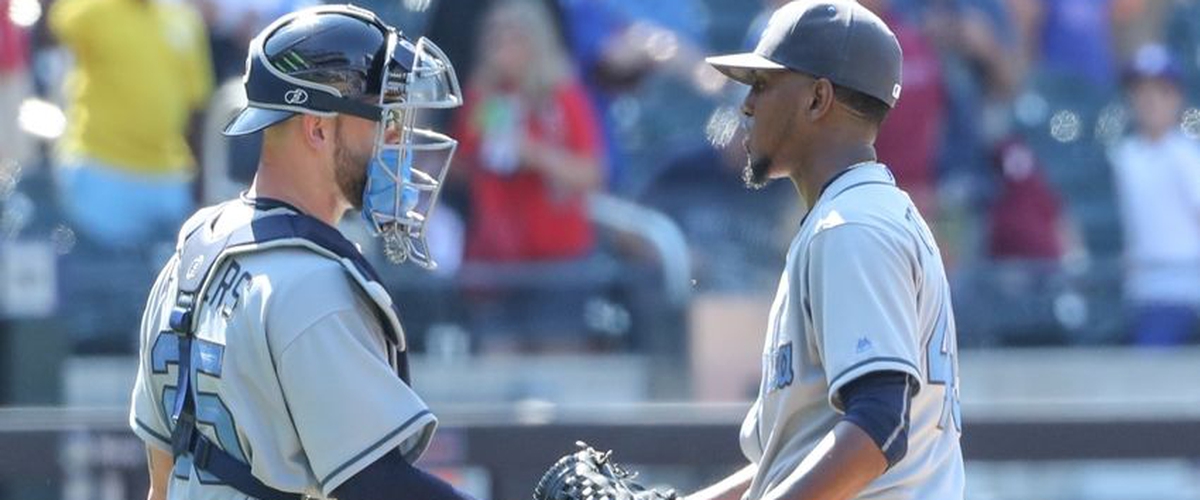 4. Have a personal catcher? We saw it in Atlanta with Maddux not wanting Javy Lopez as his battery mate as it was Eddie Perez, Charlie O'Brien, and later Henry Blanco (yes, that Henry Blanco). Who am I to say that it was wrong for Maddux to have his own battery? He's a Hall of Fame pitcher with 300 wins. Preferred to have Javy and his bat there, but I also like Maddux giving the Braves to win at every chance possible and he did that for 11 seasons. It looked like Teheran had Kurt Suzuki as his catcher in the last 4 outings (3 at SunTrust) and until the mess against Milwaukee, he was pitching fine, even AT home. And it seems like when he got lit, the next outing the catcher changes. So does that mean Flowers gets behind the plate in Oakland or Suzuki stays? Honestly, it probably doesn't matter at this point, but one more outing with Suzuki may be in order.
Having Teheran keep pitching as is, is probably the only viable solution. It isn't what Braves fans want to hear but it is the only thing to do. I mean you can't trust R.A. Dickey to turn it around and be that Cy Young winner he was in 2012 and you have consistency concerns with Mike Foltynewicz and Jaime Garcia as well and Father Time probably got Bartolo Colon and Sean Newcomb is too young to this point. So really, the thing to do with Julio Teheran is have him to just keep pitching.
And hope for the best.
-Fan in the Obstructed Seat
---