Through Two Games - NBA Playoff Outlook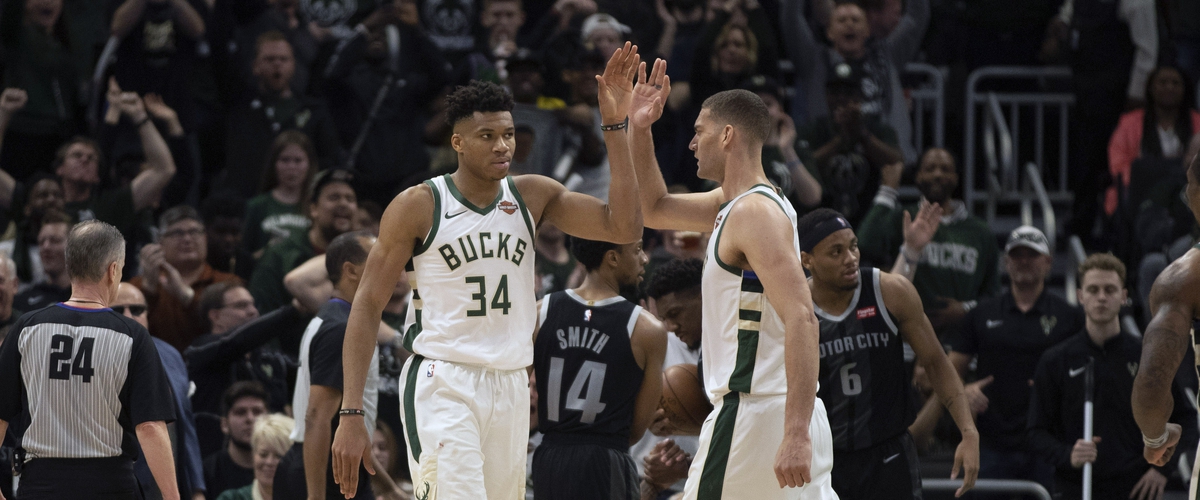 Now that we are two games into each playoff series, we have a better idea of what we are looking at with each match up. So let's go through each one of them and see how the 16 team teams are doing:
East:
Buck – Pistons (2-0): Oh dear
Listen, I know the title is a shitty pun, but honestly looking at this series there's nothing more I can say. Giannis is a beast. Blake is hurt and it doesn't look like the Detroit is going to avoid a sweep. Milwaukee has humiliated the Pistons in the first two games, giving Drummond the worst plus/minus in a playoff series since the stat has been recorded (-45), Scoring 70 points in the first half of game 1. This year's playoffs look to be Giannis' coming out party. And if the bucks continue to play in Coach Bud's system, they are going to be tough competition for anyone who is in looking to grab the Larry O'Brian trophy.
Raptors – Magic (1-1): Raps bounce back
The game one performance from the "Tech-House Pope" DJ Augustine was incredible. The dagger to sneak out a victory in Toronto at game one surprised everyone but The Young Pope. However, the raptors responded in game two, taking care of business in a game that was never close. Kawhi's 37-point effort with contributions from Pascal Siakim and Kyle Lowry helped the Raps put down the magic in game two. The next two games in Orlando should be interesting. Orlando hasn't hosted a playoff game since 2012 which means their home fans will be ampped up and excited to watch their team compete for game three. Despite all this, I think Toronto wins one of two in Orlando and eventually wins the series in 6 or 7 games. Only because they have the better team, I expect Lowry to record at least one point in all games moving forward and Nick Nurse to ramp up Kawhi's minutes as the playoffs continue.
76ers – Nets (1-1): It's up to the sixers to show up
This series is to close to call. So far Philly has played 2 full quarters of basketball where they look to be the superior team. One of those quarters (Game 2 3rd Quarter) had then hang 51 points on the nets. With the talent that this Philly team has, they should be killing the nets. They have arguable one of the best lineups in the league with Butler, Embiid, Simmons, Harris and Reddick, but they are being out played by lesser players. Game two was a better performance as Embiid stopped taking long shots and started to dominate inside and their defense was much better especially in that 3rd quarter of game 2. With the series moving back to Brooklyn it is worrying which Sixers team is going to show up for game 3. I am less confident in Philly than I am in the Raptors, so I see this series going the distance and I until I see a consistent performance from Philly, I am not willing to pick a winner.
Celtics – Pacers (2-0): Dr. Jekyll is back, forever?
Boston has been struggling all year. The two faces of the Celtics are the team with the most 'on paper' talent in the league and the team often seen during the season where everyone hates each other. The one thing that they have been able to rely on is their top tier team defense. This seems to have also bled into the post season where the Celts are keeping the pacers under from scoring under 100 in both games one and two (74, 91). This is not newsworthy as the Pacers lost their best player in Victor Oladipo in the 2nd half of the season. Despite this Indiana is give the Celts a run for their money in this series. Although the pacers have looked threatening to steal a game in Boston and I am not willing to count them out until they lose a game on their home court. I think Boston will ultimately take the series, but I can see this the wheels falling off the team, and Boston returning to being Mr. Hyde. I'm going to commit to Celts in 6, but I'm not confident in it at all.
WEST:
Warriors – Clippers (1-1): Stepping on the tail of a sleeping dragon
It has been said that the dubs have been disinterested in the season up to this point. Many have speculated that they are ripe for being upset in the second round to the rockets after seeing the warriors blow a 31-point lead in the second half to the Clippers. However, I am going to suggest the opposite is true. I think that the loss of Boogie and the embarrassing blown lead is going to wake this team up. I expect the Warriors to come out with the mentality of the Monstars after Jordan puts his life on the line.
Don't get me wrong I love the clippers. Harrold made me look like a genius in fantasy, Sweat Lou is the one of the league's most consistent offensive players, and SGA grew up in my neighbourhood. I hope the Clippers can make this series interesting, but I think game two was a "Bend or break" moment for the defending champs. Either they will band together and roll through the rest of the playoffs or they will fold on each other. But I think it's more likely that they get their shit together based off of the warriors being the warriors. Warriors in 5.
Nuggets – Spurs (1-1): Blue Arrow's late arrival
Jamal Murray decided to show up for the first time in this series to save Denver from falling 2 down going back to San Antonio. He was great though and if the Nuggets want to advance, they are going to need Murray to show up more than 12.5% of the time. However, this does not make me any more confident in picking the Nuggets to win the series. Personally, I imagine that the Spurs will hold on to home court advantage as they have been great at home this season and win the series in six. Coach Pop has been working with the same team all year centered around LaMarcus Aldridge and Demar DeRozan. I believe he can make the necessary adjustments to top the Nuggets in 6.
Trail Blazers – Thunder (2-0): Daaaamn Dame
This is probably my favourite series to watch. Portland hadn't won a playoff game with this core. Now they have control in the series without one of their key players Jusuf Nurkic. Dame, McCollum and Enis Kanter of all people are carrying this team to the second round. However, Russel Westbrook stepped up and took the blame for the team's poor performance and vowed to be better. This was a classy move by Russ and he's earned some respect from me for holding himself accountable. Back to basketball, I could see the Thunder and their fans turning this series into a contest after evening up the series at 2-2. So I have no idea who to pick. I could see the PG13 injury really holding the Thunder back, but I could also see the Trail Blazer's back court going dry for a few quarters/games. Gun to my head, I'll say Portland in 7 only because they would have home court in the final game.
Rockets – Jazz (2-0):
I'm not sure what to make of this series. In game two Ricky Rubio lead the Jazz in scoring. Is that going to continue? Will Mitchell be able to be more efficient than 7-18 and 5-19 in the next two games in Utah? I think they can sneak a win or two by the Rockets, but I can't see this series going past 6 games. I just think the Rockets are confident in their team and are counting down the days until they can get their revenge on the warriors. Rockets in 5.
---