Marty Fish Takes down Andy Roddick as Empire defeats Freedoms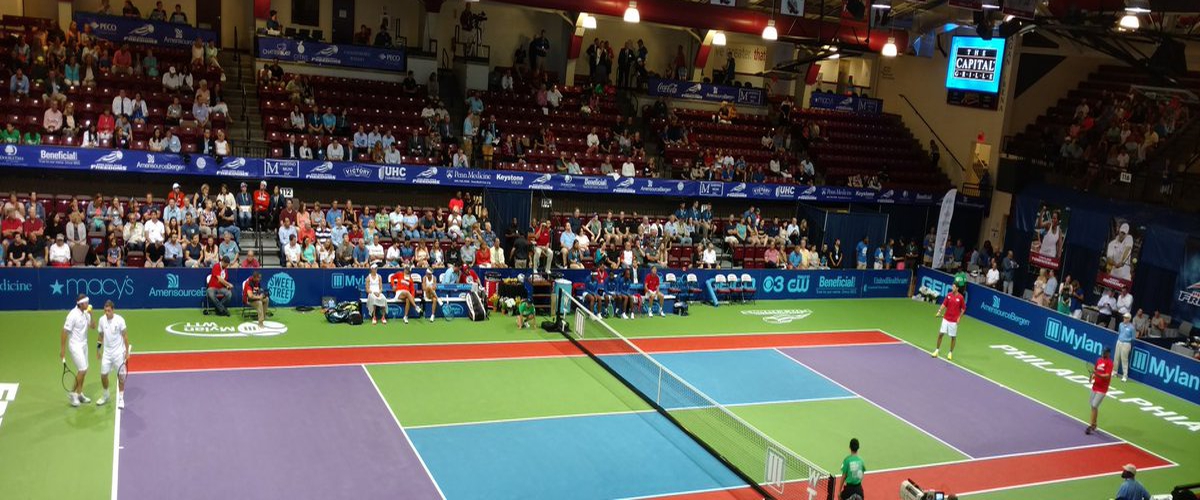 Philadelphia PA: Another chapter in the Philadelphia vs New York sports rivalry went to the next level on Tuesday night from Hagan Arena on the campus of Saint Joseph's University as the New York Empire lead by Marty Fish took on the Philadelphia Freedoms who was featuring Andy Roddick who became the newest member of the 2017 International Tennis Hall of Fame this past weekend.
This was a big match for the Freedoms as they wanted to keep their playoff hopes alive & Andy Roddick would be featured in 2 matches which were Men's Doubles & Men's Singles. 76ers center Joel Embiid was in attendance watching the tennis action.

Below is the order of the matches.

Men's Doubles
Women's Doubles
Men's Singles
Women's Singles
Mixed Doubles

The Empire would jump on the Freedoms by taking the first 2 sets for a 10-6 lead. The headline match was in Men's Singles as Marty fish took on Andy Roddick. Both Roddick and Fish have had some great battles over the years and it did not disappoint, the crowd at Hagan Arena was enjoying all the action as Fish would take down Roddick 5-4 in the third set. The Freedoms would not go away easily as they attempted to make a comeback and it would come up short as New York takes this game 25-18.

Match Results:

Men's Doubles - Mardy Fish\Neal Skupski (Empire) def. Fabrice Martin\Andy Roddick (Freedoms) 5-3
Women's Doubles - Kirsten Flipkens\Maria Sanchez (Empire) def. Sloane Stephens\Taylor Townsend (Freedoms) 5-3
Men's Singles - Mardy Fish (Empire) def. Andy Roddick (Freedoms) 5-4
Women's Singles - Kirsten Flipkens (Empire) def. Taylor Townsend (Freedoms) 5-4
Mixed Doubles - Kirsten Flipkens\Neal Skupski (Empire) def. Taylor Townsend\Fabrice Martin (Freedoms) 5-4
Video:
Andy Roddick:
https://www.youtube.com/watch?v=7tbVQ3C7TKI
Marty Fish:
https://www.youtube.com/watch?v=0fCvQLYrfBk
---