2017 NFL Power Rankings: Week 17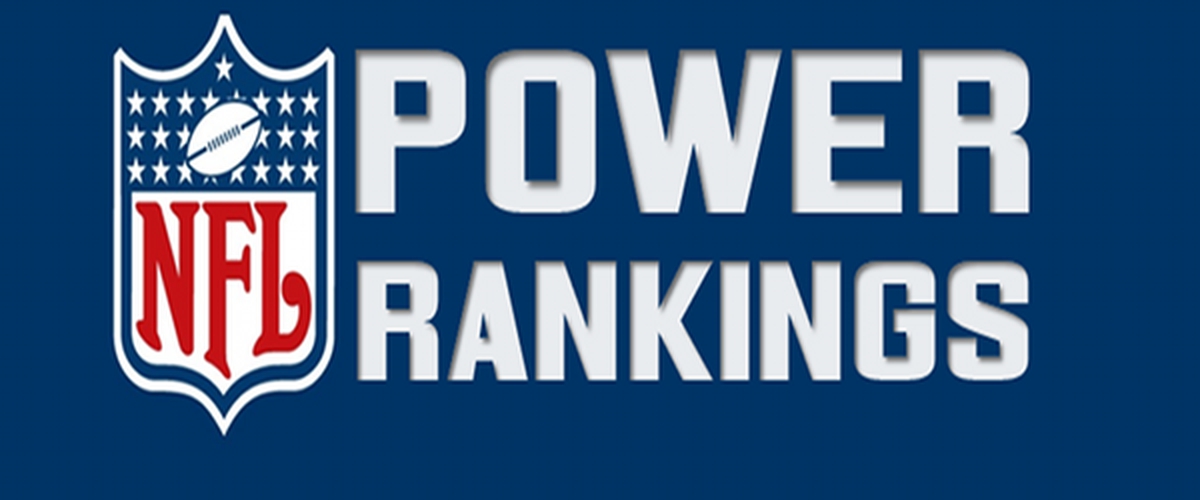 NFL Power Rankings: Week 17
(Season Record), [Previous Week's Ranking], {+, - & =}
1. Minnesota Vikings, (13-3), [1], {=}
2. New England Patriots, (13-3), [2], {=}
3. Pittsburgh Steelers, (13-3), [4], {+1}
4. Philadelphia Eagles, (13-3), [3], {-1}
5. Los Angeles Rams, (11-5), [5], {=}
6. New Orleans Saints, (11-5), [6], {=}
7. Kansas City Chiefs, (10-6), [9], {+2}
8. Carolina Panthers, (11-5), [7], {-1}
9. Atlanta Falcons, (10-6), [11], {+2}
10. Jacksonville Jaguars, (10-6), [8], {-2}
11. Buffalo Bills, (9-7), [18], {+7}
12. Tennessee Titans, (9-7), [16], {+4}
13. Los Angeles Chargers, (9-7), [13], {=}
14. Detroit Lions, (9-7), [14], {=}
15. Dallas Cowboys, (9-7), [15], {=}
16. Baltimore Ravens, (9-7), [10], {-6}
17. Seattle Seahawks, (9-7), [12], {-4}
18. Arizona Cardinals, (8-8), [21], {+3}
19. Cincinnati Bengals, (7-9), [22], {+3}
20. San Francisco 49ers, (6-10), [23], {+3}
21. Green Bay Packers, (7-9), [17], {-4}
22. Washington Redskins, (7-9), [19], {-3}
23. Miami Dolphins, (6-10), [20], {-3}
24. Oakland Raiders, (6-10), [24], {=}
25. New York Jets, (5-11), [25], {=}
26. Denver Broncos, (5-11), [26], {=}
27. Tampa Bay Buccaneers, (5-11), [28], {+1}
28. Indianapolis Colts, (4-12), [30], {+2}
29. Chicago Bears, (5-11), [29], {=}
30. Houston Texans, (4-12), [27], {-3}
31. New York Giants, (3-13), [T.32.], {+1}
32. Cleveland Browns, (0-16), [T.32.], {=}
Raise and Fall:
Raise: Buffalo Bills, 18th to 11th; (+7)
Fall: Baltimore Ravens, 10th to 16th; (-6)
Thoughts on the Power Rankings:
The Minnesota Vikings and New England Patriots remind at the number one and the two spots in the final regular Power Rankings of the season. The Philadelphia Eagles and Pittsburgh Steelers flip spots from last week as the Steelers are number three and the Eagles dropped to number four. The Los Angeles Rams round off the top five and the New Orleans Saints come in at number six.
The NFC Playoff Teams: (1), Philadelphia Eagles, (2) Minnesota Vikings, (3) LA Rams, (4) New Orleans Saints, (5) Carolina Panthers, (6) Atlanta Falcons
The Eagles and Vikings get the First Round bye and the Panthers and Falcons are the Wild Card teams.
The AFC Playoff Teams: (1) New England Patriots, (2) Pittsburgh Steelers, (3) Jacksonville Jaguars, (4) Kansas City Chiefs, (5) Tennessee Titans, (6) Buffalo Bills
The Pats and Steelers get the First Round bye and the Titans and Bills are the Wild Card teams.
The Indianapolis Colts, the Chicago Bears, the Houston Texans, the New York Giants and the Cleveland Browns finish the season in the bottom five. The Browns become the second team in NFL history to finish the season 0-16 and 1-31 in the last two seasons.
I will have one final Power Rankings with 1-12 being the only changes and 13-32 staying the same after the Super-Bowl.
---