Philadelphia Phillies trade Freddy Galvis and Sign Three Veteran Players!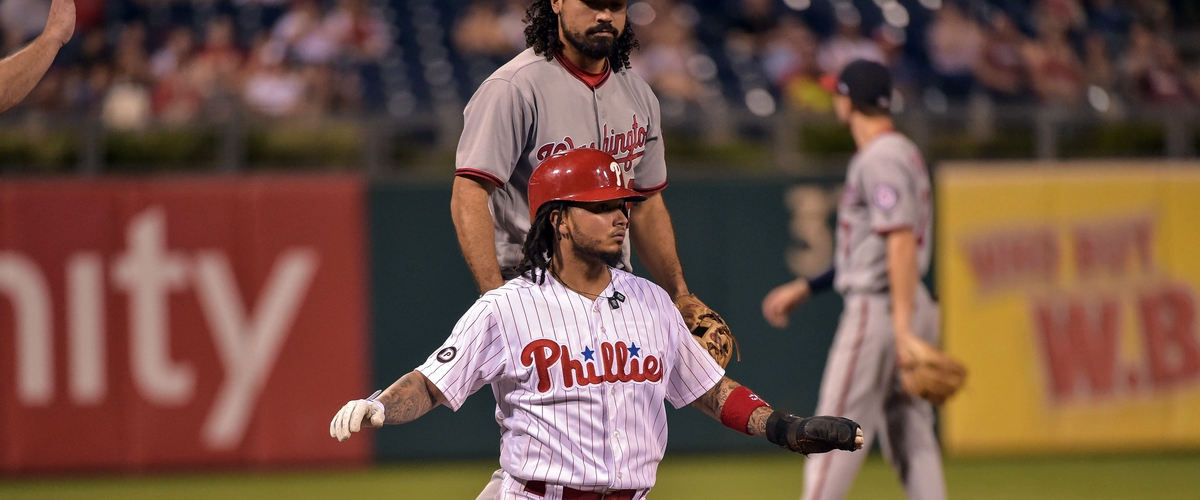 On Friday afternoon, the Philadelphia Phillies traded Short-Stop Freddy Galvis to the San Diego Padres for pitching prospect Enyel De Los Santos. The Seattle Mariners signed Santos as an International Free Agent and made his pro debut in 2015, he was later traded to the San Diego Padres for Joaquin Benoit. He was born on December 25, 1995. This trade means that J.P. Crawford is now officially the SS for the Phillies. Crawford two years ago was the best prospect in the Phillies farm system however, few bad seasons in the minors and fans started to wonder if he was indeed the future. He started to play better in the second half of last season before being called up to the Phillies in September.
The Phillies also, signed three veteran players yesterday too, two right handed relievers in Tommy Hunter and Pat Neshek who was with the Phillies this past season before getting traded to the Colorado Rockies. Both Hunter and Neshek got two-year deals. They also signed veteran switch hitting first baseman, Carlos Santana to a three-year deal worth $60 million. Santana spent his first eight major league seasons with the Cleveland Indians. He hit 174 home-runs and drove in 587 runs, his career batting average is .249. His best season came two seasons ago in 2016, when he hit .259, hit 34 home-runs and drove in 87 runs and helped the Indians get to the World Series where they lost to the Chicago Cubs in seven games.
My thoughts are I like all three signings as they all being some veteran leadership that this team needs with all the young players we have. The Santana signing is the most interesting as we have a two first baseman in Tommy Joseph and Rhys Hoskins. Joseph will most likely get traded now and Hoskins will probably be moving to Left-Field as Santana will play first. They could also have Santana play outfield sometimes to, so who knows what they will do time will tell. I like that they brought back Pat Neshek as he was probably our best relief pitchers last season and Tommy Hunter is another nice veteran arm to that bullpen, he's a solid pitcher that can close out games just like Neshek. It's been a solid off-season of the Phillies so far and hopefully they make some more moves like getting a veteran starting pitcher. The Phillies have inquired about three starting pitchers: Toronto Blue Jays' Ace Pitcher, Marcus Stroman, Tampa Bay Rays' Ace Pitcher, Chris Archer and Kansas City Royals' lefty, Danny Duffy. Out of the three pitchers that they inquired about, I want Chris Archer the most but the other two I'd be perfectly happy with too if we traded for them.
---