NBA Opinion : My All-Time Starting Five
There have been plenty (and I mean plenty) of great NBA stars at their respected positions but I will discuss my all-time starting five players.
Point Guard : Magic Johnson - Sure Magic did not average 30 points per contest but the man did have five championships (1980, 1982, 1985, 1987, 1988) and won 3 MVP awards. Magic is one of the greatest passers in league history, who averaged 11.2 assists per contest. Magic also shot .520 percent from the field which is a hard stat for a point guard. Magic averaged 19.5 points along with 7.2 rebounds per contest. The thing about Magic that people love is how he could find someone for the easy bucket, he could pass the ball with 'magic' giving him his name. Another reason why basketball fans (and myself) love Magic is because he played at the center position for an injured Kareem Abdul-Jabbar in Game 6 of the 1980 Finals against the Philadelphia 76ers, where he was unstoppable. Magic scored 42 points, collected 15 rebounds, and he picked up 7 assists in a game where he actually played every position. So we all know that the 6'9 rookie point guard from Lansing, Michigan, was basically the reason why the Lakers won the NBA championship in 1980. Magic will forever be the all-time greatest point guard in all of basketball. Magic could basically play every position on the court which has to make him the greatest point guard ever, if not player.
Shooting Guard : Michael Jordan - I'm pretty sure that everybody knew that Jordan would be in my starting five. In all honesty, I believe that MJ is the greatest basketball player ever, which many will agree with that statement. Not only did MJ average 30.1 points per contest, but he won six NBA championships with the Bulls. The Bulls were founded in 1966 and hadn't competed in the NBA finals until 1991 (MJ's 7th season). Most fans would say that the reason for the Bulls' success is because of MJ and I certainly agree with that. Of the 15 seasons MJ played in the NBA, 5 of those MJ was awarded with the MVP award. Jordan ranks fourth in all time scoring, scoring 32,292 points in 1,072 games. Jordan will forever be the all-time greatest Chicago Bull and probably will be the all-time greatest player in all of basketball.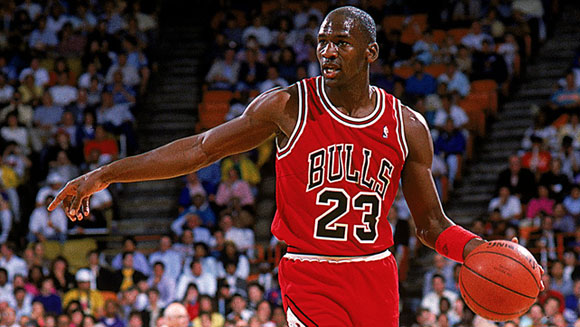 Small Forward : LeBron James - I mean of course James is the greatest small forward ever. In James' career, he is averaging 27.1 points, 7 assists, and 7.2 rebounds per contest. James has won the MVP award 4 times in 13 seasons so far which is outstanding. It is projected that he will get one more MVP award in his legendary career. James is a very special player of course. He was drafted as the first pick in the first round in 2003 NBA Draft coming right out of High School! James averaged 21 points and 6 assists per contest which was good enough for Rookie of the Year. The real reason why I chose James to be a part of my starting five is because of the energy and passion he played with in last season's NBA Finals matchup against the Warriors. In the Finals, the Cavs were the underdogs for sure - almost everyone went on the Warriors (Stephen Curry) bandwagon - and yet they won thanks to James and Kyrie Irving. James averaged 29.7 points and 9 assists per contest in last season's finals, making him the MVP of the Finals. I really respect that the Cavs shut the Warriors up because they taught us a valuable lesson - just because you are at the bottom and being the follower doesn't mean that you can't reach the top and be the leader! For this James makes my starting top five, as should as the rest of the 15-16 Cavs (If that was possible of course).
Power Forward : Tim Duncan - The power forward position was toughest for me because it came down to Tim Duncan and Dirk Nowitzki. I have to go with Duncan though because he has 5 championship rings to Dirk's 1 and Duncan has 2 MVP awards to Dirk's 1. Duncan played for 19 seasons, 15 of which were all-star seasons which is really impressive. Duncan is probably the greatest Spur ever just beating David Robinson. The 40 year old just retired this offseason, ending his legendary career making my starting five. Duncan averaged an amazing 19 points, 10 rebounds, and 2.2 blocks per contest in his career. So far no other power forward in NBA history can say that they are the greatest power forward ever because they will lose to Duncan's 5 rings and 2 MVPS. Duncan is one of my favorite players ever to play the game of basketball.
Center : Kareem Abdul-Jabbar - Is there any other options? I mean Kareem averaged 24.6 points, 11.2 rebounds, and 2.6 blocks per contest in his career. In that legendary career, he was awarded with 19 All-Star selections, 6 MVP awards, and 6 championships (1971, 1980, 1982, 1985, 1987, 1988) in 20 seasons. Kareem had that sky hook shot that no one could defend. Other than the sky hook, he even shot free throws reasonably at 72% which is tough for a center. A lot of people actually believe that Kareem is the greatest of all time and his numbers can back that up. Kareem is the greatest all around basketball player ever to play for sure. With all of these attributes, Kareem makes my starting five for sure.
In the next 20 years there will probably be new names on this list. With the amount of talent there is on the current NBA roster, you can't help but to imagine all the future MVPs there is. Look at Russell Westbrook, we know that he deserves MVP so far this season - could he replace Magic Johnson on my starting five list in the next 20 years? We will just have to wait 20 years!
---