Dodgers Players Stepping Up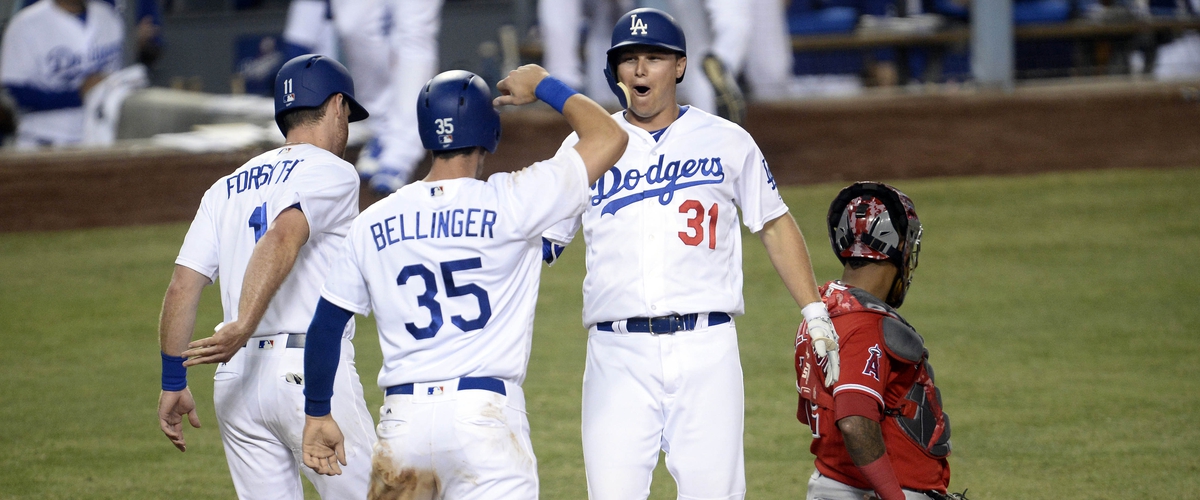 With a staggering record of 52-27 and winners of 16 of their last 18 games, the Dodgers enter the half mark of the season as the team to beat in the NL. Despite the record, it hasn't been easy for the Dodgers as they were tested early on through various injuries as can be seen below:
Rich Hill - Recurring blisters on left hand
Logan Forsythe - Right big toe fracture (30 games missed)
Andrew Toles - Torn right ACL (out for the season)
Scott Kazmir - Sore Hip (60-Day DL)
Andre Ethier - Herniated disk (60-Day DL)
Joc Pederson - Strained right groin; Concussions (29 games missed)
Justin Turner - Hamstring (19 games missed)
Alex Wood - Left SC joint inflammation (10-Day DL)
Kenta Maeda - Hamstring tightness (10-Day DL)
Adam Liberatore - Left forearm tightness; Left groin strain (2 trips to the 10-Day DL)
Adrian Gonzalez - Lower back discomfort; Right elbow soreness (2 trips to the 10-Day DL)
While the injuries have piled up, the Dodgers continue to win as players are asked to take on larger roles than initially drawn out in the preseason. Below I take a look at the difference makers who have contributed more than their fair share so far.
Cody Bellinger LF/1B/RF - #35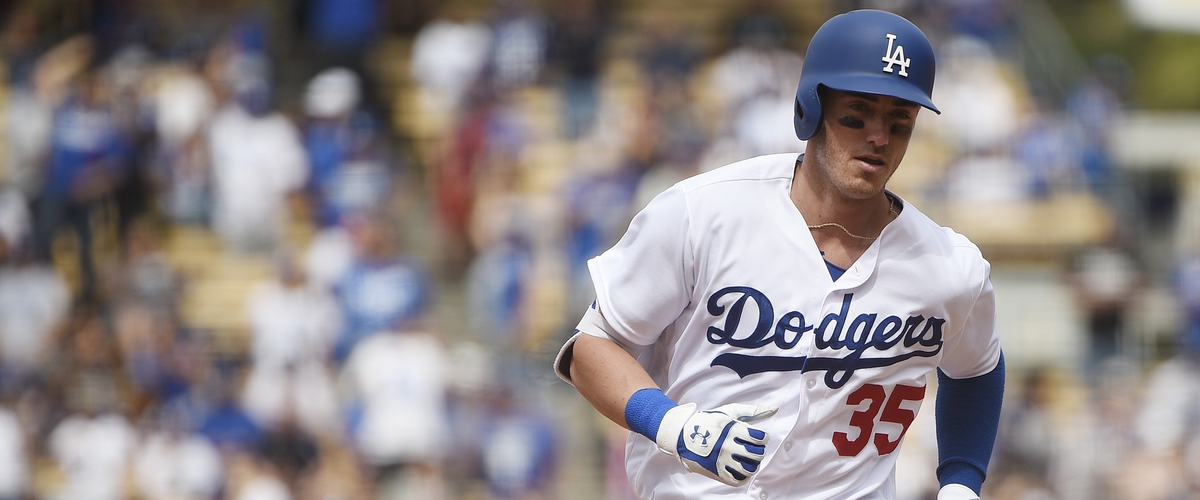 One of the more talked about roster concerns over the past couple of offseasons for the Dodgers has been how to get more production from LF. While Toles got the start at the beginning of the season, an unfortunate season ending ACL injury opened the door for rookie phenom Cody Bellinger. After hitting his 6th multi-homer game on Sunday, Bellinger leads the NL in home runs with 25 and is on pace to reach Mark McGwire's rookie record of 49 dingers. Following in the Dodger's more recent history of spectacular rookie call ups, Cody Bellinger has lived up to the hype as he became the fastest Dodger to reach 21 home runs. With Adrian Gonzalez struggling to find his power surge and recent stint on the DL, Bellinger was a jolt that the Dodgers needed to jump start their offense as he is batting .297 in the month of June. Bellinger has made his presence felt as the Dodgers may have solved their LF problem with the addition of Cody as the team is 43-16 since being inserted into the lineup. Look for Bellinger to only get more comfortable as he sees more pitches and pitchers that the MLB has to offer.
Chris Taylor 2B/CF/LF/3B/SS - #3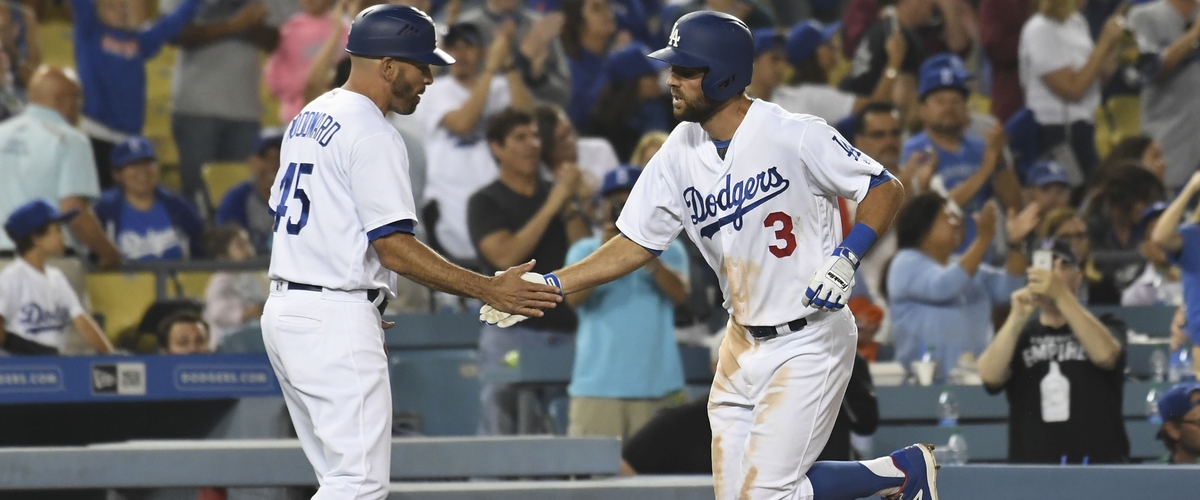 While Bellinger might get the hype because of his rookie status and knack for hitting homers, Chris Taylor has provided energy and most importantly production to the lineup since his callup from Triple-A to fill in for Logan Forsythe when he went down with a broken toe. He's been playing so well that Dave Roberts in recent interviews has indicated that Taylor's play has earned him more playing time. Taylor's success offensively can be seen through his numbers as he is batting .279 with an .853 OPS and 9 homers while also being asked to play 5 different positions defensively including 2B, SS, 3B, CF and LF. Chris's ability to produce from multiple positions at different spots in the batting order makes finding a place for him in the lineup easier for Dave Roberts as he tries to field the best lineup for each game.
Chase Utley 2B/1B - #26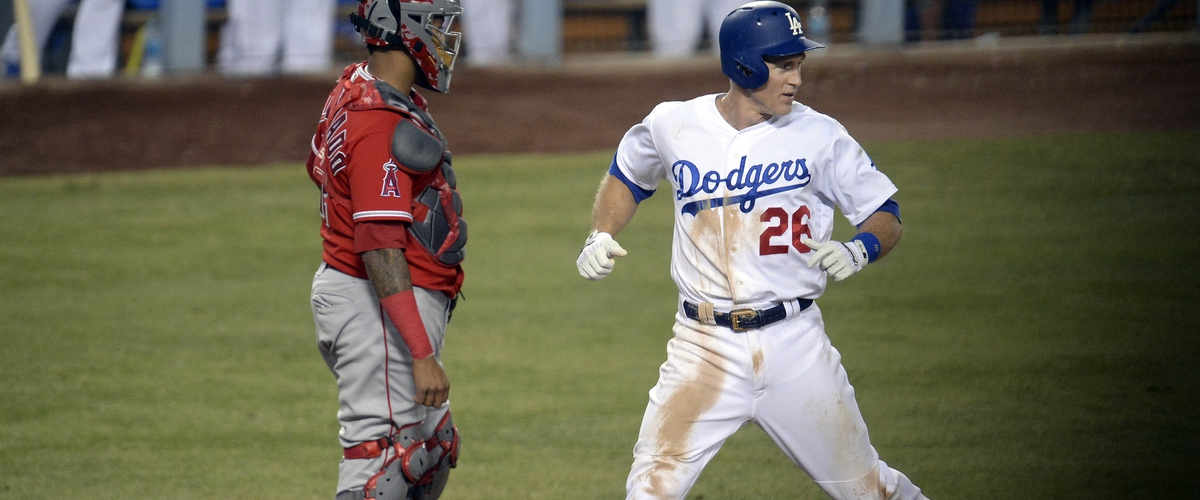 What more can be said about Chase Utley other than he continues to defy the sceptics. Having been demoted to backup 2B in the offseason, Utley was forced into everyday action following the broken toe injury to Logan Forsythe. While the offensive production doesn't jump off the charts, Utley has provided stability through his fielding and has put up better offensive numbers than Forsythe. The Dodgers are fortunate to have such depth at fielding positions as most teams would struggle without their starting 2B.
Yasiel Puig RF - #66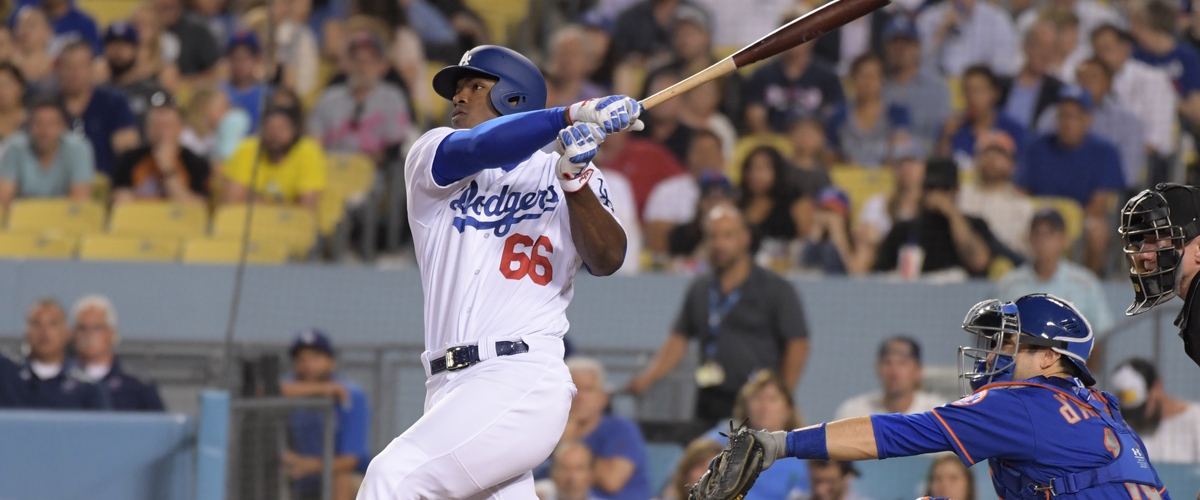 No player has been scrutinized more in the past few seasons than Yasiel Puig. Having kept the off-field issues to a minimum, Puig has held down the fort in RF and continues to be a source of productivity both offensively and defensively. Embracing his role in the 8th slot offensively, Puig has helped the Dodgers immensely as he leads the team in stolen bases and is in 2nd on the team in HRs and RBIs only behind Bellinger. While critics can argue that Puig still isn't producing at the level of his projected potential, Yasiel is producing at the highest level of his career in two important intangible categories: focus and perseverance.
Alex Wood SP - #57
No pitcher has taken more advantage of his opportunity than Alex Wood. Having been branded as a bottom of the rotation starter, Wood has put up better numbers than Kershaw in 2 categories specifically ERA (2.02) and Ks/9 innings (10.83). With Kenta Maeda taking a step back from his rookie year and the inconsistencies of Hill, Wood has taken over the number 2 spot and will only be unseated due to injury as he continues to grow in confidence. In his 5th season, it appears that Alex is starting to reach the potential that scouts initially saw in him as middle to top of the order starter.
Brandon McCarthy SP - #38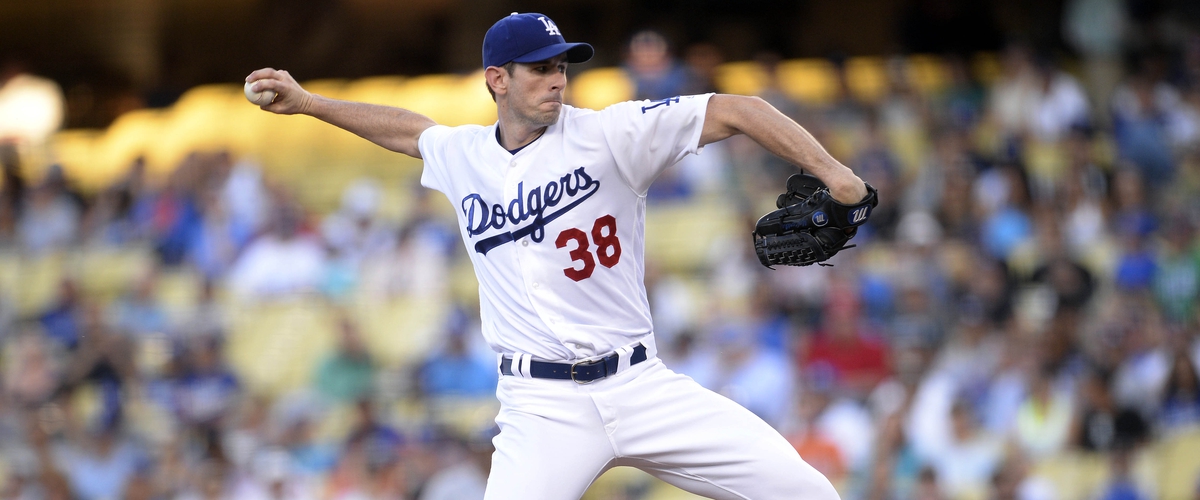 In addition to Wood, the other overachiever on the starting pitching staff is Brandon McCarthy. Similarly to Wood, McCarthy found himself on the outside looking in in terms of finding a spot in the rotation. However after seasons of inconsistencies with his control, McCarthy has provided a level of consistency that stands out in a rotation that has had its share of ups and downs. What has given McCarthy an edge has been his mental toughness as he has been able to respond to bad outings with only one back to back loss between starts on the year and his ability to go later into games where he's gone 5 innings or more in 11 of his 13 starts. If McCarthy can continue to pitch with the same confidence and positive results, the Dodgers may have the best number 4 pitcher in all of baseball.
Pedro Baez RP - #52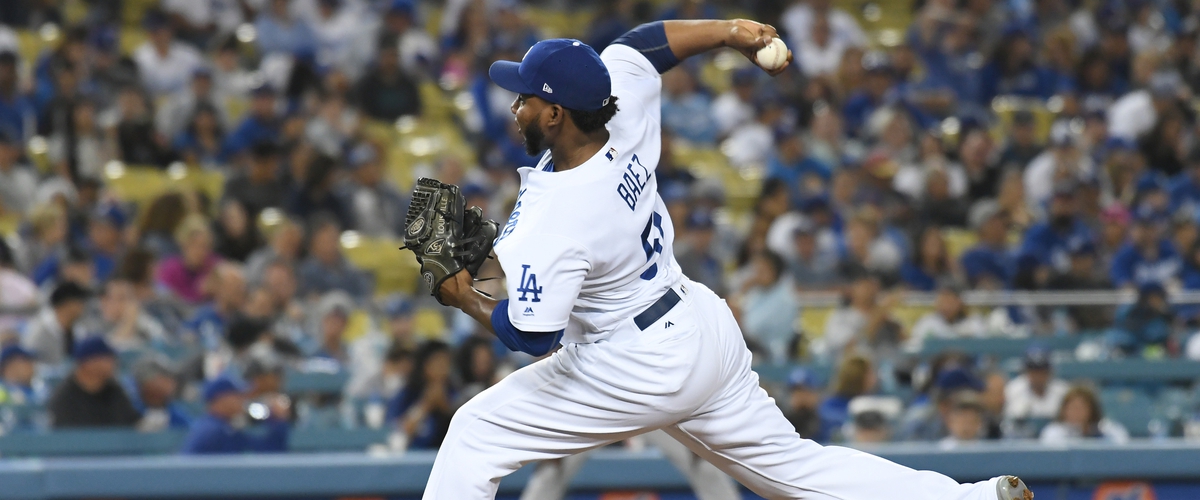 While Kenley Jansen and Sergio Romo stole the headlines in the offseason, the success of the bullpen has been a result of the relievers who make the transition from starter to closer seamless as possible. Of the Dodger relievers, no pitcher has turned heads more than Pedro Baez. Known before the season more for his snail pace on the mound from pitch to pitch, Pedro Baez has been a pleasant surprise for the Dodgers as he leads Dodger relievers in games played, holds and is 2nd in ERA at 1.34 only behind Jansen. On his way to a career season, Baez has stepped up and taken over Joe Blanton's role from a year ago as a go to reliever. While Pedro has yet to perform on a consistent basis in the postseason, the early success from Baez bodes well as the bullpen and starting staff continue to take shape.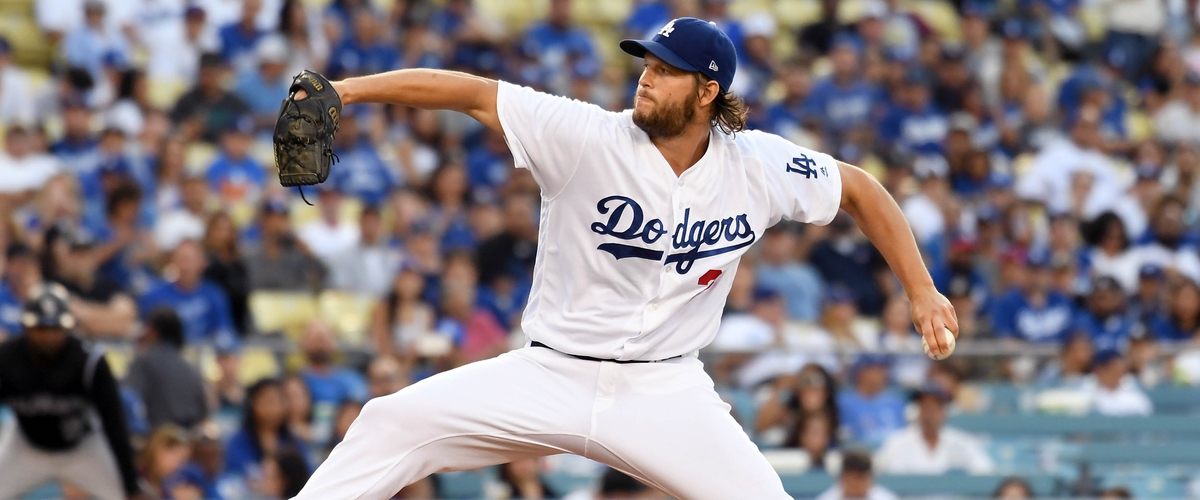 As the Dodgers continue to put teams on notice with their dominant play, the exceeded contributions from the players listed above has given them an edge as the team continues to display championship pedigree. While it is a bonus to see these unexpected contributions, the overall consistency of the organization is tied to the high level production from its star players. Clayton Kershaw continues to shine as he leads the league in wins and is 4th in ERA. Justin Turner continues to show his credentials with a batting average of nearly .400 and team leading OPS. Corey Seager leads the team in Runs, Hits, Doubles and Walks. Last but not least, Kenley Jansen leads all closers in baseball in ERA with a 0.83 and a 100% save percentage. With the Dodgers clicking on all cylinders, fans, players and management can only hope they can keep this pace up come playoffs.
---