Lakers Season in Review
As the clock struck 0 seconds after the Lakers final game of 2016, realization rang through the air for players, fans and management that the end of the season and an era was finally over. Game number 82 on the schedule was the highlight of a year that saw the Lakers lose the most games in franchise history. It was also the grand finale for LA icon Kobe Bryant who finished his career with a memorable 60 point performance. While Kobe may have ended his career in a fashion that only he could envision, from management's point of view, 2016 was a lost season that saw little to no development from their young guns of Jordan Clarkson, D'Angelo Russell, Julius Randle, Anthony Brown and Larry Nance Jr. Instead of growing together and developing chemistry on both the offensive and defensive ends of the court, the Lakers were relegated to many possessions of one on one isolation plays and plagued by terrible defensive rotations that led to easy buckets for opponents. Heading into the 2016-2017 season, the Lakers are left with as many unanswered questions than when the season first began. There will be anything but rest for Jim Buss and Mitch Kupchak this offseason, as they must figure out how to assemble a team that can compete night in and night out. As the Lakers look to put this season behind them, let's take a look back at some of the reasons for their historic poor performance.
Divided Priorities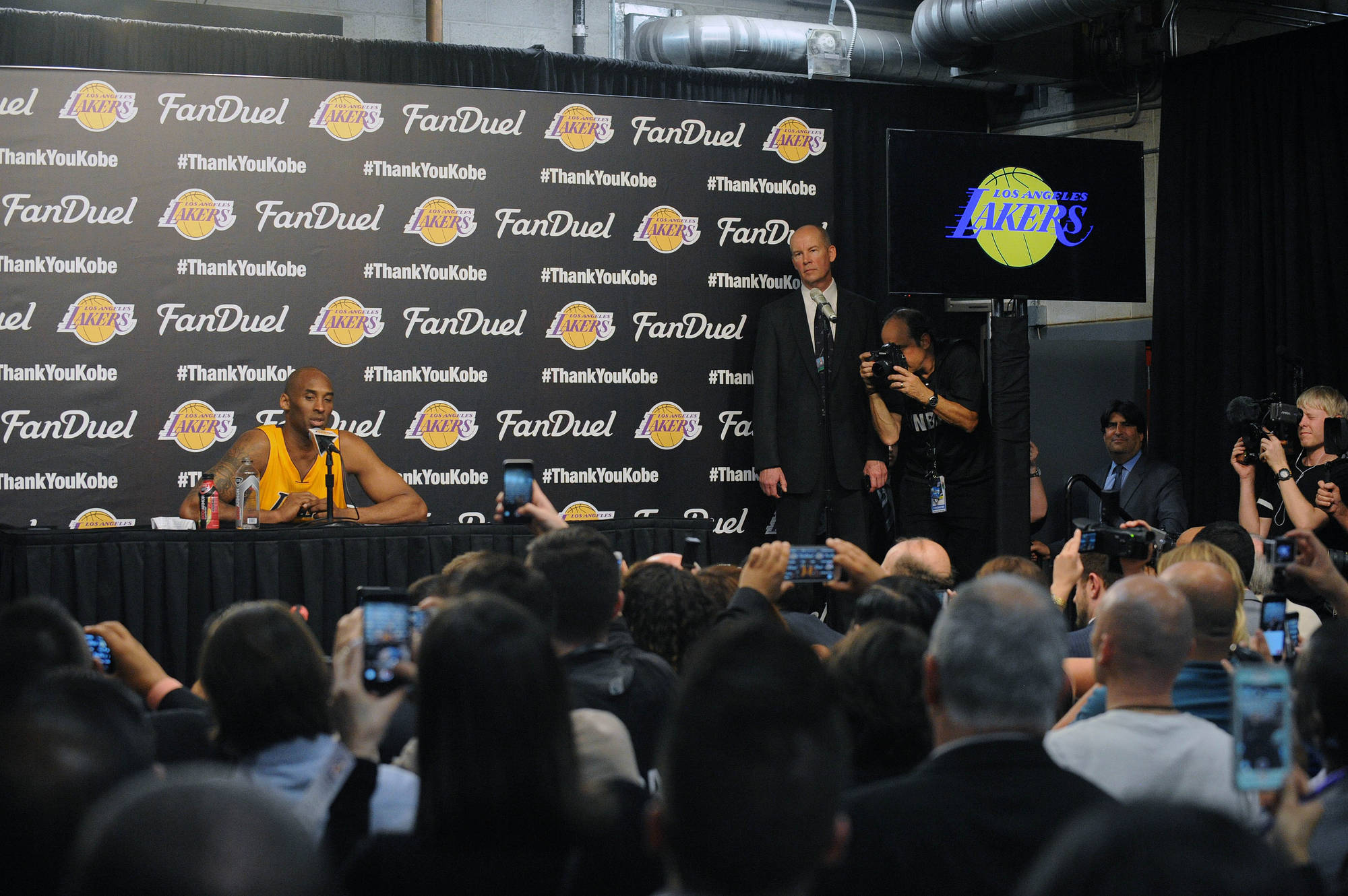 Gary A. Vasquez-USA TODAY Sports
Coming into the season, there were rumors that this could potentially be Kobe's last year. When he confirmed those speculations on, Sunday November 29th, 2015, the Lakers were faced with a predicament. Would they prioritize the development of the young players on their roster, or would they defer to Kobe making sure that he got as many wins, minutes and shot attempts in his last year in the association? The results spoke for themselves, as Kobe went on to average the 3rd most minutes on the team with 28.5 minutes a game and led the team in points averaging 17.6 per game. While Kobe did experience times of rest throughout the season by sitting out 15 games, when he was on the court, players were unable to truly develop the timing and familiarity with one another to truly get better from game to game as players felt obligated to pass the ball to Kobe. With game plans revolving around Kobe's availability, the Lakers never developed an identity that they could hang their hat on. As a result, many of the games felt more like exhibitions, losing the competitive edge which resulted in sloppy play. By celebrating the accomplishments of Kobe Bryant the Lakers cost themselves a year of development and ended the season with a record 65 losses.
Coach Byron Scott
A big part of the divided priorities was due to the lack of vision from head coach Byron Scott. Coming off what had been the worst Laker team in over 50 years, Byron Scott started the season on the hot seat. One of the main reasons Scott was hired as head coach was to give a fresh, defense first mentality after the failed offensive experiment with Mike D'Antoni. The former three-time champion Laker brought with him a no nonsense, old school mentality that was supposed to toughen up a young Laker team trying to build a foundation. While on paper the idea of defense made sense (after all, defense is about pride and effort), however in actuality, if you watched any game this year, you would think that the Lakers were openly revolting against Scott. The Lakers compiled the NBA's worst defensive rating at 109.3 and with no active commitment to protect the paint. Laker opponents feasted for 47.8 points (2nd most in the association) a game even with 7'2" Roy Hibbert at center. Coach Scott's tough love never clicked with a roster whose average year of experience in the NBA was 3.3 years excluding Kobe or Metta. Discontentment seemed to start when he removed both Julius Randle and D'Angelo Russell early in the season from their starting roles. As he admitted once he was fired, Coach Scott believed in making players earn their starting time and from his vantage point, Russell and Randle seemed to have a sense of entitlement rather than putting in the work to earn their starting position. While the benching may have been justified, Scott was unable to connect with Russell or Randle to build the trust needed for a relationship to cultivate and last long term. There wasn't an assured understanding that Scott had their best interest in mind and that everything he did was for their professional development. He wanted to ignite their competitive edge to compete day in and day out and remind them that no starting job is given, everything must be earned. Instead, however, the benching created a wedge in their relationship and ultimately strained their development as they became less and less receptive as the season progressed. With a lack of vision beyond competition and defense and no bond between the players and coach, the season didn't go far from where it started resulting in Scott's firing.   
No Accountability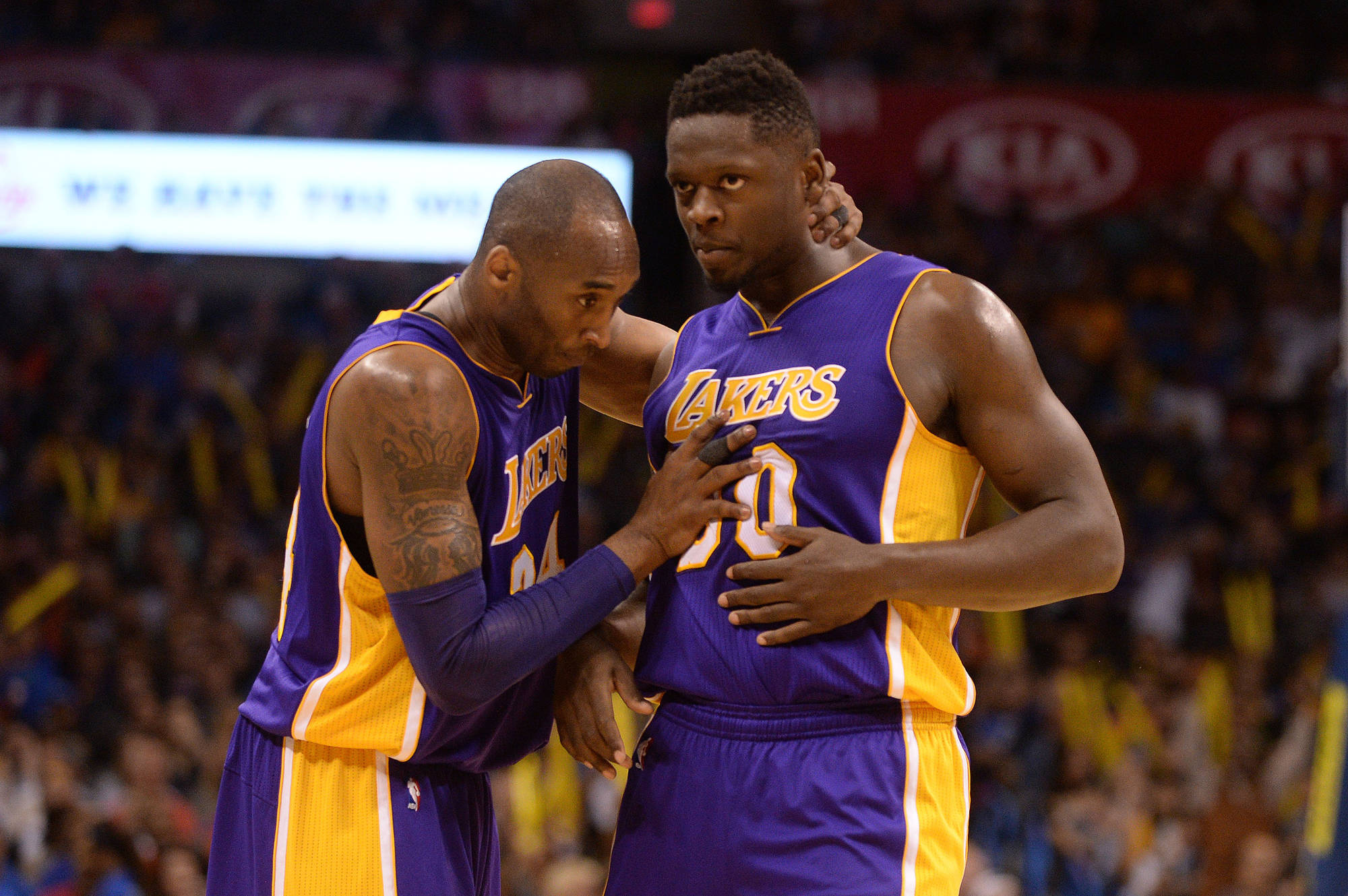 Mark D. Smith-USA TODAY Sports
While fans and management can put all the blame on former coach Byron Scott, ultimately the players are responsible for their play and at some point needed to take ownership for their role in the poor results. It seemed like all year long as the losses piled up, no one took responsibility for what was taking place on the court. As the losses began to pile up, Kobe had to step in and at one point during a blowout loss in Portland on January 23rd, began yelling at D'Angelo Russell and Julius Randle for laughing during a blowout loss. While this type of action is something you would expect from Kobe, what is more concerning is that it doesn't appear that any of the younger players stepped up or know how to keep themselves and others accountable.There was always an escape route whether it was hiding behind Kobe's farewell tour or focusing on the fact of how young they are and the potential that they have in coming years. While these two facts may have created distractions, there is no excuse for not giving all you've got on both ends of the court. Both defensively and offensively, the Lakers looked nothing like a collective unit and played the game as individuals rather than as a team. Either way as next season rolls on without Kobe, someone will need to assume a leadership role that did not exist this year.
Conclusion
Kyle Terada-USA TODAY Sports
In the end it was a lost season for the Lakers futures stock, as the team did not develop any more cohesion from the beginning of the season to the end. As a result, the Lakers have chosen to start fresh by hiring a familiar face in Luke Walton. While Walton may have experienced great success in Golden State, going undefeated in his first 24 games, Luke will have to stay patient as he has nothing remote to the players he had on the title defending Golden State Warriors. Ideally, the young core of Clarkson, Russell, Randle, Nance and Brown would have become more polished after a season of working as a unit, however with inconsistent minutes, injuries and lack of purpose, Luke in year one will need to emphasize the fundamentals before he tries to introduce showtime part two. The 2016 season was a year of delayed development similar to the endless LA freeway construction that is in perpetual rebuild mode. The Lakers can only hope that 2016 was rock bottom as this offseason will be a test to see if the Lakers can regain its prestige and sign a top free agent.    
---