The Lakers Developmental Purgatory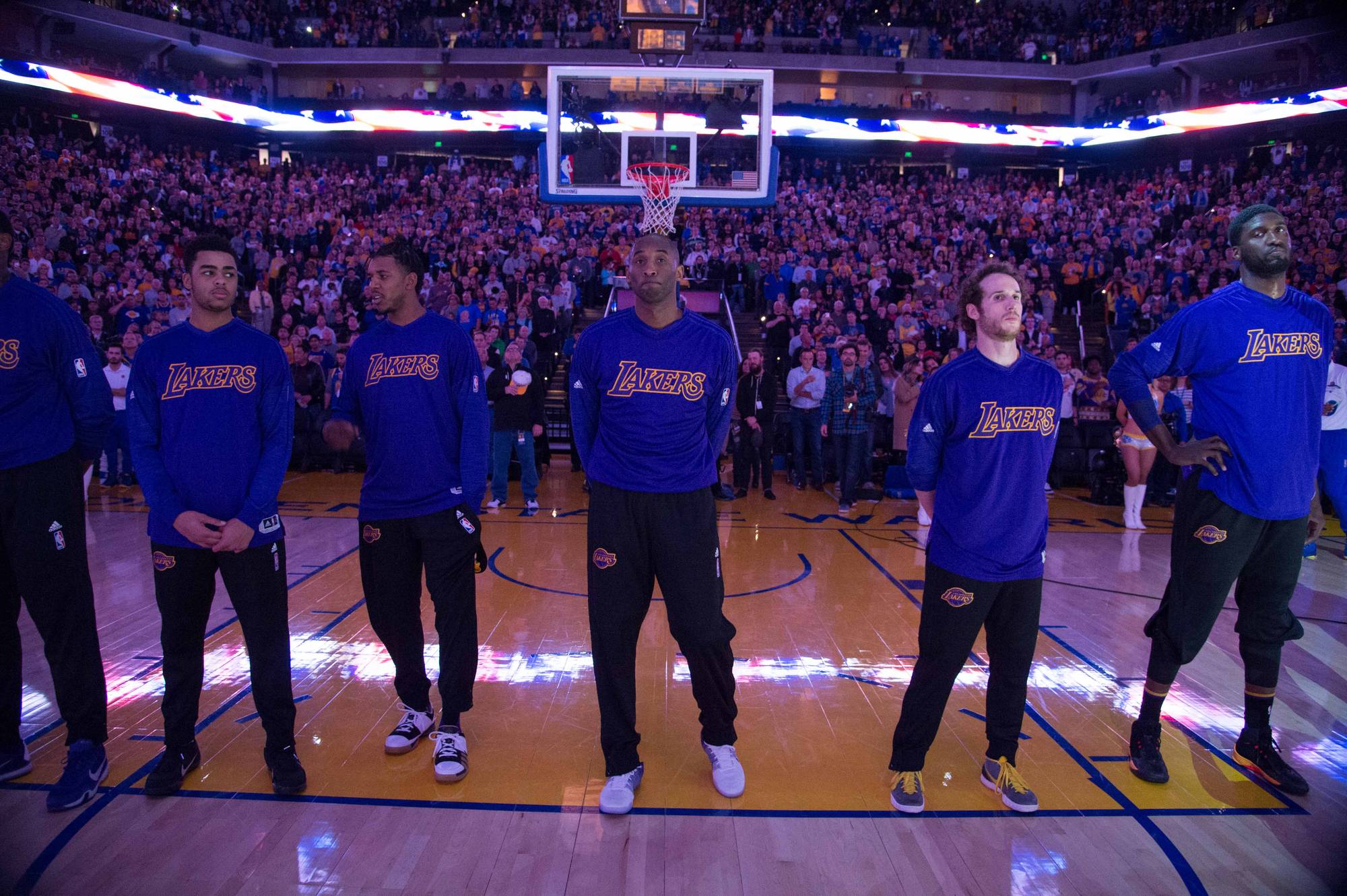 Kyle Terada-USA TODAY Sports
The Laker's season has gone worse than expected with the ball club tying its longest losing streak in its history at 10 games with the loss to the Hornets. To make matters worse there has been a dichotomy between the purposes of the Laker season. On the one side you have the coronation and final season of Kobe Bryant, as NBA teams and fans cheer for him one last time in-person from their respective arenas. On the other side however, you have the Laker's future on hold as player development seems to be at a standstill. If you have been following the Laker season thus far, it has been painful to watch the lack of defensive communication, the standing and watching of the ball as other teams collect their own missed shots and the overall lack of offensive unity resulting in last second heaves before the shot clock expires. While a playoff appearance was not a requirement of this season, steps towards a better future were. Unfortunately for the Lakers, they haven't been able to have it both ways as the prioritizing of Mr. Bryant has resulted in the stagnation of a team that should have some promise in the future with the right coach and veteran leadership. Below I outline my observations of some of the young core pieces of the team with the biggest question marks in regards to their futures with the Lakers long-term. 
Player Analysis
D'Angelo Russell (R) – PG #1

Ed Szczepanski-USA TODAY Sports
Highly touted D' Angelo Russell has so far not lived up to the lofty expectations that come with being selected #2 overall in the NBA draft. While ranking 4th in Rookie scoring with 12 points per game, Russell ranks 3rd in turnovers averaging nearly 2.5 per contest and has a putrid assist to turnover ratio of 1.36. An even more glaring statistic that has been overlooked this far is his poor free throw shooting percentage. For a starting Point Guard in this league, excluding Rajon Rondo, you are expected to shoot at least 80% from the charity strike given the amount of ball handling during late game situations. Russell is currently shooting 67% from the foul line. While numbers aside should set off some alarms given that he was a lottery pick, what is more concerning is his overall demeanor and attitude towards the game of basketball. You don't have to look very far away to remind yourself of the fire and competitive spirit that motivated Kobe Bryant throughout his entire career. You don't get a sense of that same passion for the game with Russell. Instead, you get either a timid player who seems to be playing in slow motion or you get the player who makes gestures towards the crowd over ordinary NBA plays. He hasn't arrived to superstar status yet and instead should focus on simply getting better each day. What makes me and should make the Laker organization even more alarmed is his haphazard attitude and effort on defense. Russell often finds himself out of position when he is guarding his defender off the ball as he falls asleep and allows his opponent to get inside position either for a backdoor layup or offensive rebound. D'Angelo repeatedly is taken out of plays after running into screens and shows no fight in trying to get through them to catch up with his defender. Additionally, Russell has not shown leadership on the defensive end such as communicating with teammates on switches, rotating out defensively after dribble penetration, or helping collect defensive boards. Defense is all about a mentality of heart and effort and no matter how often Coach Scott preaches it, the only way it will show up on the court is if the players own it and care about it as much as they care about their scoring. While Russell does have a decent step back shot and a craftiness for getting to the hoop, Russell will not last long on the Lakers or this league if he continues to throw away the ball carelessly and not take pride on the defensive end of the court. 
Julius Randle (Soph.) – PF #30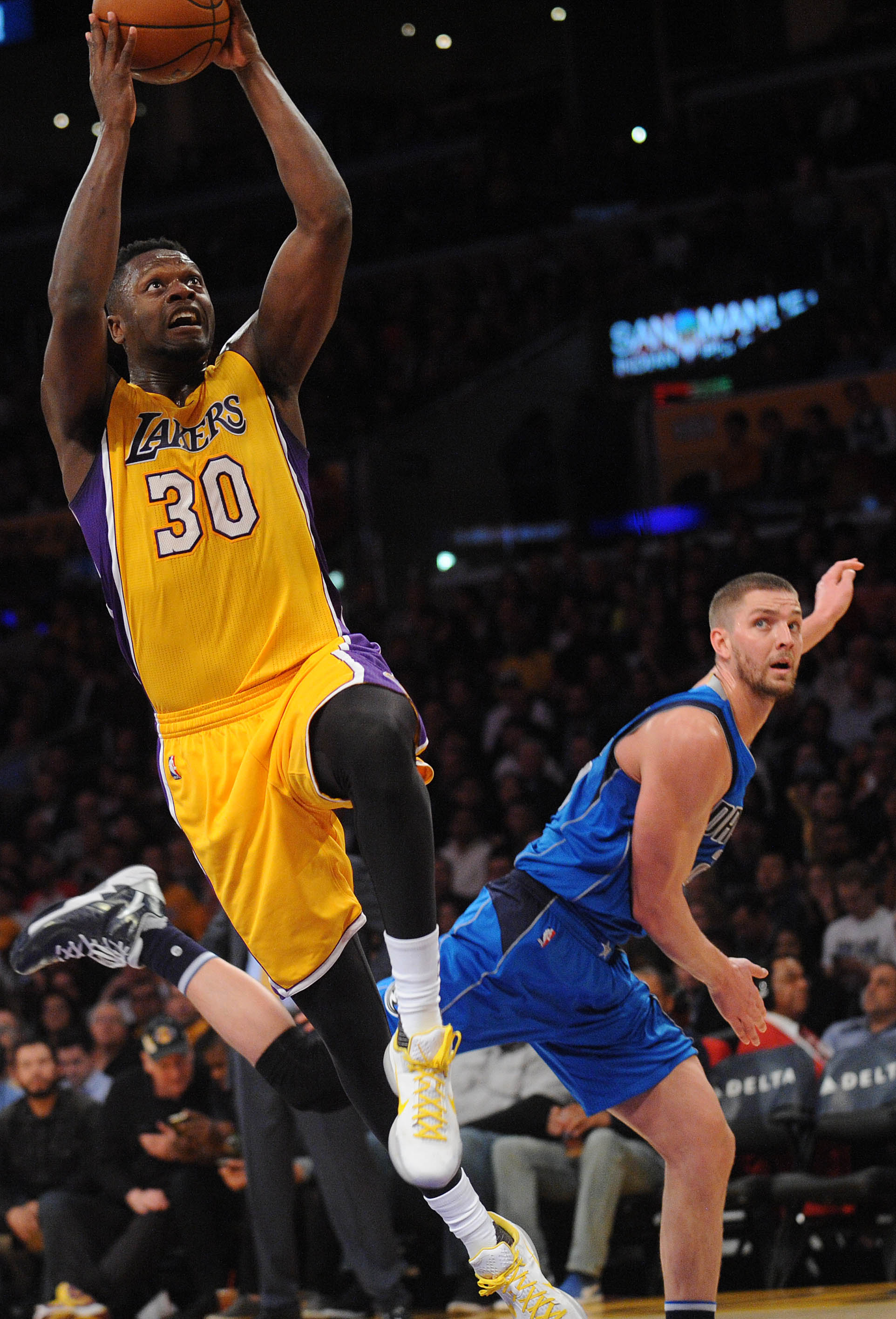 Gary A. Vasquez-USA TODAY Sports
It's been an interesting year for Julius Randle. After playing only 1 game last year due to a broken tibia, his second year has been a roller coaster ride. At the beginning of the year he was the clear starter at Power Forward providing a lot of energy as he fought for offensive rebounds and hustling for loose balls. You could tell that he was excited to be back on the court. However as the Laker losses started to mount up and Byron Scott relegated Randle to coming off the bench, his confidence was shaken resulting in poor performances. As of late, his offensive success has tended to dictate his effort and performance on the defensive end which has not gone well considering he is shooting 41% from the field. This creates a headache for a coach because you don't know what player will show up on any given night. Similar to Russell, Randle appears to be thinking more than reacting on the offensive end as he has become more predictable for defenses with either taking a fall away jump shot or putting his head down and driving to the hoop with a reckless abandon. As a pro, Julius needs to learn that teams adjust after the first time they see you and try to take away your strengths. In time, the offense will come as he develops a consistent jump shot and better footwork in the post, however like the entire Laker team, what concerns me the most is his lack of production on the defensive end. While shots may go in or out on any given night, defensive intensity should never be an optional part of the game plan. Randle hasn't seem to gotten the memo as you can often see him not rotating as the final line of defense and letting guards shoot uncontested layups. In addition to his lack of defensive execution, he relies on his athleticism to corral rebounds. Problem is that at this level everyone is athletic, resulting in many offensive boards given up because he was too complacent to box out and put a body on someone. He would easily have 4 to 5 extra rebounds per night if he implemented it into his game on each possession. This bad habit of laziness on defense is part of the reason why the Lakers rank in the bottom five for most field goals made. If the Lakers are to turn the corner from bottom dwellers to contenders, Randle and the young core will need to figure out how to communicate and trust one another. 
Larry Nance Jr. (R) – PF #7
Larry Nance reminds me of Blake Griffin when he first entered the league. While not as polished of a ball handler like Griffin, Larry draws similarities because of his pure athletic ability to jump out of the gym and score on put backs and alley-oops. What Larry lacks from a basketball skillset, he makes up for with his athleticism and effort. Nance is one of the few Lakers that has active hands on defense and constantly provides pressure on whoever he's guarding. Sure he makes mistakes like most of the young players on the team, however at least he makes them while giving his best effort when he is out on the court. It has been disappointing to see him hurt of late, however with the season going the way it is, there will be plenty of opportunities for healthy competition between him and Randle as they compete for minutes and starting time. Nance's biggest weakness is his lack of a consistent jump shot. Defenders can often sag off of him and force him to beat them with a 15 foot jump shot. Like Griffin, if he is able to make strides and become a more consistent threat, teams are going to have a tough time guarding him. Larry still has a long way to go, however I believe that out of all the youngsters on the team, he has the highest ceiling.
Anthony Brown (R) – SF #3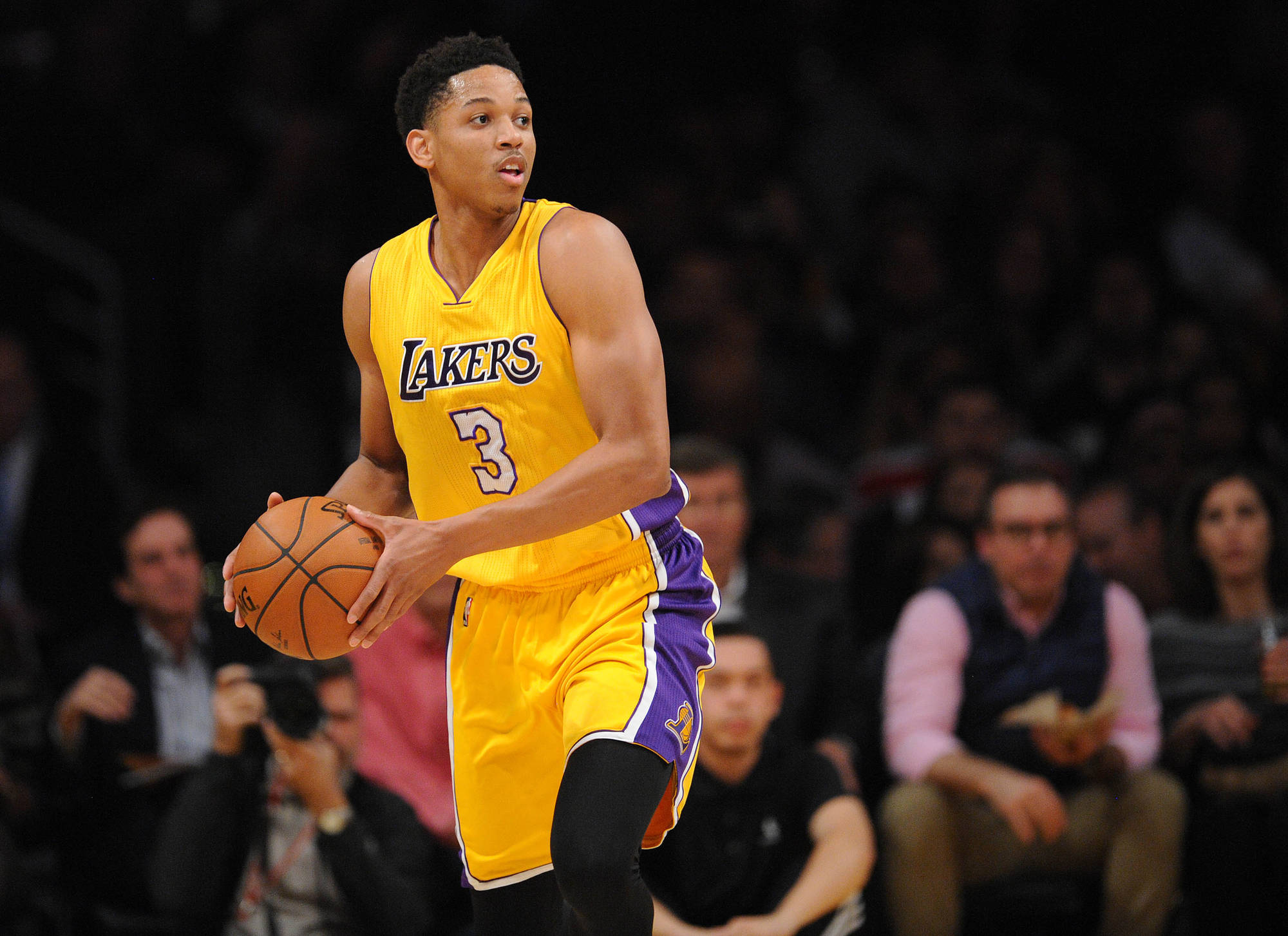 Gary A. Vasquez-USA TODAY Sports
There are still many question marks that surround Anthony Brown because unlike the three previous players, he has seen the least amount of action in the NBA. He has really only played since the start of the New Year. Given his small sample size, it is hard to assess what kind of an impact he will have long-term with the Lakers. However based on his play on the defensive side of the ball, Coach Scott will always provide minutes for him. If you take a look at Brown's stats, he has only scored in double figures twice in the past 16 games never scoring more than 10 points. While not entirely impressive on the offensive side of the game, it has been his defense that has provided a hint of resistance to opponents as the Lakers as a whole refuse to make it tough on opponents as they give up the most points in the paint with a league high 46.6 points per game. Matched up against top offensive scorers like Jimmy Butler and Kawhi Leonard, Brown is definitely paying his dues as he is thrown into the fire of learning by experience. Even though he has struggled to find consistency with his 3-point shot and looks timid driving to the hoop, Brown has not stepped down from guarding the best the West has to offer. Hopefully as the season progresses, his effort will start to be contagious and inspire what has otherwise been a lackluster performance this season on defense.
What's Next?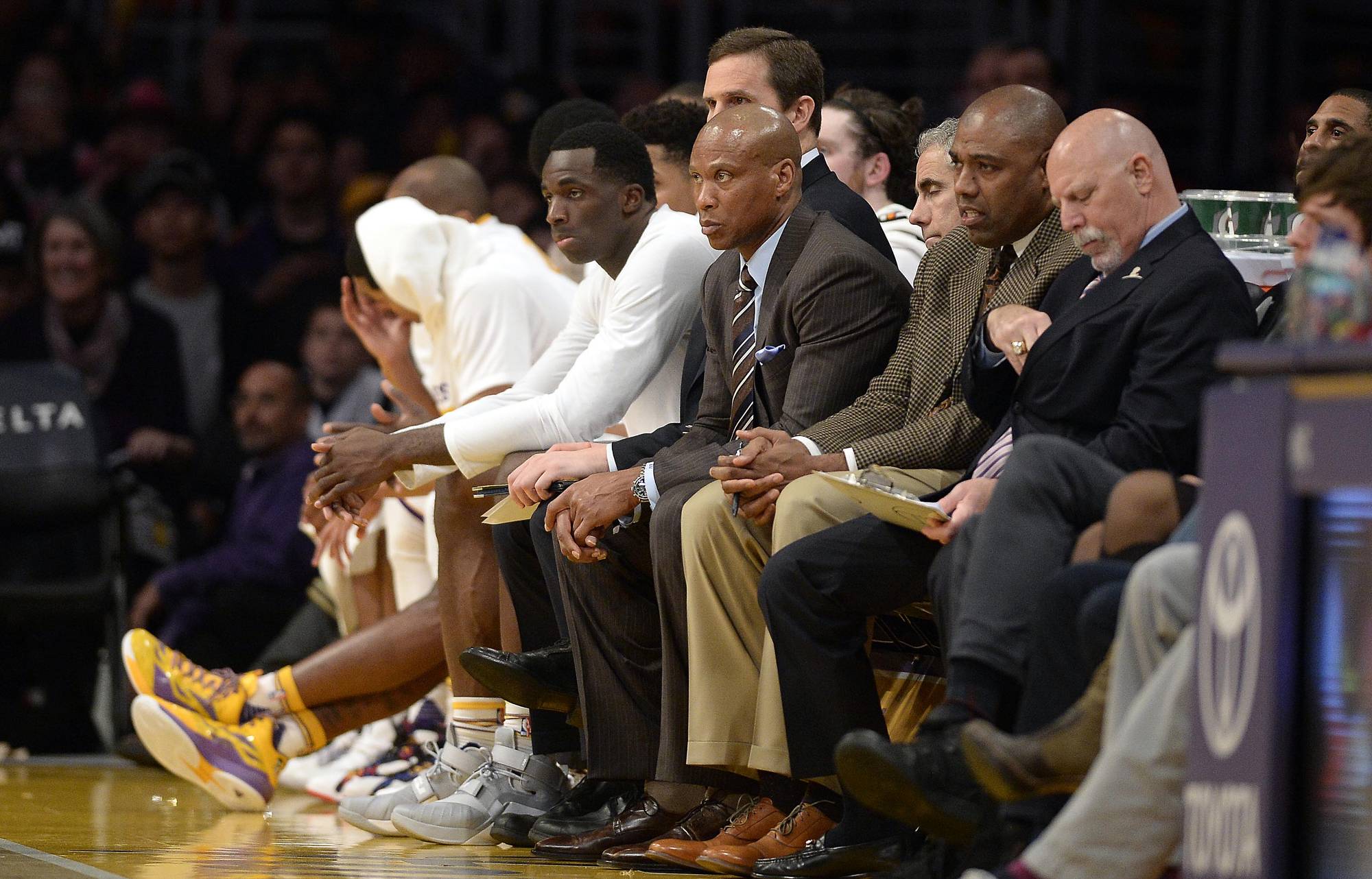 Richard Mackson-USA TODAY Sports
Besides a potential trade from a playoff team for Nick Young or Roy Hibbert, the Lakers are stuck with the team that they have for this season. A year that was meant to help improve its young core and create good habits on defense and team chemistry on offense, has failed to transpire as we reach the half way point. There is still time left in the season to not let it completely go to waste, however it is going to take a collective effort from everyone to hold themselves and each other accountable for their current play. From a general manager point of view, you want to see the love for the game of basketball shine through these tough times. Competing for every possession and looking for ways to improve each time players are out on the floor. It's easy to get up and play when everything is going right, however it will be during these trials that GM Mitch Kupchak will be able to evaluate and see who truly wants to be the very best player they can be and who wants to settle for mediocrity. Kobe has left his legacy in Los Angeles as a gym rat who would never let anyone outwork him. Now is the time for these young players to just consider what it takes to achieve the kind of success he's obtained as they continue to hear the chants of Kobe for the remainder of the season.  
---