Spurs outwork Raptors, 101-97.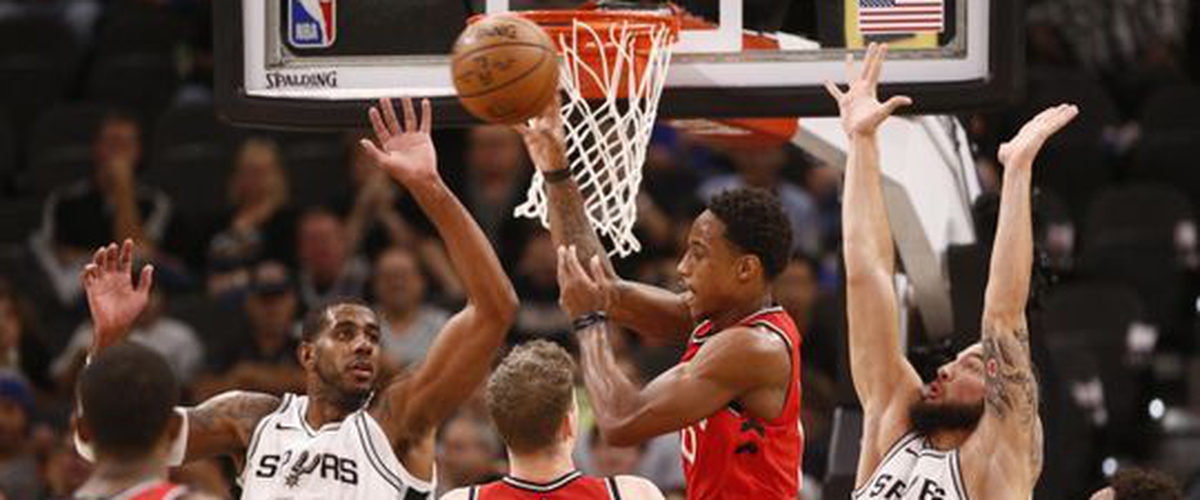 After a relatively easy to start to the season against the Joel Embiid-less Philadelphia 76ers and the lowly Chicago Bulls, the Toronto Raptors got their first real test of the season against the veteran San Antonio Spurs.
Solid Start
The Raptors came out on the road in the first half doing everything right, they were bumping cutters, not allowing face cuts and not letting the Spurs get to their spots. On offense, they were getting great looks all over the floor as DeMar DeRozan and Kyle Lowry were doing great jobs of initiating some good pick and rolls. The ball did not just stick to the Raptors' stars hands though, they were swinging the ball and looking for help defenders for opportunities to drive and kick, especially DeRozan. The Raptors' bigs, who were minus Jonas Valanciunas on Monday night, were able to push LaMarcus Aldridge out of where he wanted to be on the floor. This allowed the Raptors enough time to bring help defenders with long arms like Lucas Nogueira to bother Aldridge.
Getting acquainted with the new offense
The Raptors are still trying to figure out their new style of offense in early season but there are some promising features to it. When it comes to their fundamentals on the offensive end; they are were sound. They drive and kick much more frequently while having great spacing which leads to more wide open looks. They are able to take advantage of scrambling defenses who are miscommunicating thus leading to more ball movement and open looks. The problem in tonight's contest was just they could not make a good percentage of their wide open looks. The Raptors finished 10 of 37 from three-point range in tonight's game.
Outworked
Although there was a lot of questionable calls on the Raptors which led to more free throws and possessions for the Spurs, the Raptors were simply outworked on the boards and the offensive boards especially. The Spurs had 18 offensive rebounds to the Raptors 29 defensive rebounds and also out-rebounded the Raptors overall 55-34. The Raptors found themselves tonight doing the dirty work initially but then ball-watching and not boxing out and finishing the possession. This led the Spurs finishing with 21 second chance over the Raptors' measly 2 in their victory Monday night.
Top Performers
Toronto Raptors:
DeMar DeRozan: 28 points - 4 assists - 3 steals
Jakob Poeltl: 10 points - 12 rebounds - 3 blocks
CJ Miles: 13 points - 4 rebounds - 3/7 3PTs
San Antonio Spurs:
LaMarcus Aldridge: 20 points - 8 rebounds - 3 assists
Dejounte Murray: 16 points - 14 rebounds - 6 assists
Danny Green: 17 points - 8 rebounds - 3/8 3PTs
Game Notes
Jonas Valanciunas sat out Monday's contest with a sprained left ankle; Kawhi Leonard and Tony Parker were listed as inactive for the Spurs with quad injuries.
Up Next
Continuing on their six-game road trip, The Raptors will head to Oakland to take on the Golden State Warriors at Oracle Arena; Tip off time is at 10:30pm EST.
---