Is it time for the Pirates to move on from Andrew McCutchen?
With the Pirates finishing under .500 for the first time since 2012, you would expect changes to either improve their team inside of a top heavy NL Central, or decide to re-tool and build for the future. The Pirates present and future solely relies on one man's shoulders: Andrew McCutchen.
McCutchen, 29, is a 5 time all star, 3 time silver slugger, 1 time gold glove winner and the recipient of the Most Valuable Player award in 2013 as he was the heart of a Pirates team that broke a 29 year postseason drought. McCutchen or "Cutch" became a sports icon in Pittsburgh after the Pirates miraculous 2013 season. Cutch set himself along side great current Pittsburgh athletes like Sydney Crosby and Ben Roethlisberger. He has hit 20 or more HR's in each of the past 6 seasons and drove in at least 75 or more RBI's over the past 6 seasons as well. From 2012-2015, McCutchen was considered a top 5 talent in all of baseball. He was elected an all star each season, won a batting title every season except for 1 and was top 5 in MVP voting every season. When McCutchen was drafted in the first round of the 2005 draft, he wasn't drafted due too a great physical acumen. What got him drafted was his hard work and perseverance that has led him to being the face of a franchise. In a blue collar to white collar city like Pittsburgh, it's that type of work effort that embodies a city. The type of player and person that McCutchen is personifies an entire city. Even through all of the on and off the field love from the city of Pittsburgh, will that be enough to keep Cutch in the steel city?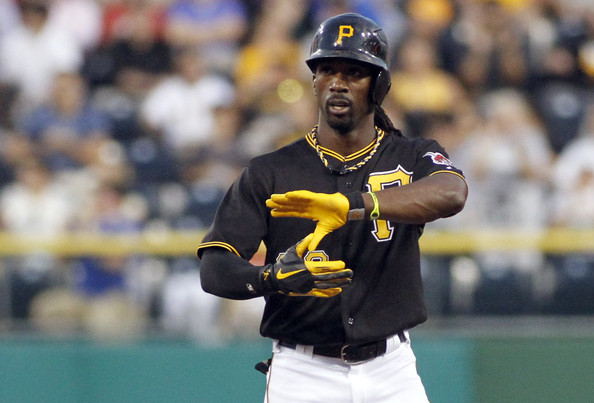 Andrew McCutchen has arguably been the heart and soul of the Pittsburgh Pirates since his rookie season in 2009.
McCutchen battled against himself all of 2016 and found himself hitting a career low in batting average (.256), career high in strikeouts (143), career lows in on base percentage (.336), slugging percentage (.430) and OPS (.776). His career averages dropped significantly. McCutchen went from an elite player, to barely above league average in the matter of one season. The results showed as Pittsburgh went from a 98 win team in 2015 to a 78 win team in 2016. Now, I'm not saying McCutchen was the sole reason for the Pirates decline. Gerrit Cole and others in the Pirates pitching staff were injured all year, the loss of Neil Walker to the Mets hurt their offensive production and their offensive regulars battled injuries or had career lows themselves. Still, when you're viewed at the face of the franchise like McCutchen is, you claim the most praise but also receive the most blame if a team underperforms like the Pirates did. With the Cubs coming off as World Champions and the Cardinals in the middle of contending, it's time for Pirates GM Neil Huntington to start making some very tough decisions on what to do with his team's future. In my opinion, the Pirates NEED to keep Andrew McCutchen. Here's why:

He's only 29 years of age. "Experts" around baseball like to claim that when an above average all around player like McCutchen has a career low year, it is usually a sign of a player declining. McCutchen still hit 24 HR's and drove in 79 RBI's and provided solid defense in center field. He is still signed through 2017 & 2018, with an option for 2019 on a very club friendly contract ($14M in '17, $14.5M in '18). Although the Pirates did have a down year with a down year from McCutchen, they are getting a fully healthy season from Gerrit Cole, Ivan Nova was brought back on a 3 year deal and the Pirates still have a top 3 outfield in the game with Marte, McCutchen and Polanco left-to-right. McCutchen has also been a great mentor for younger ballplayers like Marte, Polanco, Bell, Hansen, etc... A veteran all star presence on a younger team is needed. Especially if they're anticipated to be in contention.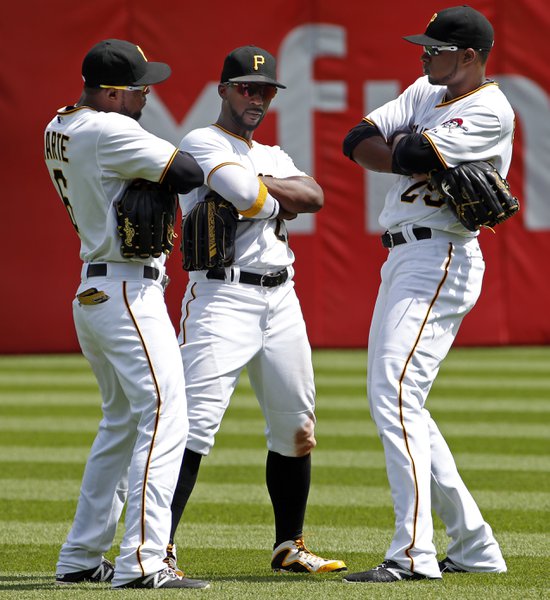 Starling Marte (left), Andrew McCutchen (middle), and Gregory Polanco (right) make up one of baseball's best outfields.
I really do not expect the Pirates to add on to their roster even if they do keep McCutchen. Rumors have been very hot surrounding White Sox left hander Jose Quintana coming to Pittsburgh, but those rumors have yet to intensify up to this moment. With Pittsburgh being such a small market team, I don't see them going after even a great pitcher like Quintana who does have a club friendly contract. They would still need to dump salary and they're confident that their younger starters in Jameson Taillon, Tyler Glasnow and Chad Kuhl will turn into excellent young starters that they would have for 4-6 years of control, while paying as little as they can for them.

If the Pirates do indeed keep Andrew McCutchen, it signals contending time. With the type of talent that Pittsburgh currently has on their roster, Huntington and company would be ridiculous to blow anything up. There is no reason to jump the gun on an elite player having one off year. Keep in mind, even the elite players like McCutchen are human and make mistakes too.
---