The Verdict: Premier League balls
Not much remains constant in Premier League football these days. Players, managers, kit manufacturers, sponsors, offside laws, Paul Pogba's hair and much more can change with every passing season (or matchday in Pogba's case). There is also a brand spanking new ball to look forward to every August and whilst many probably don't care, for those of you who even remotely do, enjoy the below.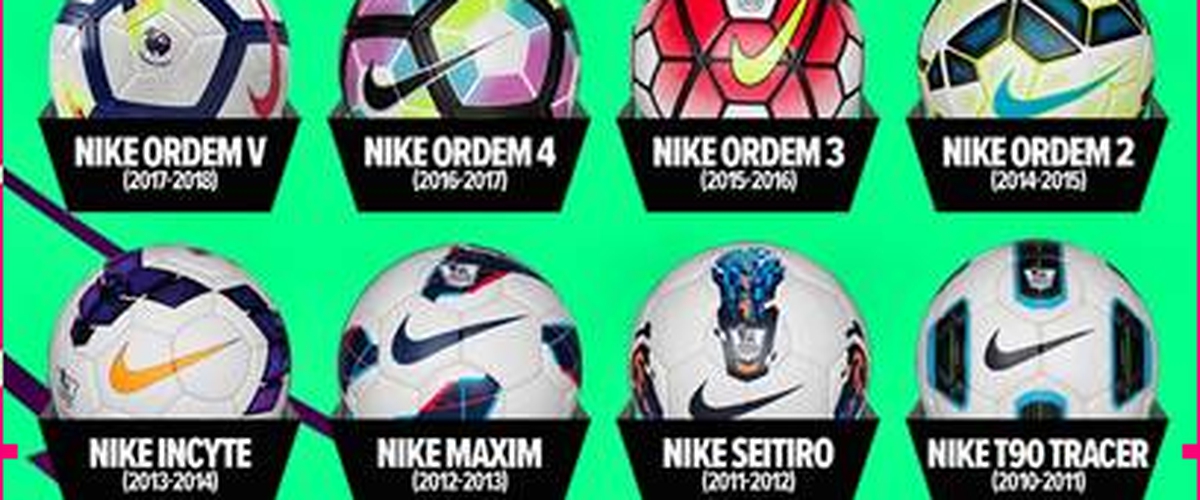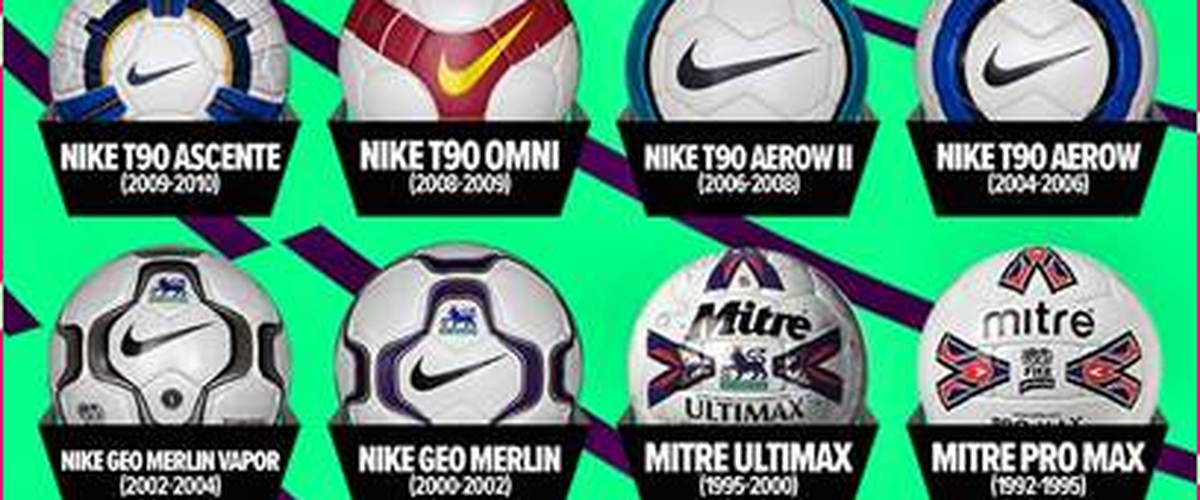 1992-1995 Mite Pro Max 92-95
7/10
The Mitre's are firm feature of 1990s football and there's nothing to dislike about this ball. The slightly bizarre pattern on the arrow shapes is entirely acceptable given that the kits in this period were equally wacky and on a much less subtle.
1995-2000 Mitre Ultimax
8/10
New Mitre badge, first appearance of the Premier League lion and a royal blue/red colour scheme make this a classic. Whether you've saw it live at time or through the means of extensive Premier League Years watching, nostalgia probably plays a small part in this balls high ranking.
2002-2002 GEO MERLIN
7/10
This was Nike's first effort since taking over from the Mitre ball that became so well associated with 90s football. Much like those predecessor, it kept it classy with a symmetrical dark shade print and the Premier League lion was at its peak here.


2002 – 2004 GEO MERLIN VAPOR
7/10
The only real change was from a navy blue to a grey shade. In an era when the kits also tended to last longer than one season, it was a final nod to a consistent approach with the league's balls.
2004-2006 TOTAL 90 AEROW 1
9/10
Considered a favourite by many and rightly so. It's the kind of ball that looked magnificent when soaring through the air after a sweetly struck shot. Also the first ball to be coloured yellow/purple for the winter months which, along with helping players vision and probably Nike's sales, looks absolutely brilliant. Chelsea may have captured both leagues from 04-06 but Arsenal vs United was still the top fixture. Nike made both their kits, sponsored both their top scorers and had this beauty bouncing around the pitch when they met– not bad.
2006-2008 TOTAL 90 AEROW 2 06-08
8/10
Followed on nicely from the Aerow 1 by keeping the symmetrical circular theme going but adding a unique touch with the altered shape and shading. It arguably looks even more sleek than the Aerow 1 and should be considered amongst the best. This ball was also in use for arguably the greatest Goal of Month competition ever recorded – it's magic powers thus being confirmed.
2008-2009 TOTAL 90 OMNI 08-09
5/10
Cometh the triangular template. The first ball to deputise with red rather than blue which was perfectly fine, but it feels a little bare and plain. Rory Delap is probably extremely fond of cradling this ball given that 08/09 was the season he could be found most effectively launching it into an opponent's box. Other than that, entirely forgettable.
2009-2010 TOTAL 90 ASCCENTE
6/10
I understand what they were trying with this ball but it just doesn't quite work. The royal blue and gold colours are a winner but whilst the target theme is a nice idea there's too much detail and you end feeling like you're looking at the gun scope of a sci-fi space ship.
2010-2011 TOTAL 90 TRACKER
7/10
From target to tracker, this ball achieves where the 09-10 effort failed. The theme of accuracy is retained but it's a lot more subtle which works well. Colour scheme matched the branding of the Premier League at the time (Barclays bank that is) which was a nice touch to consistency – though I'm probably entirely alone in being the saddo that noticed that.
2011-2012 SEITIRO
7/10
The balls were becoming more unique with every season by this point. A nice change with the introduction of a more fluid pattern and the colours work well. Probably fondly remembered by everyone as the ball that Sergio Aguero rifled into QPR's net. Unless like me, you're a united fan.
2012-2013 MAXIM
8/10
This is right up there. Incorporates a more modern pattern whilst still remaining simplistic enough to please traditionalists and the 3 colour scheme of blues and red is perfectly chosen too. Shame it was used in a largely forgettable season, unless this time you are a united fan (or Robin Van Persie).
2013-2014 INCYTE
6/10
A solid if unremarkable effort. The addition of deep purple and a gold tick is welcome but on closer inspection the arrow shaped armoured plates template feels a little harsh. I wonder if Steven Gerard noticed that as this ball rolled into Demba Ba's path – probably not.
2014-2015 ORDEM 2
5/10
A little too much going on here. The pattern is jaded and the addition of lime green is not a welcome one. A ball that seems to be Nike's first dabble with the neon colour scheme, I wish they'd left it at this.
2015-2016 ORDEM 3
6/10
Oh they went a bit radical with this one and it nearly, nearly works. Whilst the ball stitching pattern being lined with bold black was a hit, the blotch of fading red was a bit of a miss. Still, it clearly worked for Rhiad Mahrez and Jamie Vardy who's telepathic understanding seemed to wane the moment this ball was replaced. 6/10
2016-2017 ORDEM 4
7/10
This suffered the same as the above but to a lesser extent. The black lining is retained but this time it's bolder, better shaped and has a neater look. The only detraction is the Premier League's insistence on putting in the neon colours. If you've ever been to a "paint party" on holiday at the age of 17 you'll see the unwanted resemblance.
2017-2018 ORDEM V
8/10
Consistent improvement has been the theme of the Ordem balls so far and this is the pick of the bunch. It's kept the same impressive lining as the Ordem 4 but is now predominantly white and the splash of orange/yellow works just fine. If Nike were looking for a more simplistic but stylish look whilst still incorporating their modern colour scheme – then they've nailed it.
THE RANKING
1. 2004-2006 TOTAL 90 AEROW 1
2. 2012-2013 MAXIM
3. 2017-2018 ORDEM V
4. 2006-2008 TOTAL 90 AEROW 2 06-08
5. 1995-2000 Mitre Ultimax
6. 2016-2017 ORDEM 4
7. 2010-2011 TOTAL 90 TRACKER
8. 2000-2002 GEO MERLIN
9. 2011-2012 SEITIRO
10. 2013-2014 INCYTE
11. 2002 – 2004 GEO MERLIN VAPOR
12. 1992-1995 Mite Pro Max 92-95
13. 2015-2016 ORDEM 3
14. 2009-2010 TOTAL 90 ASCCENTE
15. 2014-2015 ORDEM 2
16. 2008-2009 TOTAL 90 OMNI 08-09