25 Teams in 25 Days: Christ The King Royals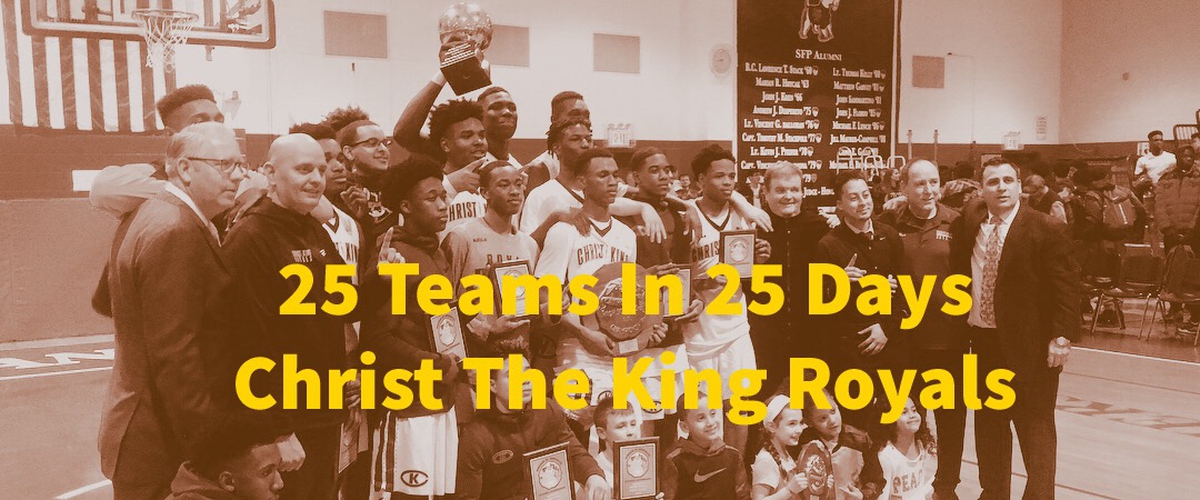 2017-18 Season at a glance: 22-11 overall record Brooklyn-Queens Diocesan champions, CHSAA city championship runner up.
Players to Watch: Quaran McPherson, Ryan Myers, Sterling Jones
The 2017-18 season was when a young Christ The King team exceeded expectations and made the city title game. Now this same young Christ The King squad returns with some postseason experience and the goal for them is to not only reach the title game again but win it all.

The Royals May have lost some players due to transfers but they still have the experience talent and coaching to make another run. Two players who will have breakout years are juniors Ryan Myers and Quaran McPherson. Myers came through with some big shooting performances last year and he will have a bigger role this season. McPherson continues to grow as a player and he is due for a big junior year. 6-11 sophomore Moussa Cisse will take on a bigger role next season as he will be the lone big man in the paint for the Royals.

Sophomore guard Sterling Jones is another guard who will step up for the Royals next season. The 6-0 sophomore is a great ball handler who is quick and he can also shoot from outside. Jones was part of an NY tens 15U squad that made a huge run in the EYBL Peach Jam.

Key games to Watch

December 9th Vs South Shore at Battle in the Apple

This young royals team will be on the big stage as they will go up against defending PSAL city champion South Shore. The Royals May be younger than the Vikings but that will not phase them. This is one game that the whole city should be in attendance for.

December 14th vs Stepinac

The Royals will be hosting Stepinac in a rematch of last year's CHSAA title game. The Royals will have revenge on their minds and the gym will definitely be packed for this game. Early arrival is advised!

December 23rd vs Cardinal Hayes

The Royals will have a big game vs Hayes at home before they head over to South Carolina for the Beach ball classic.

December 26th -31st Beach Ball Classic in Myrtle Beach South Carolina.

The Royals will end 2018 out of town at the prestigious Beach Ball classic in South Carolina. their first opponent hasn't been announced, but we know for sure the Royals will be prepared.

January 6th CTK's annual Apparel Challenge

Christ the King will start of 2019 with their annual apparel challenge. The tournament has become one of the best events of the high school season and it will be interesting to see who the Royals will be playing on that day.

January 19th vs Vashon HS (MO) Spalding Hoop Hall Classic.

The Royals will be one of many local squads playing in the prestigious Hoophall classic in Springfield Massachusetts. The Royals will go up against a Vashon High school team that features Missouri Commit Mario McKinney jr.

Outlook
The royals have a strong chance to repeat as Brooklyn-Queens Diocesan champions as well as make another run to the city championship game. Their success will depend on how their juniors perform this season. There will be challenges ahead, but coach Joe Arbitello will have the squad prepared.



---