Big plays and.... Jimmy G.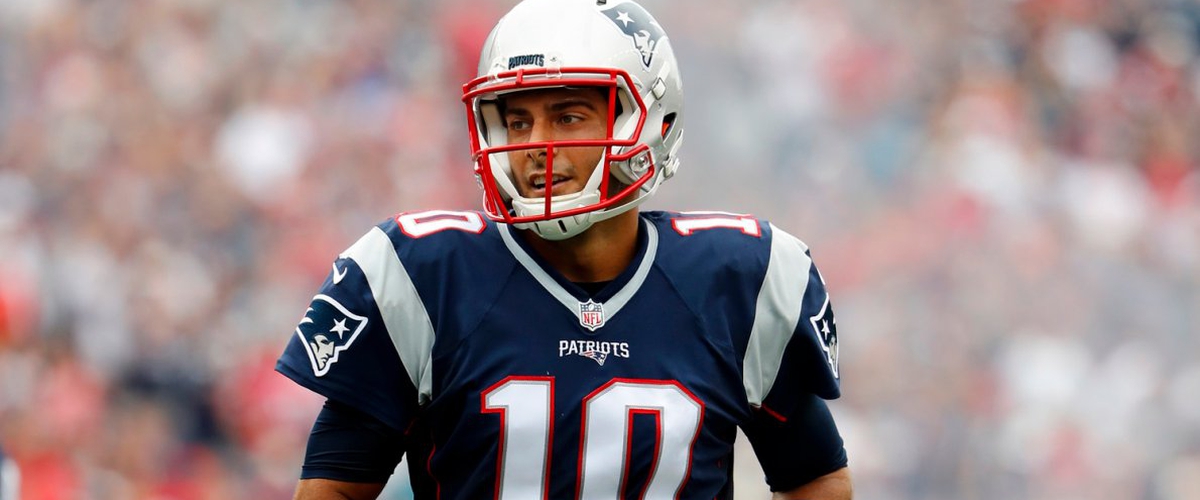 Football has kicked off, and it has done everything but disappoint. For the hardcore fans that watch the Pre-Season games just to get that buzz that football brings, I understand why. Preseason games are always fun due to the sole reason that we get to watch 22 guys fight for a job each play. We also get a feel for who may produce heavily during the season, and for all the fantasy addicts, you can scout during the games so that you can check out the waiver wire looking for the "sleeper player of the year". Of course these games mean nothing record wise, but obviously they mean a lot when it comes to players. Being the huge Pats fan I am, lets look at how this Pre-Season game went.
Well if you asked me to sum the game up in 2 words, I'd say Jimmy Garroppolo. The man proved everyone wrong after he has had a lackluster camp as of late. Jimmy went 22-28 with 2 TD's and 235 yards as well as posting a 125.4 QBR (found on http://www.patriots.com/sites/patriots.com/files/20170810_jax_gamebook.pdf). There is no flaw in a game like that. Of course I understand it is Pre-Season and he may not be playing against the "1's" but what would anyone expect from the supposed "Heir" to the throne against some guys deeper in the depth chart. Jimmy was astounding, he played up to expectation, he balled out. Of course we did indeed lose, but like I said this is about who plays good and not about winning. The Patriots loss came due to a lot of big plays from the Jaguars as the Pats let up a 79 yard run for TD, 97 yard pass for TD, and a 42 yard pass for TD that accounted for 21 of the 31 points scored for the Jags. The other TD they scored was on a BIG....... screw up, as a 44 yard PI then lead to a short run by rookie RB Leonard Fournette. The Patriots on the other hand seemed to put together some drives off of the Jimmy Garroppolo run Offense. 1 fairly large pass play got the Patriots 7 of their 24 points (a 38 yard TD), but the other points were well put together drives. Basically the Jags burned us (Cyrus) on a few plays, but we picked them apart. It did come down to the last 5 minutes as the Jags almost screwed up big time to give us a chance to tie, but Jacoby couldn't make the throw. Of course with every Pre-Season game there comes the good... and the bad.
The good:
The one answer that will put the biggest smile on any true Pats fan would be the fact that Jimmy G looked great. A few other things to note are that Austin Carr and Jacob Hollister, who are both undrafted rookies, looked amazing. Hollister got 9 targets, catching 7 of them for 116 yards, as well as Carr who caught 5 out of his 7 targets for 44 yards and 1 touchdown. One last thing a Pats fan can hold their head high about would be the fact that the defense didn't look all that bad, from what I have heard it just seems as if it was mostly big plays that got the Jaguars their 31 points. It is good to hear that the D didn't get picked apart, I would rather hear we just let up too many big plays, because all that takes is a deeper safety, as well as a different coverage (preferably cover 3) to shut down the hope of a long play.
The bad:
Well, to every Pats fan who was tricking themselves into believing that Gostkowski was just having a bad season and that he would bounce back, yeah well...... WRONG! The kicker is clearly on a downward spiral, as he missed yet another FG to pick up right where he left off last season. I think it's time we sign that guy from those videos. Another disappointing thing I have learned from reading up about the game (I couldn't watch I was busy) is that Cyrus played terrible. I did see a video in which he just got absolutely burnt by Keelan Cole for a 97 yard TD (which is where I also found info on the game, the link is http://nesn.com/2017/08/patriots-vs-jaguars-live-updates-analysis-from-preseason-opener/). Is it time we let him go? You let me know in the comments.
Honestly, it is tough to hear about Stephen G. as a kicker is actually a very important part of the team, especially when our kicker lead the NFL in points scored from 2012-2015 (https://www.pro-football-reference.com/leaders/scoring_year_by_year.htm). I am on the fence about what we would should do, and who we should go with. As upset as I may be about Gostkowski, nothing can put me down after hearing about how Jimmy G played. To all the Pats fans out there, I know we are all looking forward to seeing the roles of Hollister and Carr during the regular season, as we already have enough WR's on the team as is. I hope they do indeed get time on the field, and I also still have hope that Gostkowski will shake it off..... Please?
---