The Titans taking a receiver in the first round? Yeah right!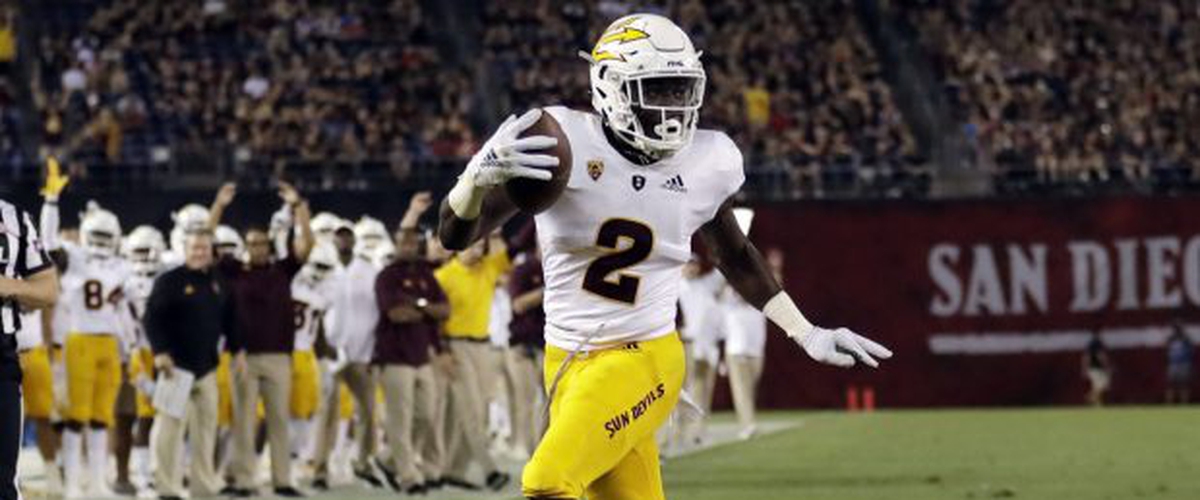 The virtual 2020 NFL Draft is a week away and many mock drafts have pegged the Tennessee Titans taking a defensive lineman, cornerback, or possibly an offensive lineman to fill the void left by Jack Conklin.
However, one former NFL scout believes Mike Vrabel and the Titans could take a wide receiver with their pick late in the first round.
Daniel Jeremiah of the NFL Network said on a conference call Thursday afternoon that the Titans should take Arizona State wideout Brandon Aiyuk, according to Tennessee beat writer Jim Wyatt.
I love Brandon Aiyuk – he's my fifth receiver," Jeremiah said. "He is so sudden and so quick. I know the 40-time says 4.50, but he plays a lot faster than that. And one of the things that is unique about him is he has rare length. He is really long.
The NFL Network analyst went on to say he, "love(s) Aiyuk's game and his toughness would fit the culture in Tennessee."
Um, what? A wide receiver in the first round?
Why in the world would the Titans do that? Let's look at the current wide receivers on the roster.
AJ Brown in his rookie year was one of the best receivers in the league with his deep threat ability, yards after the catch, and pure athletism. Then, there is Corey Davis who Tennesee selected fifth overall in the 2017 Draft.
While Davis has yet to have a breakout season that solidifies that high selection, he is still a quality route runner and has reliable hands.
In the slot, general manager John Robinson splurged to get Adam Humphries a year ago and he showed he can produce when healthy. Further down the roster, the Titans have Kalif Raymond and Cameron Batson who contributed on special teams and as pass catchers at times.
So why would the Titans draft a wide receiver in the top two rounds of the draft for the third time in five years?
Say Tennessee had a chance to get either Jerry Jeudy or CeeDee Lamb in the first round. I would wholeheartedly say 'yes, pick one of these two guys because they're going to be sure-fire stars.'
But Brandon Aiyuk? I have never heard his name until hearing about him from Jim Wyatt today!
After doing some research, it's safe to say Aiyuk was a good receiver with the Sun Devils, but there are only two seasons worth of quality information to gather on him.
He spent his two years in junior college before enrolling at ASU and amassed 1,666 yards and 11 touchdowns on 98 catches.
The Titans need help on defense much more than they do on offense. There is plenty of talent in the skill positions and the defense was the team's undoing in the AFC Championship game as Patrick Mahomes made them look foolish.
---