Tampa Bay Lightning's forward J.T. Brown first African American NHL player to protest in the anthem
Brown, who is a Minnesota native has been in the league for 7 years and all with the Lightning, is the first African American NHL player to protest during the anthem. During the National Anthem Brown was on the bench not kneeling but he put a closed fist up in the air to show that he was protesting during the second game of a home to home series with the Florida Panthers at the BB&T Center with a sold-out crowd on Saturday night.
Brown has also contributed to the community as in August he had donated $1,500 to help remove a Confederate statue in Downtown Tampa. has used his platform for social criticism previously. He first raised his fist during a Sept. 28 preseason game against the Carolina Hurricanes.
The 27-year-old Brown also had mentioned that before protesting the game he had met with service members, family members, coaches and teammates and he said he received a supportive feedback with the decision he had made about protesting the game.
"Some will tell you that's disrespecting the military," the told the Tampa Bay Times earlier this week. "Well, I wanted to hear it from someone who is serving, not some person on Twitter. Some thought (kneeling) was disrespecting, but most felt that we have a right to do it regardless of whether they agree with you or not, or would stand next to you."
The Lightning, in a statement issued during Saturday's game, said they support Brown and other players who choose to speak out on social issues.
"The Tampa Bay Lightning celebrate the moment before every game when we can unite as a community, paying homage to a flag that is representative of our nation and those who have sacrificed," the statement read. "At the same time, we respect our players and individual choices they may make on social and political issues."
As we know the NFL has taken a huge publicity for the past few weeks as the NFL players have taken a stand and started to kneel or stay in the locker room during the anthem as a sign of inequality that we have in our country.
More than 200 NFL players sat, kneeled or raised their fists during the national anthem a few weekends ago in response to President Donald Trump saying owners should "fire" those who protest.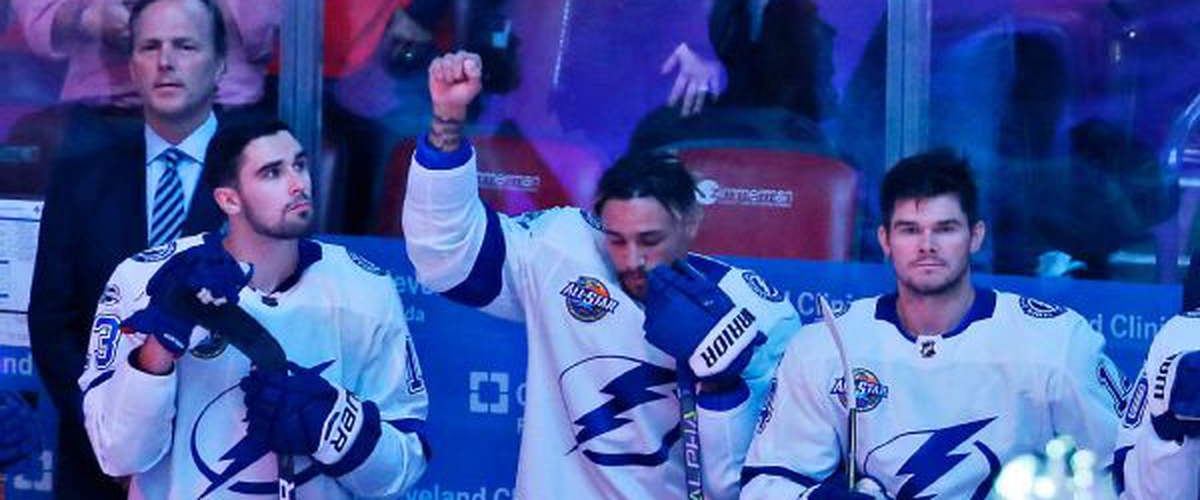 To continue on that note the NFL commissioner Roger Goodell is issuing a rule where all NFL players must stand during the National Anthem. Even some owners in the NFL have suggested with the plan which some players have been very disappointed that the rule may take into affect. A single MLB player knelt this season, but otherwise no one from the four major sports has engaged in a demonstration.
If you go across in sports you will see memorable names like Derek Jeter, Kobe Bryant and more sharing their opinion and they really do agree with players kneeling down during the anthem and respect them more for using their right to show an example for the country.
---