Are The Reds Good?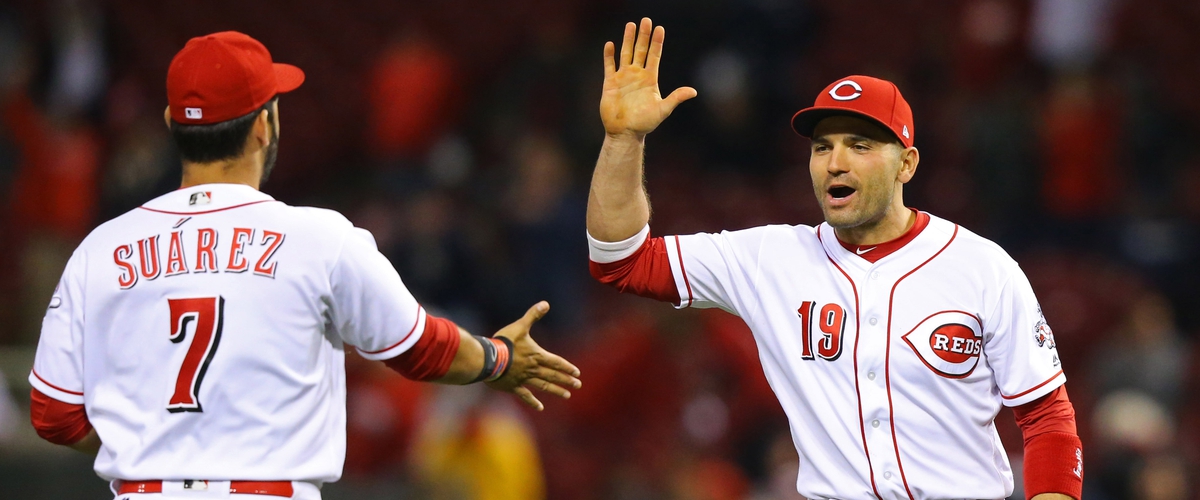 There have been a few surprises so far this MLB season. The Chicago Cubs are in fourth place in the National League Central, the New York Mets have more losses than wins, and Eric Thames might be the MVP if the season ended today.
Another surprise is the Cincinnati Reds. The Reds have won eight of their last 10 and are sitting in second place in the NL Central with a record of 18-15. They trail the St. Louis Cardinals by one game. However, the Reds have led the division for much of the season. Entering the season, the expectations for the Reds were quite low. Most predictions had the Reds finishing last or second to last in their division.
Is it luck or are the Reds actually good? One thing to look at is run differential. Cincinnati currently owns a +18 run differential, which is a good sign. Compare that with the Minnesota Twins who have a record of 16-14, but a -3 run differential. The Twins run differential points towards a regression and that their record is inflated compared to their actual skill.
What is surprising is the Reds have played so well despite major injuries of their rotation. Through 33 games, the Reds are dead last in starting pitching ERA at 5.29. It's not a shock given that four members of their rotation are currently on the disabled list with injuries. Tony Cingrani, Brandon Finnegan, Anthony DeSclafani, and Homer Bailey are all unavailable right now. By mid-June, all but DeSclafani should be back.
Despite usually allowing many runs early in games, the Cincinnati bullpen has been able to limit the damage later in games. Red bullpen arms cumulatively have a 3.26 ERA this season, which ranks eighth in MLB. The Reds' bullpen also has pitched the most innings of any other bullpen at 132.2 innings.
The biggest positive difference between this year's Reds team and last year's, which went 68-94, is the hitting. Cincinnati has scored the fifth-most runs in MLB at 172.
Overall, the lineups between this year and last year are pretty similar, there are really only two main changes. Those two changes are the lack of Jay Bruce and Brandon Phillips. Both Bruce and Phillips were traded, Bruce last season and Phillips during the offseason. Jose Peraza has replaced Phillips at second base and Scott Schebler has replaced Bruce in right field. So far this season, Peraza has struggled mightily. In 129 at bats, Peraza is batting .240/.263/.287. A significant decrease from Phillips who batted .291/.320/.416. Schebler has replaced Bruce nicely, batting .250/.328/.545. His offensive numbers are very similar to Bruce's .265/.316/.559 last season.
It's players like Zack Cozart, Eugenio Suarez, and Adam Duvall who are making a difference. All three players have been on offensive tears and have been playing much better than they did last year. Here is a look at their offensive stats last season: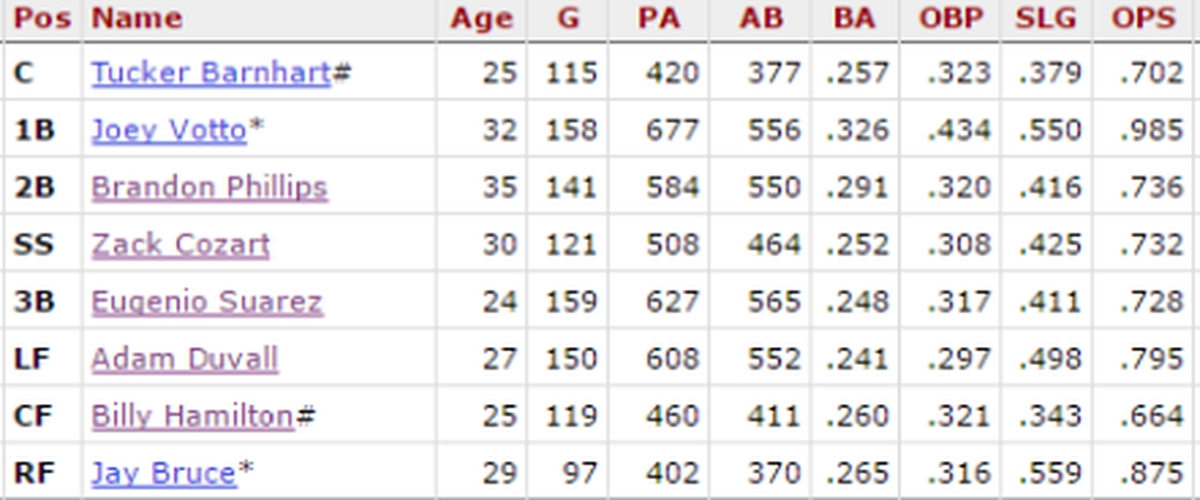 Now compare it to this season: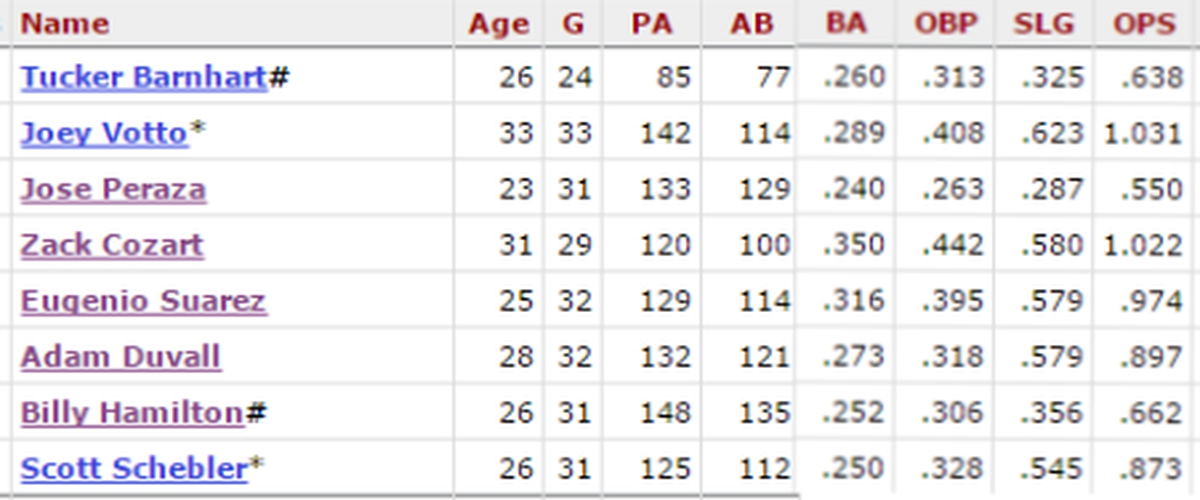 As a Reds fan, that's great to see, but is also seems unsustainable. Cozart, who is in his seventh season with the Reds, has never had an OPS over .800 in his career and has a career on-base percentage of .296. Suarez is in his fourth season and his career best OPS for a season is .761. At age 25, it's very possible Suarez is getting better and developing, but this sort of jump was not expected. Duvall's jump may be very real, however. Last season was Duvall's first real season with consistent at bats. Last year Duvall hit 33 home runs and 103 RBI with a .241/.297/.498 batting line. With the type of power Duvall has, even slight adjustments to make more contact can do wonders.
Another overlooked reason why the Reds have done well is their defense. Cincinnati no longer has play making Phillips at second base making behind the back flips anymore, but the team as a whole has been incredible in the field. According to Fangraphs.com, the Reds have been the best defensive team in baseball this season. Cincinnati leads MLB in UZR currently. UZR stands for Ultimate Zone Rating. UZR calculates certain run values to events and compares it to how players do defensively in those events. The statistic is also based around league average, similar to WAR. If a player has a UZR of +6, that means that player has saved six more runs than the average player at his position.
The Reds are an interesting team. There are many things that will change with them as the season progresses. Will the Reds win the division or make the playoffs? Probably not. However, they have a very good chance at being a decent team. Some of their offensive numbers are bound to regress, on the other hand, their rotation should also get better later in the season as some of their arms get healthy. I think the offensive regression over the course of the rest of the season will outweigh the increase in pitching performance, but not by much. Especially with a defensive team as good as the Reds, they can be a .500 team.
---