Two vastly different series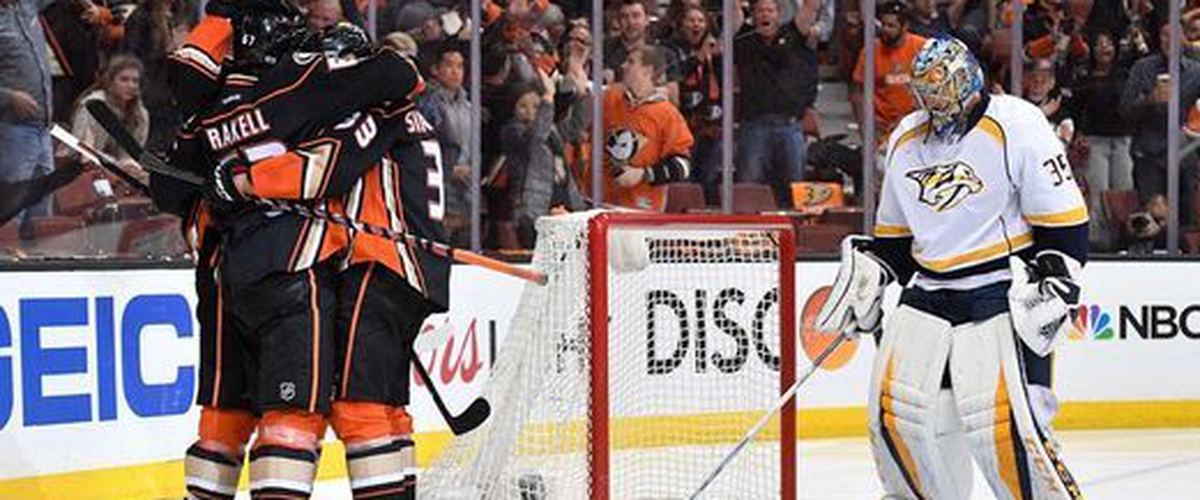 On paper, they look similar. The Western Conference Finals between the Nashville Predators and Anaheim Ducks are tied 1-1. The Eastern Conference Finals between the Ottawa Senators and Pittsburgh Penguins are tied 1-1. The first game of both series went into overtime.
Take a closer look and you'll find one big difference.
The Predators and Ducks have combined to score 13 goals through two games. The Senators and Penguins have combined to score four goals through two games.
The lack of goals in the Eastern Conference Finals is surprising. Four of the top six leading playoff scorers are on the Penguins. Pittsburgh led the NHL in scoring in the regular season (3.39 goals/game) and is currently tied atop the playoff field in scoring too (3.23 goals/game).
The Penguins goals have come from familiar faces: Evgeni Malkin in Game 1 and Phil Kessel in Game 2. However, Sidney Crosby has not recorded a point in either game and Jake Guentzel, who is tied with Anaheim's Jakob Silfverberg for most the most goals this postseason, has not recorded a point either.
Maybe we shouldn't be surprised by the lack of goals between the Penguins and Senators. Both netminders have save percentages of at least .920 and both entered the series with a shutout apiece. Craig Anderson and Marc-Andre Fleury have a combined 25 years of experience. It's not their first rodeo. Fleury's shutout in Game 2 was his second shutout in three games.
Let's not forget that Kris Letang, the Penguins' No. 1 defenseman is out as well. Additionally, Trevor Daley has yet to play in the Eastern Conference Finals and the Penguins could be without Justin Schultz for some time, depending on how severe his shoulder injury is that he sustained in Game 2.
Additionally, Ottawa's infamous 1-3-1 trap has allowed 31.4 shots per game. It's stepped up against Pittsburgh, limiting the Penguins to 28 shots in Game 1 and 29 in Game 2. The Penguins and Senators are also first and third, respectively, in shots blocked this postseason with 271 and 235.
What is surprising is the NHL's postseason leader in fewest goals against per game, the Predators, have given up seven goals through two games. Netminder Pekka Rinne still leads the postseason field with a 1.62 goals-against average despite the Anaheim onslaught. The Ducks have busted through and have proven why they are tied with the Penguins in goals per game in the playoffs.
The success of the Penguins offensively before this series is impressive, which makes their lack of goals in this series confounding. On the flip side, hot start to Ducks-Predators shouldn't be stunning. It's just a head-scratcher how both conference finals have been completely different series.
---