"The Stack" 1-8-18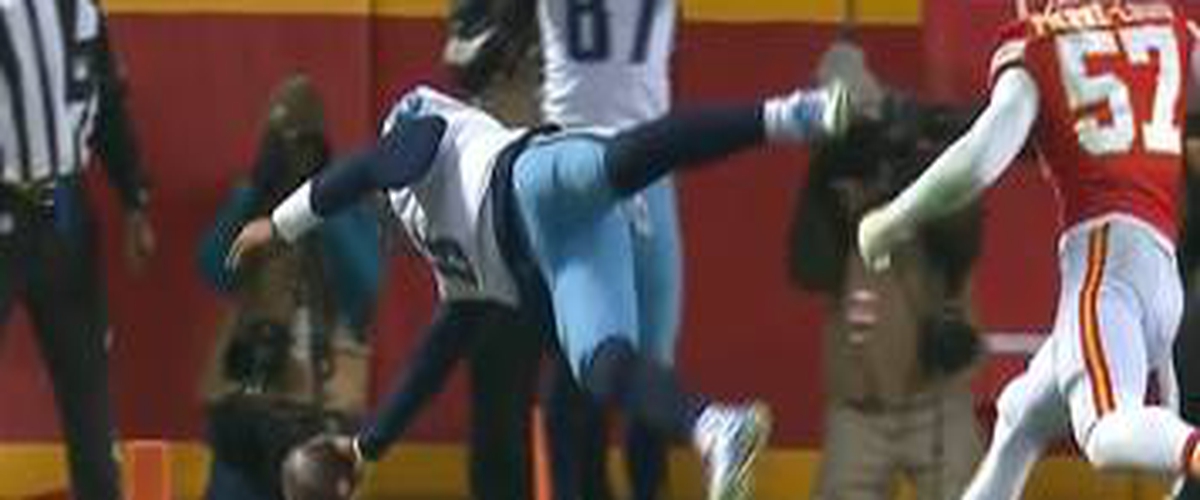 Titans quarterback Marcus Mariota had the play of wild card weekend when he caught his own pass after it was deflected and ran in for a touchdown to help spark the Titans comeback win against the Chiefs 22-21.
The Stack is back on this Monday and NFL Wild Card weekend is in the books. Should have some pretty good matchups coming up in the NFL Divisional round. We'll react to those games plus offer a prediction on the FBS Championship game tonight between Georgia and Alabama. North Dakota State won the FCS Championship on Saturday 17-13 over James Madison. The Bison are really good and will continue to be that way for years to come I feel like. Now then, let's get right to "the stack" for today, Monday, January 8th:
Titans 22 Chiefs 21
The Kansas City Chiefs looked like they were in firm control of this game and would finally win a home playoff game for the first time since 1990s. They were up 14-0 and the Titans were driving, but then Marcus Mariota threw an interception. It would be 21-3 at half, but the Chiefs lead came at a price with tight end Travis Kelce knocked out of the game with a concussion. The Titans would score on their first possession of the second half when Mariota channeled his inner Brad Johnson and caught his own pass after it was deflected and ran it in for a touchdown. The Titans would keep chipping away and take a 22-21 lead. That lead might have been gone had the refs not ruled that Mariota's forward progressed was stopped on a play in the fourth quarter that resulted in a fumble that the Chiefs returned for a score. The officiating in this game was not great. Then Darrelle Revis gave up a third down play and Tennessee ran out the clock to win the game. Improbable seems to be a good way to describe it. Terrible is how it must feel to be a Chiefs fan today.
Falcons 26 Rams 13
This game was boring early on with neither offense getting much of anything going. The Rams special teams unit in this game was anything but special for the team. A fumbled punt that went off the foot of a Ram and recovered by the Falcons set up a field goal and then All-Pro Pharoah Cooper fumbled a kickoff. The Rams offense was never fully in sync, but Julio Jones and Matt Ryan were for the Falcons. Jones caught a touchdown and if those two are in a good spot with one another, this team could catch fire. Also helps that their defense played as well as it did. The Rams are a young team. They'll be back.
Jaguars 10 Bills 3
Defense. That was the name of the game in this one as neither team could get anything going offensively. Heck, Jaguars quarterback Blake Bortles finished with more yards rushing (88) than he did passing in the game (87). It was that Jaguars defense though that just made life suffocating for the Bills offense. There were a lot of Bills fans in attendance and they were not treated to anything special. Tough loss for the Bills. This Jaguars defense is legit and they handled Tyrod Taylor and company all game long. Didn't help the Bills that they failed to score a touchdown after getting a first and goal from the Jaguars one. Can't do that in the playoffs.
Saints 31 Panthers 26
As a Vikings fan, I wake up today a little nervous, because the Saints look really good. On a day when the rushing game couldn't going, Drew Brees was his own masterful self throwing for a couple of touchdowns and 376 yards. The Saints defense made some plays as well until late when Cam Newton and the Panthers made a run. They even had a chance to win the game after the Saints went for it on 4th and 2 from near the 50 to try and sew the game up, but threw an interception. The Panthers had it first-and-ten at the Saints 21 yard line, but an incomplete pass followed by an intentional grounding made this comeback come up short. Then on a fourth down it appeared the Panthers false started, but the play went on and Newton was sacked. They may have not even need the touchdown at the end of the game and instead only a field goal had Graham Gano not missed a chip shot 25-yard field goal in the first quarter. That cannot happen in a playoff game…especially on the road. He'll be thinking of that kick for a while. This Saints team is awfully dangerous.
College Football National Championship Game
#4 Alabama vs. #3 Georgia 8 PM ET ESPN
The last college football game of the year (the one that means the most anyway). It's an all SEC showdown which you know excites fans more than just about anything else (that's sarcasm, because apart from the south, it seems like the enthusiasm for a game like this is not nearly as high as in previous years). Alabama's defense is really, really good. I think they will be up to the task of trying to stop the dynamic rushing attack Georgia has featuring Sony Michel and Nick Chubb. They want to force a freshman quarterback to beat then. Look for Jalen Hurts to make just enough plays and Alabama win this game. I would love to see Georgia win, but against Nick Saban, as long as it's not Clemson, I think Alabama just has too much for Georgia. Saban beats another assistant again. This time it's Kirby Smart. Good luck Georgia. I'm pulling for you. Prove all of us doubters wrong.
Prediction: Alabama 27 Georgia 17
Coming up Tuesday: National Championship reaction plus head coaching news and more
---