"The Stack" 10-25-17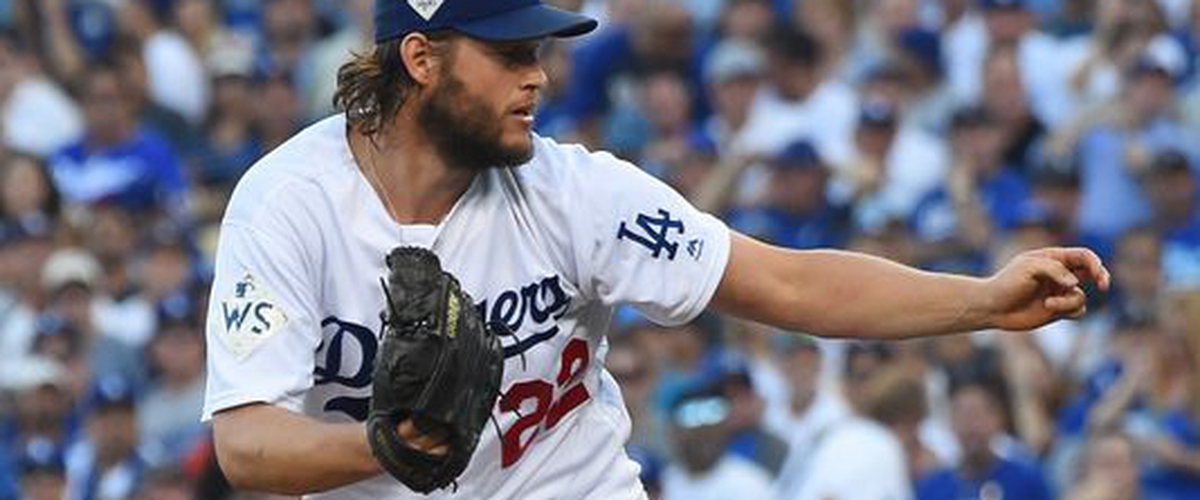 Los Angeles Dodgers ace Clayton Kershaw pitched brilliant in game one of the World Series giving up just one run and three hits in seven innings as the Dodgers beat the Houston Astros 3-1 in a short and sweet 2 hours and 28 minutes.
The Stack is back on this Wednesday and with no blog yesterday, I thought we better get a short one in today. The World Series has started and we have reaction to plus another story or two, but first, the Philadelphia Eagles are the lone team in the NFL to have just one loss through seven weeks of the NFL season. Carson Wentz threw four touchdowns as the Eagles beat Washington 34-24 Monday night. He made some incredible throws and escaped from an almost impossible situation where it looked like he was going to be sacked only to run for 18 yards and a first down. Pretty spectacular stuff. And if you haven't see the video regarding him and the Dutch Destroyer, check it out. Amazing job done by ESPN's Tom Rinaldi. Now let's get right to "the stack" for today, Wednesday, October 25th:
Dodgers take game one of the World Series (also a World Series preview)
On a day where the temperature nearly hit the century mark, two teams whose regular season win totals surpassed that (coincidence? I think not), the Houston Astros and Los Angeles Dodgers did battle in game one of the World Series from Los Angeles. The temperature was hot and so was Clayton Kershaw. He was dealing in game one just like he has all postseason long going seven innings and allowing just three hits while striking out eleven Astros in route to a 3-1 for the Dodgers. Chris Taylor started out the game on a good note for the Dodgers with a lead-off homerun and would later score when Justin Turner hit a two-run homerun in the bottom of the sixth to put the Dodgers back ahead again. Dallas Keuchel pitched well I thought for the Astros, but when you get barely any run support it isn't going to help you and that's what Keuchel got. Or better yet it's what he didn't get. Hardly any run support at all. One run simply isn't going to cut it. The Astros' bats have gone south in a hurry this postseason, especially away from their home ballpark. That must change if they want a shot to win this World Series. The Dodgers were just simply a little better Tuesday night.
In terms of the World Series overall, really for Houston to win it all it is going to come down to how good their bats are and if they can wake up. So far it has not been good. They need someone like Jose Altuve or Carlos Correa or both to get going and get some good at-bats in and get some hits. Justin Verlander and Dallas Keuchel will be just fine, but they need run support. Sports Illustrated predicted a few years back that the Astros would win the World Series this year. Maybe they can predict if their bats will wake up.
It is going to be awfully tricky and difficult for them though. The Dodgers pitching is so good. Kershaw and Yu Darvish are both going to get two starts in this series if it goes six games you have to imagine. The Dodgers have the clear advantage in the bullpen and as much as I want to take the Astros, thinking of the prospects of facing Kershaw and Darvish not once, but potentially twice is enough to make me say that the Dodgers have more than the Astros and will win this World Series. I'll say it happens six games. Dodgers win 4-2. Enjoy the World Series everyone.
College football reaction
There really wasn't much too exciting last week in college football. Even the big marquee matchups, USC vs. Notre Dame and Michigan vs. Penn State really failed to live up to expectations. Notre Dame absolutely crushed USC while Penn State did the same to Michigan. Both teams have ranked teams they play this week and we'll get to that more tomorrow, but for now Notre Dame and Penn State look like the real deal and like College Football Playoff teams.
Elsewhere, Oklahoma State and Oklahoma survived Texas and Kansas State respectively. Miami (FL) remains unbeaten with a narrow 27-19 win over Syracuse. Florida State has fallen on some hard times with them losing 31-28 at home to Lamar Jackson and Louisville. Otherwise there was not much. Congrats to Charlotte and UMass for picking up their first wins of the season beating UAB and Georgia Southern respectively. Georgia Southern is looking for a new head coach now too. What will happen this week? We'll find out tomorrow.
Coming up Thursday: World Series game 2 reaction, college football weekend forecast and a TNF preview
---