"The Stack" 11-13-20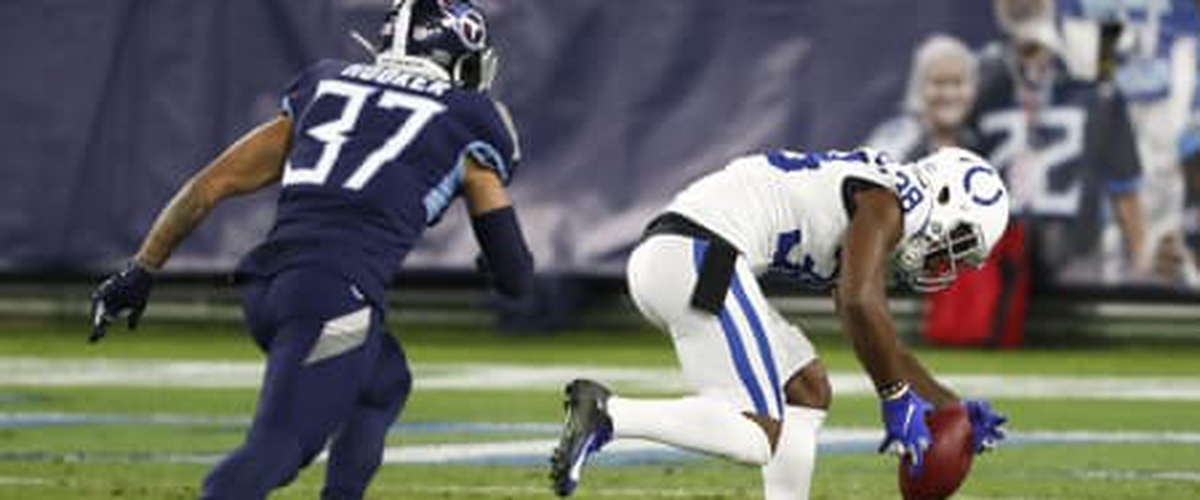 The Indianapolis Colts scored two touchdowns in less than a minute in the third quarter aided by bad special teams play by the Tennessee Titans. It helped propel them to a 34-17 win over the Titans.
The Stack is back on this Football Friday and that was a pretty impressive showing by the Indianapolis Colts last night. Aided by very poor special teams play, the Colts rallied from a 17-13 halftime deficit to beat the Tennessee Titans 34-17. The Colts scored two touchdowns in less than a minute span in the third quarter thanks to a shanked 17-yard punt and a punt block for a touchdown. Impressive stuff. What else does this Masters weekend edition of football have in store? Let's get right to the previews and predictions for week 10 in the NFL for today, Friday, November 13th:
3-4-1 Philadelphia Eagles @ 2-7 New York Giants 1 PM ET FOX
The Giants are 2-0 against Washington and 0-7 against the rest of the league. They gave the Eagles all they could handle a few weeks ago though and should have won the game. That win by the Eagles may have changed their season though. This is a tough game to pick since neither team is all that good, but I will take the Eagles to get the season sweep.
Prediction: Eagles 23 Giants 20
1-7 Jacksonville Jaguars @ 6-2 Green Bay Packers 1 PM ET FOX
Is there a reason to watch this game? Seriously. Is there one? Packers roll.
Prediction: Packers 41 Jaguars 13
2-6 Washington @ 3-5 Detroit Lions 1 PM ET FOX
At this point in the season, if you can't run on the Detroit Lions defense, you're not very good. For Antonio Gibson and J.D. McKissic, they should have a big day against the Lions. Former Washington running back Adrian Peterson will want to have a big game against his former team. The Lions have more talent than Washington and I think they emerge victorious in the den.
Prediction: Lions 30 Washington 20
2-6 Houston Texans @ 5-3 Cleveland Browns 1 PM ET FOX
It's been a bad week in Houston with the firing of one of the best P.R. people in the league, Amy Palcic. Why she was fired is not known at this point, but people are not happy with this decision. I wonder if there will be a carryover to Sunday's game. Potentially. Baker Mayfield is off of the COVID list so that's good news for the Browns. At this point, they're simply a better team than the Texans and they will win.
Prediction: Browns 31 Texans 17
6-3 Tampa Bay Buccaneers @ 3-6 Carolina Panthers 1 PM ET FOX
I feel bad for the Panthers. They are going to face a really pissed off Tom Brady and Buccaneers squad. The offense is going to have a really good game and while Teddy Bridgewater will try and keep it close, not having running back Christian McCaffrey this week will hurt. Bucs bounce back.
Prediction: Bucs 38 Panthers 20
2-6 Los Angeles Chargers @ 5-3 Miami Dolphins 4:05 PM ET CBS
Justin Herbert against Tua Tagovailoa. Two of the great young quarterbacks in this league dueling it out against one another. Tua is 2-0 as the Dolphins starting quarterback. He's going to make it 3-0 because the Chargers will lose a heartbreaker in the final minute because that is what they do.
Prediction: Dolphins 27 Chargers 24
3-5 Denver Broncos @ 5-3 Las Vegas Raiders 4:05 PM ET CBS
The Broncos are too inconsistent on offense for my liking. I don't know if I'm a full believer in the Raiders yet, but I do know that they are the better team right now between them and the Broncos and they will be the better team on Sunday.
Prediction: Raiders 27 Broncos 16
7-2 Buffalo Bills @ 5-3 Arizona Cardinals 4:05 PM ET CBS
The Cardinals should not have lost last week to the Dolphins. They are a better team than what they showed last week. Kyler Murray is great and he should have another big day against the Bills defense, but the Bills I think are probably playing a little bit better right now. Murray said last week the Cardinals laid an egg. They will need a big day from everyone to take down Josh Allen, Stefon Diggs and the Bills. Expect a lot of points.
Prediction: Bills 37 Cardinals 34
4-5 San Francisco 49ers @ 6-2 New Orleans Saints 4:25 PM ET FOX
The 49ers are so beat up with injuries to guys like Jimmy Garoppolo and George Kittle. They will get some guys back from COVID, but the Saints are just too good right now. As long as Drew Brees and/or Michael Thomas play, they should have no problem taking down the 49ers unlike last year.
Prediction: Saints 33 49ers 13
6-2 Seattle Seahawks @ 5-3 Los Angeles Rams 4:25 PM ET FOX
The Seahawks defense is really concerning to me. It should be to everyone at this point. They can't stop anyone. They were really disappointing last week in Buffalo. The Rams have had two weeks to prepare and I bet head coach Sean McVay has something up his sleeves to confuse the Seahawks defense. It's tough, but I'm going with the Rams I think. Prove me wrong, Seahawks. Prove me wrong.
Prediction: Rams 31 Seahawks 28
2-5-1 Cincinnati Bengals @ 8-0 Pittsburgh Steelers 4:25 PM ET FOX
We don't know yet if Ben Roethlisberger will be able to play this week. He needs two more negative tests to come off the COVID list. If he can't play, I think the Bengals can pull off the upset. Even if he does play, the Bengals will be game. Unfortunately for Joe Burrow though, that Steelers defense is really, really good. I bet they confuse the youngster at least once or twice.
Prediction: Steelers 27 Bengals 20
6-2 Baltimore Ravens @ 3-5 New England Patriots 8:20 PM ET NBC
I know that Lamar Jackson and the Ravens passing attack is still struggling a little bit, but did you see the Patriots on Monday night barely beat a winless Jets team? That doesn't instill a lot of confidence in me that Cam Newton and company can get by a talented Ravens squad.
Prediction: Ravens 29 Patriots 17
Coming up Monday: Week 10 NFL Sunday recap & reaction plus a MNF preview & prediction
---