"The Stack" 4-13-18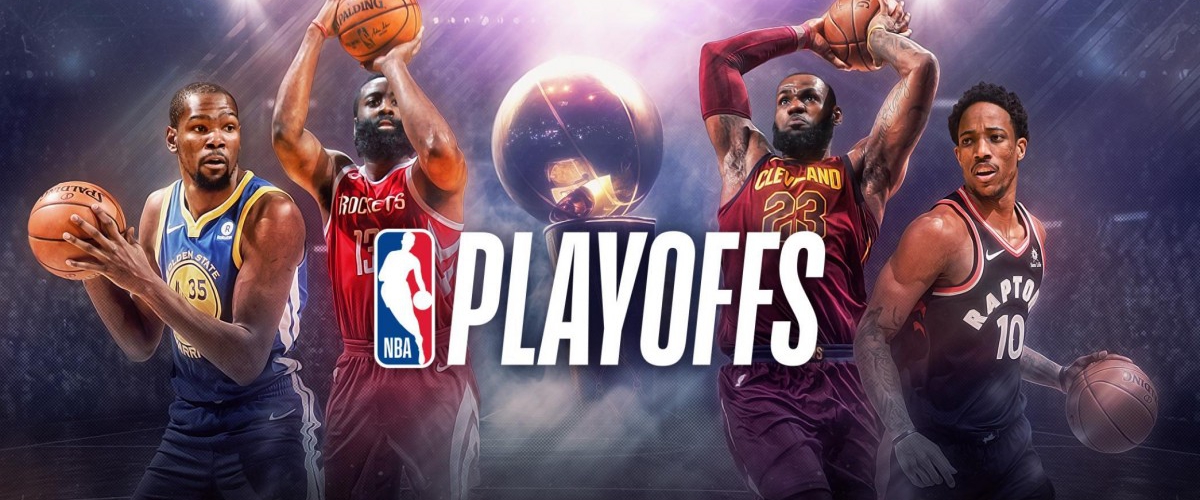 The NBA Playoffs start on Saturday. Will we get a different matchup other than Golden State and Cleveland in the NBA Finals this year? Seems likely.
The Stack is back on this Friday and the NBA Playoffs start tomorrow so we're here to preview the playoffs today. First though to the action in the NHL Playoffs. Surprise, surprise, the Washington Capitals find themselves in a 1-0 series hole following their 4-3 overtime loss to the Columbus Blue Jackets. Not good Washington. Not good. The Boston Bruins spanked the Toronto Maple Leafs 5-1. Toronto had a couple of questionable and dirty hits on the Bruins. Boston will not forget those hits. Tampa Bay took care of business against New Jersey 5-2. Nashville struggled with Colorado early on, but ultimately won 5-2 and San Jose took down Anaheim 3-0. Have to love the Stanley Cup Playoffs. Now let's see if we get Golden State-Cleveland act IV in the NBA Playoffs in "the stack" for today, Friday, April 13th:
NBA Playoffs preview
The NBA Playoffs are here and they promise to be good. The Minnesota Timberwolves ended the longest active playoff drought in the NBA after 13 seasons so that's great to see them back. The Philadelphia 76ers are riding a 16 game winning streak. They are looking awfully fine right now. Golden State and Cleveland are looking to make it back to the NBA Finals for the fourth straight year. Odds are, the Cleveland Cavaliers are probably more likely to make it. Let's make some predictions now shall we?
Eastern Conference
#8 Washington Wizards vs. # 1 Toronto Raptors (first game Saturday, 5:30 PM ET ESPN)
Man what happened to the Washington Wizards down the stretch? They looked absolutely terrible. They played with no heart. Bradley Beal and John Wall are better than this and can lead the team more than what they have. Toronto has had a lot of issues in the playoffs. They are the Washington Capitals of the NBA Playoffs. Yet their talent will take down the Wizards who just don't look like they care anymore.
Prediction: Raptors in 5
#6 Miami Heat vs. #3 Philadelphia 76ers (first game Saturday, 8 PM ET ESPN)
A 16-game winning streak for the Philadelphia 76ers. Man, Joel Embiid and Ben Simmons have this team rolling. Dewayne Wade and Hassan Whiteside can do some great things as can Goran Dragic, but this 76ers team is rolling. I don't see them bowing out this early in the playoffs. They are definitely a team that could make it to the NBA Finals.
Prediction: 76ers in 5
#7 Milwaukee Bucks vs. #2 Boston Celtics (first game Sunday, 1 PM ET TNT)
I want to believe in the Greek Freak, I really do. Giannis is tremendous, but the Bucks team as a whole has just not helped a whole heck of a lot. Having said that, they are going against a Celtics team that doesn't have Kyrie Irving or Gordon Hayward. Their talent though I think will outlast the Bucks, but I'll pick this series to go the distance.
Prediction: Celtics in 7
#5 Indiana Pacers vs. #4 Cleveland Cavaliers (first game Sunday, 3:30 PM ET ABC)
This is not LeBron James' best team by any stretch, but the pieces that the Cavaliers added before the trade deadline certainly helped. Larry Nance Jr. in particular has been very good. Victor Oladipo has been unbelievably impressive in leading the Indiana Pacers to the playoffs this year. I didn't think they were going to be a playoff team at all. This had rebuild all over it. I don't think they compete with the Cavaliers though in this series.
Prediction: Cavaliers in 5
Eastern Conference Finals
#4 Cleveland Cavaliers vs. #3 Philadelphia 76ers
I really hope the Toronto Raptors prove me wrong, but it almost feels like the Cavs tried for the four seed, because they could face Toronto, potentially, in the second round. The 76ers are rolling and I don't see a second round test against the Celtics stopping them. Could LeBron go to Philly in the offseason? There seems to be some momentum regarding that. Until they fail to make the NBA Finals, I have to take LeBron James and company.
Eastern Conference Champions: Cleveland Cavaliers
Western Conference
#7 San Antonio Spurs vs. #2 Golden State Warriors (first game Saturday, 3 PM ET ABC)
Never underestimate what a Gregg Popovich team can do in the playoffs. The Kawhi Leonard situation though is a concern. Not having Steph Curry for the first round of the playoffs will hurt Golden State and they have not looked good the last month of the season. Until they lose though, don't you have to think that they are going to find a way to come through? I'll take them to win this series, but I'll say it goes almost the entire distance.
Prediction: Warriors in 6
#6 New Orleans Pelicans vs. #3 Portland Trailblazers (first game Saturday, 10:30 PM ET ESPN)
What a fun series this should be with Anthony Davis and Damian Lillard. I view this as almost a tossup series, but Portland is the #3 seed for a reason. They can score a lot of points. Anthony Davis can't beat them alone and that is what they are going force the Pelicans to do. This is going to be a great series.
Prediction: Trailblazers in 7
#5 Utah Jazz vs. #4 Oklahoma City Thunder (first game Sunday, 6:30 PM ET TNT)
I am in the Donovan Mitchell ROY camp. Let's just say I have been persuaded to pick him over Ben Simmons. It's remarkable that the Jazz made the playoffs, but Rudy Gobert helps lead a great defensive team. Add to that Ricky Rubio and they are going to make it difficult for OKC. Having said that, the big three of Russell Westbrook, Paul George and Carmelo Anthony are not going to go out in the first round. They can't. Can they?
Prediction: Thunder in 7
#8 Minnesota Timberwolves vs. #1 Houston Rockets (first game Sunday, 9 PM ET TNT)
Congratulations Minnesota Timberwolves. Your 13-year playoff drought has ended. Your reward? The Houston Rockets, only the best team in the NBA this year. Man wasn't James Harden good? Chris Paul was tremendous as well. I should just take the Rockets in a sweep since they won all four games during the regular season, but I'll throw the Wolves a bone.
Prediction: Rockets in 5
Western Conference Finals
#2 Golden State Warriors vs. #1 Houston Rockets
The Houston Rockets are obsessed with the Golden State Warriors. Their GM says so. They have been great all year long. There is no reason not to think that they can't beat the Warriors, especially with how the Warriors have looked the last part of the season. However, Chris Paul hasn't ever gotten very far in the playoffs. Until you can beat the Warriors, I am not going against them.
Western Conference Champions: Golden State Warriors
NBA Finals
Golden State Warriors vs. Cleveland Cavaliers
If the Warriors can survive the Western Conference, I don't think they will have any issues getting by the Cleveland Cavaliers. If Steph Curry, Klay Thompson, Kevin Durant and Draymond Green are all healthy, they take care of business easily. Give me the Warriors for their third title in four years.
NBA Champions: Golden State Warriors
Enjoy the NBA Playoffs everyone. It's going to be fun.
Coming up Monday: NHL and NBA Playoff reaction
---