Buckeye Barrage: Ohio State shocks visiting Penn State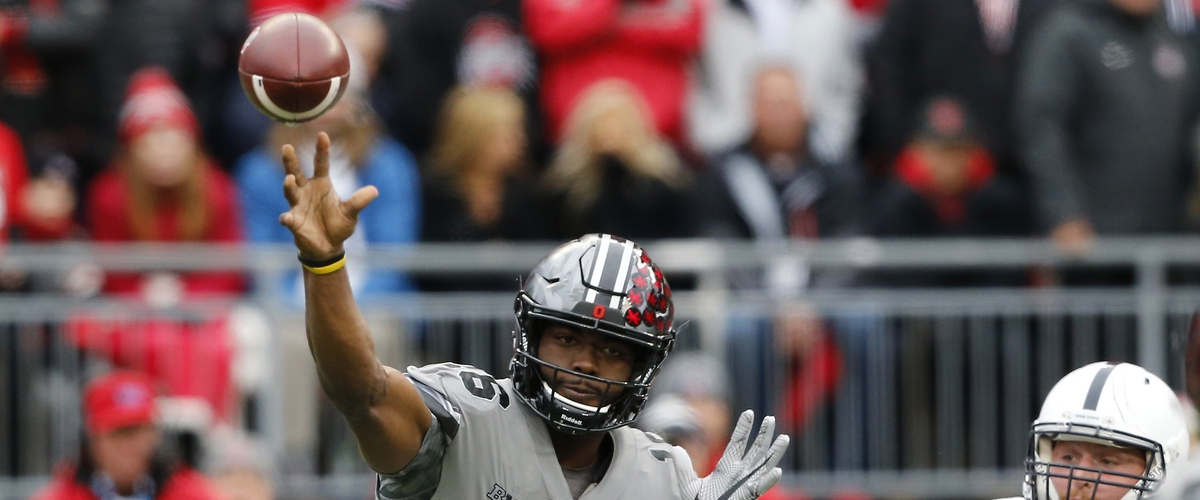 RELATED ARTICLES: G5 TOP 4, CFP TEAMS, GOPHERS UPDATE, W10 PREVIEW
FINAL THOUGHTS FROM WEEK 9
USF isn't the team that the AP voters thought they were. The Bulls have been the top Group of 5 team in the AP poll all season. It's too bad it took a loss for them to figure that out. Had they not lost and continued to struggle in their wins, the voters would have continued to give the Bulls the nod. If you're going to rank 25 teams, you should probably watch all of them....
Florida has a bigger problem than finding a new coach. The Gators are moving on from yet another coach. Jim McElwain his employeers decided to part ways after another season in which they looked anything but great. The offensive struggles that highlighted Will Muschamp's career as head coach continued with McElwain's tenure. Whoever the Gators hire next has a ton of work to do, and this is a win-now program.
Florida State might be looking for a new coach too. After a first half that was anything but inspiring, the Seminoles hit a new low. A loss to Boston College. Boston. College. Things aren't looking great in Gainesville, but they're not much better in Tallahassee either. Jimbo Fisher isn't on the hot seat, but it could be getting interesting next season.
PLAYERS OF THE WEEK
John Wolford, QB, Wake Forest- Those who thought Lamar Jackson would be the dominant quarterback in this matchup was mistaken. Wolford completed 28 of his 34 passes for 461 yards and five touchdowns.
Greg Dortch, WR, Wake Forest- Wolford's favorite target ended his season on an extremely high note. The freshman hauled in 10 of Wolford's passes for 167 yards and four touchdowns. An injury ended his season, but he went out with a career high.
Devin Singletary, RB, FAU- Lane Kiffin's team is suddenly hot, and Singletary is a big reason why. The running back rushed for 244 yards and four touchdowns in the Owls 42-28 win over Western Kentucky. Singletary has now rushed for 1,779 yards and 28 touchdowns over his past 12 games dating back to last year.
GAMES OF THE WEEK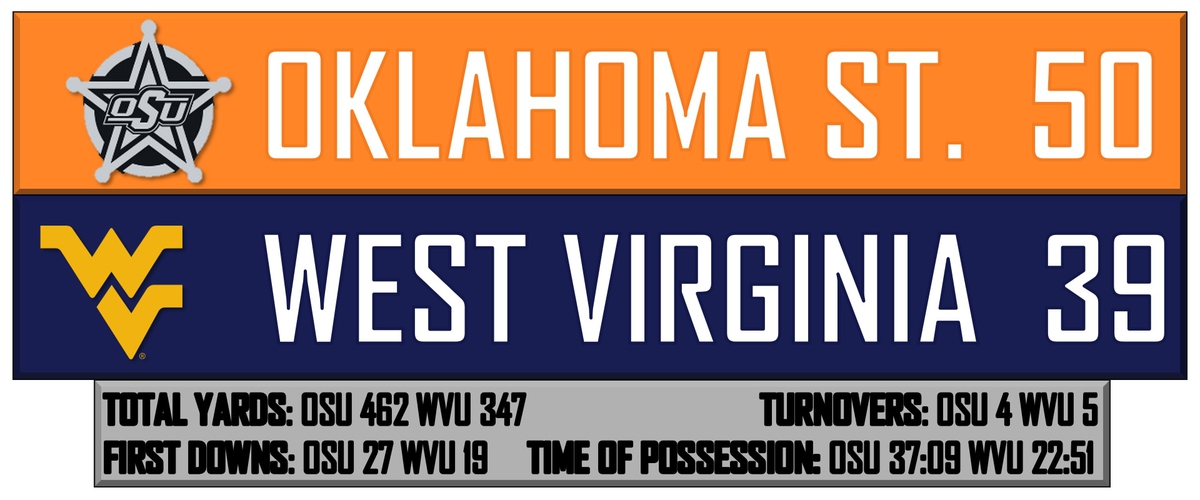 Some thought that teams were figuring out Oklahoma State's offense, but that couldn't be further from the truth. Early turnovers were a concern, but the Cowboys turned on the heat on the host Mountaineers to pull away. While they've been known for their passing, the run game has taken off. Justice Hill was injured early, but freshman J.D. King took over, rushing 36 times for 142 yards and a touchdown. Hill would later return to contribute two crucial scores. With Bedlam looming next week, the Cowboys appear to be ready to claim the top of the Big 12.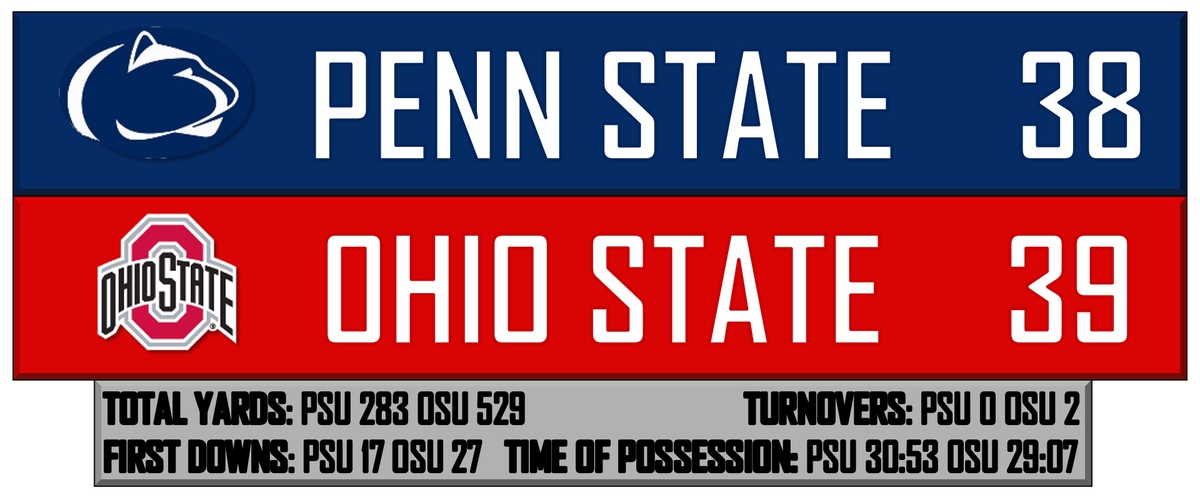 Saquon Barkley's opening kickoff return for a touchdown made the game appear out of hand for the Buckeyes. Things didn't look much better when they were in a 28-10 hole either, but they found a way to comeback, and a late touchdown put the home team on top for good. Ohio State took control of the Big Ten West (for now), and got their revenge from last year's stunning loss. Penn State still has the Heisman favorite on their team, but they're going to need a little help if they want a shot at the playoff.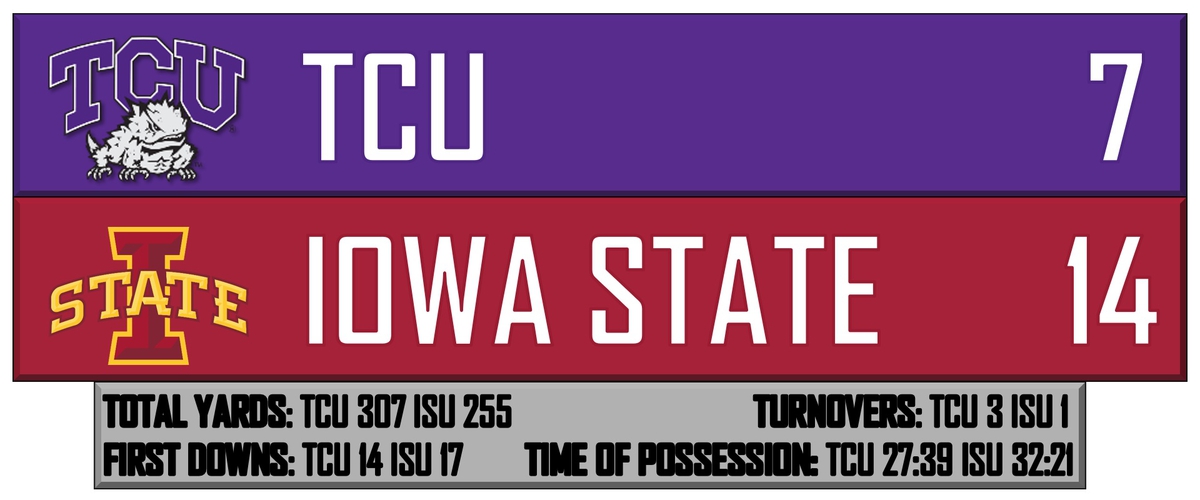 Weird things happen in Ames, and Saturday was just another example of that. A TCU offense that was normally explosive and mistake-free struggled and couldn't find the endzone enough. Even with the Cyclones struggling to open the second half, the Horned Frogs couldn't figure it out. In a wide open Big 12 race, the Cyclones are one of those teams in competition. After years of being a bottom dweller, Matt Campbell has his team at the top of the conference.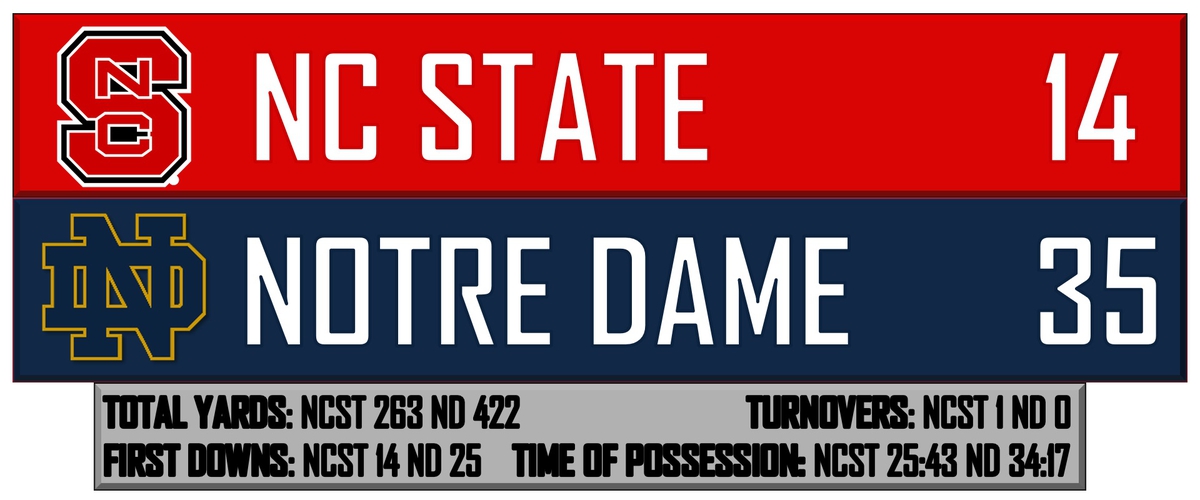 North Carolina State started the game strong, but Notre Dame's run game ended up being too much. We talked about Bradley Chubb needing help, and he didn't get enough. Chubb did everything he could to stop Josh Adams, but the bruising back had a monster game at a good time. Adams finished with 202 yards that included a thrilling 77 yard run leading to his only touchdown. Notre Dame continues to make its case for a College Football contender, and the offense shows its improvements each week.