How the Devils Can Take Advantage of the Capitals "Cap Crunch"
This is the first post in a series of posts that will analyze a handful of teams that will be experiencing a cap crunch and how the Devils can benefit from them.
***Disclaimer: This post contains a gracious amount of speculation. I realize that Free Agency is 6 months from now and teams' situations will change with the second half of the season, playoffs, the NHL Draft and the expansion draft all coming between now and July 1st.***
****All statistics have been retrieved from hockeydb.com and all cap figures have been retrieved from capfriendly.com, unless otherwise noted****
The never-ending hunt to give Alexander Ovechkin his first Stanley Cup has left the Washington Capitals in a tough situation come this offseason. The Capitals have $50.2 million dollars committed to only 11 players. This years salary cap was raised just under $3 million dollars from the previous year and is expected to rise again. For the sake of argument and speculation, lets assume the cap for 2017-2018 will rise to a generous $75 million. That means the Caps have roughly $25 million dollars to fill at least 9 roster spots, (18 skaters and 2 goalies). Let's take a look at the current roster players coming off the books this offseason.
Forwards: T.J Oshie, Justin WIlliams, Evgeny Kuznetsov (RFA), Daniel Winnik, Andre Burakovsky (RFA), Brett Connolly (RFA)
Defensmen: Karl Alzner, Dimitri Orlov (RFA), Nate Schmidt (RFA)
Goaltending: Phillip Grubauer (RFA)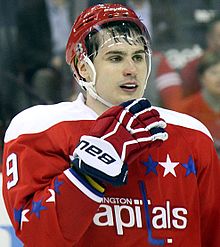 Players like Connolly and Schmidt, can easily resign for little money or be replaced with prospects or other in house options. Grubauer should receive roughly $1.5-$2 m considering he has been a solid backup to Holtby this season (7-1-1, 1.94 GAA, .929 SV%) and has arbitration rights. Daniel Winnik had a pretty hot start to the season but has fizzled out (6 G, 5 A) could either stay or go, but is easily replaceable. Those decisions to are a little bit easier to make. The remaining future free agents on this list pose a harder problem to solve. Let's start with the remaining defensemen Alzner and Orlov. Both players are at least top 4 Defensemen and both have left handed shots. Where they differ is their experience, playing style and ree agent status. Alzner (UFA), the more experienced of the pair, is a shut down defenseman. His offensive numbers aren't going to wow you (3 G, 4 A), but his plus minus numbers are solid at +16 for the season. Alzner also has great discipline only logging 16 PIM on the year. The Canadian blueliner should fetch a AAV of around $3.5-$4 million depending on if he resigns, or hits the free agent market. Orlov(RFA), also +16 on the year, is a little more offensively minded, (2 G, 17 A). Orlov is currently making $2.57m and should probably receive a 2 year bridge deal from the Caps for about $3 million. This number could rise if Orlov finishes strong and exercises his arbitration rights he could receive a 2 year bridge deal for around $3.5-$4 million a little more than Jacob Trouba's deal which carries a cap hit of 3.3 million.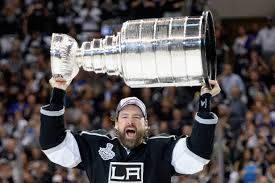 Justin WIlliams lifting the Stanley Cp during his tenure with the Kings
The Capitals forward group is a deep and talented one, however 4 top six guys will be in need of contracts. In addition to Oshie, Kuze and Williams, youngster Andre Burakovsky is coming off his rookie deal and will be looking to get a raise of a few million dollars. On pace for roughly 30 points this season, ( 5 G, 11 A in 39 GP) Burakovsky's production has slightly declined (38 points in 79 GP) however if he keeps the pace, it shouldn't prohibit him from getting anywhere from $1.5million to $2 million from the caps on his next deal. Justin Williams is a playoff genie. From his first Stanley cup in Carolina to his next two in L.A. WIlliams thrives in the playoffs totaling 85 points in 127 games. The Caps brought him in to get over the hump and make a deep run for the cup. However at the end of this season there may or may not be room for Williams and they may have to cut ties. On pace for roughly 44 points WIlliams provides offense at a reasonable high clip a $4 million AAV contract isn't unreasonable, although Williams has a history of signing team friendly contracts. This ones a wild card but he'll probably re-sign with the caps for something along the lines of $2.5-$3 million with the Caps or another playoff team.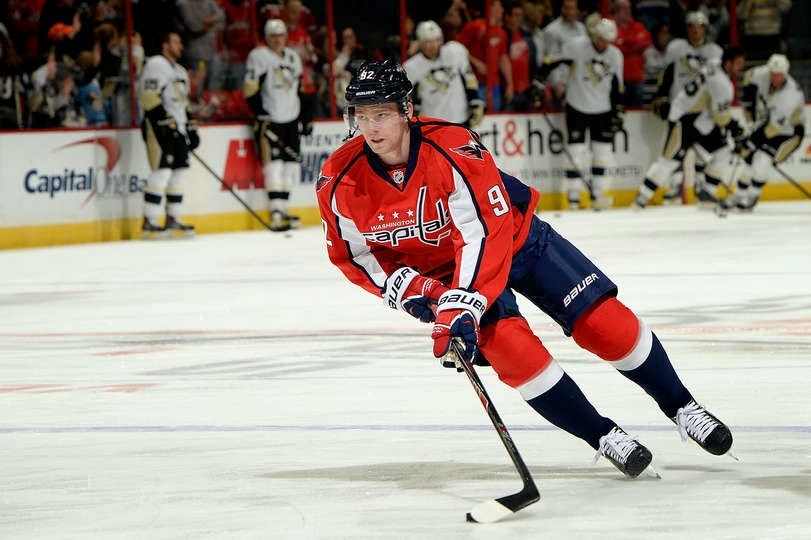 Speaking of team friendly contracts, Evgeny Kuznetsov not-so-subtly let the world know that he isn't interested in them. LAst summer, Evgeney Kuznetsov's fellow countryman Nikita Kucherov received a contract offer from the KHL during his contract holdout with the Bolts. If the same happens with Kuznetsov, there is reason to believe he will try to get as much money as possible even if he has to utilize his arbitration rights. Kuznetsov is currently 4th on his team in points with 28 and is on pace for just shy of 60. Going into his 5th NHL season next year in addition to his consistent production (106 points over his past 3 seasons) Kuze is due for a big pay day. Right before Kucherov ended his hold out with Tampa Bay, Kuznetsov spoke out on how he would handle the situation. ESPN's Craig Custance reported on Kuzetsov regarding Kucherov, who would eventually signa 3 year $4.76 million dollar deal to stay in Tampa Bay, " If I would be in his position, I would be signed in the KHL for sure... I would sign and say bye. That's me. I would buy a beach house and a couple of Rolls-Royces." Considering Kuznetsov has comparable numbers to Kucherov, expect to see Kuze sign for somewhere between $5 million and $5.5 million.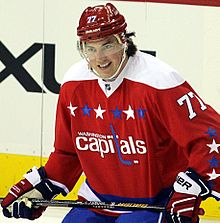 Finally, T.J. Oshie. The 30 year old winger is most famous for the use of his silky mitts in a do-or-die shootout between Team USA and Team Russia during the 2014 Winter Olympics. Oshie is also a gritty, defensively responsible player and isn't afraid to be the setup man or take the shot in scoring situations. The American born forward's current cap hit is $4.175 million but this will be Oshie's first opportunity to enter unrestricted free agency. The 30 year old might be looking for a 5 year deal at around $6.5 to $7.5 million dollars AAV. At first this number looks high, but Oshie will most likely be the most sought after winger on the market this offseason. Oshie has only played 34 games this season, but has been producing for the Caps (14 G, 11 A). It is still possible for Oshie to double his point total and go beyond that. If Oshie eclipses 50 points, it is sure to cause a bidding war.
Now that we've assessed the value of the players at least in terms of dollars, now its time to see what logistical options the Caps have to fill their 9 roster spots. When making these calculations, I was sure to be conservative with the amount of money these players would sign for. THis numbers are most likely to be slightly lower than what they actuall would sign for (if the season ended today). Option 1(Most Likely to occur) Sign Oshie, Orlov, Kuze, Grabauer, Burakovsky, for ~$18 million and use the remaining ~$6 million to sign 4 roster players. By letting Winnik, WIlliams and Alzner go, it gives the Caps some financial flexibility to sign veterans, but their offensive depth takes a significant hit, losing offensive production including playoff experience in Williams. Option 2) Sign Oshie and Kuze, Trade Orlov's rights for offensive depth, Let WIlliams walk, sign Winnik, sign Alzner, sign Burakovsky and sign Grubauer. This option is a little farfetched optioning to take the older Alzner over the still developing Orlov. This move takes the Capitals a little closer to the sun as far as cap space goes, costing them roughly ~$21 million out of ~$25 million they have available, but filling six spots in the process. However this may hurt their chances of extending John Carlson next summer, but thats a whole other can of worms that doesn't need to opened just yet. Option 3) Sign everyone but Oshie and Alzner. Not signing Oshie is probably the NOT likely to happen, but it is still possible, the season isn't over yet. Oshie could get hurt (knock on wood), fall into a deep slump or something else could happen to hurt his open market value. However, by moving on from Oshie, the Capitals will still keep a competitive playoff team, a breakout season from Burakovsky or Jakub Vrana could easily fill the production lost, and will give the team more financial flexibility in the years to come. This option would only cost the Capitals $~17.5 million and will fill 6 roster spots, meanwhile Washington can use free agency to fill roles that can't be filled from within.
Finally, the moment you've all been waiting for. For those of you who have stuck with me through this extremely thorough analysis, the end of the rainbow (this post) is here. This final paragraph will discuss logistics of the Devils being able to take advantage of a cap strapped team and how the Devils can add a piece or two, bringing them closer to finishing the rebuild. Justin Williams isn't typically a guy you would sign to a multi-year deal at this stage in a rebuild, but the Devils could use someone with his leadership, experience and offensive production. While Williams has never won an Art Ross trophy, he's been one of the most consistent point producers in the NHL. The always-offense-needy Devils could use his presence on the ice, especially if they make the playoffs in his tenure. If the Capitals are forced to trade RFA's Burakovsky and Orlov the Devils should jump at the chance to acquire such young, skilled talent. Burakovsky is a talented winger that can produce when given ice time. However in Washington, he's seemingly buried under their tremendous depth. The rebuilding Devils offer the 21 year old former 1st round draft pick ice time and more importantly an environment to grow by learning from mistakes. As far as Orlov goes, the Devils could benefit from having an offensively minded defenseman who isn't afraid to dole out a vicious although clean hit *call Matt Duchene for a reference*. Additionally, if these two young guys don't accept qualifying offers, the Devils have the assets to pursue them through 'offer sheeting' as they posses draft picks necessary to cover the compensation costs. Finally, Karl Alzner is a player the Devils should look into bringing in. With only roughly $10 million invested in the club's defensemen, GM Ray Shero could use the glory days of Stevens, Niedermayer, Daneyko and Brian Rafalski as a blue print on how to rebuild the defenses core. Alzner's ability to be a shut down defenseman would work perfectly in the Dev's system, and bringing in another high quality defenseman *cough cough Shattenkirk* could make players like John Moore and Ben Lovejoy expendable. Defense wins championships and investing in some quality defensemen could accelerate the Devil's rebuild and bring them much closer to returning Lord Stanley to the Garden State.
Follow me on twitter where I sometime retweet hockey related things @StevieGintzzz #LGD
---