Patriots Offensive Projection 1.0
Well, we are at that point in the NFL off-season. Organized team activities have come and gone, training camp is still a month away and we are left dreaming of what the 53-man roster will look like when the Patriots run out of the tunnel on September 9th against the Houston Texans. Like every summer, there are new faces in town, veterans still clinging to the roster, and positional battles that won't be decided until they absolutely have to. Here is my incredibly early prediction of the 2018 New England Patriots Roster (offense only).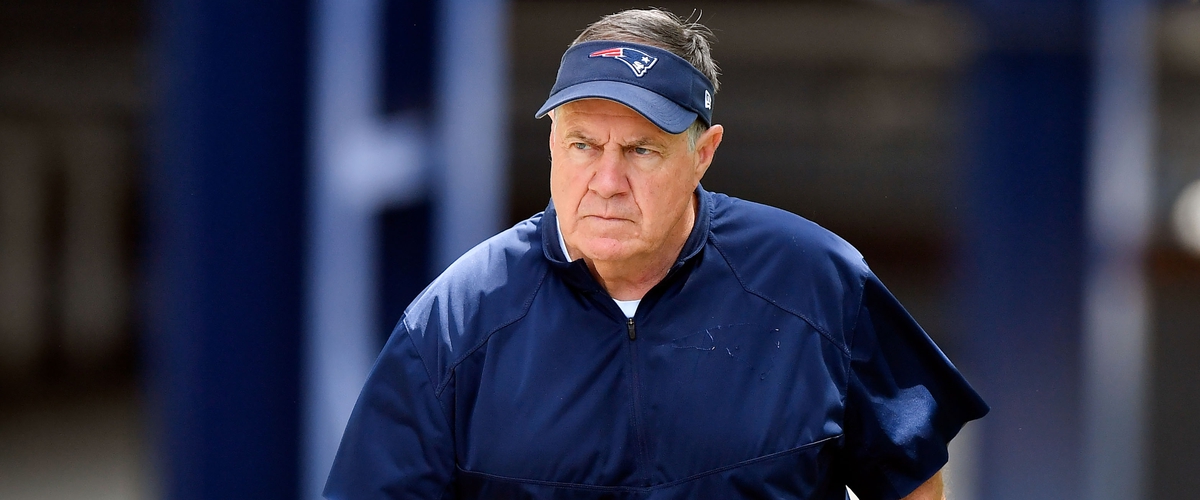 Quarterback (2):
-Tom Brady: Something tells me this guy will be under center in week one. As for beyond 2018, nobody but him can really say. It seems as if Brady keeps dropping hints that his exit from the NFL is growing closer and closer. For this season however, he will be right back in the AFC Championship Game.
-Brian Hoyer: Certainly not the most exciting backup around, but in the end the Patriots will opt for experience over potential for their backup QB. Hoyer knows the system and can be decent in a pinch. A cheap option to keep around, this will likely be his last year in New England unless Brady commits for a few more seasons.
Cut: Danny Etling, Any other Camp invite: Unless he stands out in training camp and/or the preseason, I don't really see a spot for Danny Etling this year. There are too many other positions that need help in the form of depth, mainly linebacker and offensive line. Since it was somewhat of a surprise that he was drafted, Etling could sneak onto the Patriots practice squad to begin the season. The best thing for him would be to learn the Patriots system with no pressure. I added in "any other QB camp invite" because the Patriots met with former Jet QB (can he be called that if he didn't take a snap?) Christian Hackenberg this week. Whether it is him, Johnny Manziel (unlikely now), or any other undrafted rookie, I don't see them making a big enough push to force Hoyer off the team.
Running Backs (5):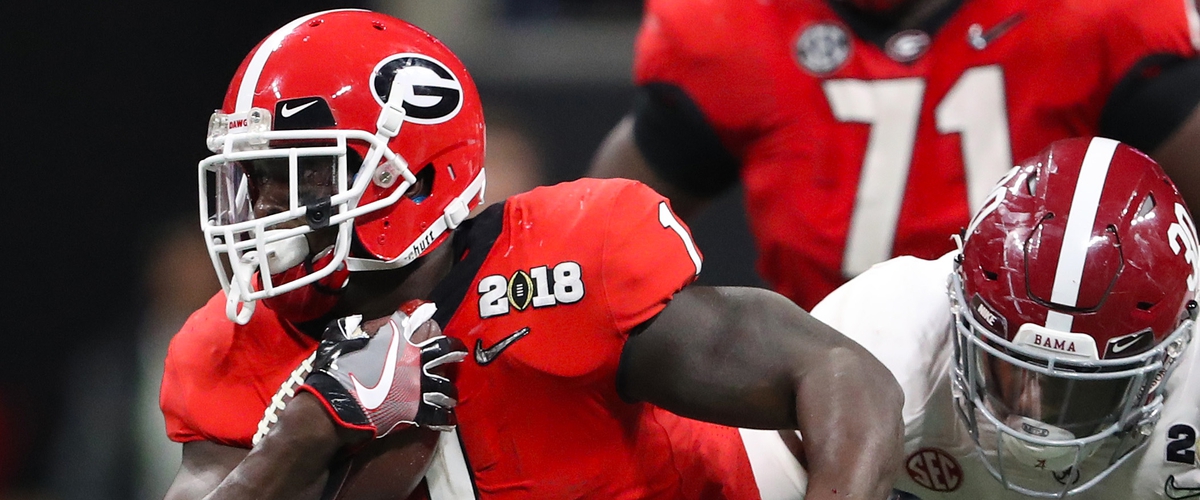 Sony Michel - First round pick this year (31st overall), Michel is certain to lead the 1-2 punch in the running game with James White. While he has had some tough coaching early from RB coach Ivan Fears, Michel offers plenty of playmaking ability and flashes of brilliance. He excelled in a backfield with Nick Chubb at Georgia, so he should be a natural fit with New England, a team that loves to use multiple backs. Belichick has sometimes eased running backs in during their first year, but Michel can and should be the exception this season. Once fans get a glimpse during the preseason, they will be itching for Michel to get the ball. Losing Dion Lewis to the Titans will hurt a little less with the addition of Michel.
James White - Another running back who should have no problem seeing plenty of playing time this season. He has the experience and trust of Tom Brady, and James White has been nothing but consistent since he has been here. Signed through 2020, there is no reason not to expect the same from White in 2018. He is a running back who can help in the pass game, something that is coveted in the NFL game today. He should start as the number one back, and his role could fluctuate depending on how fast Sony Michel develops.
Rex Burkhead - Running back number three is where things start to get difficult to project. To me, the spot should belong to Rex Burkhead. Even though he only appeared in 10 games last season, I thought he was a great addition to the offense. It was obvious to see that Brady trusted his route running, and Burkhead seemed to pick up the playbook rather easily. He will face stiff competition this year, as the Patriots have about five players for likely two spots (Three if Bolden is kept for Special Teams only).
Jeremy Hill - The newest addition to the backfield by way of free agency, you probably have heard the name Jeremy Hill. Still just 25-years old, Hill was the bruising downhill running complement to Gio Bernard in Cincinnati the past four seasons. His career year came in 2015, when he rushed for eleven touchdowns. Falling off a bit since, Hill is hoping that a change of scenery will get his career back on track. If he is kept around by the Patriots, I believe it will be because he fits the mold of the short-yardage, bigger back that Belichick has employed in the past (Blount). If they are looking for a physical presence at the position, Hill could be the guy. For the time being, Hill will stick on my roster. Down the line, he could be cut for a number of reasons. New England could decide to keep Brandon Bolden (useless in the run game) and maybe even give Mike Gillislee another shot. For now, congrats on making the team Jeremy.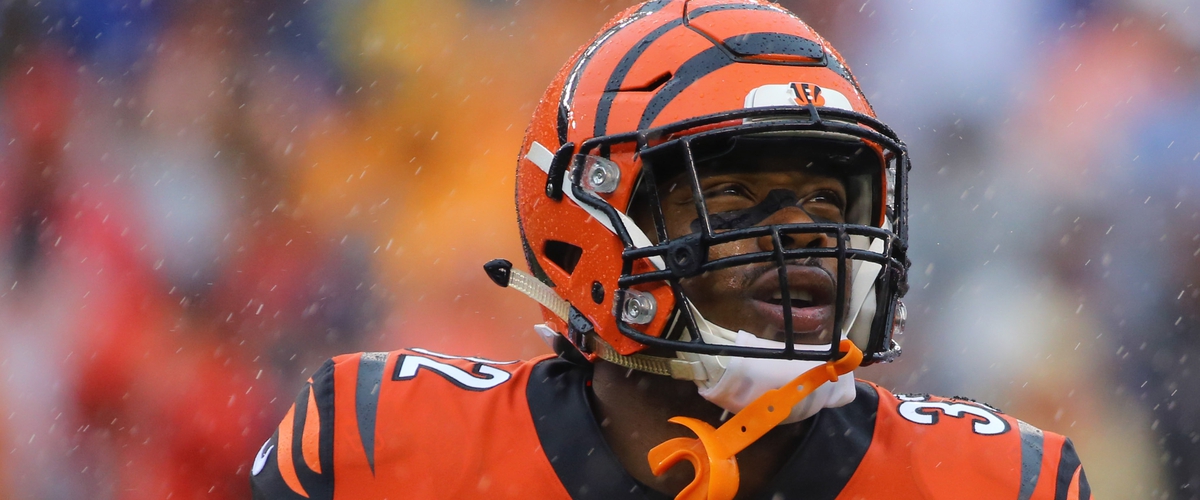 Brandon Bolden - Last guy on the roster or first player off the roster. Because he has such a limited skill set to work with, Bolden could be a late cut this August. While he does his special teams job well, this could be the year that the Patriots decide to cut bait and bolster another position of need. Bolden sticks with the team for projection 1.0, mainly because if he hasn't been cut by now, it doesn't look like he ever will be.
Cuts:
Mike Gillislee - Personally, I keep Mike Gillislee if you are sticking with five running backs. A healthy scratch much of the year, Gillislee did not see much action in 2017. Thought to be a good addition in the previous off-season, he was largely a bust and saw his playing time given to everyone else. Due to the short sample size, I would be willing to see if Gillislee can capture some of his game that he had before he came to Foxborough. Usually being a healthy scratch is a big hint that you won't be around long, but Belichick has kept him into mid-June. Giving him a second training camp can't hurt, and Gillislee can make the decision tougher if he brings his best game in July. For now, however, six running backs (and a FB) is way too much, so Gillislee is cut.
Ralph Webb: - Undrafted out of Vanderbilt, Webb has long odds of making the week one roster this time around. This backfield is as crowded as I can remember it being in recent memory, so it is a tough break for Webb. Perhaps a practice squad will be open for Webb, who could make the jump if the Patriots get hit with multiple injuries. At this point, it would take a massive camp for Webb to make the team, and I just don't see that happening.
Fullback (1):
James Develin - Having just inked a two-year contract extension, I feel confident saying that James Develin will be on the team come September 9th. Bill Belichick digs the fullback, especially Develin, and it's time that we do too.
Wide Receiver (7):
Julian Edelman: Definitely on the team, but not for the first four games this year. Suspended for an unknown substance (still makes no sense), Edelman will miss the first month. This is tough news for Brady, as he will now be down his two favorite wide receivers with Danny Amendola in South Beach. Coming off of an ACL tear and not getting any younger, Edelman may actually benefit from a shorter season. Obvious lock for making the team.
Chris Hogan: One player who needs to be on his game, especially during weeks one through four, is Chris Hogan. Picking up where Danny Amendola left off will already be hard enough, but filling in for Edelman as well will be key. Entering his third year with the team, there is no reason for Hogan not to produce this season. He is elevated into a bigger role, one that he is more than capable of filling. If he can't there are some new additions and young players who are eager to take his catches away.
Matthew Slater - Since he doesn't have an official position, Slater is listed as a WR. Let's just say if he is running routes and attempting to catch balls, something has gone horribly wrong for the Patriots. A special teams ace, Slater will be a Patriot until he decides to hang it up.
Cordarrelle Patterson - Acquired via trade this past March, Patterson is a player who Belichick has been after for a little while. Excellent in the kick return game, Patterson softens the blow of losing Amendola. The main reason I am choosing him to make the roster over Kenny Britt is because of his speed and versatility. Unless he is a disaster in camp, he should make the roster. In his first five seasons, he has not displayed a whole lot, and he definitely has not lived up to his first round selection. However, I believe Belichick will value his versatility and give him a spot.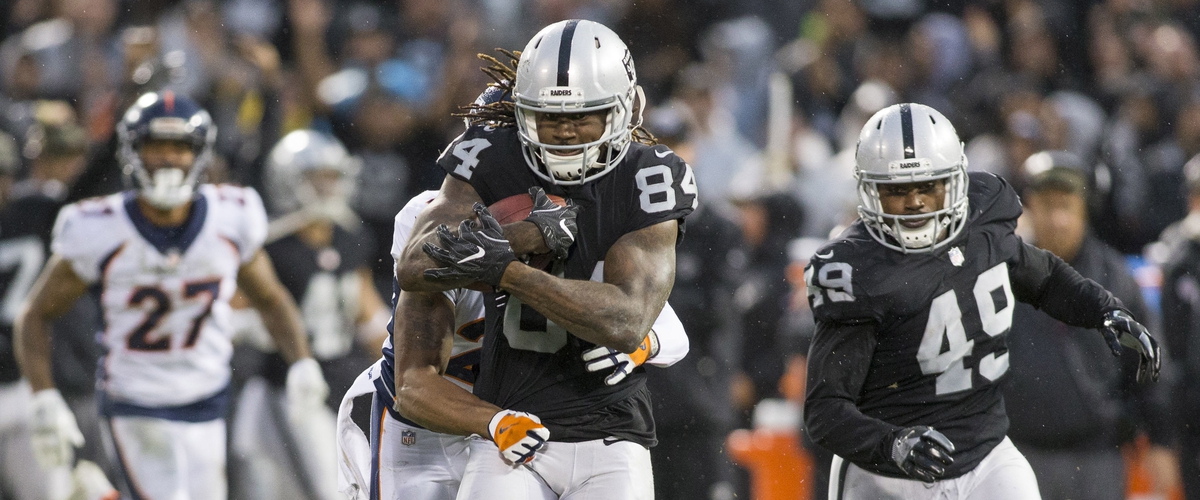 Braxton Berrios - Drafted in the sixth round this year, Braxton Berrios is the quintessential small slot receiver that the New England Patriots love. If Amendola was still here, I would venture to say that Berrios would not have been drafted by the Patriots. Since he is gone, Berrios is a good draft and develop option at the slot position. Julian Edelman is coming off a serious injury and is 32-years old. I think Berrios will receive competition from Riley McCarron, who may have a leg up since he has been here longer. When it comes down to it, I think the Patriots will want to see how Berrios can develop and get better over the course of a season. For that reason, he should stick around.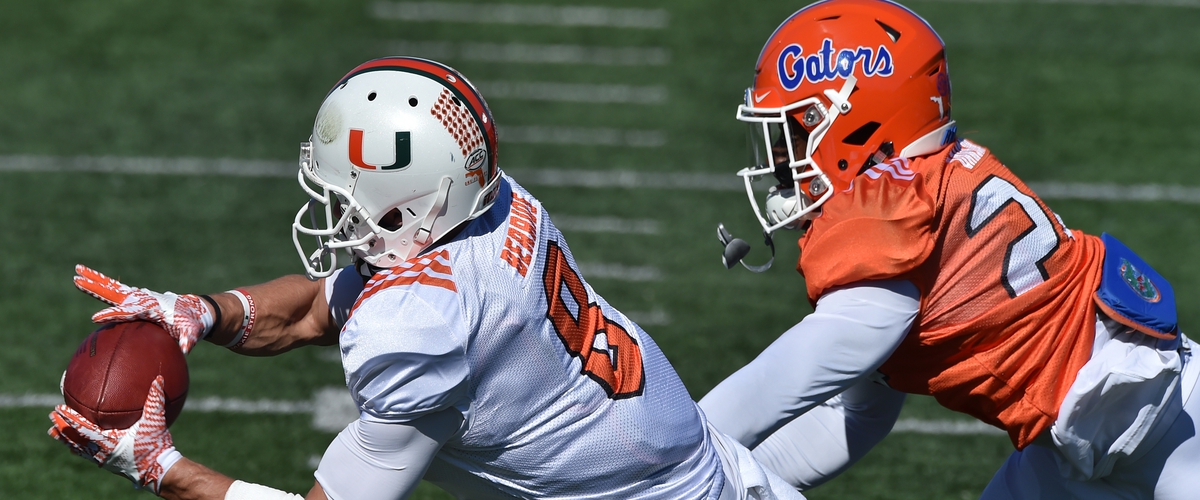 Jordan Matthews - On a one-year prove it deal, and I am guessing he will make the most of it. He is a rather easy cut if he doesn't show up ready to contribute in camp, but he showed that he was a valuable receiver early in his career. If this is the season that the Patriots carry a lot of WR depth, Matthews should be one of them.
Malcolm Mitchell - Totally dependent on his health. I could see him on injured reserve tomorrow or catching touchdowns against Pittsburgh in the AFC title game. Mitchell is such a big question mark that for now, he makes the team based on the potential he has when fully healthy.
Cuts:
Philip Dorsett - This is a very difficult decision between Matthews, Mitchell and Dorsett. I personally was rooting for Dorsett last season, and he did not really get too much time. If Mitchell's health is not improving by the end of camp, I would swap him and Dorsett on the roster. It seems like the Patriots staff loves Mitchell, and he offers more than Dorsett when healthy. For that reason, Dorsett is left off the 53-man this time.
Kenny Britt - Added late in 2017, the Patriots have kept Britt for a decent amount of time. While I could see him on the roster, I think there is value at the position that will be harder to pass up. I like the potential of some of the other guys, and we already know what Kenny Britt is.
Riley McCarron - Most likely loses the slot receiver battle to Braxton Berrios. I wouldn't be shocked if he opened some eyes in camp, but much like Austin Carr a year ago, he will be let go at the beginning of the season.
Cody Hollister - Being on the practice squad in 2017 helps Hollister, but the competition at this position will be too much for him to overcome. The hope for him would be to further develop on the practice squad if given the opportunity.
Tight Ends (3):
Rob Gronkowski - After not committing to football all Spring, Gronk is back in the fold for at least one more year. Hopefully he makes the most of it and the Patriots can get over the Super Bowl loss from a year ago.
Dwayne Allen - Great blocker but hands made of stone, Allen will probably make the team because of his effectiveness in the run game. While he comes with a high price tag, it will probably take Ryan Izzo repeatedly flattening defensive ends and linebackers in camp to get rid of Allen. As of now, I don't see it.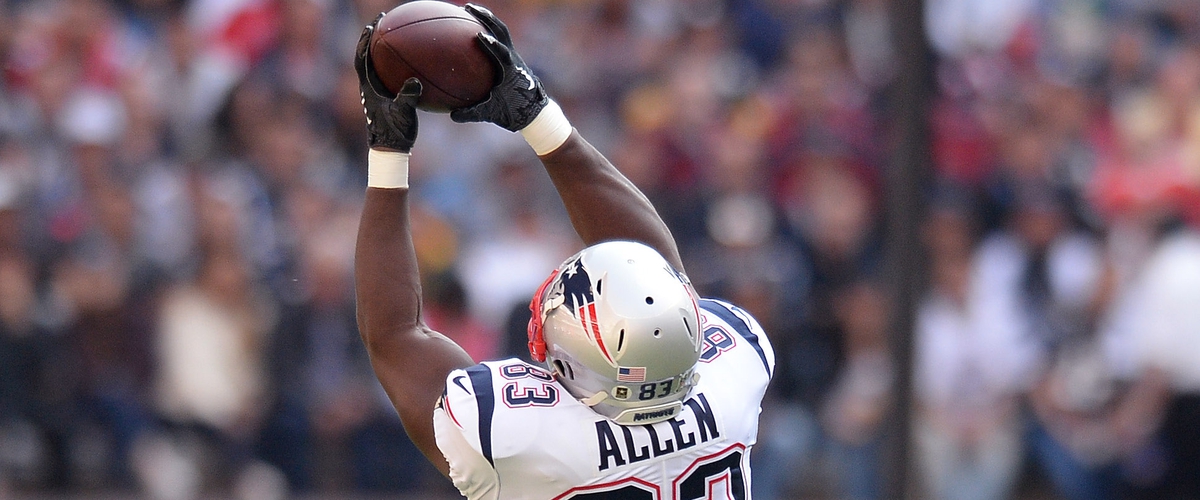 Jacob Hollister: Brings a little bit of pass catching ability but is definitely not a lock to make the team. This spot can realistically go to any of the players that I cut, but Hollister appeared in 15 games a season ago. That tells me the Patriots have some level of trust in him, a good sign he has the inside track for tight end number three.
Cuts:
Shane Wimann - Undrafted out of Northern Illinois, Wimann starts camp behind a few players who will already have a tough time making the roster. If the third spot is an open competition, Wimann will need to emerge as a versatile blocker and pass catcher to prove his worth.
Ryan Izzo - The Florida State product has impressive size and brings one thing to the table: blocking ability. His rough catching numbers could be attributed to terrible quarterback play at FSU, something we will find out in the preseason. If the Patriots want to move on from Dwayne Allen and his high price tag, Izzo could be the blocking tight end that fills his role. I give Izzo and Troy Niklas the best chances of unseating Allen and Hollister as tight ends two and three.
Will Tye - Spent some time on the practice squad a year ago and has some NFL experience, but Tye has fallen off from his decent rookie season. I would think the Patriots choose Niklas or Izzo if they cut Hollister.
Troy Niklas - Wanted to pull the trigger on Niklas over Hollister, but right now there is no argument for it. Things could change quickly and Niklas shows off his athleticism and catching ability with his 6-6 frame, but Hollister has the edge for now.
Offensive Line (8):
David Andrews - Unless they want first rounder Isaiah Wynn at center, which is doubtful, Andrews faces little to no competition at this spot. He can struggle with power at times, but he has been good enough the past few seasons to stick around for the foreseeable future. I can only think of maybe one or two mental lapses during his Patriots tenure, a good sign that he understands his playbook and checks.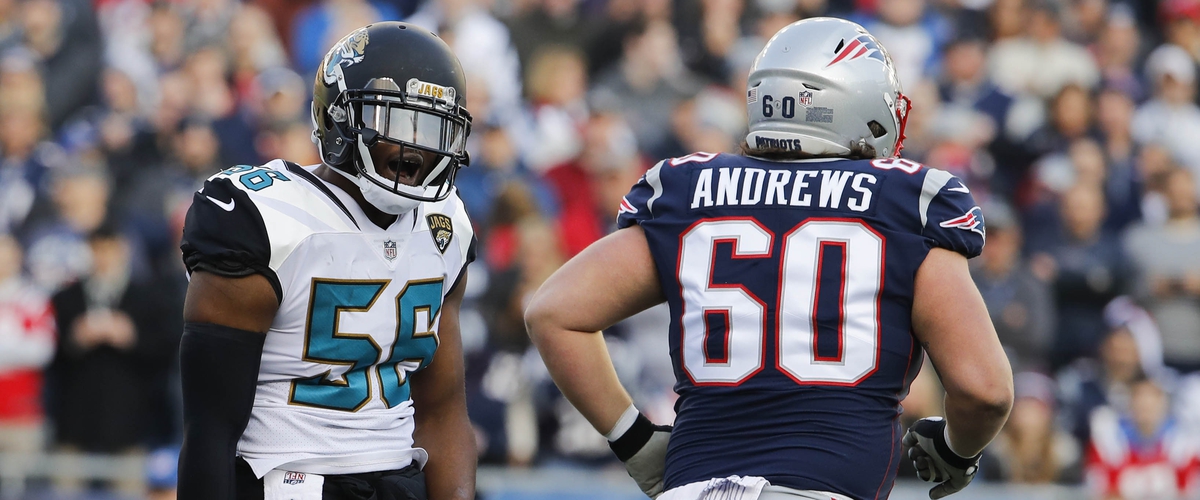 Shaq Mason - Easily one of the best run-blocking guards in the NFL, Mason is in line for a massive contract after 2018. Just based on their history, the Patriots will probably offer lower than market value for Mason. Hopefully they can work something out, because he is the driving force on the right side of the line. His pass blocking is nothing to write home about, but he can run block you into next week if you aren't paying attention.
Marcus Cannon - Even though he is coming off a serious ankle injury, you can mark him in with pen on your roster sheets. Cannon has gone from liability to starting NFL right tackle in just a few years. After looking lost a few seasons ago, he was a second-team All-Pro in 2016. A fully healthy Cannon in 2018 will be a big boost for the Patriots.
Isaiah Wynn - First rounder and first selection by New England this year, Wynn has been taking reps in Joe Thuney's left guard spot early in off-season activities. He can play any position you ask him to on the offensive line, but the Patriots will be their strongest if he slots in at left guard. This could be bad news for Thuney and his hopes of starting.
Trent Brown - Traded to New England around the NFL Draft, Brown is a mountain of a man (6-8, 355). He played right tackle in San Francisco, but he should be able to block out defenders (and the sun) on Brady's blindside. Speed could be an issue, but Brady gets the ball out so quick that it might not matter.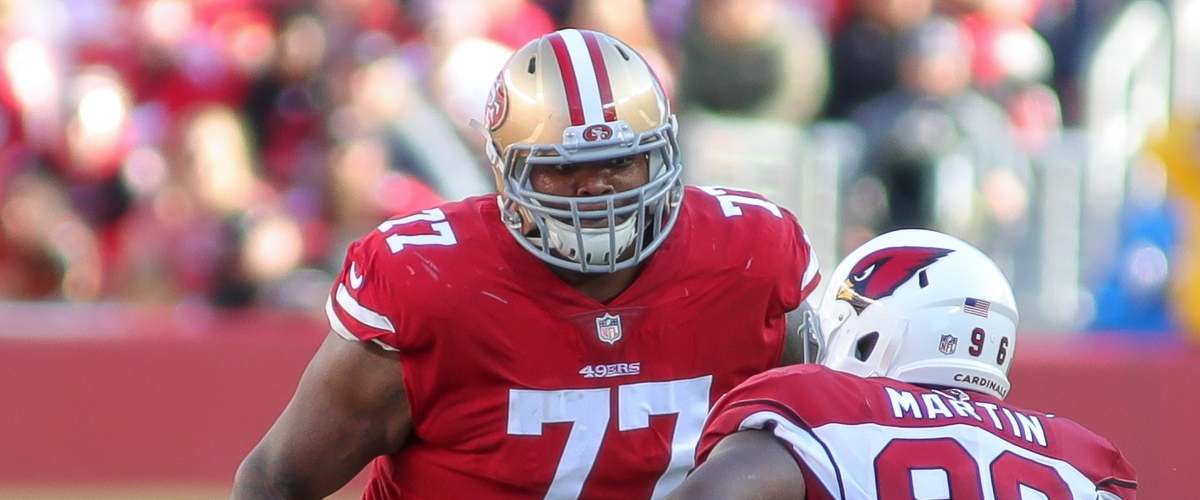 LaAdrian Waddle - Waddle has been the extra tackle for a few years now, filling in when injuries hit. He was more than capable of handling starting duties, which I would be comfortable with if they didn't trade for Trent Brown. Belichick loves using a swing tackle in heavy run situations, so Waddle should make the team.
Joe Thuney - While he was clearly one of the weaker players on the starting unit, Thuney got the job done most of the time. His experience with the team will land him a depth spot which can turn into a starting job if Wynn is moved over.
Cole Croston - At this point, the Patriots decide to keep an extra linemen because injuries will happen. Croston is from Iowa and spent time with the team last season, so let's give him the nod.
Cuts:
Ulrick John - His name looks backwards, and I don't think he has much of a shot to beat out Waddle.
Luke Bowanko - Has a better shot than the other tackles here, but the Patriots will opt to keep a depth interior piece.
Matt Tobin - Bill loves his Iowa players, but Tobin only sticks around if there are serious injuries.
Andrew Jelks - Can't stay healthy, so he can't stick on the roster. He would probably be a good depth piece if he could stay on the field.
James Ferentz - Son of the Iowa coach, who is good friends with Belichick. You never know, but he probably doesn't make it too far into camp.
Ted Karras - I love Ted Karras (you are probably asking yourself, "Who??") but the final depth spot may come down to him and Cole Croston. Karras has a limited ceiling and will always be a backup. This one might as well be a coin flip, but I will give Croston the edge.
Jason King - Probably a good bet for the practice squad if he is still eligible.
As you can see, I kept 26 players on the offensive side of the ball. Adding in the kicker, punter and long snapper, that leaves 24 spots on defense. That will be tight, and I may have to adjust if the cuts are tougher on defense. For now, I feel comfortable with my projections on offense. With my luck, Belichick will probably cut 5 guys that I selected to make the team by next week. Stay tuned for the defensive projections.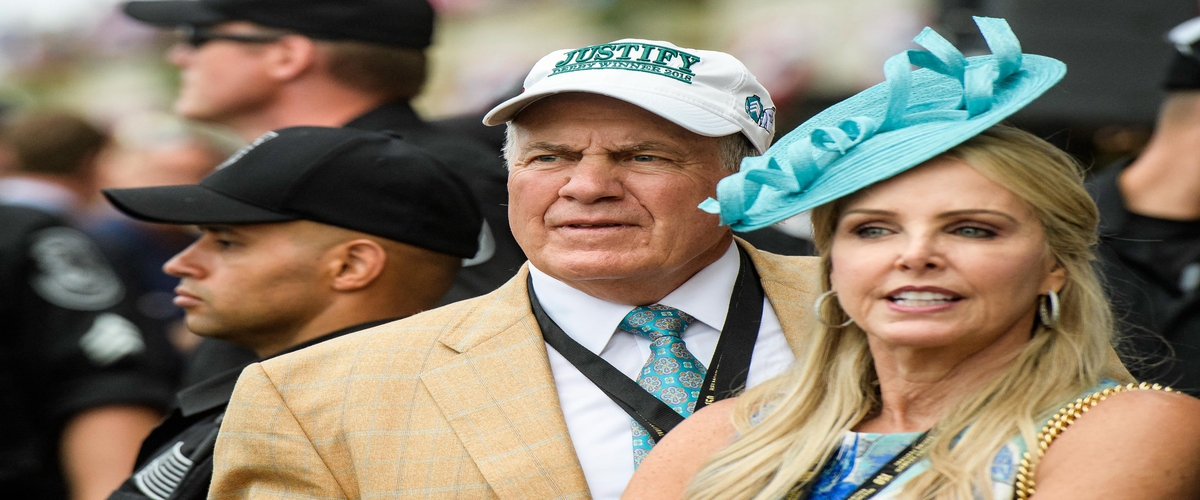 Looks like Bill doesn't love my projections.
---