Winners and Losers of the Khalil Mack trade.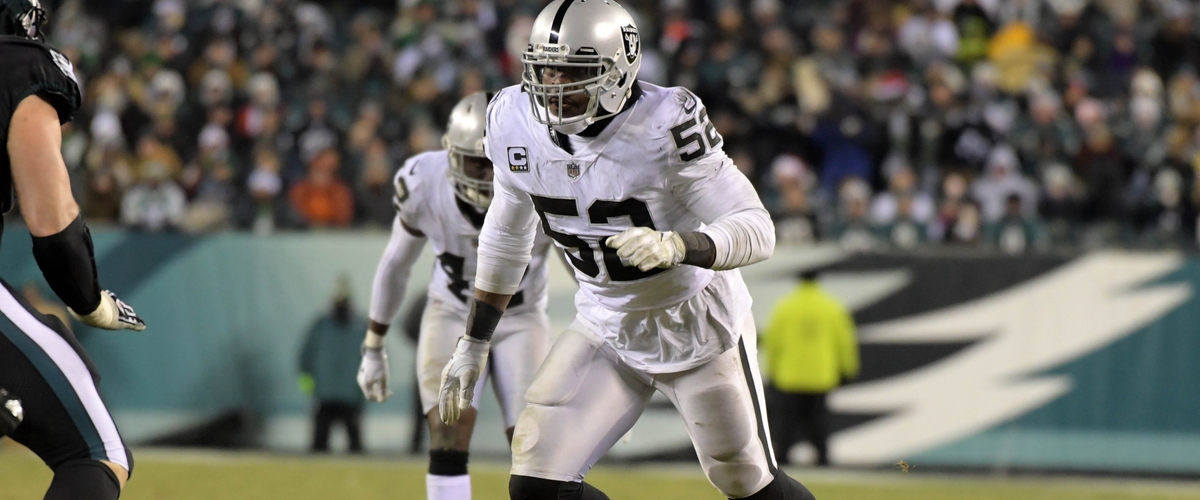 Saturday, September 1st, 2018 is a very memorable day for Bears fans and Raiders fans. Chicago Bears GM Ryan Pace acquired 3x Pro Bowler, 2x All-Pro, and 2016 NFL Defensive Player of the Year Khalil Mack from the Oakland Raiders for 2019 and 2020 first-round picks, including 2019 sixth and 2020 third round selections. Pace also acquired a 2020 second pick and a 2020 fifth-round pick from the Raiders. Because of this trade, the Chicago Bears went a 100-1 to a 40-1 odd to win the Super Bowl. This trade made a significant impact for this league, so here are the winners and losers of the Khalil Mack trade.
Winners
Vic Fangio: Bears DC Vic Fangio is one of the best defensive coordinators in the NFL. He made the Chicago Bears into a top-10 defense in this league. Guess what, he did that without any Pro Bowlers. With Mack, the Bears could be the best defense in the league or maybe a top-3 defense.
Ryan Pace: Before this off-season, Ryan Pace was looked at as one of the worst general managers in the league. I didn't think he was a bad GM because of the draft picks that he made and also the Bears were still in that rebuilding phase. Now, Pace has made a name for himself for what he did in the off-season. He signed Allen Robinson, Taylor Gabriel, and Trey Burton in free agency. In the draft, he drafted Roquan Smith, the second-best defensive player in the draft and after that, he drafted Anthony Miller by trading a future second-round pick to draft him. To top all of that, he traded for Khalil Mack. The Bears had the best off-season in the NFL. "When we look at this next draft, right, our first-round pick is Khalil Mack and our next round pick is Anthony Miller. The next draft, we have two twos." Here is a word to describe Ryan Pace after making this trade: Genius.
Khalil Mack: Khalil Mack is living a good life these are the reason why: Mack is now the highest paid defensive player of all-time after signing a 6-year $141 million dollar contract. He has a better chance to compete for a Super Bowl. He is playing for one of the most historic franchise in the NFL. Khalil Mack, if you are reading this. Let's switch lives.
Patrick Mahomes, Phillip Rivers, and Case Keenum: None of these quarterbacks don't have worry about Khalil Mack coming after them.
Losers
Reggie McKenzie: It was reported, according to Sean Wagner-McGough of CBS Sports, Raiders GM Reggie McKenzie didn't plan to trade Khalil Mack. "My whole thought process was to get Khalil (signed)," McKenzie said. "It was at the end, in the final hour, that it just hit. It hit hard and heavy. It was not a plan to trade him at all." The Raiders acquire two 1st Round picks from Chicago, unless they get those picks right, then McKenzie would be fired in 3-4 years.
Raiders Defense and DC Paul Guenther: Without Khalil Mack, the Raiders are one of the worst defenses in the league.
Jon Gruden: Jon Gruden hasn't coach in the NFL in a decade. He returns to the NFL and was given a $100 million deal for 10 years. As repeated, He returns to the NFL and was given a $100 million deal for 10 years. WOW! You don't even let him prove his value. You don't even let him, coach, first, but it doesn't matter to the Raiders organization that he hadn't coached in a decade. He made the playoffs 5 times in his ten-year career in coaching and he give the Buccaneers 16 years ago. You have the money to pay Jon Gruden, but you don't have the money to pay Khalil Mack. Things like this are the reason why the Raiders weren't successful in a long time. All the money that they have, but they don't use it right. You have the money to give JaMarcus Russell $68 million dollar contract with $31.5 guaranteed, but you can't use it on free agency to get players that can actually contribute for your team. Last but not least, you traded away a Hall-of-Fame caliber player for a chance to get a Hall-of-Fame caliber player. All I can now is this, Gruden better get this process right or his legacy as a coach will be rewritten and it's not a good legacy.
---