Game Preview: Vrabel Set to Take on Former Team as Titans Host Patriots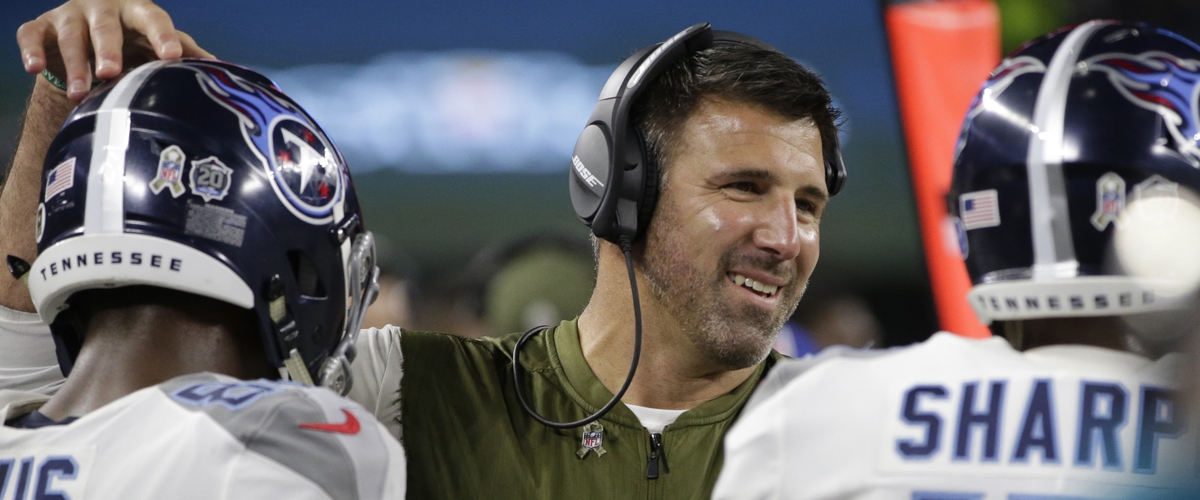 NASHVILLE, Tenn. -- When the Tennessee Titans and New England Patriots square off Sunday afternoon, it will not be a matchup of unfamiliar sides. Sunday's week 10 battle is not only a rematch of last season's AFC Divisional round, but for many ex-Patriots, it's a chance to one up their former team.
Following Tennessee's second round playoff exit one season ago, the team saw a major shakeup as Mike Mularkey was relieved of his head coaching duties, just days after an NFL Network report claiming he and the Titans were working on a contact extension. Mularkey led his team to back-to-back 9-7 seasons but was subsequently replaced by Texans' Defensive Coordinator Mike Vrabel.
Yeah, he's one of the best; the best we've ever had.
For Vrabel, Sunday will be a football career come full circle, as the first-year head coach leads his team into battle against the very team he won three Super Bowls with as a player.
"I can't deny the fact that I played there for eight years," said Vrabel when asked about taking on his former team. This will not be the first time Vrabel has squared off with a former team of his in 2018, as Tennessee defeated Houston 20-17 back in week two.
When asked his thoughts of Vrabel, Patriots head coach Bill Belichick did not hold back any of his admiration for his former player and now close friend.
"(Vrabel) has a lot of great qualities as a person and that translates into being a good coach, but he works hard," praised Belichick. "He's physically very tough and has a great passion for the game."
"I certainly think he deserves to be there. He's got a great coaching career. He's already established it but continues to build on it. Yeah, he's one of the best; the best we've ever had."
Along with Vrabel, the Titans feature four players of notoriety who once took the field as a member of New England's roster. Cornerbacks Logan Ryan and Malcolm Butler, running back Dion Lewis, and right guard Josh Klein all earned Super Bowl rings as members of the Patriots earlier in their careers.
The déjà vu does not end there, with Titans General Manager Job Robinson being a former member of New England's front office as well.
For Butler, Sunday's matchup will draw more attention than any of his previous eight games with Tennessee. Butler was benched for New England's Super Bowl LII loss to the Philadelphia Eagles, the reason why is still unknown today. But with his contract expired, Butler chose to sign as a free agent with the Titans and has brought to the table one of the worst statistical performances of any defensive back in the NFL this season.
The Titans enter Sunday hoisting the NFL's top scoring defense, allowing opponents to score an average of just 17.6 points/game through the midway point. Opponents have scored only 11 touchdowns against Tennessee this year, 7 of which have been at the mercy of Butler's coverage.
While the media will be targeting Butler and his subsequent Super Bowl benching, for Butler and his fellow former New England teammates, Sunday is just another game.
"I don't care who I play, I just want to pick up my performance," Butler said when asked about his play, and if facing his old team adds extra motivation.
This Tennessee defense is led by Defensive Coordinator Dean Pees, who held the same position for New England from 2006-2009.
Lewis enters Sunday's game after his best two-game stretch as a Titan. The seventh year back rushed for 91 yards in a week seven loss to the Chargers, following that up with 124 yards from scrimmage in Tennessee's win Monday night in Dallas, including an 18-yard touchdown reception.
Tennessee defeated Dallas this past week, 28-14, snapping a three-game losing streak that began following a winning streak of the same length. For New England, after a 1-2 start, the Patriots have turned in six consecutive wins and sit atop the AFC East at 7-2.
For Tennessee to win, they will need to stop reigning NFL MVP Tom Brady and the Patriots offense, a feat the team was unable to do in their 35-14 playoff defeat back in January.
Brady passed for 337 yards and 3 touchdowns in the victory, connecting with now Dolphins wide receiver Danny Amendola 11 times for 112 yards. Tight end Rob Gronkowski accounted for 81 yards on 6 receptions, including one touchdown.
The Patriots possess a new offensive weapon in 2018 in the form of receiver Josh Gordon. The 6-3, 225lb wideout already has 413 yards receiving and 3 touchdowns in 2018, while appearing in just five games with his new team.
Gordon will likely be matched up with Butler on the outside, with Ryan covering slot receiver Julian Edelman. Second-year corner back Adoree' Jackson is tied for the team lead with 2 interceptions, and he could see time on Gordon as well.
For Tennessee, the Titans will need another strong performance out of quarterback Marcus Mariota. After fumbling on each his first two possessions Monday, Mariota settled down to connect on 21-of-29 passing attempts and 2 touchdowns. Mariota added a rushing touchdown in the fourth quarter as well.
Where Mariota was most impressive during Monday's win was on third down. The Titans set their best single game mark since 1995, as they converted on 11-of-14 third down attempts.
Through seven games played in 2018, Mariota has hoists a 1:1 touchdown-to-interception ratio with five apiece. The former Heisman Trophy winner missed one game due to nerve damage in his right hand.
Mariota will not have the level of offensive arsenal Brady and the Patriots will bring to Nashville. Receiver Taywan Taylor is expected to miss Sunday's game with a foot injury. Tajae Sharpe, a third year wideout from Massachusetts, injured his ankle during warmups Monday but he is expected to play.
Corey Davis leads the Titans with 36 catches, 451 yards and one touchdown. The fifth overall pick in last season's NFL Draft brought down two touchdown grabs in the January defeat, both of which came while matched up with his current teammate, Malcolm Butler.
Divisional wise, the Titans enter this game 1.5 games out of first place in the AFC South. The division leading Texans are on their bye week, and the two sides will square off once again on Monday Night Football in just three weeks.
Oddsmakers have the game spread favoring New England by 6.5 points, with the total points sitting at 46.5 for Sunday's AFC battle. Kickoff is slated for 12:00 p.m. (CT), and the game can be viewed on CBS.
All information provided via www.titansonline.com and espn.com. Stats provided via www.pro-football-reference.com.
---