NFL Week 6 Power Rankings - Who's Putting Their Best Foote Forward?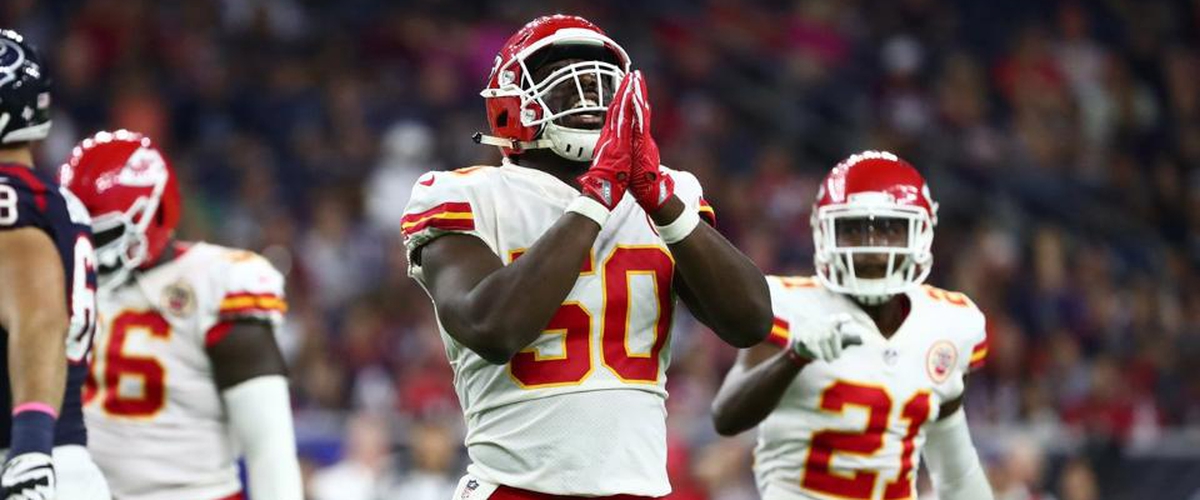 Five weeks of NFL action are over with. This season truly is flying by. Per how crazy this season has been, the Jets and Bills are tied for first place in the AFC East. The Jaguars have sole possession of first place in the AFC South. The Rams team that some talked about running away with the division is now tied for first place with Seattle. Any Given Sunday is such a true phrase in the NFL. Let's see where everyone ranks in this week's Power Rankings!
32: Cleveland Browns (LW: 32) 0
8/17 for 87 yards, 0 touchdowns and an interception.
That was DeShone Kizer's stat line when he was benched in the second half of Sunday's game against the Jets. Kevin Hogan did well enough (16/19, 194 yards and 2 touchdowns) to gain the approval of head coach Hugh Jackson. Jackson may plan to sit Kizer for a bit, but still believes that "DeShone is going to be a tremendous football player in this league." We'll see. Cleveland should find themselves in the same spot next week after a road matchup with the Texans this Sunday.
31: San Francisco 49ers LW (30) -1
Close, but no cigar. I picked the 49ers to win this week and they almost did, eventually losing in overtime to the Colts. 353 yards and 2 touchdowns from QB Brian Hoyer is promising, but traveling to D.C. to face the Redskins isn't. 0-6, here we come.
30: New York Giants (LW: 27) -3
Not only did Sterling Shepard and Brandon Marshall go down due to injuries against the LA Chargers, but this happened, too:
I'm not going to show the clip because the way OBJ's ankle bends is not very pretty. It may be time for the Giants to move on from Eli Manning, especially if he isn't going to have any healthy receivers. The Denver Broncos and their defense are not very forgiving. We should have two 0-6 squads after week 6.
29: Indianapolis Colts (LW: 31) +2
Until Andrew Luck returns, this is about as high as I can put this Colts team. Indianapolis has a chance to shake things up in the AFC South with games against the Titans and Jaguars back-to-back, but the odds aren't in their favor. Jacoby Brissett has performed a lot better than anyone expected but let's be honest: Andrew Luck is the Indianapolis Colts.
28: Arizona Cardinals (LW: 23) -5
The Cardinals have wins over the Colts and 49ers. The Cardinals have losses to the Lions, Cowboys and Eagles. That goes a long way in terms of deciding whether or not Arizona is a legit team. I'm not sure if they're as bad as they're playing right now, but this is where they're ranked until signs of life are shown.
27: Los Angeles Chargers (LW: 28) +1
The Chargers finally won a game! Celebrate while you can, LA. Here are your next three games:
At Oakland
Home vs. Denver
At New England
Good luck winning one of those. 1-8 looks very bad.
26: Miami Dolphins (LW: 29) +3
Jay Cutler has been bad. Very bad. Here are his last two games:
164 yards, 0 TD, 1 INT
92 yards, 1 TD, 1 INT
You can't have your starting QB play like that and expect to win games. It worked against backup Matt Cassel and the Titans, but it definitely won't work this week against Matt Ryan and the Atlanta Falcons.
25: Chicago Bears (LW: 26) +1
This:
The difference between Mitchell Trubisky and Mike Glennon is evident. The guys in the huddle are so much more into the game when Trubisky is the QB for this team. The throw above (and a 4th quarter INT) shows that Mitch has some work to do in the decision making department, but also showcases his rare ability to extend plays with his legs. Glennon can't make a lot of the throws Trubisky made yesterday. The future is a bit brighter for the Bears after seeing the potential flashed by their young QB.
24: New York Jets (LW: 25) +1
J.E.T.S. J.E.T.S. JETS JETS JETS! This week, we can say it again. A win is a win, even if it's a 17-14 win over the worst team in the NFL. Josh McCown continues to play a lot better than a lot of us expected. Unfortunately for the Jets, the Patriots will come to town looking to let out their frustrations on Sunday.
23: Cincinnati Bengals (24) +1
Are the Bengals for real? Probably not. Cincinnati has an opportunity to improve its record to 4-3 (after a bye this week) if it can defeat the struggling Steelers and (likely) Andrew Luck-less Colts. Again, this team will only play as well as Andy Dalton does.
22: Oakland Raiders (LW: 20) -2
Reports are that Derek Carr will be back this week against the LA Chargers. This is great news. The passing game struggled a bit with him at the helm the past two games he was healthy, but looked completely dismal against Baltimore without him. This week is a big opportunity for Oakland to quiet a few of those rooting against them.
21: Tennessee Titans (LW: 19) -2
This team is in the same boat as Oakland. Marcus Mariota should be back this week, looking to get a win for a team coming off an ugly loss. With a beatdown at the hands of Houston still fresh on their minds, look for the Titans to bounce back against the Colts.
20: Pittsburgh Steelers (LW: 8) -12
Things are getting bad in Pittsburgh. Last week, we had Antonio Brown throwing coolers on the sidelines. This week, we have Ben Roethlisberger saying this following his 5-interception performance against the Jaguars:
This isn't good, no matter how you look at it. Things better turn around, quick.
19: Tampa Bay Buccaneers (LW: 18) -1
The Buccaneers were a game-winning drive away from upsetting the Patriots this week. A loss is a loss, but I'm only dropping them one spot. It's a moral victory if you hold Tom Brady and Co. to 19 points. This Tampa Bay team is still hard to get a read on, and a matchup with the Cardinals this weekend won't exactly qualify as a quality win.
18: Baltimore Ravens (LW: 21) +3
Baltimore beat a shorthanded Oakland team by 13. That's about it for the good news. Joe Flacco still doesn't look good. The team as a whole still doesn't look good. Very winnable games against the Bears, Vikings and Dolphins are on the horizon for Baltimore.
17: Dallas Cowboys (LW: 17) 0
Dak was very close to upsetting Aaron. If it weren't for a pick six (that wasn't Dak's fault), the Cowboys may have defeated Green Bay. Don't blame Dak for leaving a minute on the clock for Aaron Rodgers to work with. The Cowboys' QB played an outstanding game that should calm fans' nerves a bit. This team will be fine.
16: Minnesota Vikings (LW: 16) 0
Ugly win for the Vikings against the Bears, but a win is a win. It'll be interesting to see what happens when Teddy Bridgewater is healthy enough to play. Do the Vikings let him have his job back or do they roll with a (still) banged up Sam Bradford? Case Keenum? This is a great roster that is a steady QB away from being a legit contender.
15: New Orleans Saints (LW: 15) 0
The Saints are coming off a bye week and face a very tough test this Sunday when the Detroit Lions come to New Orleans. This game can raise the Saints multiple spots or lower them quite a few depending on the outcome. Get ready for a thrilling NFC shootout.
14: Jacksonville Jaguars (LW: 22) +8
Jacksonville's defense is legit. Leonard Fournette is legit. Blake Bortles isn't. The Jags won't win many games in the fashion they did on Sunday (5 interceptions), but it's refreshing to see at least one phase of the team dominate for more than a week straight. This could be an 8-8 team if the offense plays at an average level. The Rams will be a big test for this young squad on Sunday.
13: Buffalo Bills (LW: 6) -7
Lots of people, including myself, are rooting for the Bills. It's hard to make a case for them when they drop games to bad teams like the Bengals. Hopefully the team can rest up during its bye week and prepare for back-to-back home games against the Buccaneers and Raiders.
12: Houston Texans (LW: 10) -2
Losing JJ Watt and Whitney Mercilus are both huge losses for this defense. The Texans will be able to weather the storm with such a talented group, but the defense won't be as great as it could be with its two main guys. Houston has definitely found its QB of the future in DeShaun Watson. He kept his team in the game and threw 5 touchdowns on Sunday night. If he continues to make throws like these, this team will find itself in the playoffs:
11: Washington Redskins (LW: 12) +1
The 'Skins didn't win or lose this week but due to the nature of this game and how many teams are impossible to get a read on, we'll bump Kirk and Co. up a spot. A few spots higher should be the case this time next week as the Redskins host the lowly 49ers on Sunday.
10: New England Patriots (LW: 13) +3
The Patriots find themselves back in the top 10 this week because it was so hard to keep them out of it last week. Tom Brady didn't look Tom Brady-ish on Thursday, but still threw for 300 yards and a touchdown. Much like the Cowboys, I think the negativity surrounding this team will be hushed soon. Relax, Pats fans.
9: Los Angeles Rams (LW: 7) -2
Jared Goff completed less than 50 percent of his passes, didn't throw a touchdown and threw two interceptions. He played what will likely be his worst game of the season and still was a dropped touchdown away from beating the Seattle Seahawks:
The Rams' defense finally showed up, but the offense didn't. If both units show up at the same time, look out.
8: Denver Broncos (LW: 9) +1
Denver takes a page out of Washington's book and moves up a spot in the rankings despite not playing a game last week. Back-to-back matchups with the Giants and Chargers will be beneficial to Trevor Siemian's continued development before a big test comes in Kansas City on October 30.
7: Seattle Seahawks (LW: 14) +7
The LOB has to be riding high heading into their bye week. Although the Rams were a dropped touchdown away from beating them, the defense proved its legitimacy. Russell Wilson had a "meh" game, but as long as he's upright, the 'Hawks will win games.
6: Detroit Lions (LW: 2) -4
The Lions are still a great team after losing to the Panthers. Back-to-back lackluster performances from Matthew Stafford scares me a bit, but I think he'll be fine. This was a humbling loss for the Lions: they'll be able to take out their frustrations on a terrible Saints defense this Sunday.
5: Carolina Panthers (LW: 11) +6
MVP Cam was against New England, and he was back again vs. Detroit:
This is so true. If MVP Cam shows up for the rest of the year, look out. This team can and will be as good as Newton is, simple and plain. A big win over the Lions was step one with a huge game against the Eagles on Thursday coming up.
4: Atlanta Falcons (LW: 4) 0
Another bye week team in the Atlanta Falcons. They're somewhat limited in their ranking not because of their own performance, but the performance of the teams ahead of them. Jay Cutler coming to Atlanta this weekend should spell trouble for Miami - and a great game for the Falcons.
3: Green Bay Packers (LW: 5) +2
He did it again. In the last minute of the game vs. Dallas, Aaron Rodgers played the role of magician (again) and gave his team the lead. Only a handful of guys in the NFL can make this play under pressure:
After the game, he admitted he called that play. He's special, and so is this team. He makes up for a lot of other guys' slack, but the 'Pack will be just fine as long as he can continue to do so.
2: Philadelphia Eagles (LW: 3) +1
FLY EAGLES, FLY! What a game for Carson Wentz:
This play sums up the game pretty well. Over 300 yards and 4 touchdowns for Wentz (who hadn't thrown for more than two touchdowns in a game before Sunday) was monumental. If the Eagles can beat Carolina in their own house on Thursday, expect them to be in the same spot in these rankings next week.
1: Kansas City Chiefs (LW: 1) 0
Eric Berry is done for the year (achilles)
Chris Conley is done for the year (achilles)
Travis Kelce suffered a concussion in the second quarter
Dee Ford hasn't played in three weeks
Two starting offensive linemen out due to injury.
42 points against the Texans. Wow. This team just finds ways to win.
MVP-level football from Alex Smith. If he continues to do this, there's no limit to the ceiling of this offense.
That's it for this week's Power Rankings! I'm sure with how crazy the season has been, we'll have a lot of risers and fallers in next week's list. Let's hope for another exciting week of football!
--------------------------------------------------------------------------------
This is your reminder to put your Best Foot(e) Forward in everything you do today! Do the right thing and be the best possible version of yourself.
As always, if you'd like to get in touch with me or follow my social media accounts, you can find them here:
Facebook: https://www.facebook.com/TheBestFooteForward
Twitter: https://twitter.com/TheBestFooteFWD
Instagram: https://www.instagram.com/thebestfooteforward
Email: bestfooteforward17@gmail.com